A re-energized Hurricane Dorian rakes the Southeast US coast
CHARLESTON, S.C. — Re-energized at 115 mph, Hurricane Dorian raked the Southeastern U.S. coast with howling, window-rattling winds and sideways rain Thursday, knocking out power to more than 200,000 homes and businesses as it pushed northward toward North Carolina's dangerously exposed Outer Banks.
Leaving at least 20 people dead in its wake in the devastated Bahamas, Dorian made its way up the Eastern Seaboard, sweeping past Florida on Wednesday at a relatively safe distance. From there, the Category 3 storm apparently grazed Georgia, then hugged the South Carolina coast with more serious effects.
An estimated 3 million people in Florida, Georgia and the Carolinas were warned to evacuate as the storm closed in with the potential for life-threatening storm surge. Navy ships were ordered to ride it out at sea, and military aircraft were moved inland.
At least two deaths were reported on the U.S. mainland, in Florida and North Carolina, both involving men who fell while getting ready for the storm.
The National Hurricane Center's projected track showed Dorian passing near or over the Outer Banks on Friday, lashing the thin line of islands that stick out from the U.S. coast like a boxer's chin. Dorian was then expected to peel away from the shoreline.
In an assault that began over Labor Day weekend, Dorian pounded the Bahamas with Category 5 winds up to 185 mph (295 kph), obliterating entire neighbourhoods and triggering a humanitarian crisis. It weakened to a Category 2 before strengthening again late Wednesday.
About 830,000 people were under mandatory evacuation orders on the South Carolina coast alone.
More than 1,500 people sought refuge in 28 shelters in South Carolina, where rain began falling late Wednesday in the historic port city of Charleston, situated on a peninsula that is prone to flooding even from ordinary storms.
As Dorian crept dangerously closer, the wind picked up, sending sheets of rain sideways. Thunder boomed in the night sky, and power flickered on and off. More than two dozen blocks were closed by flooding in the city, where stores and restaurants downtown were boarded up with wood and corrugated metal.
Dorian remained a force to be reckoned with, its swirling circle of winds and rain wrapped around a large, gaping eye visible on photos taken from space.
At 8 a.m. EDT Thursday, the hurricane was centred about 70 miles (115 kilometres) southeast of Charleston, moving north at 8 mph (13 kph) with winds of 115 mph (185 kph) extending about 60 miles (95 kilometres) outward.
Hurricane warnings were in effect for the coasts of both South and North Carolina.
Hundreds of shelter animals from coastal South Carolina arrived in Delaware ahead of the storm. The News Journal of Wilmington, Delaware, said 200 were airlifted early Tuesday from shelters in danger of flooding. About 150 more were expected to arrive via land.
Hundreds of thousands of people also were ordered off the Georgia coast. But the mayor of Tybee Island, Georgia, said Dorian inflicted little damage overnight on the small beach community. Jason Buelterman said the storm spared the 3,000 residents from flooding, with high tide about 3 feet lower than predicted.
The lone highway linking the island to Savannah on the mainland remained open throughout the night.
"If the worst that comes out of this is people blame others for calling evacuations, then that's wonderful," Buelterman said.
Tybee Islander Bruce Pevey went outside to take photos of unscathed homes to text to neighbours who evacuated. The storm, he said, turned out to be "a bunch of nothing."
___
Associated Press reporters Russ Bynum in Savannah, Georgia; Gary Robertson in Raleigh, North Carolina; Jeffrey Collins in Carolina Beach, North Carolina; Jay Reeves in Birmingham, Alabama; Michael Schneider in Orlando, Florida; David Fischer in Miami; and Meg Kinnard in Charleston, South Carolina, contributed to this report.
Meg Kinnard, The Associated Press
CP NewsAlert: David Johnston quits as special rapporteur on foreign interference
OTTAWA — Former governor general David Johnston says he is stepping down from his role as special rapporteur investigating foreign interference, citing the highly partisan atmosphere around his work.
More coming.
The Canadian Press
Canada under pressure to produce more food, protect agricultural land: report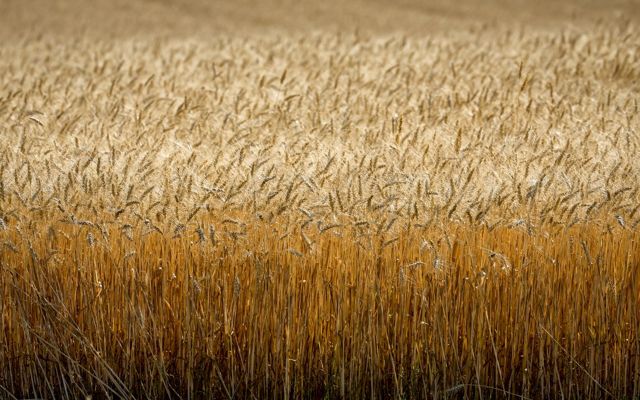 A field of wheat is pictured near Cremona, Alta., Tuesday, Sept. 6, 2022. Canada's agricultural land is under increasing pressure as demand for food grows domestically and internationally while the industry grapples with limited resources and environmental constraints, a new report found. THE CANADIAN PRESS/Jeff McIntosh
By Rosa Saba
Canada's agricultural land is under increasing pressure to produce more food as demand grows domestically and internationally, while the industry grapples with limited resources and environmental constraints, a new report found.
"We need to grow more food on less land and in a volatile climate," said Tyler McCann, managing director of the Canadian Agri-Food Policy Institute.
The report by the institute released Thursday looks at the pressures on Canada's agricultural land to produce more food while also mitigating and adapting to the effects of climate change, said McCann.
Despite Canada being a big country, it doesn't have as much agricultural land as people might think, said McCann, with the report noting that agricultural land makes up only around seven per cent of the country.
Because of that, we can't take what we do have for granted, he said. "We need to be really thoughtful about how we are using our agricultural land."
In 2020, Canada was the eighth largest country in terms of cropland area, the report said, with that cropland decreasing by seven per cent over the previous two decades.
Canada is a major producer and net exporter of agriculture and agri-food products, the report said, exporting $91 billion in products in 2022, and one of the top 10 exporters of wheat, canola, pulses, pork and beef.
In the coming years, Canada will face increased demand from countries whose populations are growing, the report said.
"With population growth on one side and climate change on the other, Canada will be amongst an increasingly smaller number of countries that is a net exporter," said McCann, noting that Canada's own population is growing, and farmland also needs to be protected against urban sprawl.
The wildfires clouding Canadian skies this week are a "vivid reminder" of the pressure that extreme weather and the changing climate are putting on the agricultural sector, said McCann.
"We need to clearly mitigate … agriculture's impact on climate change. But we also need to make sure agriculture is adapting to climate change's impacts," he said.
One of the ways the world has responded to demand for increased agricultural production over time is to create more agricultural land, in some cases by cutting down forests, said McCann. But that's not a viable option for Canada, which doesn't have a lot of land that can be sustainably converted into farmland — and even if it could, doing so could have a variety of adverse environmental effects, he said.
Some of the practices used to reduce emissions and sequester carbon in agriculture can also improve production output on existing farmland, the report found, such as precision agriculture and no-till practices.
However, intensifying the production of current agricultural land also comes with potential environmental downsides, the report said.
For example, McCann said fertilizer is an important part of sustainable agriculture, but there's a balance to be struck because excessive use of fertilizer can quickly turn food production unsustainable.
"We need to be a lot more thoughtful about the inputs that we're using," he said, adding the same can be said about the use of technology in agriculture and the policies and programs put in place to encourage sustainable intensification of Canadian agriculture.
The report recommends that Canada adopt policies that provide financial incentives and technical assistance to farmers and develop regulatory frameworks promoting sustainable land use, as well as promoting education and awareness campaigns, so that the country can "ensure the long-term sustainability of its agricultural sector while protecting the environment."
This report by The Canadian Press was first published June 8, 2023.