Edmonton Oilers take a playoff breather ahead of Game 6 in Los Angeles
Los Angeles Kings' Mikey Anderson (44) chases Edmonton Oilers' Leon Draisaitl (29) during second period NHL Stanley Cup first round playoff action in Edmonton on Tuesday, April 25, 2023. The Oilers have the upper hand in their playoff series with the Los Angeles Kings. THE CANADIAN PRESS/Jason Franson
By Donna Spencer in Edmonton
The Edmonton Oilers have the upper hand in their playoff series with the Los Angeles Kings.
If the Oilers can keep it, the chance to close it out Saturday in Los Angeles is there.
A commanding 6-3 win over the visiting Kings in Tuesday's Game 5 at Rogers Place gave Edmonton its first lead of the best-of-seven, first-round series.
A Game 7, if necessary, would be played Monday in Edmonton.
A three-day break between the fifth and sixth games afforded both teams a day of rest Wednesday.
Three of five games in the series going to overtime had added an extra 23 minutes to their workloads.
"Today's order of business was just to kind of refill the tank a little bit and build up that energy reservoir," Edmonton head coach Jay Woodcroft said Wednesday morning.
"The schedule is what the schedule is. One team is going to handle it better. It's our aspiration to be the team that handles it better.
"There's positives to this schedule. The first thing is it allows you to refill the cup. It allows you to nurse bumps and bruises, but the other team gets that opportunity as well. It's who handles it better."
When the Oilers faced the Kings in last year's first round, Edmonton losing Game 5 at home required back-to-back wins to avoid elimination and advance.
The Oilers may have earned more wiggle room this time, but the Kings aren't expected to go quietly Saturday in their own barn where their winning percentage was .683 this season.
"We can't get too high on ourselves," Oilers forward Nick Bjugstad said after Game 5. "That squad is good over there. They've shown they're pretty resilient too.
"We got three days here to kind of think about what we did well. You've got to have a short memory if you lose and I think it's the same if you win. You've just got to have a new-day mentality. Be good at practice and getting good sleep, good rest here.
"Guys have been playing a lot, a lot of minutes so will be good to get a little rest and come in with some energy in L.A."
Edmonton was the NHL's highest-scoring team in the regular season at a clip of almost four goals per game.
The Kings' savvy, heavy and hostile playoff style dampened the Oilers' output early in the series, but Edmonton appears to be adjusting with more secondary and even-strength production in its last two games.
The Oilers have scored 11 goals over their last five periods and 10 minutes of overtime, after they fell behind 3-0 in the first period of Game 4.
Bjugstad with a pair of goals Tuesday, Evander Kane and Zach Hyman are chipping in to complement the offence led by Leon Draisaitl, Connor McDavid and defenceman Evan Bouchard.
With his size, agility and laser shot, Draisaitl has been the toughest Oiler for the Kings to contain from the outset. His six goals led the NHL post-season Wednesday.
Kings goalie Joonas Korpisalo made saves he shouldn't in the series' first four games, but looked mortal in Game 5 when he was replaced by Pheonix Copley in the second period.
"Our team has been preparing for a very difficult first round, whoever the opponent was going to be. We tried to use the 82-game schedule to set us up, to prepare ourselves," Woodcroft said.
"There's still lots of work to be done here. We have a huge challenge. If you start looking at this series, we felt we've done a lot of really good things, but it's a tight series. The other team does good things too."
The Oilers have certainly leaned on their league-No. 1 power play.
At 8-for-14, no other team's post-season power play comes close to Edmonton's 57 per cent success driven by McDavid and Bouchard.
While McDavid has yet to notch an even-strength goal, the NHL's leading scorer has drawn penalties with his speed and fuelled the power play with his playmaking skills.
Bitten twice in the series by Kings' power-play goals in overtime, Edmonton's time in the box has dwindled from six minors in the first game to a single penalty in Game 5.
Starting goaltender Stuart Skinner has packed a lot of living into the first playoff series of his career.
The 24-year-old rookie has experienced overtime losses, his first win, getting pulled in Game 4 and coming back with a 25-save win in Game 5.
Jack Campbell was a difference-maker in Edmonton pulling Game 4 out of the ditch.
The Oilers reached the Western Conference final last year for their longest playoff run in 16 years.
Edmonton was swept in four straight by the eventual Stanley Cup champion Colorado Avalanche in that conference final.
Getting the first round done in six games, instead of seven, would be an investment in another long post-season drive.
"We use this theme of we're going to continue to hammer on the rock until it splits," Woodcroft said. "It hasn't yet, but we're looking for that fourth win. "
This report by The Canadian Press was first published April 26, 2023.
U Sports drops first-year grade requirements for participation, scholarships
Laval Rouge et Or quarterback Arnaud Desjardins is tackled by Conner Delahey of the Saskatchewan Huskies during the first half of the Vanier Cup in London, Ont., Saturday, Nov. 26, 2022. Canada's governing body of varsity sports is changing its policies to allow students entering universities to be eligible to participate in sports and receive athletic scholarships regardless of their grades.THE CANADIAN PRESS/Geoff Robins
Toronto
Canada's governing body of varsity sports is changing its policies to allow students entering universities to be eligible to participate in sports and receive athletic scholarships regardless of their grades.
U Sports said in a statement Thursday that enrolling student-athletes will be able to play and receive scholarships as long as they have been accepted to a member university and enrolled in degree-granting courses.
The changes will come into force for the 2024-25 season.
Currently, student-athletes to have an 80 per cent average in their final year of high school or CEGEP to be eligible for an entering athletic scholarship and a 60 per cent average to be allowed to play varsity sports in their first year.
Also, beginning in the 2024-25 U SPORTS institutions will be required to give a minimum of 45 per cent of their total athletic scholarship units to athletes on men's teams and a minimum of 45 per cent to athletes on women's teams.
An athletic scholarship unit equals 100 per cent of tuition and mandatory fees for any student-athlete during an academic year.
"These changes intend to remove systemic barriers impacting a student-athlete's ability to participate in U Sports and receive funding assistance for pursuing their education," Pierre Arsenault, U Sports chief executive officer, said in a statement.
This report by The Canadian Press was first published Sept. 28, 2023.
Renegades squad recognized for incredible season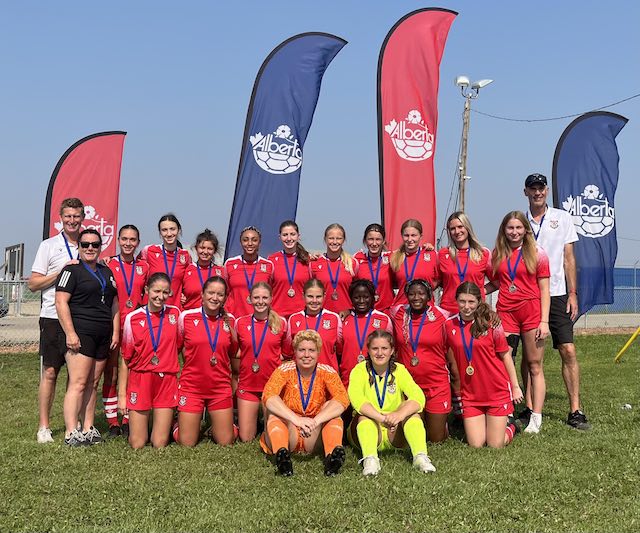 The Alberta Sport Development Centre – Central (ASDC-C) is pleased to announce that the ASDC-Central Athlete of the Month for September 2023 is the Red Deer Renegades 17UGirls Soccer team.
This past competitive season, the Renegades 17UG finished 2nd in the Alberta Soccer Tier 1 Provincial Championship in a notable and unique performance for the Renegades Soccer Club.
Additionally in the 2022-23 season, the team captured the Tier 1 Gold Medal in the Fall 2022 Caledonia Cup; the Silver Medal in the 2023 Tier 1 EMSA Indoor League; the Gold Medal in the 2023 BTB Spring Cup; the Bronze Medal in the 2023 Tier 1 EMSA Outdoor League. Further the team travelled and competed at the 2023 Southern California Del Sol PDT in Phoenix, and the 2023 Premier International Cup in Vancouver.
Team Roster
Jaymin Ball, Ava Balon, Amanda Beasley, Arden Berry, Bryce Hanusich, Jenna Jennings, Emma Larochelle, McKenna Leslie, Olivia Lundell, Emma Lundell, Jaeda Marquart, Isabella Pritchard, Kylie Ross, Hallie Ross, Fati Sesay, Brielle Simonot, Kennedy VanArragon, Jaidin Wiebe,
Coaching Staff
John Leslie, John Beasley, Kristen Leslie, Ajdin Sarcevic
Technical Staff
Ado Sarcevic, Esad Elkaz, Steve Fullerton
It is clear to the Red Deer soccer community that the athletes, staff, and families of the 17UG Renegades will continue their successes into their futures as they have shown an outstanding commitment to their sport and their development. In fact, seven (7) players from the team have already signed scholarship offers with the RDP Queens Soccer team beginning in the 2024-25 ACAC/CCAA season.
ASDC-Central thanks Tom Bast Sports for celebrating the ASDC-Central Athlete of the Month recipients by the provision of commemorative apparel for each recipient.
ADSC-Central Athlete of the Month – Renegades 17UG Soccer