'I'm really happy:' Edmonton judge rules Omar Khadr's sentence has expired
EDMONTON — The last legal restrictions on Omar Khadr were lifted Monday when an Alberta judge ruled that a war crimes sentence for the former Guantanamo Bay prisoner has expired.
"I'm really happy with the decision today," Khadr said outside Edmonton's courthouse.
"It's been a while, but I'm happy it's here. Right now I'm just going to focus on recovering and not worrying about having to go back to prison or just struggling."
The ruling means Khadr can apply for a passport as well as travel and visit freely.
"There's nothing further for him to serve," said his lawyer Nathan Whitling. "We don't anticipate any further legal proceedings in the matter."
Khadr was sentenced to eight years in 2010 by a American military court for alleged acts committed in Afghanistan when he was 15 years old. That sentence — which the Supreme Court of Canada ruled would be a youth sentence — would have ended last October had Khadr remained in custody.
But the clock stopped ticking when a judge freed him on bail in 2015 pending Khadr's appeal of his military conviction in the United States.
Court of Queen's Bench Chief Justice Mary Moreau ruled that the youth crimes legislation allowed her to consider time he spent on bail as part of his sentence.
"The bail order must be considered in context," she said.
"I order that Mr. Khadr be placed under a conditional sentence for one day, which I consider to be served."
Faint sobs from Khadr's supporters could be heard in court after Moreau's judgment.
Khadr has appealed the U.S. sentence. His lawyers say the military commission that issued it has been widely discredited.
Whitling had argued that the appeal hasn't moved forward at all and it would be unfair to hold that against his client.
Lawyers for the Crown wanted Khadr to serve some time on conditional release in the community.
Khadr is also the defendant in a civil lawsuit by the family of the soldier he is alleged to have killed. A U.S. court has already ruled in favour of the family, who are trying to have the $134-million judgment served against Khadr in Canada.
Khadr spent years in U.S. detention at Guantanamo Bay after he was captured and accused of tossing a grenade that killed special forces soldier Christopher Speer at a militant compound in Afghanistan in 2001.
Since he was released on bail, Khadr has lived in Edmonton and Red Deer, Alta., without incident. The court had eased some of his initial bail conditions, but several had remained. Moreau's ruling on Monday lifts them.
Khadr could not have access to a Canadian passport and was banned from unsupervised communication with his sister, who lives in the former Soviet republic of Georgia. He also had to notify his bail supervisor before leaving Alberta.
Khadr's case has ignited divisive debate among Canadians over terrorism, human rights and the rule of law since it was revealed in 2017 that the federal government settled a lawsuit filed by him for a reported $10.5 million.
The payout followed a 2010 ruling by Canada's Supreme Court that Khadr's charter rights were violated at Guantanamo and that Canadian officials contributed to that violation.
— Follow Bob Weber on Twitter at @row1960
Bob Weber, The Canadian Press
In a "Staggering Precedent" Trudeau government dodging parliament with massive "inflation tax" on Canadians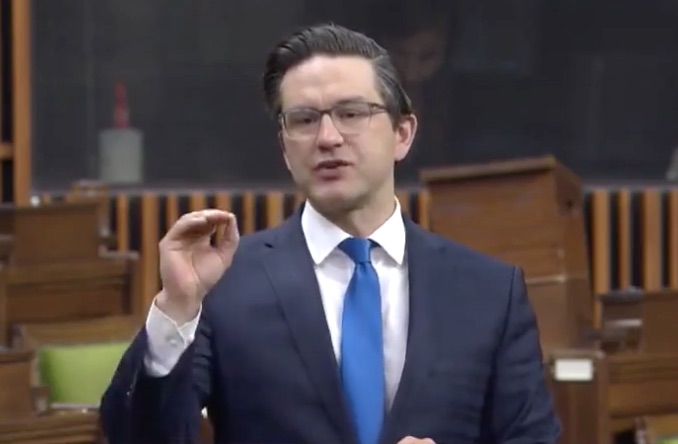 Federal Conservative Pierre Poilievre has released video from a recent Question of Privilege in the House of Commons where he explains how the Federal Liberal government has been dodging parliament to significantly raise taxes.
Instead of going further into debt or raising taxes to pay for a massive increase in government spending, the Trudeau government worked out a deal with the Central Bank.  Every week the Central Bank prints billions of dollars that go directly to government coffers.  Without a single vote and without consulting Parliament, the federal government is effectively raking in the largest tax increase in Canadian history.
By printing money at this unprecedented rate, the federal government is responsible for driving up Canada's inflation rate resulting in price hikes for virtually all goods and services.  Poilievre calls it an "inflation tax".
In this short video, Poilievre describes how the inflation tax hurts low and middle income Canadians, while increasing the value of assets owned by the richest Canadians.
New opinion surveys reveal overwhelming majority of Canadians support our Oil and Gas industry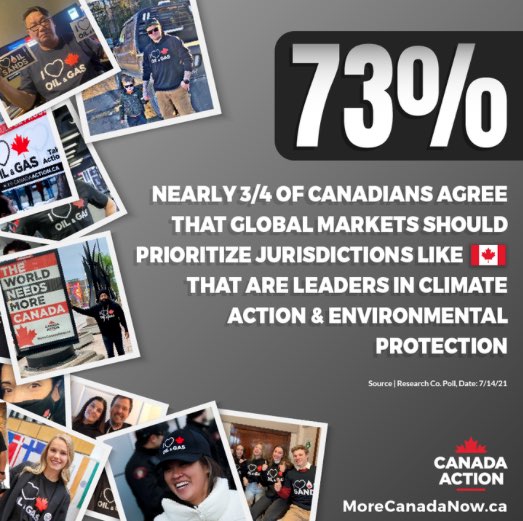 News Release from Canada Action
We are very excited to share some recent and encouraging polling results today. According to a July 2021 public opinion survey conducted by Research Co, new data shows that Canada's public perception of our responsible energy industry is very positive.
Here are some of the key findings:
Almost three in four (73 percent) Canadians polled agree Canada should be a preferred global supplier of energy because of its climate and environmental record.
Nearly seven in ten (69 percent) say they have personally benefited from the oil and gas sector.
70 percent agree that resource development could help alleviate systemic poverty within Indigenous communities.
Two thirds of Canadians (66 percent) support Canada's role as a global oil and gas supplier.
Almost three in four Canadians (73 percent) acknowledge Canada's prosperity is supported by the oil and gas sector and that Canadian oil and gas production helps fund important social programs like health care and education.
Referring to the fact 73 percent of Canadians polled also agreed it's essential First Nations be included in project development to establish long-term revenue sources for their communities, JP Gladu, acting Executive Director of Indigenous Resource Network, noted the following:
Taken collectively, this is all exceptional news for all of Canada's natural resource industries. Your support for our positive, fact based message about why the world needs more Canadian energy and resources is helping make a difference.
A Majority of Canadians 'Agree' that Canada Should be a Preferred Global Supplier of Energy: POLL