Defend NY: Jets bond while supporting Islanders in playoffs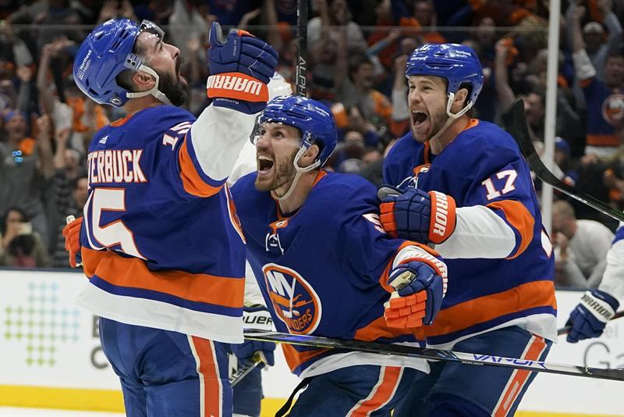 NEW YORK (AP) — The New York Islanders had their jumbo-sized man advantage in the stands again at the Old Barn.
Several Jets players were at Nassau Coliseum on Thursday night to root on the Islanders during their 2-1 loss to the Tampa Bay Lightning in Game 3 of their NHL semifinal playoff series.
Rookie quarterback Zach Wilson has been among those who have attended a handful of Islanders playoff games this postseason — to bond off the football field and to show support for the hockey team. Head coach Robert Saleh also recently was at a game and wore an Islanders jersey during a video call with reporters last week.
Offensive lineman Greg Van Roten, a Long Island native and lifelong Islanders fan, came up with the idea for the players to go to games as a group early in the playoffs.
"Yeah, I joke with our PR team here that I'm just using the Jets to get myself tickets to go see my team," a smiling Van Roten said earlier this week. "But it's an opportunity to bond. We didn't have this opportunity last spring (because of the coronavirus pandemic) and it definitely hurt us as a team throughout the season. So you get to spend time, obviously, with your position group a lot, but maybe not with guys in other position groups or across the ball.
"So this has been just a no-brainer as far as, hey, let's get together on a weekend, go see a game and just kind of blow off some steam together and get to know each other on a more personal level, not around football."
Fellow offensive lineman Dan Feeney has become a bit of an Islanders cult hero since the Jets began their visits to the Coliseum. Feeney, an Illinois native who signed with the Jets in March, went viral a few weeks ago for his celebration in the stands during which he guzzled a beer and smashed the can against his forehead — with his Jets teammates cheering him on.
Feeney became so popular, the Islanders promoted a T-shirt that was created featuring the outline of his head — complete with mullet — and "LGI!" in the middle. And several Jets players posed in the T-shirts at the team facility in Florham Park, New Jersey, before some headed to the Islanders' home arena in Uniondale, New York.
"I mean, I'm giving him a hard time because he was a Blackhawks fan and all of the sudden he's coming in and the Islanders nation has embraced him," Van Roten said with a smile. "I'm not jealous or bitter, but, you know, I'm just saying, I grew up an Islanders fan."
Well, the Islanders did right by Van Roten and promoted another T-shirt featuring the Islanders fan — with the outline of his bearded face and a "Defend NY" cap, like the one he wore during his Zoom call with reporters.
The Jets wrapped up their mandatory minicamp Thursday and many players will head home for a few weeks before training camp opens in late July. It'll remain to be seen if the players continue attending games as such a large group, but they're having a blast for now.
"I think I'm converting a lot of guys into Islanders fans," Van Roten said. "It's been pretty easy. I mean, you go to a game, you have a great time and they win. So it's been awesome."
Among those joining Van Roten, Wilson and Feeney among the Jets' entourage throughout the playoffs have been offensive linemen Connor McGovern, George Fant, Alijah Vera-Tucker, Jimmy Murray, Conor McDermott and Corey Levin; tight ends Ryan Griffin and Daniel Brown; wide receiver Lawrence Cager; cornerback Michael Carter; and quarterback Mike White.
Former Jets offensive lineman Damien Woody also has been a regular at Islanders games for a few seasons, rooting on the team and tweeting his support.
NHL Network recently had Woody on as a guest and he said he sees some similarities between the Islanders and another team with which he won two Super Bowl titles early in his NFL career.
"This team reminds me of when I played with the New England Patriots," Woody said. "They're just all business. They don't do anything to really hurt themselves. That's how you've got to play in the postseason."
—
More AP NFL coverage: https://apnews.com/hub/NFL and https://twitter.com/AP_NFL
Dennis Waszak Jr., The Associated Press
Canada's Caileigh Filmer and Hillary Janssens capture bronze in women's pair
TOKYO — Canada has its first rowing medal at the Tokyo Olympics.
Victoria's Caileigh Filmer and Hillary Janssens of Surrey, B.C., took bronze on Thursday in the women's pair with a time of six minutes 52.10 seconds.
The 2018 world champions finished behind the gold-medal winning duo of Grace Prendergast and Kerri Gowler of New Zealand (6:50.19) and the Russian Olympic Committee's Vasilisa Stepanova and Elena Oriabinskaia (6:51.45).
Conlin McCabe of Brockville, Ont., and Kai Langerfeld of North Vancouver, B.C., were the other Canadian rowers in a final Thursday, finishing fourth in the men's pair on the 2,000-metre course at Sea Forest Waterway.
Canada's women's eight will race for a gold Friday.
The country's rowers are looking to rebound after a disastrous showing at the 2016 Rio Games that saw the program secure just one medal.
The Canadians qualified 10 boats for Tokyo — the most since the 1996 Olympics in Atlanta — and have a gender-neutral team for the first time in their history.
This report by The Canadian Press was first published July 29, 2021.
___
Follow @JClipperton_CP on Twitter
This report by The Canadian Press was first published July 28, 2021.
The Canadian Press
ZZ Top: Bearded bassist Dusty Hill dies in his sleep at 72
HOUSTON (AP) — ZZ Top bassist Dusty Hill, one of the Texas blues rock trio's bearded figures, died at his Houston home, the band announced Wednesday. He was 72.
In their Facebook post, guitarist Billy Gibbons and drummer Frank Beard said Hill died in his sleep. They didn't give a cause of death, but a July 21 post on the band's website said Hill was "on a short detour back to Texas, to address a hip issue."
At that time, the band said its longtime guitar tech, Elwood Francis, would fill in on bass, slide guitar and harmonica.
Born Joe Michael Hill in Dallas, he, Gibbons and Beard formed ZZ Top in Houston in 1969. The band released its first album, titled "ZZ Top's First Album," in 1970. Three years later it scored its breakthrough hit, "La Grange," which is an ode to the Chicken Ranch, a notorious brothel outside of a Texas town by that name.
The band went on to chart the hits "Tush" in 1975, "Sharp Dressed Man," "Legs" and "Gimme All Your Lovin'" in 1983, and "Rough Boy" and "Sleeping Bag" in 1985.
The band's 1976 "Worldwide Texas Tour," with its iconic Texas-shaped stage festooned with cactuses, snakes and longhorn cattle, was one of the decade's most successful rock tours.
The band was inducted into the Rock and Roll Hall of Fame in 2004. Said Rolling Stones lead guitarist Keith Richards in introducing the band to the Hall: "These cats are steeped in the blues, so am I. These cats know their blues and they know how to dress it up. When I first saw them, I thought, 'I hope these guys are not on the run, because that disguise is not going to work.'"
That look — with all three members wearing dark sunglasses and the two frontmen sporting long, wispy beards — became so iconic as to be the subject of a New Yorker cartoon and a joke on "The Simpsons."
___
This story has been corrected to reflect that ZZ Top was formed in the late 1960s, not the late 1970s.
The Associated Press