De Grasse, Brown, Blake, LePage withdraw from Commonwealth Games following worlds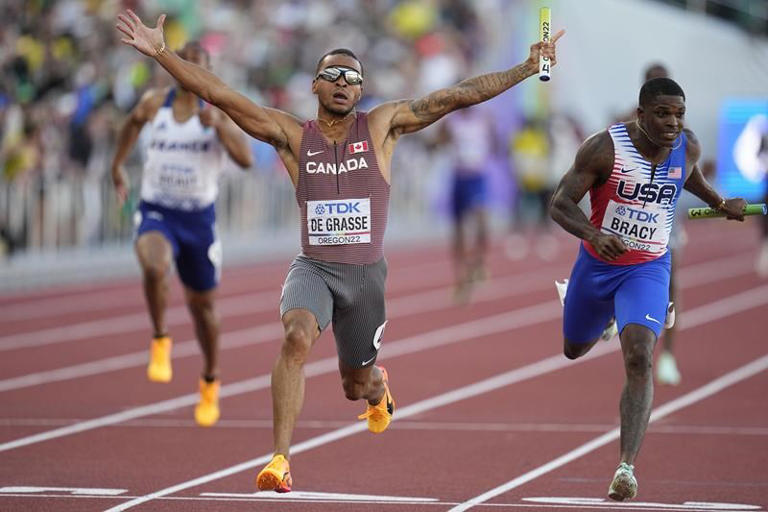 Sprinter Andre De Grasse and decathlete Pierce LePage are among the top Canadian track and field stars who have withdrawn from competing at the upcoming Commonwealth Games.
De Grasse ran the anchor leg as Canada won gold in the 4×100-metre relay at the recent world track and field championships.
Aaron Brown and Jerome Blake, who were also part of the relay team, have also withdrawn.
"These athletes have had a challenging world championships in hot weather conditions and unfortunately must withdraw from the 2022 Commonwealth Games to properly recover and prepare for the rest of the season," Athletics Canada said in a statement Tuesday.
De Grasse, who had a bout with COVID-19 about a month back, failed to qualify for the men's 100m final at the world championships before pulling out of the 200m event altogether.
Opting to compete in the relay days after those events ended, he anchored the Canadian team to gold in an upset over the Americans.
LePage, who had won silver at the 2018 Commonwealth Games, earned his first world championship medal with silver in the decathlon.
Olympic decathlon champion Damian Warner, who suffered a hamstring injury at the world championships, was not on Canada's Commonwealth Games team.
The Commonwealth Games are set to take place from July 28 to August 8 in Birmingham, England.
This report by The Canadian Press was first published July 26, 2022.
The Canadian Press
CP NewsAlert: Liberals withdraw controversial amendment to guns bill
OTTAWA — The federal Liberals are withdrawing a controversial amendment to their guns bill that would have added many popular hunting rifles and shotguns to a list of prohibited firearms in Canada.
The amendment has caused an outcry in many parts of rural Canada, and the Liberals have been under pressure from many of their own MPs to change or withdraw the new definition of weapons being banned.
More coming.
The Canadian Press
Quebec says only people at risk who haven't had COVID-19 should get booster dose
Only people who are considered at risk for severe COVID-19 — and who haven't already been infected — need to get a booster dose, Quebec's public health director said Thursday.
The vast majority of Quebecers have hybrid immunity — protection through vaccination and through a SARS-CoV-2 infection — making regular boosters unnecessary, at least for this winter and spring, Dr. Luc Boileau told reporters.
"People with hybrid immunity … have a very good protection against a severe form of the illness," Boileau said. "And this immunity lasts for a long enough time that we can propose changes."
Those who have been vaccinated but haven't contracted the virus are also protected against severe COVID-19, he said, but their immunity "has a tendency to drop with time."
Quebec's vaccination committee decided to focus the province's immunization policy on preventing hospitalizations and deaths, he said. People who are 60 and older or who have chronic illnesses, health workers, pregnant women and those who live in isolated regions are among the people who should get a booster every six months — but only if they have never caught the virus, Boileau said.
Dr. Caroline Quach-Thanh, chairperson of Quebec immunization committee, said the data shows that people already vaccinated for COVID-19 who have contracted the virus "maintain their protection."
"Adding a dose doesn't add a lot protection for severe (illness)," she said.
Health officials estimate that more than three-quarters of Quebecers under 60 have had COVID-19 over the past three years, while about half of those over 60 have caught the virus.
Boileau said only people who are immunocompromised should continue getting boosters even if they've been infected, "because their immunity could be affected by their condition."
Before Thursday's announcement, boosters were recommended for all people considered at risk of severe COVID-19. Boileau said COVID-19 vaccines will remain available to anyone who wants one. "We won't refuse anyone," he said.
This report by The Canadian Press was first published Feb. 2, 2023.