Cuba's famed Varadero beach getting ready for tourists again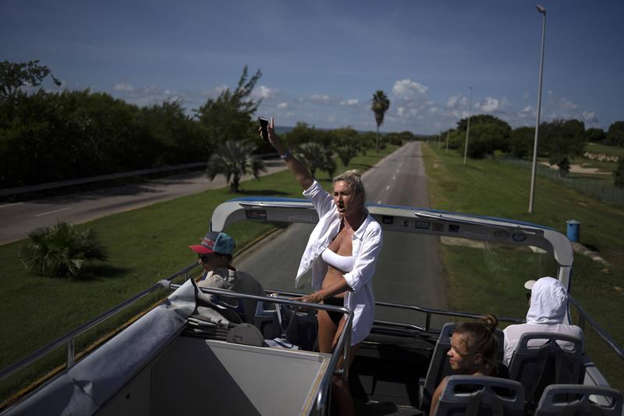 VARADERO, Cuba (AP) — Little by little, vacationers are returning to one of the Caribbean's most iconic beaches, which has been a nearly abandoned strip of glittering sand and turquoise seas for more than a year.
Varadero, the surfside star of Cuba's crucial tourism industry, is slowly getting ready for Cuba's planned Nov. 15 formal reopening to global visitors.
A handful of tourists, largely from Russia or Canada, have strolled across the 22-kilometer (13-mile) swath of sand in recent days, hunting out the scattering of restaurants that have reopened, dawdling over handicrafts at the few stands that have reappeared.
Medical personnel scan hotel visitors for signs of fever. Waiters, desk clerks and sellers of trinkets wear doubled masks as they cater to unmasked visitors in bathing suits. Largely empty tour buses run down the main boulevard.
At least some of the 60 or so hotels in Varadero remain closed, or pressed into service as quarantine centers. But others are already running.
About 100 people were staying at the 386-room Iberostar Selection Varadero on one day last week.
Juan Carlos Pujol, Cuba operations manager for the Spanish hotel chain, said the company had taken advantage of the pandemic closure to update restaurants or make adjustments for health measures, such as moving tables further apart or extending the reach of wi-fi to broader open expanses.
"We are very content and hopeful because now you can see the light at the end of the tunnel and we want to resume operations how and begin to recover what we had always had," he said.
The pandemic was a terrible blow to tourism in Cuba, which depends heavily on the industry, especially after a series of ever-tighter embargo measures imposed by former U.S. President Donald Trump — and that have not been significantly relaxed under his successor, Joe Biden.
"I've had many months without work, feeling horrible," said Lizet Aguilera, a 55-year-old weaver who recently reopened a souvenir stand that had been closed for 16 months.
Even so, she said she worries that she could be infected with COVID-19 while at work and bring it home.
"When I reach my house, before greeting anybody I take a bath," she said.
Another vender, Richard Martin, estimated that only about 50 of the resort's 5,000 artisans so far have returned to sell after months of hardship.
"It was very difficult," he said. "The need, the fear, the scarcity. We have confidence in the vaccine. What remains is to open, to show that it functions."
Cuba says it plans to have vaccinated 90% of its eligible population by the end of November— taking advantage of its unusually advanced biomedical industry to create the only locally developed COVID-19 vaccines in Latin America.
That has allowed officials to plan a gradual reopening to visitors, particularly in Varadero, some 150 kilometers (95 miles) east of Havana.
The town itself has only about 6,000 residents, but it provides thousands of jobs for people in nearby Cardenas, Boca de Camarioca and Matanzas and has some 20,000 hotel rooms — as well as a number of private residences that host visitors.
In 2019, Varadero received about 1.5 million of the 4.3 million tourists who came to Cuba— a number that collapsed when the pandemic hit and Cuba largely closed itself off to visitors.
The reopening will pose challenges: Cuba's weak economy and U.S. sanctions complicate obtaining products to sell to tourists. A new monetary policy means many services must be paid for using foreign bank cards — though none that depend on U.S. banking institutions.
Andrea Rodríguez, The Associated Press
People planning to attend AIDS conference in Montreal still struggling to get visas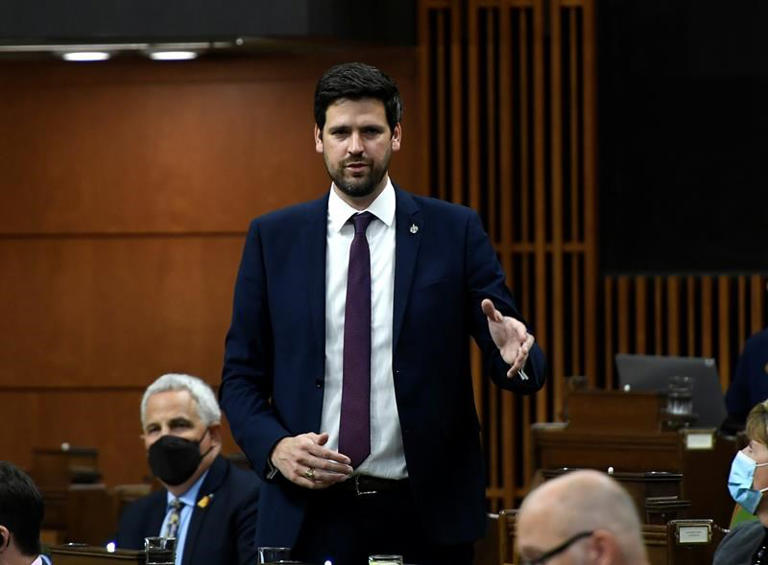 MONTREAL — International AIDS organizations say people from Africa, South America and Asia who are planning to attend a major AIDS conference in Montreal are still struggling to get visas from the Canadian government.
The groups say a growing number of activists — including some who were scheduled to speak at the conference which begins at the end of the month — are having their visa applications denied, often on the grounds that the Canadian government doesn't believe they'll return home after the event.
Tinashe Rufurwadzo, the director of programs, management and governance at Y+ Global, an international organization of HIV+ youth, said the chair of his organization's board and another of its employees, who are based in Malawi and Kenya, are among the young activists who have been denied visas to attend the conference.
He said both have travelled extensively to speak at AIDS-related events.
"Personally, I'm sick and tired of seeing young people from Africa mostly portrayed on PowerPoint slides as pictures, as photos on banners, as footnotes on case studies. Why can we not have them at conferences to share their lived experiences of what exactly is happening?" he said in an interview Friday.
Rufurwadzo said representatives of populations most at risk of HIV — such as people who inject drugs, transgender women, sex workers and gay men — need to be able to participate, as do adolescent girls, who are increasingly affected by HIV.
If people from the most affected countries aren't able to attend, he said he doesn't know how realistic the learning at the conference will be.
While those whose applications are denied will be able to attend the conference virtually, Rufurwadzo said that won't allow the same level of participation. He also said young people, especially those from rural areas, may not have consistent access to the internet.
Last week, almost 250 organizations from around the world sent a joint letter to Immigration Minister Sean Fraser calling on him to take action to ensure participants can attend the International AIDS conference.
Aidan Strickland, a spokesman for Fraser, said in response to earlier questions from The Canadian Press that the department has been working closely with event organizers and that applications "have been assessed in a timely manner."
"While we cannot comment on the admissibility of any particular individual, we can say that, in general, all visitors to Canada must meet the requirements for temporary residence in Canada, as set out in Canada's Immigration and Refugee Protection Act," Strickland said in an email. "All applications from around the world are assessed equally against the same criteria."
Javier Bellocq, an Argentine who runs a community journalism project called the Key Correspondent Team which focuses on people living with HIV and high-risk groups, said from the stories he's heard, it seems like each Canadian consulate is applying different rules.
In some places, he said, applicants have been required to pay for medical examinations as part of the visa process.
"The conference, in theory, arranged with the Canadian government that there will not be medical examinations, but there are, there are many medical examinations."
Of a group of 40 Argentines, including Bellocq, who are planning to participate in pre-conference activities, only two have received visas so far, he said.
Tumie Komanyane, who runs programs for international NGO Frontline AIDS in South Africa, said groups she works with were planning to help more than a dozen young people attend the conference, but decided not to even bother applying for 10 visas after the first four applications were rejected.
Komanyane said she's aware of other young people from the region, including some who had scholarships to attend the conference funded by the Canadian government, who have had their visa applications denied.
"It's incoherent," she said in an interview Saturday. "With the strides that Africa is making in the HIV field, all the lessons and evidence that could be coming from the beneficiaries directly is going to be lost."
While she works with young people, she said, she doesn't want to speak for them.
"They have agency, they have voice, and they shouldn't be represented by people like me. They should be able to go and share what this work means for them," she said.
Bellocq said he's not worried about himself, noting the Argentine passport is relatively powerful and he's a professional who has been travelling internationally form more than 30 years. But he worries about people from countries with less passport privilege and members of marginalized groups who are at high risk of HIV.
With pre-conference events starting in just over three weeks, he said, "time is not on our side."
This report by The Canadian Press was first published July 2, 2022.
Jacob Serebrin, The Canadian Press
Blue Jays deal with 2 losses to Rays, off-field personal matters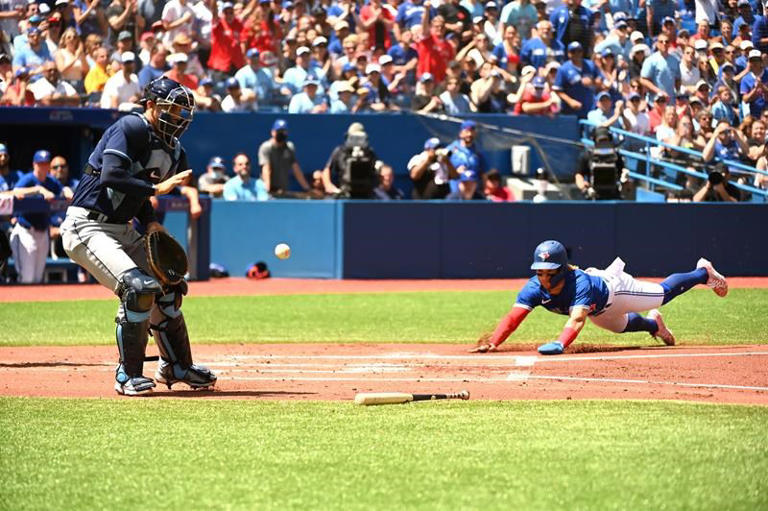 TORONTO — Back-to-back losses in a doubleheader paled in comparison to off-field concerns for the Toronto Blue Jays on Saturday.
Francisco Mejia had a two-run homer in the second inning and a solo shot in the fifth to lead Tampa Bay to an 11-5 rout of the Blue Jays hours after Isaac Paredes and Wander Franco each had a solo home run as the Rays won the first game 6-2.
Toronto first base coach Mark Budzinski left the second game early, with manager Charlie Montoyo repeatedly leaving the dugout for the clubhouse during the game. Bench coach John Schneider filled in as manager during Montoyo's brief absences.
The Blue Jays closed their clubhouse after the game and cancelled their post-game media availabilities.
"As many of you are aware, Mark Budzinski left early in the game tonight," read a statement from the team. "He is dealing with a personal matter and Charlie and our coaches are with him.
"Out of consideration for Bud, we ask that you please respect his privacy at this time. Thank you."
The Blue Jays also had a scary moment in the second inning of the first game when starting pitcher Kevin Gausman took a sharply hit ball off of his right ankle.
He lay prone on the turf in front of the mound as catcher Gabriel Moreno completed the play. After the out trainers came to examine Gausman on the field before helping him to the clubhouse.
His X-rays came back negative and Montoyo said between the games that the pitcher had a contusion.
"Just like everybody else, I was hoping that it wasn't anything worse than a contusion and that's what had happened and that's good news," said Montoyo, who said Gausman would be considered day-to-day.
Paredes added a three-run homer and an RBI double in the late game as Tampa (42-36) earned back-to-back wins.
Starter Drew Rasmussen allowed two runs — one earned — on five hits and two walks over 4 2/3 innings. Reliever Dusten Knight allowed three runs over 2 1/3 innings and Ralph Garza Jr. earned the win, pitching scoreless ball the rest of the way.
Bradley Zimmer had a two-run homer for Toronto (44-35) and Vladimir Guerrero Jr. added a solo bomb.
Thomas Hatch (0-1) coughed up 10 runs on 12 hits and two walks in 4 2/3 innings. Matt Gage, Sergio Romo, Tim Mayza and Adam Cimber came on in relief, with Gage allowing a run.
Tampa had lost four straight heading into Saturday's doubleheader, including losses in Toronto on Thursday and Friday.
"That was an exciting day. We had to find a way to bounce back, we did," said Rays manager Kevin Cash. "It kind of all came together for us through the course of a long day.
"It's tough to win both games of a doubleheader, so really proud and impressed with the guys."
EXTRA HELP — Casey Lawrence was recalled from triple-A as the 27th man for both games of the doubleheader. He pitched 5 2/3 innings of relief in Saturday's first game, allowing six runs to take the loss. Relief pitcher Max Castillo was sent down to triple-A between games to make space for Hatch on Toronto's roster.
PIRATES TRADE — The Blue Jays announced a trade with the Pittsburgh Pirates for left-handed pitcher Anthony Banda during the first game of the doubleheader. Toronto sent cash considerations to Pittsburgh in return. Righty Julian Merryweather was transferred to the 60-day injured list.
UP NEXT — Ross Stripling (4-2) will start for Toronto in the finale of the rare five-game series against Tampa Bay. Shane Baz (0-1) will take the mound for the Rays.
This report by The Canadian Press was first published July 2, 2022.
John Chidley-Hill, The Canadian Press