Cuba's famed Varadero beach getting ready for tourists again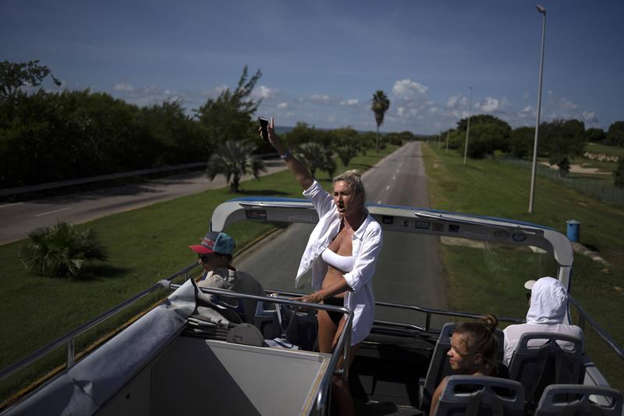 VARADERO, Cuba (AP) — Little by little, vacationers are returning to one of the Caribbean's most iconic beaches, which has been a nearly abandoned strip of glittering sand and turquoise seas for more than a year.
Varadero, the surfside star of Cuba's crucial tourism industry, is slowly getting ready for Cuba's planned Nov. 15 formal reopening to global visitors.
A handful of tourists, largely from Russia or Canada, have strolled across the 22-kilometer (13-mile) swath of sand in recent days, hunting out the scattering of restaurants that have reopened, dawdling over handicrafts at the few stands that have reappeared.
Medical personnel scan hotel visitors for signs of fever. Waiters, desk clerks and sellers of trinkets wear doubled masks as they cater to unmasked visitors in bathing suits. Largely empty tour buses run down the main boulevard.
At least some of the 60 or so hotels in Varadero remain closed, or pressed into service as quarantine centers. But others are already running.
About 100 people were staying at the 386-room Iberostar Selection Varadero on one day last week.
Juan Carlos Pujol, Cuba operations manager for the Spanish hotel chain, said the company had taken advantage of the pandemic closure to update restaurants or make adjustments for health measures, such as moving tables further apart or extending the reach of wi-fi to broader open expanses.
"We are very content and hopeful because now you can see the light at the end of the tunnel and we want to resume operations how and begin to recover what we had always had," he said.
The pandemic was a terrible blow to tourism in Cuba, which depends heavily on the industry, especially after a series of ever-tighter embargo measures imposed by former U.S. President Donald Trump — and that have not been significantly relaxed under his successor, Joe Biden.
"I've had many months without work, feeling horrible," said Lizet Aguilera, a 55-year-old weaver who recently reopened a souvenir stand that had been closed for 16 months.
Even so, she said she worries that she could be infected with COVID-19 while at work and bring it home.
"When I reach my house, before greeting anybody I take a bath," she said.
Another vender, Richard Martin, estimated that only about 50 of the resort's 5,000 artisans so far have returned to sell after months of hardship.
"It was very difficult," he said. "The need, the fear, the scarcity. We have confidence in the vaccine. What remains is to open, to show that it functions."
Cuba says it plans to have vaccinated 90% of its eligible population by the end of November— taking advantage of its unusually advanced biomedical industry to create the only locally developed COVID-19 vaccines in Latin America.
That has allowed officials to plan a gradual reopening to visitors, particularly in Varadero, some 150 kilometers (95 miles) east of Havana.
The town itself has only about 6,000 residents, but it provides thousands of jobs for people in nearby Cardenas, Boca de Camarioca and Matanzas and has some 20,000 hotel rooms — as well as a number of private residences that host visitors.
In 2019, Varadero received about 1.5 million of the 4.3 million tourists who came to Cuba— a number that collapsed when the pandemic hit and Cuba largely closed itself off to visitors.
The reopening will pose challenges: Cuba's weak economy and U.S. sanctions complicate obtaining products to sell to tourists. A new monetary policy means many services must be paid for using foreign bank cards — though none that depend on U.S. banking institutions.
Andrea Rodríguez, The Associated Press
Putin hosts Xi in the Kremlin with imperial palace pageantry
Russian President Vladimir Putin, right, and Chinese President Xi Jinping toast during their dinner at The Palace of the Facets is a building in the Moscow Kremlin, Russia, Tuesday, March 21, 2023. (Pavel Byrkin, Sputnik, Kremlin Pool Photo via AP)
By Vladimir Isachenkov in Moscow
MOSCOW (AP) — Russia and China showcased their "no-limits friendship" on Tuesday during a pomp-laden Kremlin ceremony intended to further cement ties amid the fighting in Ukraine.
After hosting Chinese leader Xi Jinping over a seven-course private dinner for 4 1/2 hours the previous night, Russian President Vladimir Putin greeted him in the old imperial palace for talks involving top officials from both countries.
Xi walked slowly up the opulent red-carpeted staircase of the Grand Kremlin Palace as guards in 19th century-style parade uniforms snapped to attention.
Putin was waiting to greet the Chinese leader in St. George's hall where walls are covered by white-marble plaques with gold engravings of the names of military units and soldiers awarded the order of St. George, a top military award established by Catherine the Great.
In a tightly choreographed ceremony filled with imperial grandeur, the two leaders entered the huge chandeliered room from opposite sides and shook hands in the middle to the sound of the Russian and Chinese national anthems.
They walked past a lineup of Russian and Chinese officials to sit down for talks. Putin and Xi both wore black suits and dark red ties.
The pageantry reflected the importance of Xi's three-day visit to Russia that gave a strong political boost to Putin just days after the International Criminal Court issued an arrest warrant for the Russian leader on charges of alleged involvement in abductions of thousands of children from Ukraine.
Moscow, which doesn't recognize the court's jurisdiction, dismissed the move as "legally null and void," but the arrest warrant further ramped up the pressure on the Russian leader as the fighting in Ukraine has dragged into a second year.
After the talks, Putin and Xi issued joint declarations pledging to further bolster their "strategic cooperation," develop cooperation in energy, high-tech industries and other spheres and expand the use of their currencies in mutual trade to reduce dependence on the West.
They said they would develop military cooperation and conduct more joint sea and air patrols, but there was no mention of any prospective Chinese weapons supplies to Russia that the U.S. and other Western allies feared.
Putin and Xi made long statements after the talks to a selected audience of officials and reporters from their pools. They didn't take questions.
Putin hailed China's proposals for a political settlement and a cease-fire in Ukraine, saying that it could serve as a basis for a peaceful settlement "once the West and Kyiv are ready for it." The U.S. has criticized Beijing's plan as a move intended to allow Russia to shore up its gains.
Putin and Xi wrapped up the day with a state dinner in the 15th-century Palace of Facets that served as a banquet hall for the czars. They again exchanged pledges of expanding the countries' "comprehensive partnership" at a table next to a frescoed wall before the audience of top officials.
Putin cited a long quote from China's classical Book of Changes about friendship capable of overcoming any obstacles that the interpreter failed to fully grasp. He raised a glass with a toast wishing good health to Xi and prosperity for the two countries and their peoples, ending it with 'Ganbei,' the Chinese equivalent of 'cheers.' Xi responded in kind.
After hosting Xi in the Kremlin for six hours, Putin accompanied him down the grand staircase.
"We are now witnessing the changes that haven't been seen for more than a century, and we are pushing them together," Xi told Putin through an interpreter as they stood in the Kremlin's doorway. "Take care, dear friend!"
They shook hands, and Putin stood on the pavement for a moment, waving his hand as Xi's limo drove away.
Before the Kremlin talks, Xi met with Russian Prime Minister Milkhail Mishustin. Unlike them, Russian and Chinese officials who attended the talks wore medical masks — a reminder of the COVID-19 pandemic that halted mutual visits.
Xi briefly referred to it, telling Mishustin he was happy to be back in Moscow after a long break because of the pandemic. He said that he invited Putin over Monday's dinner to visit China later this year to attend a top-level meeting of China's Belt and Road regional initiative.
Kremlin foreign affairs adviser Yuri Ushakov said Putin could make the trip but didn't give the date.
Xi stayed at a brand-new Chinese-owned Soluxe Hotel set in a lavish riverside park in northern Moscow that features trees and plants from all over China. He used a Chinese-made Hongqi limousine for driving around Moscow.
Trudeau chief of staff Katie Telford to testify on foreign interference at committee
Chief of Staff to the Prime Minister Katie Telford arrives to appear as a witness at the Public Order Emergency Commission in Ottawa, on Thursday, Nov. 24, 2022. Prime Minister Justin Trudeau says a motion to compel his chief of staff to testify about foreign interference at a House of Commons committee will not be a confidence matter. THE CANADIAN PRESS/Sean Kilpatrick
Ottawa (CP) – Prime Minister Justin Trudeau's office says his chief of staff, Katie Telford, will testify at a House of Commons committee on the issue of foreign interference in the last two Canadian elections.
The move came Tuesday as Trudeau's office issued the mandate for special rapporteur David Johnston, giving him until May 23 to recommend whether any additional mechanisms — like a formal public inquiry — are necessary.
Johnston will have until the end of October to complete his review of foreign interference issues and make further recommendations for how the government should proceed.
Trudeau told reporters Tuesday morning that Johnston will have access to all relevant documents, including classified information.
The Liberals' decision to drop their opposition to having Telford testify at committee made moot a vote planned for Tuesday afternoon on a Conservative motion asking the entire House of Commons to demand her appearance.
Liberal members of Parliament had been filibustering the Procedures and House Affairs committee for several weeks to prevent a similar motion that would compel Telford to appear.
The announcement on Telford's testimony came moments after NDP Leader Jagmeet Singh said his party would back the Conservative motion if the government didn't stop filibustering at the committee.
Singh insisted the committee is not the best placed to get to the bottom of the foreign interference problems, and he wants a public inquiry. He said the Liberals and Conservatives are too bent on scoring political points at the committee for it to do the best job.
Trudeau has not heeded the calls for an inquiry thus far, but has said he will listen if Johnston recommends one.
Trudeau appointed Johnston, a former governor general, last week amid allegations Beijing attempted to influence the results of both the 2019 and 2021 federal elections.
The government and opposition parties have said those attempts did not compromise the validity of the elections, a contention backed up by the head of the Canadian Security Intelligence Service.
But opposition parties have been demanding the government produce more information about what Beijing tried to do, what Trudeau knew about it and what he did about it. They want a full public inquiry but Trudeau instead appointed Johnston to look into the issue and make recommendations.
He has said if Johnston recommends an inquiry he will abide by that.
Trudeau said earlier Monday he wanted the issue of foreign interference to be treated with the seriousness it deserves and accused Conservative Leader Pierre Poilievre of turning the matter into a "political circus."
The Liberals left the door open on Monday to making the vote on the Telford motion a confidence matter, but Trudeau shut that door firmly Tuesday morning.
"No, it's not going to be a confidence motion," he said, prior to the Liberal cabinet meeting.
"Obviously, it goes to how important the issue of foreign interference is, and I'm actually pleased to contrast the approach that we've taken."
He said the process the Liberals are following "is an expert process that will dig into this in a nonpartisan way."
This report by The Canadian Press was first published March 21, 2023.