Cuba's famed Varadero beach getting ready for tourists again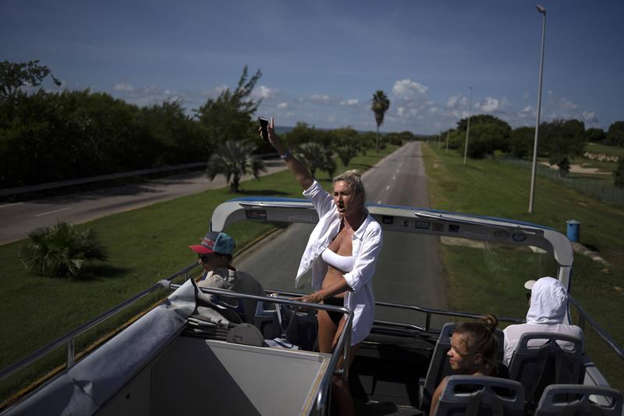 VARADERO, Cuba (AP) — Little by little, vacationers are returning to one of the Caribbean's most iconic beaches, which has been a nearly abandoned strip of glittering sand and turquoise seas for more than a year.
Varadero, the surfside star of Cuba's crucial tourism industry, is slowly getting ready for Cuba's planned Nov. 15 formal reopening to global visitors.
A handful of tourists, largely from Russia or Canada, have strolled across the 22-kilometer (13-mile) swath of sand in recent days, hunting out the scattering of restaurants that have reopened, dawdling over handicrafts at the few stands that have reappeared.
Medical personnel scan hotel visitors for signs of fever. Waiters, desk clerks and sellers of trinkets wear doubled masks as they cater to unmasked visitors in bathing suits. Largely empty tour buses run down the main boulevard.
At least some of the 60 or so hotels in Varadero remain closed, or pressed into service as quarantine centers. But others are already running.
About 100 people were staying at the 386-room Iberostar Selection Varadero on one day last week.
Juan Carlos Pujol, Cuba operations manager for the Spanish hotel chain, said the company had taken advantage of the pandemic closure to update restaurants or make adjustments for health measures, such as moving tables further apart or extending the reach of wi-fi to broader open expanses.
"We are very content and hopeful because now you can see the light at the end of the tunnel and we want to resume operations how and begin to recover what we had always had," he said.
The pandemic was a terrible blow to tourism in Cuba, which depends heavily on the industry, especially after a series of ever-tighter embargo measures imposed by former U.S. President Donald Trump — and that have not been significantly relaxed under his successor, Joe Biden.
"I've had many months without work, feeling horrible," said Lizet Aguilera, a 55-year-old weaver who recently reopened a souvenir stand that had been closed for 16 months.
Even so, she said she worries that she could be infected with COVID-19 while at work and bring it home.
"When I reach my house, before greeting anybody I take a bath," she said.
Another vender, Richard Martin, estimated that only about 50 of the resort's 5,000 artisans so far have returned to sell after months of hardship.
"It was very difficult," he said. "The need, the fear, the scarcity. We have confidence in the vaccine. What remains is to open, to show that it functions."
Cuba says it plans to have vaccinated 90% of its eligible population by the end of November— taking advantage of its unusually advanced biomedical industry to create the only locally developed COVID-19 vaccines in Latin America.
That has allowed officials to plan a gradual reopening to visitors, particularly in Varadero, some 150 kilometers (95 miles) east of Havana.
The town itself has only about 6,000 residents, but it provides thousands of jobs for people in nearby Cardenas, Boca de Camarioca and Matanzas and has some 20,000 hotel rooms — as well as a number of private residences that host visitors.
In 2019, Varadero received about 1.5 million of the 4.3 million tourists who came to Cuba— a number that collapsed when the pandemic hit and Cuba largely closed itself off to visitors.
The reopening will pose challenges: Cuba's weak economy and U.S. sanctions complicate obtaining products to sell to tourists. A new monetary policy means many services must be paid for using foreign bank cards — though none that depend on U.S. banking institutions.
Andrea Rodríguez, The Associated Press
Supreme Court of Canada sides with injured woman in snow-clearing squabble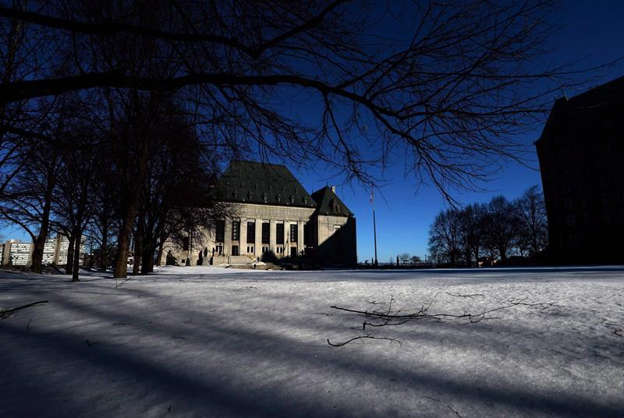 OTTAWA — A woman will get another chance to sue for damages over a leg injury she suffered while climbing through snow piled by a city's plow, the Supreme Court of Canada has ruled.
Taryn Joy Marchi alleged the City of Nelson, B.C., created a hazard when it cleared snow from downtown streets after a storm in early January 2015.
The removal effort left snow piles at the edge of the street along the sidewalk early in the morning of Jan. 5.
Late in the afternoon of Jan. 6, Marchi — then a 28-year-old nurse — parked in an angled spot on the street and, wearing running shoes with a good tread, tried to cross a snow pile to get on to the sidewalk.
Her right foot dropped through the snow and she fell forward, seriously injuring her leg.
Marchi contended the city should have left openings in the snowbank to allow safe passage to the sidewalk.
She pointed to the neighbouring municipalities of Castlegar, Rossland and Penticton in arguing there were preferable ways to clear the streets so as to ensure safe access for pedestrians.
However, the trial judge dismissed her case, saying the city was immune from liability because it made legitimate policy decisions about snow clearing based on the availability of personnel and resources.
In any event, the judge concluded, Marchi assumed the risk of crossing the snow pile and was "the author of her own misfortune."
The B.C. Court of Appeal overturned the decision and ordered a new trial, saying the judge erred in addressing the city's duty of care and the question of Marchi's negligence.
The ruling prompted the City of Nelson to seek a hearing in the Supreme Court.
In a written submission to the high court, the city said its actions amount to "a clear example of a core policy decision" that should be immune from liability.
In her filing with the court, Marchi said city employees made a number of operational decisions that fell below the expected standard of care of a municipality — decisions not required by the written policy.
In its 7-0 ruling Thursday, the Supreme Court said a fresh trial should take place because the city has not proved that its decision on how to clear the snow was "a core policy decision" immune from liability.
While there is no suggestion the city made an irrational or "bad faith decision," the city's core policy defence fails and it owed Ms. Marchi a duty of care, justices Sheilah Martin and Andromache Karakatsanis wrote on behalf of the court.
"The regular principles of negligence law apply in determining whether the City breached the duty of care and, if so, whether it should be liable for Ms. Marchi's damages."
This report by The Canadian Press was first published Oct. 21, 2021.
Jim Bronskill, The Canadian Press
Pfizer will ship millions of vaccine doses for kids as soon as it's approved: Trudeau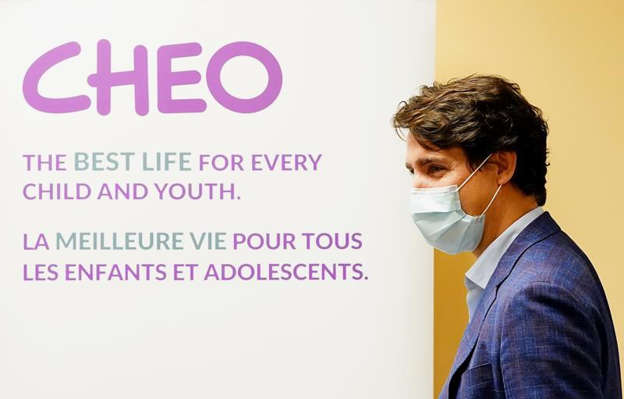 OTTAWA — Prime Minister Justin Trudeau says as soon as Health Canada approves the COVID-19 vaccine for kids, Pfizer will ship millions of doses to vaccinate children as young as five.
Pfizer and BioNTech asked Health Canada Monday to approve the vaccine for children between five and 11 years old but said the doses already shipped for adults are different.
The pediatric formula is for a dose one-third the size as that given to adults and teenagers.
Trudeau said he knows Canadian parents are anxious to get their children vaccinated as soon as possible but urged patience because Health Canada will take the time it needs to complete its process to ensure the data confirms the vaccine is safe and effective for children.
The United States is expected to make a decision for this age group by the end of this month. While Canada has co-operated with both the U.S. and the European Medicines Agency to have common authorization requirements for vaccines, there is no deadline in Canada for the decision to be made.
Trudeau says as soon as that happens, Pfizer will ship "enough to get all kids between five and 11 vaccinated as quickly as possible."
Public Services and Procurement Minister Anita Anand said in a statement that the first shipment will be 2.9 million doses, which is enough to give the first dose to all children in that age group.
Anand said Pfizer agreed to accelerate the deliveries, and that Canada has procured the syringes and other supplies needed to administer the doses.
She said second doses will be delivered depending on how fast the first doses are rolled out.
"This will ensure that Canadian children have vaccines when they need them without keeping doses in freezers for extended periods of time when global demand is so high," said Anand.
Pfizer and BioNTech reported that two 10 microgram doses of vaccine, given approximately 21 days apart, generated a similar antibody response in children between five and 11 years old as the adult-sized doses did when given to people between 16 and 25 years of age.
They earlier had tested three different sized doses for kids, and landed on the 10 microgram dose as the best option.
As of Wednesday, 29.6 million Canadians over the age of 12 have received at least one dose and 27.9 million of those are fully vaccinated with both required doses.
That amounts to 88.5 per cent of all eligible Canadians having at least one dose, and 83 per cent of them being fully vaccinated.
More than 414,000 Canadians have now received a third dose, mainly people with compromised immune systems and some residents in long-term care homes, for whom two doses did not give the same level of immunity as they did to most healthy adults.
Pfizer spokeswoman Christina Antoniou said the pediatric doses will come in vials of 10 doses, with a unique label for children and a different coloured cap to ensure it is differentiated from the vials of adult doses.
The adult doses are shipped in vials with six doses in each.
Moderna is also testing its vaccine on children, with results expected later this fall.
Pfizer and Moderna are both testing the vaccine on children younger than five as well, with clinical trials underway but no certainty on when the data will be ready.
This report by The Canadian Press was first published Oct. 21, 2021.
Mia Rabson, The Canadian Press