Crowd gathers north of Toronto to cheer on trucker convoy heading to Ottawa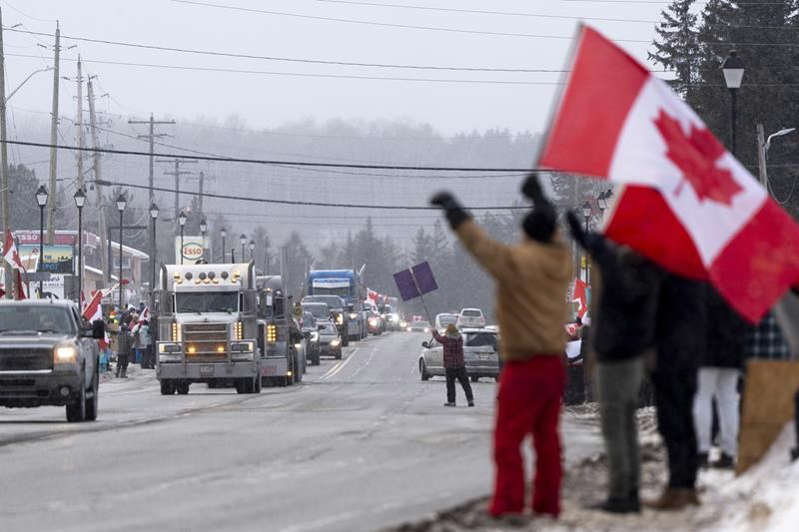 TORONTO — A large crowd gathered outside a mall north of Toronto on Thursday as a group of local truckers prepared to join a convoy to Ottawa in protest of the federal government's COVID-19 vaccine mandate for cross-border drivers.
Some in the crowd threw cash and food up to truckers in their vehicles at the Vaughan Mills mall while others hoisted Canadian flags and signs protesting the government as the truckers gradually rolled out.
Mike Fabinski, a truck driver from Barrie, Ont., said the vaccine mandate means he won't be able to work cross-border routes any more.
"You want to be vaccinated, go ahead, your choice. I don't want to be vaccinated, that's my choice," he said.
Fabinski said he's been a truck driver for 20 years but has not been able to travel to the U.S. since the federal mandate came to effect on Jan 15.
"I was going non-stop until they started last Saturday," he said. "Now I cannot go. I cannot work no more."
The federal government ended truckers' exemption to the vaccine mandate two weeks ago meaning Canadian truck drivers need to be fully vaccinated if they want to avoid a two-week quarantine when they cross into Canada from the U.S.
Some with extreme, far-right views have latched onto the protest against the mandate. One online video includes a man expressing hope the rally will turn into the Canadian equivalent of the Jan. 6, 2021, riot at the U.S. Capitol by supporters of former president Donald Trump.
On Thursday, some in the crowd that came out to support the truckers said they planned to join the convoy and make the trek to Ottawa as well.
Dean Brown said he supported peaceful protest intended by the convoy and rejected suggestions that it could lead to violence.
"The people who are in charge of this (convoy) are blocking people who are insisting or suggesting violence," the 57-year-old Toronto man said.
"It's all about peace. It's all about freedom. It's all about getting the Canadian way of life back. We are not here to turn it to violence."
Ontario Provincial Police were urging drivers to be patient as several groups of truckers planned to drive across the province to Ottawa before a so-called "freedom rally" on Parliament Hill planned for Saturday.
Police spokesman Sgt. Kerry Schmidt said drivers should prepare for delays on Toronto-area highways, including Highway 401, Highway 400 and the Queen Elizabeth Way.
Police in Ottawa have said they are planning for as many as 2,000 demonstrators, and while protest leaders have been co-operative, there are concerns that far-right extremist groups that have attached themselves to the convoy could spark violence.
The Canadian Trucking Alliance, which has denounced the convoy protest, estimates that roughly 15 per cent of truckers — up to 16,000 — are not fully vaccinated against COVID-19.
This report by The Canadian Press was first published Jan. 27, 2022.
Maan Alhmidi, The Canadian Press
Mendicino: foreign-agent registry would need equity lens, could be part of 'tool box'
By Dylan Robertson in Ottawa
Public Safety Minister Marco Mendicino says a registry to track foreign agents operating in Canada can only be implemented in lockstep with diverse communities.
"There is a historical context when it comes to some communities within this country and their relationship with [security] agencies and the law-enforcement community," Mendicino told the House committee on Canada-China relations Monday evening.
"We need agencies to be inclusive, diverse, culturally sensitive."
Two months ago, the Liberals said they will eventually consult the public on the possible creation of a foreign agent registry, to prevent outside interference in Canadian affairs.
But the government has yet to formally launch that consultation.
The United States and Australia have public registries that require people advocating for a foreign state to register their activities, under penalty of fines or jail time.
Mendicino told the committee that Ottawa has to be careful to not isolate communities who have felt under the microscope of security agencies. He also told reporters after his testimony that Ottawa is taking the idea to its own advisory panels before soliciting public input.
"I wouldn't describe it as a hesitation; I think we need to be diligent and thoughtful and inclusive, when it comes to bringing all Canadians along in the modernization of the tools and the arsenal that we create for our national security and intelligence communities," he told the committee.
Mendicino also told MPs a foreign agent registry alone would not drastically alter Canada's ability to detect and confront national-security threats, and would only be launched as part of "a tool box" of other measures.
"While there is attention to looking at each of the examples of tools we might consult on, including the foreign-agent registry, I would discourage the members of this committee from quickly concluding that any one of these in isolation will work by itself," he said.
Conservative public-safety critic Raquel Dancho accused the Liberals of stalling on launching a registry.
"Anything that is stopping it would just be an excuse at this point. I think any government that's operating through legitimate diplomatic relations in Canada should welcome an official registry," she said in an interview between witness testimony.
"That should be sort of the cost of doing business in Canada through diplomatic relations."
Mendicino appeared at the committee based on a request last October from MPs to have senior officials testify on three allegedly illegal police stations operating in the Greater Toronto Area.
Since then, advocates for Chinese democracy have alleged China is running two other police stations in Canada, including one in Vancouver.
RCMP Commissioner Brenda Lucki told MPs that Mounties are only aware of four alleged police stations and that officers have attended the scene in uniforms to gather information and be seen.
She believes that has yielded tips from the public, and noted that at least one of the apparent police stations seemed to have operated in the backroom of a commercial business.
Lucki noted that no one has been charged in connection with these so-called police stations, and suggested the public would be informed if that was the case.
Similarly, Mendicino said the public would be made aware if any diplomats had been ordered to leave Canada in relation to the issue.
Yet NDP foreign-affairs critic Heather McPherson questioned how police are handling tips from communities who allege they're being targeted by foreign countries.
The Edmonton MP said constituents who are Uyghur or originating from Hong Kong have reported being passed between the RCMP, local police and an RCMP-run hotline, and that local police seem unaware how to handle the reports.
"We're hearing a very different story form people who are living in these communities," McPherson said.
More officials will testify Monday night from the Canadian Security Intelligence Service, the RCMP and Public Safety Canada.
The evening meeting follows the appearance of a Chinese balloon that drifted over Canadian territory before it was spotted over the skies of Montana, leading opposition parties to ask why Ottawa didn't alert Canadians earlier.
Last November, the federal Liberals unveiled their Indo-Pacific strategy, which calls for stronger ties with countries other than China to counterbalance Beijing's approach to human rights and trade.
This report by The Canadian Press was first published Feb. 6, 2023.
McKinsey doesn't meet criteria for banning company from federal contracts: bureaucrat
By Nojoud Al Mallees in Ottawa
The deputy minister of Public Services and Procurement Canada says the federal government's ethics rules do not disqualify consulting firm McKinsey & Company from doing business with the federal government despite scrutiny of the firm's global track record.
Paul Thompson answered questions about the firm's government contracts at a House of Commons committee Monday.
He said a Canadian company would be barred from federal contracts if one of its affiliates has been convicted of a crime, which is not the case for McKinsey.
The company has faced scrutiny for its work around the world, including its alleged involvement in the opioid crisis in the U.S. and its work with authoritarian governments.
The House of Commons government operations committee is digging into contracts awarded to McKinsey since 2011 following media reports showing a rapid increase in the company's federal contracts under Prime Minister Justin Trudeau's Liberal government.
The government says McKinsey has received at least $116.8 million in federal contracts since 2015.
At a news conference Monday, Conservative MP Garnett Genuis said the federal government shouldn't be contracting with McKinsey. "We cannot work with a company that's behaving in the way McKinsey has."
This report by The Canadian Press was first published Feb. 6, 2023.