Crowd gathers north of Toronto to cheer on trucker convoy heading to Ottawa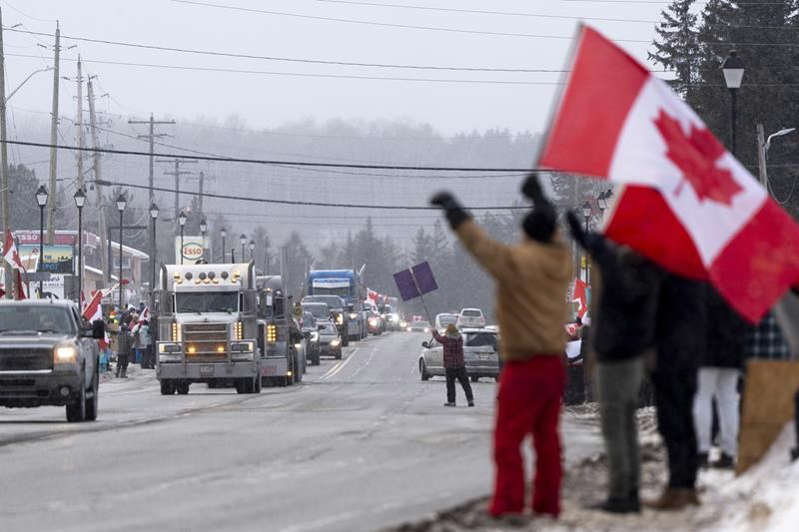 TORONTO — A large crowd gathered outside a mall north of Toronto on Thursday as a group of local truckers prepared to join a convoy to Ottawa in protest of the federal government's COVID-19 vaccine mandate for cross-border drivers.
Some in the crowd threw cash and food up to truckers in their vehicles at the Vaughan Mills mall while others hoisted Canadian flags and signs protesting the government as the truckers gradually rolled out.
Mike Fabinski, a truck driver from Barrie, Ont., said the vaccine mandate means he won't be able to work cross-border routes any more.
"You want to be vaccinated, go ahead, your choice. I don't want to be vaccinated, that's my choice," he said.
Fabinski said he's been a truck driver for 20 years but has not been able to travel to the U.S. since the federal mandate came to effect on Jan 15.
"I was going non-stop until they started last Saturday," he said. "Now I cannot go. I cannot work no more."
The federal government ended truckers' exemption to the vaccine mandate two weeks ago meaning Canadian truck drivers need to be fully vaccinated if they want to avoid a two-week quarantine when they cross into Canada from the U.S.
Some with extreme, far-right views have latched onto the protest against the mandate. One online video includes a man expressing hope the rally will turn into the Canadian equivalent of the Jan. 6, 2021, riot at the U.S. Capitol by supporters of former president Donald Trump.
On Thursday, some in the crowd that came out to support the truckers said they planned to join the convoy and make the trek to Ottawa as well.
Dean Brown said he supported peaceful protest intended by the convoy and rejected suggestions that it could lead to violence.
"The people who are in charge of this (convoy) are blocking people who are insisting or suggesting violence," the 57-year-old Toronto man said.
"It's all about peace. It's all about freedom. It's all about getting the Canadian way of life back. We are not here to turn it to violence."
Ontario Provincial Police were urging drivers to be patient as several groups of truckers planned to drive across the province to Ottawa before a so-called "freedom rally" on Parliament Hill planned for Saturday.
Police spokesman Sgt. Kerry Schmidt said drivers should prepare for delays on Toronto-area highways, including Highway 401, Highway 400 and the Queen Elizabeth Way.
Police in Ottawa have said they are planning for as many as 2,000 demonstrators, and while protest leaders have been co-operative, there are concerns that far-right extremist groups that have attached themselves to the convoy could spark violence.
The Canadian Trucking Alliance, which has denounced the convoy protest, estimates that roughly 15 per cent of truckers — up to 16,000 — are not fully vaccinated against COVID-19.
This report by The Canadian Press was first published Jan. 27, 2022.
Maan Alhmidi, The Canadian Press
Ottawa interim police chief Steve Bell didn't ask feds to invoke Emergencies Act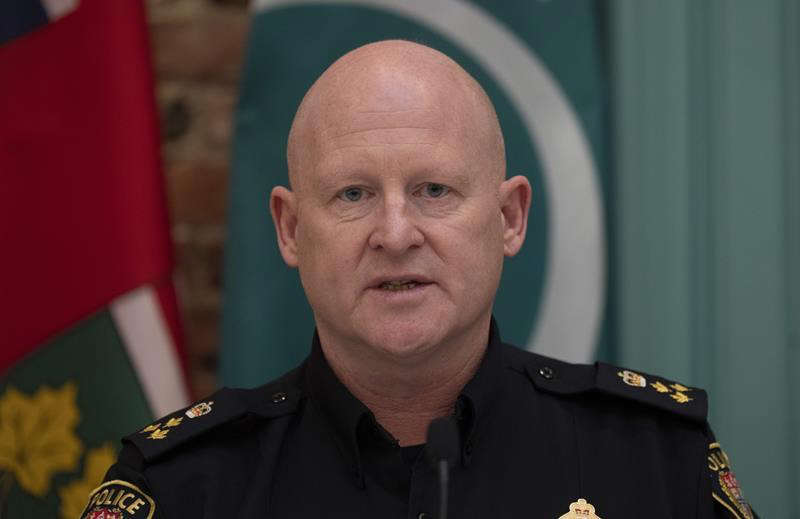 Ottawa's interim police chief says he did not ask the federal government to invoke the Emergencies Act during the "Freedom Convoy" in February.
The Liberals have said law enforcement asked for additional powers that could only be granted by declaring a national emergency.
Last week, however, Commissioner Brenda Lucki also said the RCMP did not ask the federal government to use the act.
Ottawa interim chief Steve Bell spoke to a parliamentary committee today, along with representatives from the Ontario Provincial Police, the RCMP and Gatineau police, about issues with jurisdiction in downtown Ottawa.
The committee on Procedure and House Affairs is examining whether the Parliamentary Protective Service should have jurisdiction over Wellington and Sparks streets, in addition to its current oversight of the parliamentary precinct.
Bell says there will need to be clarity on the boundaries of each organization's responsibility if any changes are made, and clarity about what happens when events such as protests cross over those boundaries.
This report by The Canadian Press was first published May 17, 2022.
The Canadian Press
CP NewsAlert: Prince Charles and Camilla land in Newfoundland to start Canadian tour
ST. JOHN'S, N.L. — Prince Charles and Camilla, the Duchess of Cornwall, have arrived in St. John's, N.L., to begin a three-day Canadian tour that includes stops in Ottawa and the Northwest Territories.
The royal couple's itinerary in Newfoundland includes a welcome ceremony at the provincial legislature with Prime Minister Justin Trudeau and Gov. Gen. Mary Simon, followed by a visit to Government House, the official residence of Lt.-Gov. Judy Foote, the Queen's representative in the province.
Outside the residence, they will take part in a reconciliation prayer with Indigenous leaders at the Heart Garden, which was built to honour Indigenous children who attended the province's residential schools.
Earlier today, Trudeau said reconciliation will form part of the discussions Charles and Camilla engage in during their visit.
But the prime minister avoided answering when asked if he thinks the Queen should apologize for the legacy of residential schools.
Métis National Council President Cassidy Caron has said she intends to make a request for an apology to the prince and duchess during a reception Wednesday at Rideau Hall in Ottawa.
More coming.
The Canadian Press