Criminal cases for killing eagles decline as wind turbine dangers grow
Environmental Development Director Misti Sporer of Duke Energy is seen on an observation tower at the company's Top of the World wind farm, on April 24, 2023, in Rollings Hills, Wyo. Sporer said the company has reduced, but not eliminated, collisions of eagles into turbines by installing a computerized camera network that detects incoming birds. (AP Photo/Matthew Brown)
By Matthew Brown And Camille Fassett in Rolling Hills
ROLLING HILLS, Wyo. (AP) — Criminal cases brought by U.S. wildlife officials for killing or injuring protected eagles dropped sharply in recent years, even as officials ramped up issuing permits that will allow wind energy companies to kill thousands of eagles without legal consequence.
The falloff in enforcement of eagle protection laws accelerated in the Trump administration and has continued under President Joe Biden, according to U.S. Fish and Wildlife Service data obtained by The Associated Press.
It comes amid growing concern that a proliferation of wind turbines to feed the demand for renewable energy is jeopardizing golden eagle populations.
Dozens of permits approved or pending would allow roughly 6,000 eagles to be killed in coming decades, government documents show. More than half the killed birds would be golden eagles, which prefer the same open landscapes as wind developers.
The findings underscore a Biden administration dilemma: Confronting climate change through clean power development requires trade offs such as more dead birds from collisions with wind turbines.
"They are rolling over backwards for wind companies," said Mike Lockhart a former U.S. Fish and Wildlife Service biologist who researches eagles in Wyoming. "I think they are killing a hell of a lot more eagles than they ever anticipated."
Turbines can tower 260 feet (80 meters) with blade tips spinning in excess of 150 miles per hour (240 kilometers per hour).
Companies often pledge to perform conservation work to offset eagle deaths. Some permits include direct payments for dead eagles — about $30,000 per bird. Numerous permits allow the killing of bald eagles without compensation.
The Biden administration has proposed streamlining the process, making permits automatic in some cases, as they allow wind-energy projects and power line networks to harm eagles and disturb nests.
Some wind farms have relocated turbines or reduced their numbers to minimize deaths. But turbines continue to go up in areas frequented by golden eagles, and Lockhart said the cumulative impacts could be disastrous.
Turbines have killed at least six golden eagles Lockhart had previously trapped and tagged for research. One was killed about two months after a wind farm started operating near its nest in 2021, he said.
"They're going to more than double the (wind) capacity and in doing that, the impacts on wildlife, particularly golden eagles, are going to be exponentially going up," Lockhart said.
Fish and Wildlife Service officials said they are working to avoid such a scenario by working with companies to reduce bird deaths. "We expect the final number to be much smaller," spokesperson Vanessa Kauffman said.
There have been a small number of high-profile prosecutions of wind companies that continued killing eagles despite prior warnings from wildlife officials — including major utilities Duke Energy, PacifiCorp and NextEra Energy. Each company agreed to take steps to limit eagle deaths.
Yet at Duke Energy's windfarms in Wyoming, eagle deaths became more frequent after the company reached a 2013 deal that included a $1 million fine and shielded it from prosecution for 10 years, according to government and court records. The company says the rate has fallen after it installed a system that shuts down nearby turbines when eagles approach.
The company also was awarded a permit allowing the accidental killing of eagles without penalty, providing it takes steps to minimize them. Wildlife officials approved such permits for more than two dozen major wind projects over the past several years, sometimes with opposition from Native American tribes that revere eagles.
Despite objections from the Colorado River Indian Tribes, officials approved a permit last year for Tucson Electric Power, operator of 62 turbines in southern New Mexico, allowing it to kill 193 golden eagles over 30 years. Federal officials said a permit offered the "only available avenue" to require conservation measures such as minimizing or compensating for eagle deaths.
In Minnesota, Grand Portage Band of Lake Superior Chippewa Chairman Robert Deschampe said with their proposal to further streamline permitting, wildlife officials had "abandoned" protections for eagle nests and ignored tribal concerns.
Several major conservation groups jointly lobbied the White House with Duke energy and other utilities in support of streamlined permitting. Their rationale was that regulating industry through permits was preferable to companies ignoring eagle deaths out of fear of prosecution.
"Part of the issue is that companies have generally not been requesting permits and they've been taking their chances and there hasn't been a lot of law enforcement," said Steve Holmer, vice president of policy at the American Bird Conservancy.
Violations of the Eagle Protection Act rose during the second term of President Barack Obama, after wind farms proliferated and an AP investigation found dozens of unprosecuted eagle deaths.
At the urging of industry, Trump appointees rolled back enforcement of the Migratory Bird Treaty Act that protects more than a thousand species in addition to eagles.
A Biden order reversed the rollback. However, cases continued sliding and hit their lowest level in a decade in the Democrat's first year with 49 recorded violations, after peaking at 232 under Obama in 2014. They averaged 67 annually under Trump.
In its 2024 budget request, the service revealed special agents were at historical low levels and that 47 agents will hit mandatory retirement in the next four years.
Only about one in eight cases brought under the Eagle Protection Act from 2012 to early 2022 resulted in fines, probation or jail time, according to AP's analysis.
Whether criminal charges are pursued is up to prosecutors, said agency spokesperson Christina Meister.
At Duke's Top of the World wind farm near the town of Rolling Hills, at least 56 eagles have been killed since it started in 2010.
Several years ago, Duke deployed a camera system to detect incoming eagles so turbines in a bird's path can be shut down. Since the cameras were installed, eagle deaths declined by more than 60%, said company scientist Misti Sporer.
"Today, we would likely not put those wind turbines where they are," Sporer said.
___
On Twitter follow Matthew Brown @MatthewBrownAP and Camille Fassett @camfassett.
Suncor to cut 1,500 jobs by end of year, employees informed Thursday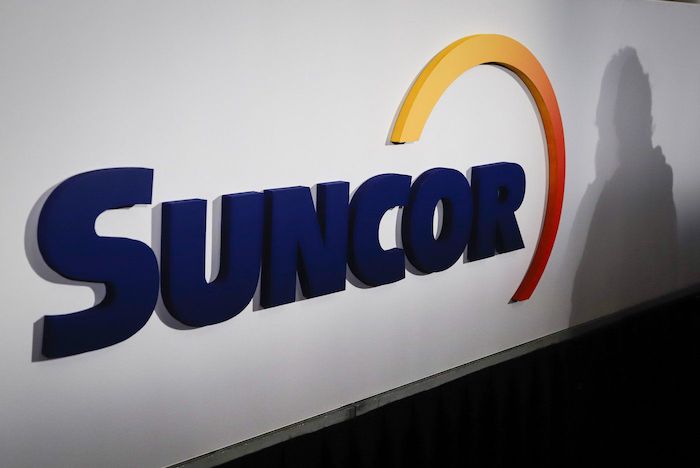 A Suncor logo is shown at the company's annual meeting in Calgary, Thursday, May 2, 2019. Suncor on Thursday said is would lay off 1,500 workers by the end of 2023. THE CANADIAN PRESS/Jeff McIntosh
Suncor Energy Inc. says it will cut 1,500 jobs by the end of the year in an effort to reduce costs and improve the company's lagging financial performance.
Spokeswoman Sneh Seetal confirmed the cuts, saying they will be spread across the organization and will affect both employees and contractors.
Seetal says employees were informed of the cuts in a companywide email from Suncor CEO Rich Kruger earlier this afternoon.
Suncor has been under pressure from shareholders — including activist investor Elliott Investment Management — to improve its financial and share price performance, which has lagged its peers.
Kruger, the former CEO of Imperial Oil Ltd., took the reins at Suncor earlier this spring and has been tasked with turning around the oilsands giant.
Suncor employs people across the country, in the U.S., and the U.K. Its corporate head office is located in Calgary.
This report by The Canadian Press was first published June 1, 2023.
Canada will keep up with U.S., won't cut corners on permitting reform, Wilkinson says
Minister of Natural Resources Jonathan Wilkinson arrives to a cabinet meeting on Parliament Hill in Ottawa on Tuesday, May 30, 2023. Wilkinson says Canada won't be "cutting corners" as it overhauls the permitting process for energy projects. THE CANADIAN PRESS/Sean Kilpatrick
Washington
Canada's natural resources minister says he won't be "cutting corners" when it comes to the environmental assessment process for energy projects.
Jonathan Wilkinson says the government is focused on delivering a new permitting process before the end of the year.
Industry experts say it's more urgent than ever, now that the U.S. is poised to eliminate duplication and require shorter timelines for environmental assessments.
The U.S. permitting reforms are part of the new Fiscal Responsibility Act, the result of efforts to end the political standoff over the debt ceiling.
That controversy is still far from resolved, however: Congress is divided over the legislation, which aims to stave off a U.S. default before Monday.
If passed, the bill would create a new agency to oversee the permitting process and require environmental reviews take no longer than two years.
This report by The Canadian Press was first published May 30, 2023.