Crash threatens Vancouver shipyard's schedule for new coast guard ships
OTTAWA — The Canadian Coast Guard's hope that its first new fisheries science vessel will finally be delivered this summer could be dashed after the ship crashed on its first test run last week.
Seaspan Shipyards is already two years behind schedule to deliver the CCGS Sir John Franklin, one of three new fisheries science vessels the British Columbia shipbuilder is producing for the federal government.
The Franklin was returning from its first week of sea trials and being piloted by a contractor when it ran into the Ogden Point breakwater near Victoria on Friday, said Seaspan Shipyards vice-president Tim Page.
No one was injured but an initial assessment by Seaspan found the Franklin's propeller and rudder were damaged, said Page. Photographs from the scene also showed a large dent in the hull on the aft port side above the water line.
The shipyard is working to determine the cause of the crash and whether it will further delay delivery of the vessel to the coast guard.
"Because of the damage and our need to look at exactly the extent of the damage to the propeller, the rudder and to hull, sea trials have been suspended and will recommence once repairs have been performed," Page said Monday.
"We don't know what potential impact there may be yet to the vessel's delivery schedule since we have not yet fully assessed the damage."
Any delay could also have a impact on delivery of the other two fishing vessels ships Seaspan is building, as well as an ocean science vessel and a heavy icebreaker for the coast guard and two supply ships for the navy.
The vessels are being largely built in order, meaning a delay on one has the potential to affect the rest. That in turns drives up costs and forces the coast guard and navy to continue older ships or stop gaps.
The crash is the latest bit of bad news for the Vancouver shipyard and follows recent optimism that it had finally turned the page on years of cost overruns and delays.
The Franklin was originally supposed to be delivered in early 2017, but that was before officials found that there were problems with the ship's welding and Seaspan was forced to go back and redo some of the work.
With the welding redone — at Seaspan's expense — and sea trials started, shipyard executives told a Senate committee last week that they expected to deliver the Franklin to the coast guard this summer.
"At this point we're still pitching for the June delivery," Page said.
"But we don't know enough yet about how long it will take us to repair the damage to the rudder and the propeller and the aft portion of the hull. And when we do, we'll know its impact on schedule."
Seaspan was selected in October 2011 to build the three fisheries science vessels, which together cost $687 million, as well as the ocean science vessel, polar icebreaker and two naval supply ships.
But it has struggled to deliver any of the vessels. Seaspan chief executive officer Mark Lamarre chalked up the problems to the Senate committee last week as growing pains for both the shipyard and government.
"We have learned from our early challenges and absorbed the accompanying financial losses," Lamarre told the committee at the time.
"We are working with the (federal government) to ensure that, going forward, there is greater project certainty for everyone."
— Follow @leeberthiaume on Twitter.
Lee Berthiaume, The Canadian Press
In a "Staggering Precedent" Trudeau government dodging parliament with massive "inflation tax" on Canadians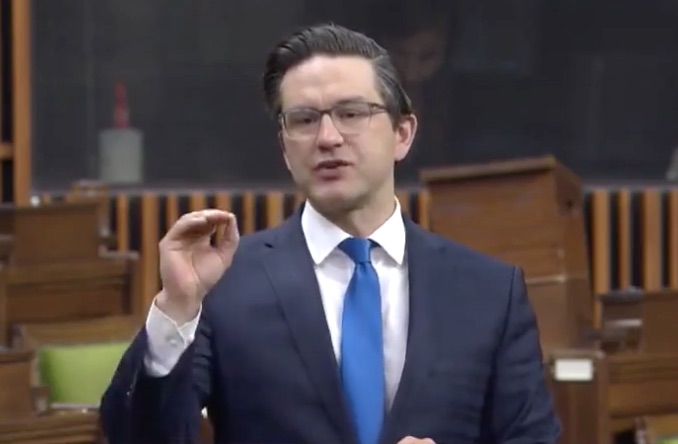 Federal Conservative Pierre Poilievre has released video from a recent Question of Privilege in the House of Commons where he explains how the Federal Liberal government has been dodging parliament to significantly raise taxes.
Instead of going further into debt or raising taxes to pay for a massive increase in government spending, the Trudeau government worked out a deal with the Central Bank.  Every week the Central Bank prints billions of dollars that go directly to government coffers.  Without a single vote and without consulting Parliament, the federal government is effectively raking in the largest tax increase in Canadian history.
By printing money at this unprecedented rate, the federal government is responsible for driving up Canada's inflation rate resulting in price hikes for virtually all goods and services.  Poilievre calls it an "inflation tax".
In this short video, Poilievre describes how the inflation tax hurts low and middle income Canadians, while increasing the value of assets owned by the richest Canadians.
New opinion surveys reveal overwhelming majority of Canadians support our Oil and Gas industry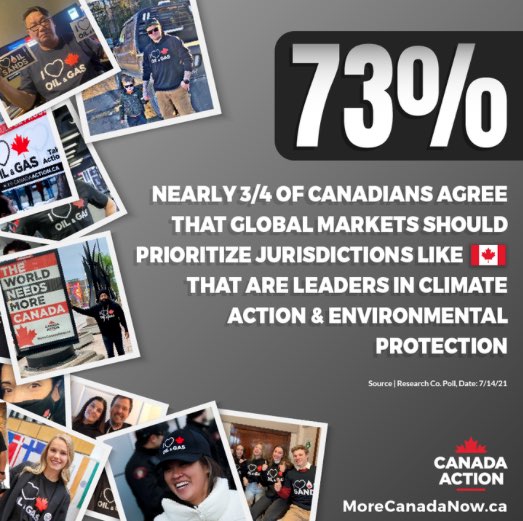 News Release from Canada Action
We are very excited to share some recent and encouraging polling results today. According to a July 2021 public opinion survey conducted by Research Co, new data shows that Canada's public perception of our responsible energy industry is very positive.
Here are some of the key findings:
Almost three in four (73 percent) Canadians polled agree Canada should be a preferred global supplier of energy because of its climate and environmental record.
Nearly seven in ten (69 percent) say they have personally benefited from the oil and gas sector.
70 percent agree that resource development could help alleviate systemic poverty within Indigenous communities.
Two thirds of Canadians (66 percent) support Canada's role as a global oil and gas supplier.
Almost three in four Canadians (73 percent) acknowledge Canada's prosperity is supported by the oil and gas sector and that Canadian oil and gas production helps fund important social programs like health care and education.
Referring to the fact 73 percent of Canadians polled also agreed it's essential First Nations be included in project development to establish long-term revenue sources for their communities, JP Gladu, acting Executive Director of Indigenous Resource Network, noted the following:
Taken collectively, this is all exceptional news for all of Canada's natural resource industries. Your support for our positive, fact based message about why the world needs more Canadian energy and resources is helping make a difference.
A Majority of Canadians 'Agree' that Canada Should be a Preferred Global Supplier of Energy: POLL