Convoy support reaches beyond trucking industry, says Ontario driver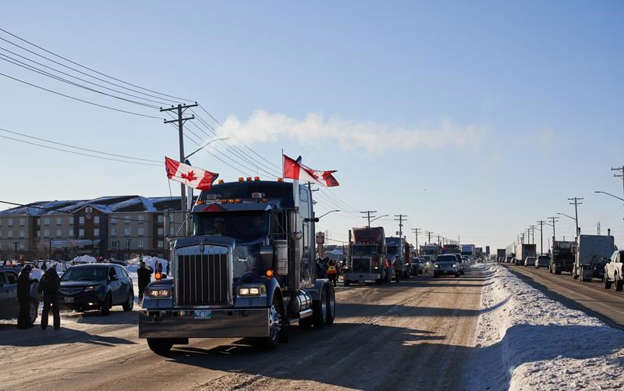 The Truckers Freedom Convoy will roll past Woodstock Thursday afternoon, Jan. 27, on route to join fellow drivers from across Canada in Ottawa on Saturday, Jan. 29.
Atlantic Canadian organizers ask supporters to gather at the Beardsley Road overpass near Woodstock late Thursday afternoon to encourage drivers as they pass.
The convoy began as a trucker protest against COVID-19 vaccine mandates imposed by the Canadian and U.S. federal governments for truckers hauling across the Canada-U.S. border. The Canadian event organizers raised more than $4.5 million in donations through a GoFundMe account with growing support.
The Freedom Trucker Convoy also garnered widespread support beyond the trucking industry as it plans to take its message to the front door of Parliament in Ottawa on Saturday.
Florenceville-Bristol trucker Barney Greene, who's not directly involved in organizing the convoy, said the international protest reaches beyond vaccine mandate or trucker issues.
He said the convoy's goal is to deliver a message to the government that its COVID-19 policies hurt Canadians across the board, including small businesses, families and children.
"They've upturned everyone's life," he said.
Greene said most people supported the measures when the pandemic began two years ago, but many now question the federal and provincial government's actions and mixed messaging.
"I think at this point people want to get back to life as normal," he said. "They've done everything asked of them, but they're no better off."
Greene, a former long-haul trucker who now drives a log truck in western New Brunswick and Maine, says he has "too much on the go" personally to become actively involved in the convoy. Still, he said, he fully supports his fellow drivers involved and the message they are delivering.
Greene has actively pushed for the interest of truckers in the past. Last year, he and Martin Broadmann established Truckers United Inc., serving as its president. While he recently stepped back from his central role, Greene said, Brodmann and others teamed up with convoy organizers locally and federally.
Greene said vaccine mandates didn't play into the establishment of Trucker United Inc., but COVID testing policies for truckers travelling across the border did.
While most truckers experience limited contact with people when delivering or picking up cargo on the American side of the border, Greene said, even fully vaccinated drivers, like himself, were forced to test every time they re-entered Canada.
He said truckers work on tight schedules and have little time to waste on the road.
Greene said the truckers he knows were careful not to spread the virus.
"We're all on the same page. If someone felt sick, they were willing to go for tests," he said.
Green takes issue with some people spinning the planned convoy as an "anti-vax" movement.
"To be clear, I'm not an anti-vaxxer," he said, "most of these people aren't anti-vaxxers."
Greene supports what he calls the convoy's effort to remind government leaders not to overstep their power and ignore the Canadian Charter of Rights when imposing rules and mandates costing people opportunities to make a living.
Jean-Marie Picard, executive director of the Atlantic Provinces Truckers Association, said the organization opposes the convoy.
"We support our drivers and our companies, but we can't support a convoy," he said.
Picard said truckers lost control of the planned protest as other interest groups hijacked the message.
"It lost its original message," he said. "It's now freedom for Canadians."
Picard said the trucking industry, through the Canadian Trucking Alliance, tried to influence the federal government policy and limit the impact on transportation, but government made its decision.
"It's in place, and it's not going away," he said.
Picard added that both the U.S. and Canadian federal governments have the same vaccination mandates.
He said the role of organizations like the APTA is to find ways to work within the rules and ensure goods continue to move.
Picard said most of the companies his organization represents did not enforce vaccine mandates but strongly encouraged drivers to get the shots.
Picard said the convoy as currently planned should not cause supply-chain interruptions, but that could change if they set up blockades.
Greene said most of the organizers and truckers involved in the convoy don't want to interrupt the delivery of goods and services. He said several drivers and companies who support the convoy would remain on the job to ensure goods continue to move.
"Truckers are not looking to send you to bare grocery shelves," Greene said. "They aren't looking to starve your family. They're looking to send a message."
However, he said, driver shortages already create supply-chain challenges, noting vaccine mandates taking 40,000 truckers out of the system only "exacerbates" the problem.
"You've created your own problem," he said.
Across Canada, as support for the convoy grew and more voices joined the mix, the message became muddled as some more extreme views clouded moderate views.
In the meantime, GoFundMe funds raised are on hold until convoy organizers provide a clear plan for the money.
Politically, the federal government shows no sign of turning back from the vaccine mandates, as demonstrated in a recent statement released by three ministers and the Canadian Trucking Alliance representative.
"The Government of Canada and the Canadian Trucking Alliance both agree that vaccination, used in combination with preventative public health measures, is the most effective tool to reduce the risk of COVID-19 for Canadians, and to protect public health," reads the statement co-signed by Transport Minister Omar Alghabra, Labour Minister Seamus O'Regan, Employment Minister Carla Qualtrough, and President of the Canadian Trucking Alliance Stephen Laskowski.
Atlantic Canada convoy organizers said truckers would gather Thursday, July 27, at Aulac, near the Nova Scotia-New Brunswick border, before heading west towards Ottawa. They expect the truckers to pass the Beardsley Road overpass between 3:30 and 4 p.m.
Jim Dumville, Local Journalism Initiative Reporter, River Valley Sun
Mendicino: foreign-agent registry would need equity lens, could be part of 'tool box'
By Dylan Robertson in Ottawa
Public Safety Minister Marco Mendicino says a registry to track foreign agents operating in Canada can only be implemented in lockstep with diverse communities.
"There is a historical context when it comes to some communities within this country and their relationship with [security] agencies and the law-enforcement community," Mendicino told the House committee on Canada-China relations Monday evening.
"We need agencies to be inclusive, diverse, culturally sensitive."
Two months ago, the Liberals said they will eventually consult the public on the possible creation of a foreign agent registry, to prevent outside interference in Canadian affairs.
But the government has yet to formally launch that consultation.
The United States and Australia have public registries that require people advocating for a foreign state to register their activities, under penalty of fines or jail time.
Mendicino told the committee that Ottawa has to be careful to not isolate communities who have felt under the microscope of security agencies. He also told reporters after his testimony that Ottawa is taking the idea to its own advisory panels before soliciting public input.
"I wouldn't describe it as a hesitation; I think we need to be diligent and thoughtful and inclusive, when it comes to bringing all Canadians along in the modernization of the tools and the arsenal that we create for our national security and intelligence communities," he told the committee.
Mendicino also told MPs a foreign agent registry alone would not drastically alter Canada's ability to detect and confront national-security threats, and would only be launched as part of "a tool box" of other measures.
"While there is attention to looking at each of the examples of tools we might consult on, including the foreign-agent registry, I would discourage the members of this committee from quickly concluding that any one of these in isolation will work by itself," he said.
Conservative public-safety critic Raquel Dancho accused the Liberals of stalling on launching a registry.
"Anything that is stopping it would just be an excuse at this point. I think any government that's operating through legitimate diplomatic relations in Canada should welcome an official registry," she said in an interview between witness testimony.
"That should be sort of the cost of doing business in Canada through diplomatic relations."
Mendicino appeared at the committee based on a request last October from MPs to have senior officials testify on three allegedly illegal police stations operating in the Greater Toronto Area.
Since then, advocates for Chinese democracy have alleged China is running two other police stations in Canada, including one in Vancouver.
RCMP Commissioner Brenda Lucki told MPs that Mounties are only aware of four alleged police stations and that officers have attended the scene in uniforms to gather information and be seen.
She believes that has yielded tips from the public, and noted that at least one of the apparent police stations seemed to have operated in the backroom of a commercial business.
Lucki noted that no one has been charged in connection with these so-called police stations, and suggested the public would be informed if that was the case.
Similarly, Mendicino said the public would be made aware if any diplomats had been ordered to leave Canada in relation to the issue.
Yet NDP foreign-affairs critic Heather McPherson questioned how police are handling tips from communities who allege they're being targeted by foreign countries.
The Edmonton MP said constituents who are Uyghur or originating from Hong Kong have reported being passed between the RCMP, local police and an RCMP-run hotline, and that local police seem unaware how to handle the reports.
"We're hearing a very different story form people who are living in these communities," McPherson said.
More officials will testify Monday night from the Canadian Security Intelligence Service, the RCMP and Public Safety Canada.
The evening meeting follows the appearance of a Chinese balloon that drifted over Canadian territory before it was spotted over the skies of Montana, leading opposition parties to ask why Ottawa didn't alert Canadians earlier.
Last November, the federal Liberals unveiled their Indo-Pacific strategy, which calls for stronger ties with countries other than China to counterbalance Beijing's approach to human rights and trade.
This report by The Canadian Press was first published Feb. 6, 2023.
McKinsey doesn't meet criteria for banning company from federal contracts: bureaucrat
By Nojoud Al Mallees in Ottawa
The deputy minister of Public Services and Procurement Canada says the federal government's ethics rules do not disqualify consulting firm McKinsey & Company from doing business with the federal government despite scrutiny of the firm's global track record.
Paul Thompson answered questions about the firm's government contracts at a House of Commons committee Monday.
He said a Canadian company would be barred from federal contracts if one of its affiliates has been convicted of a crime, which is not the case for McKinsey.
The company has faced scrutiny for its work around the world, including its alleged involvement in the opioid crisis in the U.S. and its work with authoritarian governments.
The House of Commons government operations committee is digging into contracts awarded to McKinsey since 2011 following media reports showing a rapid increase in the company's federal contracts under Prime Minister Justin Trudeau's Liberal government.
The government says McKinsey has received at least $116.8 million in federal contracts since 2015.
At a news conference Monday, Conservative MP Garnett Genuis said the federal government shouldn't be contracting with McKinsey. "We cannot work with a company that's behaving in the way McKinsey has."
This report by The Canadian Press was first published Feb. 6, 2023.