Conservatives warn Canada is fuelling Putin's war machine by returning turbines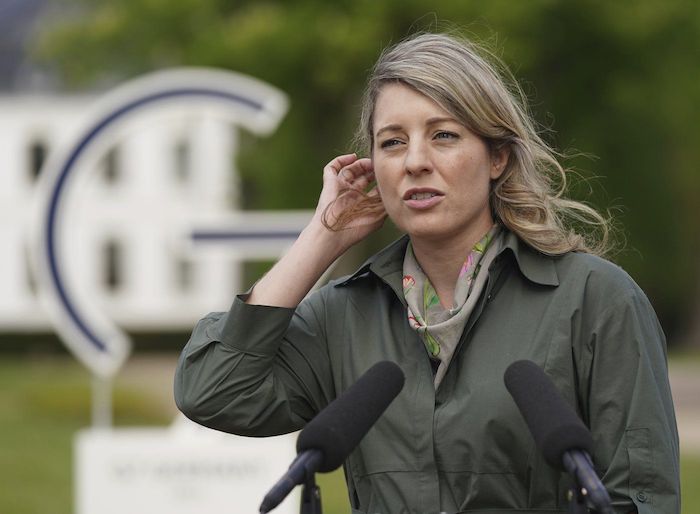 OTTAWA — Conservative MPs have accused the Liberal government of fuelling Vladimir Putin's war machine by agreeing to allow pipeline equipment in Montreal for repairs to be returned to a Russian energy giant.
Tories claimed the government's decision to return the turbine means more funds will be pumped into Gazprom, which is controlled by the Russian state, and in turn will allow the country's president to buy more arms to attack Ukraine.
The accusations were made during heated exchanges on Thursday at a meeting of a parliamentary committee where Foreign Affairs Minister Melanie Joly and Natural Resources Minister Jonathan Wilkinson gave evidence about Canada's decision to return the equipment.
Last month, the Liberal government drew criticism for granting Siemens Energy an exemption on sanctions against Russia and allowing the turbine to return to Germany and then eventually to Russia for installation in the pipeline.
Siemens Energy was granted a permit to import, repair and return up to six turbines for Gazprom. Kyiv has accused Canada of setting a dangerous precedent, arguing the exemptions undermine the sanctions.
Conservative MP James Bezan told the committee that Canada had been "outmanoeuvred by the Russian Federation."
He said it seemed that Putin was playing chess while Canada was playing checkers, and accused the Liberal government of "enabling" Gazprom, which would give Russia more funds to buy weapons to kill Ukrainians.
"It's embarrassing that the government of Canada capitulated," he said.
Alexandra Chyczij, executive director of the Ukrainian Canadian Congress, told the committee that the decision to return the turbines was "the thin edge of the wedge" and the first waiver of sanctions since Russia's invasion of Ukraine in February.
She warned that "appeasement of dictators" never works and just "emboldens them."
But Joly denied that Canada was capitulating and insisted it was rather calling Putin's bluff. She said returning the turbine denied Putin a pretext for reducing the flow of natural gas through the Nord Stream 1 pipeline that runs to Germany from Russia.
Natural Resources Minister Jonathan Wilkinson echoed this sentiment and said revealing Putin's dishonesty had always been a reason for the decision.
But Tory MP Marty Morantz noted that the government didn't use this language when the decision was first made. He questioned when it decided the rationale was about calling Putin's bluff, rather than about securing gas supplies to Europe.
The Conservatives also questioned whether the alternative of funnelling gas through pipelines through Ukraine had been actively explored by the government.
Wilkinson said the option had been looked at in detail but was not seen as viable, not least because the Ukraine pipelines were through a war zone. He added that Canada was working closely with European nations to help wean them off their reliance on Russian energy to heat their homes, including by planning to supply natural gas from Canada.
Both Wilkinson and Joly said the decision was taken after wide consultations, including with Ukraine, and was a difficult one.
Wilkinson said the intention of sanctions imposed after Russia's invasion of Ukraine is to punish Putin and not to punish Canada's allies in Europe.
Joly said the government was firmly committed to continuing sanctions to squeeze Putin and was planning new rounds every two weeks.
Russia has proven to the world that it cannot be a reliable economic partner, she said.
Ukraine's ambassador to Canada, Yulia Kovaliv, was expected to make clear her country's disappointment with the decision in an appearance before the committee later Thursday.
On Wednesday, Joly and German Foreign Minister Annalena Baerbock insisted at a joint appearance in Montreal that it was necessary to return the turbine.
Since the equipment arrived in Germany, Russia has reduced the pipeline's flow to 20 per cent of capacity, which the ministers said shows Putin is using energy as a weapon of war.
The turbine remains in Germany, with Kremlin spokesman Dmitry Peskov arguing that Gazprom needs documents from Siemens Energy proving that the equipment isn't subject to western sanctions before it can be returned to Russia.
This report by The Canadian Press was first published Aug. 4, 2022.
Marie Woolf, The Canadian Press
Peru's protest 'deactivators' run toward tear gas to stop it
By Daniel Politi in Lima
LIMA, Peru (AP) — When police fire tear gas at protesters demanding the resignation of Peruvian President Dina Boluarte, most run away.
A few, though, run toward the gas canisters as quickly as possible — to neutralize them.
These are the "deactivators." Donning gas masks, safety goggles and thick gloves, these volunteers grab the hot canisters and toss them inside large plastic bottles filled with a mixture of water, baking soda and vinegar.
The deactivators made their debut in Peru street protests in 2020, inspired by protesters in Hong Kong who in 2019 unveiled new strategies to counteract the eye-stinging, breath-stealing effects of tear gas. With protesters in Lima facing a nearly daily fusillade of tear gas, more people have joined the ranks of deactivators trying to shield them and keep the demonstrations going.
Peruvians have been protesting since early December, when former President Pedro Castillo was impeached after a failed attempt to dissolve Congress. His vice president, Boluarte, immediately took over — and has faced strong opposition ever since.
Fifty-eight people have died in connection with the unrest, including one police officer. Forty-six of the deaths occurred during direct clashes between protesters and police.
The protests have exposed deep divisions in the country between the urban elites and the rural poor. Demonstrations were first largely concentrated in the south, a long-neglected region of Peru that felt a particular kinship to Castillo's humble background as a rural teacher from the Andean highlands. But earlier this month, thousands descended on Peru's capital, and police met them with tear gas. Lots and lots of tear gas.
On Thursday, as protesters gathered in downtown Lima, Alexander Gutiérrez Padilla, 45, was giving a brief course to anyone who would listen around Plaza San Martín about how to mix vinegar and baking soda into the water and how to grab the tear gas canisters most efficiently.
"If we don't deactivate, people disperse and the protest breaks," Gutiérrez said. "That's why we're pillars of this demonstration."
Next to him was Wilfredo Huertas Vidal, 25, who has taken it upon himself to collect donations to buy gloves and other protective equipment and hand them out to those who want to help.
"Who wants gloves? Who wants gloves?" he yelled as he stood next to several large bottles of water, gas masks and eye goggles.
When protesters descended on Lima earlier this month, old networks were reactivated. A tactic first seen in Peru in late 2020 during protests against then-President Manuel Merino resurfaced.
Vladimir Molina, 34, who participated in the 2020 protests, now runs what he calls a "brigade." It consists of around 60 people, including paramedics, deactivators and "front-line" activists who stand in the middle of protesters and police with shields, in an effort to block any pellets or tear gas police may fire into the crowd.
"Every day more and more people are joining," Molina said. Interest in his group is so great that he's made it a requirement for anyone who wants to join to have their own equipment.
By tossing the hot tear gas cartridges into the water solution, "what they do is extinguish the pyrotechnical charge so the tear gas cannot come out anymore," said Sven Eric Jordt, a professor of anesthesiology at Duke University.
Water alone should achieve what the protesters want, although the carbon dioxide created by mixing vinegar and baking soda could "form a foam bath that suffocates the charge" further, Jordt speculated.
It may be only a matter of time before authorities deploy methods to blunt the deactivators' effectiveness. Manufacturers are now developing tear gas with plastic cartridges that stick to the road so it "can't be lifted up anymore," Jordt said.
Fearful of being targeted by police and prosecutors, many of the deactivators prefer to remain anonymous, keeping their faces covered even when there's no tear gas around.
Boluarte has given strong backing to law enforcement, and the government recently announced a bonus for police officers. Boluarte has characterized the work of police controlling the Lima protests as "immaculate," despite their often indiscriminate firing of tear gas and pellets. In contrast, she says the demonstrations are violent and financed by drug-trafficking rings and illegal miners.
Andrea Fernández, 22, is new to deactivating tear gas.
"The truth is I love the adrenaline," Fernández said shortly after grabbing a pair of gloves from Huertas and listening to the instructions closely.
She said she hadn't been really interested in the country's political crisis at first. Then the deaths started piling up.
"There are a lot of farmers who've come from lots of parts of Peru and they come here to march, face-to-face, but don't have the necessary protection," Fernández said.
Felix Davillo, 37, also says the casualties pushed him to become a deactivator.
"I made this decision for all the death that is going on in Puno right now," Davillo said, referring to a region in Peru that has experienced some of the deadliest protests.
A general lack of protective equipment has also meant protesters have been injured by the widespread use of less lethal weapons.
From January 19 to 24, Doctors Without Borders treated 73 patients at the Lima protests suffering from exposure to tear gas, pellet wounds, contusions or psychological distress, the non-profit organization said.
The deactivators' increased chance of injury doesn't scare Julio Incarocas Beliz, who grabbed one of the big water bottles in the plaza for his first day trying to diffuse tear gas.
"I served in the military and I've never been afraid," Incarocas, 28, said. "I'm fighting for my homeland."
78 years on, Jewish Holocaust rescuers want their story told
By Alon Bernstein in Kibbutz Hazorea
KIBBUTZ HAZOREA, Israel (AP) — Just before Nazi Germany invaded Hungary in March 1944, Jewish youth leaders in the eastern European country jumped into action: They formed an underground network that in the coming months would save tens of thousands of fellow Jews from the gas chambers.
This chapter of the Holocaust heroism is scarcely remembered in Israel. Nor is it part of the official curriculum in schools. But the few remaining members of Hungary's Jewish underground want their story told. Dismayed at the prospect of being forgotten, they are determined to keep memories of their mission alive.
"The story of the struggle to save tens of thousands needs to be a part of the chronicles of the people of Israel," said David Gur, 97, one of a handful of members still alive. "It is a lighthouse during the period of the Holocaust, a lesson and exemplar for the generations."
As the world marks International Holocaust Remembrance Day on Friday, historians, activists, survivors and their families are all preparing for the time when there will no longer be living witnesses to share first-person accounts of the horrors of the Nazi genocide during World War II. In the Holocaust, 6 million Jews were wiped out by the Nazis and their allies.
Israel, which was established as a refuge for Jews in the wake of the Holocaust, has gone to great lengths over the years to recognize thousands of "Righteous Among the Nations" — non-Jews who risked their lives to save Jews during the Holocaust.
Accounts of Jewish resistance to the Nazis, such as the Warsaw Ghetto uprising, are mainstays in the national narrative but rescue missions by fellow Jews — such as the Hungarian resistance — are less known.
Hungary was home to around 900,000 Jews before the Nazi invasion. Its government was allied with Nazi Germany, but as the Soviet Red Army advanced toward Hungary, the Nazis invaded in March 1944, to prevent its Axis ally from making a separate peace deal with the Allies.
Over the 10 months that followed, as many as 568,000 Jews were killed by the Nazis and their allies in Hungary, according to figures from Yad Vashem, Israel's official Holocaust memorial.
Gur said he and his colleagues knew that disaster was looming when three Jewish women arrived at Budapest's main synagogue in the fall of 1943. They had fled Nazi-occupied Poland and bore disturbing news about people being shipped off to concentration camps.
"They had fairly clear information about what was happening, and saw the many trains, and it was obvious to them what was happening," said Gur.
Gur oversaw a massive forgery operation that provided false documents for Jews and non-Jewish members of the Hungarian resistance. "I was an 18-year-old adolescent when the heavy responsibility fell upon me," he said.
There was great personal risk. In December 1944, he was arrested at the forgery workshop and brutally interrogated and imprisoned, according to his memoir, "Brothers for Resistance and Rescue." The Jewish underground broke him out of the central military prison in a rescue operation later that month.
The forged papers were used by Jewish youth movements to operate a smuggling network and run Red Cross houses that saved thousands from the Nazis and their allies.
According to Gur's book, at least 7,000 Jews were smuggled out of Hungary, through Romania to ships on the Black Sea that would bring them to British-controlled Palestine. At least 10,000 forged passes offering protection, known as Shutzpasses, were distributed to Budapest's Jews, and around 6,000 Jewish children and accompanying adults were saved in houses ostensibly under the protection of the International Red Cross.
Robert Rozett, a senior historian at Yad Vashem, said that although it was "the largest rescue operation" of European Jews during the Holocaust, this episode remains off "the main route of the narrative."
"It's very significant because these activities helped tens of thousands of Jews stay alive in Budapest," he said.
In 1984, Gur founded "The Society for Research of the History of the Zionist Youth Movements in Hungary," a group that has promoted awareness about this effort.
Last month at a kibbutz in northern Israel, Sara Epstein, 97, Dezi Heffner-Reiner, 95, and Betzalel Grosz, 98, three of the remaining survivors who helped save Jews in Nazi-occupied Hungary, received the Jewish Rescuers Citation for their role in the Holocaust. The award is given by two Jewish groups — B'nai B'rith World Center-Jerusalem and the Committee to Recognize the Heroism of Jewish Rescuers During the Holocaust.
"There aren't many of us left, but this is important," said Heffner-Reiner.
More than 200 other members of the underground were given the award posthumously. Gur received the award in 2011, the year it was created.
Yuval Alpan, a son of one of the rescuers and an activist with the society, said the citations were meant to recognize those who saved lives during the Holocaust.
"This resistance underground youth movement saved tens of thousands of Jews during 1944, and their story is not known," he said. "It's the biggest rescue operation in the Holocaust and nobody knows about it."
International Holocaust day falls on the anniversary of the Red Army's liberation of the Auschwitz death camp 78 years ago. Israel is home to some 150,600 Holocaust survivors, almost all of them over the age of 80, according to government figures. That is 15,193 less than a year ago.
The United Nations will be holding a memorial ceremony at the General Assembly on Friday, and other memorial events are scheduled around the globe.
Israel marks its own Holocaust Remembrance Day in the spring.
___
Associated Press writers Eleanor Reich and Ilan Ben Zion in Jerusalem contributed to this report.