Conservatives raised more than Liberals and NDP combined in second quarter of 2022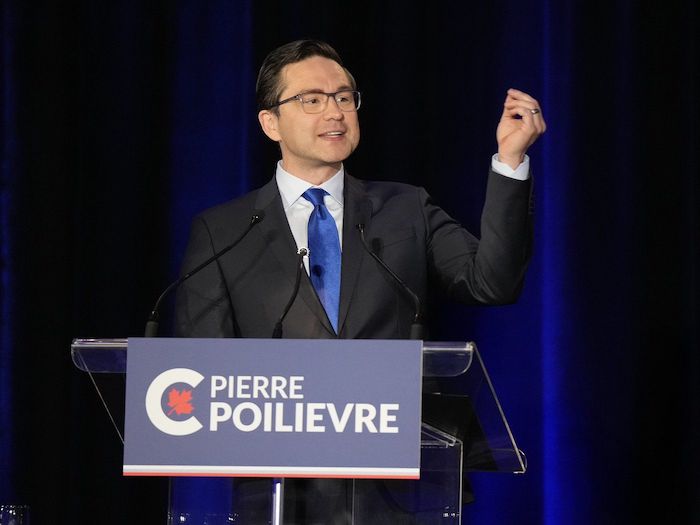 OTTAWA – The federal Conservatives raised more money than the Liberals and NDP combined during the second quarter of this year, as the party inches closer to choosing a new leader.
The Conservatives raised over $4.4 million from about 36,000 donors between April 1 and June 30.
The governing Liberals raised nearly $2.8 million from almost 28,000 donors and New Democrats received almost $1.2 million in contributions from nearly 16,000 people.
The federal Greens raised almost $438,000 from about 5,200 Canadians while over 1,600 people donated about $248,00 to the Bloc Québécois.
The People's Party of Canada, which does not hold any seats in Parliament, raised just under $200,000 from about 4,000 donors.
All parties, except for the Greens, received less money from donations in the second quarter than in the first three months of the year.
Financial returns filed with Elections Canada also lay out contributions to the Conservative federal leadership candidates during the second quarter, which totalled over $8 million.
Front-runner Pierre Poilievre received the most contributions of the candidates running for leadership of the party.
Poilievre raised just over $4 million, while former Quebec premier Jean Charest raised almost $1.4 million for the race.
The Conservatives will announce the winner of the leadership race on Sept. 10.
This report by The Canadian Press was first published Aug. 2, 2022.
Police find two more victims at site of fatal fire in Old Montreal, total now 4
MONTREAL — Police say two more bodies were recovered Wednesday from the wreckage of a building in Old Montreal that was destroyed by fire last week, bringing the total number of confirmed victims to four.
A Montreal police spokesman said the bodies of the third and fourth victims have been turned over to a pathologist for identification as the search for others continues.
Earlier Wednesday, one of the first two confirmed victims was identified and police said at least five others remained missing in the rubble of the historic building.
Police Insp. David Shane identified the victim as 76-year-old Camille Maheux.
Maheux's body was recovered from the fire on Sunday evening; a second body was removed from the rubble on Tuesday but has not yet been identified.
"The investigation and search for other victims are ongoing," Shane told reporters at the scene Wednesday after formally announcing Maheux's death.
Firefighters and police said a fire tore through the historic stone building early last Thursday.
Shane told a briefing earlier in the day that searchers were targeting areas of the building where the missing people were likely located when the fire started. Searchers used a crane, specialized camera equipment and drones, he said.
Authorities have said identities of victims will only be released after confirmation from two separate methods, including a DNA test or dental records.
Martin Guilbault, a Montreal fire operations chief, said a plan to dismantle the upper floors of the three-storey building was on hold while authorities conducted a more "methodical" search. Authorities, he said Wednesday, would concentrate efforts inside the building.
Shane said the discovery of the body on Tuesday evening "confirms that the cross-referencing of the information collected by investigators allows us to effectively orient the search in the building."
Police did not provide further details about the second victim pending identification by the coroner's office and out of respect for families, Shane said. Investigators, he added, have not ruled out the possibility there could be more than five people missing.
"We are well aware that the wait is currently very hard and painful for the families, especially each time we announce the discovery of a new victim in the rubble," Shane said.
Family and friends have identified some of the missing, including Saniya Khan and her childhood friend Dania Zafar, who were in Montreal for a trip.
An Wu, 31, a neuroscientist doing post-doctoral work at the University of California San Diego who was in Montreal for a conference, has also been reported missing by friends.
Charlie Lacroix, an 18-year-old from the Montreal suburb of Terrebonne, was identified by her father as one of the missing. She had rented a unit in the building on Airbnb with a friend, and Lacroix's father said his daughter told 911 operators that she was trapped in a unit with no fire escape or windows.
Authorities have not confirmed how many of the missing people were tourists but said they were from Quebec, Ontario and the United States.
The fatal fire has raised concerns over unlicensed Airbnb-type rentals in Montreal. Police have said the building built in 1890 included units that were rented on Airbnb, the United States-based online rental marketplace, which is outlawed in that area by the city.
Montreal's mayor this week called for Airbnb to stop listing units that don't have a provincial permit.
This report by The Canadian Press was first published March 22, 2023.
— With files from Mathieu Paquette in Montreal.
Sidhartha Banerjee, The Canadian Press
Canada needs 300,000 new rental units to avoid gap quadrupling by 2026: report
An aerial view of houses in Oshawa, Ont. is shown on Saturday, Nov. 11, 2017. A Royal Bank of Canada report predicts Canada's rental housing shortage will quadruple to 120,000 units by 2026 without a significant boost in rental stock. THE CANADIAN PRESS/Lars Hagberg
By Sammy Hudes in Toronto
Canada's rental housing shortage will quadruple to 120,000 units by 2026 without a significant boost in stock, Royal Bank of Canada said in a report Wednesday.
In order to reach the optimal vacancy rate of three per cent, the report suggested Canada would need to add 332,000 rental units over the next three years, which would mark an annual increase of 20 per cent compared with the 70,000 units built last year.
The research analyzed vacancy rate data released in January by the Canada Mortgage and Housing Corporation (CMHC).
Canada's vacancy rate fell to 1.9 per cent in 2022, its lowest point in 21 years, from 3.1 per cent in 2021.
Competition for units also drove the highest annual increase in rent growth on record, by 5.6 per cent for a two-bedroom unit.
Canada's rental housing stock grew by 2.4 per cent in 2022, led by Calgary at 7.4 per cent and Ottawa-Gatineau at 5.5 per cent, while Toronto and Montreal saw the smallest percentage increases at 2.1 per cent and 1.4 per cent, respectively.
"We haven't seen that many additions to the purpose-built inventory in almost a decade, so you would think that added supply of units would ease some of the competition, but what the CMHC rental market data revealed to us was that it didn't," said RBC economist Rachel Battaglia.
Slow growth in Canada's two most populous cities has been outpaced by rapidly increasing demand, partly fuelled by high immigration levels, she said. Annual federal immigration targets are set to grow eight per cent by 2025, meaning demand is unlikely to let up.
Battaglia also pointed to affordability and behavioural preferences for the influx of rentals sought. She said more Canadians are choosing to live alone, meaning fewer incomes per household.
"You have a lot of people being funnelled into the rental market who maybe would have liked to own something but it's just not financially in the books for them right now," said Battaglia.
The report estimated an existing deficit of 25,000 to 30,000 units of rental stock across Canada. In addition to building more supply, it recommended turning condo units into rentals, converting commercial buildings and adding rental suites to existing homes to help ease the pressure.
Without such measures, Battaglia said the market could "become infinitely more competitive."
"Which is not something that we want to realize given the competition we're already seeing," she said.
"You're already seeing rents increase dramatically."
This report by The Canadian Press was first published March 22, 2023.