Connor McDavid's four-point effort leads Oilers to 8-2 rout of Coyotes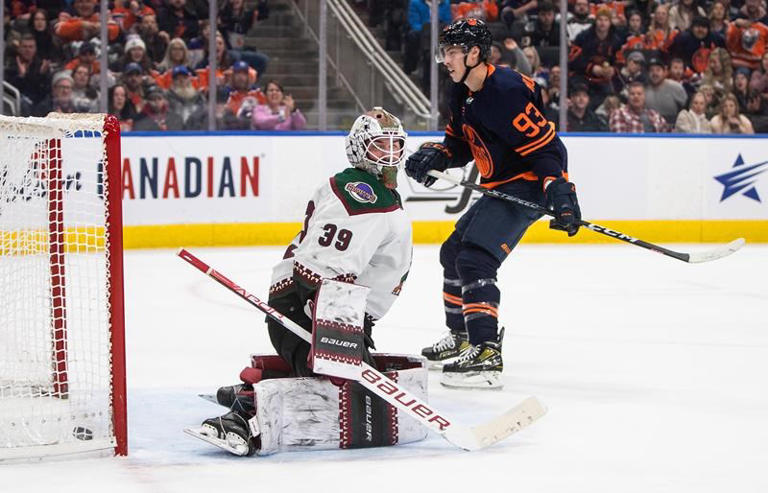 EDMONTON — Connor McDavid had two goals and two assists and Ryan Nugent-Hopkins scored twice and had an assist as the Edmonton Oilers defeated the Arizona Coyotes 8-2 on Wednesday.
Derek Ryan, Leon Draisaitl, Bret Kulak and Klim Kostin also scored for the Oilers (15-12-0) who have won five of their last seven games.
Jack McBain and Shayne Gostisbehere responded for the Coyotes (7-13-4) who finished off an epic 14-game road trip with their sixth consecutive loss.
The Oilers got off to a good start with a power-play goal just 4:37 into the opening period as Nugent-Hopkins sent a wrist shot through a screen in front that beat Coyotes netminder Connor Ingram.
Edmonton added to its lead with 3:19 minutes remaining in the first frame as Ryan shrugged off a defender and scored on a backhand shot.
The power play clicked again for the Oilers 8:14 into the second period as McDavid sent it through to Draisaitl and he scored from a tight angle for his 18th goal of the season. McDavid recorded his 50th point in just the 27th game of the season, the fastest Oiler to hit that mark since Wayne Gretzky in 1987-'88.
Arizona got on the board with 6:17 to play in the second period. McBain made a nice move in tight to deposit it past an outstretched Stuart Skinner in the Oilers net.
Edmonton got that goal back just 23 seconds later, however, as Kailer Yamamoto stole a puck at the Arizona blue line and sent Nugent-Hopkins in alone for his second of the night and 13th of the season.
The Oilers went up 5-1 with 1:21 to play in the second as Kulak blistered a shot high to the glove side that went off the bar and in.
Edmonton had a 30-10 edge in shots after 40 minutes.
The Oilers kept the pressure on in the third period as Ryan stripped a puck that went to Kostin in front and he deposited his second goal of the season past Ingram at 3:19.
McDavid extended his goal streak to six games a couple minutes later, taking a pretty pass from Draisaitl behind the net before scoring on the wraparound.
The Oilers captain made it a four-point game with seven minutes left in the third, as McDavid took a feed from Hyman and scored on a one-timer for his 24th goal of the season.
Arizona scored with just over five minutes to play as Gostisbehere tipped in a Christian Fischer shot.
Kostin fought Zack Kassian in the final minute, giving him the "Gordie Howe Hat Trick" on the night with a fight, goal and an assist.
ROAD TRIP
The Coyotes' 14-game road trip started on Nov. 5, lasted 33 days, and tied an NHL record for the longest in history with the Vancouver Canucks. Arizona started the trip with three wins before going 1-7-3 after that.
FIRST GOAL
Scoring first has been a challenge for both teams this season, as they came into the game having each allowed the first goal 15 times. Edmonton had managed to overcome the deficit more successfully with a record of 6-9-0, while Arizona was 2-11-2 in those situations.
HYMAN RETURNS
Zach Hyman returned to the Edmonton lineup, but the Oilers remained without forwards Evander Kane (wrist), Warren Foegele (undisclosed) and Ryan McLeod (undisclosed).
UP NEXT
Both teams play next on Friday night. The Coyotes finally return to Arizona to host the Boston Bruins. The Oilers close out a four-game homestand against the Minnesota Wild.
This report by The Canadian Press was first published Dec. 7, 2022.
Shane Jones, The Canadian Press
Alberta Sheriffs receiving additional officers and more powers with new funding
Mike Ellis shakes hands with Alberta Premier Danielle Smith after being sworn into cabinet as minister of public safety in Edmonton, Monday, Oct. 24, 2022. Alberta sheriffs will have expanded powers and play a bigger role in combating rural crime with new funding, the provincial government said Friday. THE CANADIAN PRESS/Jason Franson
St. Paul, Alberta
The Alberta Sheriffs Branch will have expanded powers and play a bigger role in combating rural crime with new funding, the provincial government said Friday.
Public Safety Minister Mike Ellis said $27.3 million will go to new positions and for rural crime initiatives, including two plain clothes teams that will help RCMP with criminal surveillance.
The announcement comes as Alberta continues to mull over whether to create a provincial police service to replace the RCMP.
"There has been some misleading commentary about this investment in the Alberta sheriffs, namely that it's the way of laying the groundwork for establishing a provincial police service by some other means," Ellis said Friday in St. Paul, Alta., 200 kilometres northeast of Edmonton.
"I'd like to remind people that the provincial government hasn't made any decision about an Alberta police service."
Ellis said although the RCMP has its own surveillance teams, most of the efforts are focused on major investigations. He said the new sheriff teams will fill a gap by helping the RCMP detachments with local investigations.
"I've heard countless stories about home invasions being committed by prolific offenders or thefts from farms. Every property owner has the right to feel safe in their home and the right not to wake up and find their equipment gone or fuel siphoned from vehicles," he said.
"These really are the type of cases that keep Albertans up at night."
The sheriffs will also get funding to add 20 investigators to the Safer Communities and Neighbourhood unit, which uses civil enforcement to target problem properties where illegal activities take place.
There is also money for the Sheriff Highway Patrol to train and equip its members to help RCMP with emergencies and high-priority calls.
"We will provide all members of the Alberta sheriffs with full powers to arrest under the Criminal Code," Ellis said.
"Some members of the sheriffs already have Criminal Code authorities, but we believe the public will be better served with consistency throughout this province."
The head of the Alberta RCMP said he welcomes the additional help from the sheriffs.
"These additional resources for the Alberta Sheriffs will improve our combined ability to suppress criminal activity in rural Alberta," said Deputy Commissioner Curtis Zablocki in a statement.
Farooq Sheikh, the chief of Alberta Sheriffs, called it a proud day.
"While our members have a visible presence in many functions they perform such as highway patrol, fish and wildlife enforcement, security in our provincial courts … the sheriffs perform a lot of important work to keep communities safe that's outside of the public eye."
This report by The Canadian Press was first published March 24, 2023.
Finance Minister Travis Toews, Environment Minister Sonya Savage say won't run again
Alberta Finance Minister Travis Toews delivers the budget, in Edmonton, Tuesday, Feb. 28, 2023. Toews says he will not run in the upcoming provincial election. THE CANADIAN PRESS/Jason Franson
By Dean Bennett in Edmonton
Two Alberta government cabinet ministers announced Friday that they will not be seeking re-election.
Travis Toews, the province's finance minister and the runner-up to Premier Danielle Smith in last fall's United Conservative Party leadership race, is exiting politics. Environment Minister Sonya Savage also said she will not run in the expected May 29 provincial vote.
Toews, the legislature member for Grande Prairie-Wapiti in northwestern Alberta, ended months of speculation with his announcement. He said it was a recent decision and a difficult one for him and his wife, Kim.
"(There were) personal considerations, certainly family considerations and some business considerations," Toews said in an interview. "When we added all of them up this seemed like the right decision for us. That was the impetus for it."
He dismissed suggestions the decision was tied to his loss to Smith or to the party's further shift to the right under her leadership.
"We have a big tent party. This United Conservative Party has a lot of diversity. All groups are very important," he said.
"I'm fully committed to the party, to the movement, committed to the premier and committed to an election win this May."
Toews was elected in 2019 for the UCP and was finance minister for all but a few months when he ran to replace former premier Jason Kenney as party leader, coming in second to Smith.
Savage, the member for Calgary North-West, announced her decision to quit provincial politics with a statement on Twitter, saying she wants to spend more time with her family. She said she looks forward to remaining a party member and wished the premier and her UCP colleagues success in the upcoming election.
In a statement, Smith said Toews has been "one of the strongest finance ministers in Alberta's history and leaves a legacy of strong fiscal management that I will continue to uphold as premier."
"I greatly respect his decision to spend more time on the ranch and with his family," Smith said. "There will be big boots to fill in Grande Prairie-Wapiti, and I wish him, Kim and the family nothing but the very best."
Smith said Savage will be greatly missed.
"Minister Sonya Savage's dedication and commitment to furthering Alberta's energy interests and developing a Made-in-Alberta approach to responsible environmental stewardship of our natural resources will benefit Albertans for decades," she said in a statement.
Toews had refused to discuss his future in recent weeks, saying he was focused on passing the budget, which featured a projected $2.4-billion surplus along with increased spending across the board.
The decision comes a little over a month from when the writ is expected to drop.
Smith said that given the short window, she will work with the party and the local constituency association to appoint a candidate "so that the new candidate can hit the ground running and ensure a UCP victory in this constituency."
Toews was the early favourite to replace Kenney as leader last year – with half of the caucus members supporting him — but fell short in the end as Smith galvanized party anger with the federal government and COVID-19 health restrictions.
He locked horns with Smith during the campaign. He criticized her for past advocacy of a provincial sales tax and said her proposed — and since passed — sovereignty act would scare off investment with its promise to ignore federal laws in areas of perceived provincial jurisdiction.
As finance minister, the rancher and accountant oversaw the best and worst of Alberta's turbulent oil-and-gas-powered economy, with massive deficits, negative oil prices and eye-popping surpluses.
He looked born to the parts of outdoorsman and number cruncher: close-cropped hair, eyeglasses and well-worn cowboy boots with a trademark monotone speaking style occasionally punctuated by high-decibel, finger-pointing attacks on the NDP Opposition during question period.
He stickhandled many controversial files, including de-indexing personal income tax, arguing for wage cuts to nurses during the COVID-19 pandemic and lifting the rate cap on auto insurance.
He was also the point person on long-running deliberations to pull Alberta out of the Canada Pension Plan in favour of a provincial one. The government has yet to release research on the merits and drawbacks of such a plan, despite promising two years ago that the release of a report was imminent.
Toews was also among those who were surreptitiously photographed in 2021 at a drinks-and-dinner get-together with Kenney on a rooftop patio on the legislature grounds in contravention of COVID-19 gathering rules.
In a statement, Opposition NDP finance critic Shannon Phillips said she admires Toew's record.
"He conducts himself with decency and is mostly grounded in reality, unlike the new crop of Smith candidates."
Toews said his proudest achievement is leaving the province in a better place financially than when he found it, noting the new budget also includes commitments to keeping spending under control while repaying debt and investing in long-term savings.
"We're leading the nation in job creation," Toews said.
"All of that tied together certainly brings some satisfaction to these last four years, which have certainly been a bit of a roller-coaster."
He said the difficult part was long nights of no-win decisions during the COVID-19 crisis, balancing public health with personal freedoms with no clear cut black-and-white answers.
"Those were some of the hardest hours of my life serving on that COVID cabinet committee," he said.
"(They were) impossible decisions, and knowing those decisions were going to impact Albertans directly. We certainly didn't get it all right."
This report by The Canadian Press was first published March 24, 2023.