Congressional Budget Office says inflation to last into 2023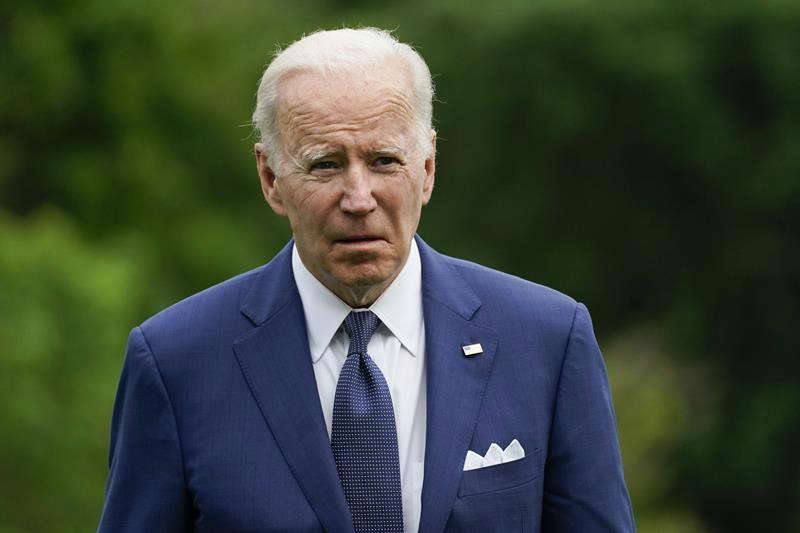 The 10-year estimates do contain positive news as this year's annual budget deficit will be $118 billion lower than forecast last year. That's a byproduct of the end of pandemic-related spending and the solid job growth it helped to spur. As a share of the total economy, publicly held debt will drop through 2023. Still, the accumulated federal debt will likely continue to grow over the next decade to be equal to roughly 110% of U.S. gross domestic product.
The Federal Reserve has been trying to reduce inflation by raising its benchmark interest rates, causing the interest charged on 10-year U.S. Treasury notes to increase substantially in recent months. One consequence is that the government will be spending more money this year to service its debt. By 2032, the yearly interest payments will nearly be $1.2 trillion, or more than what the federal government spends on defense.
Still, the CBO cautions that its numbers "are subject to considerable uncertainty, in part because of the ongoing pandemic and other world events," including Russia's ongoing war in Ukraine. The report accounts at least for the first few months of the war, according to CBO.
Economists have said coronavirus relief programs issued by both the Biden and Trump administrations have contributed to higher inflation levels. But high prices have also been fueled by a delay in action by the Fed, supply chain disruptions and the tumult produced after Russia invaded Ukraine in February.
Ben Harris, the Treasury Department's assistant secretary for economic policy, tweeted on Tuesday that the factors driving inflation also include soaring corporate profits, driven by a lack of business competition — as well as business not being fully prepared for the reopening of the economy as pandemic restrictions were lifted. The administration has emphasized that its plan put the U.S. economy into a stronger place relative to the rest of the world because unemployment is a low 3.6%.
"The American Rescue Plan has fostered an extraordinarily fast recovery and leaves us in a strong position to address the global challenges posed from supply chains and the economic fallout from Russia's invasion of Ukraine," he tweeted.
The report says beyond 2032, "if current laws remained generally unchanged, deficits would continue to grow relative to the size of the economy over the following 20 years, keeping debt measured as a percentage of GDP on an upward trajectory throughout that period."
Maya MacGuineas, president of the Committee for a Responsible Federal Budget, told The Associated Press ahead of the release that the pandemic, war in Ukraine and other factors point to the importance of reducing the annual deficit.
"Unfortunately, the underlying story here is one of fiscally unsustainable positions and on top of that, we have this added challenge of inflation and a reminder that external shocks continue to come at us," she said.
Fatima Hussein, The Associated Press
North American stock markets wrap up brutal quarter and first half of 2022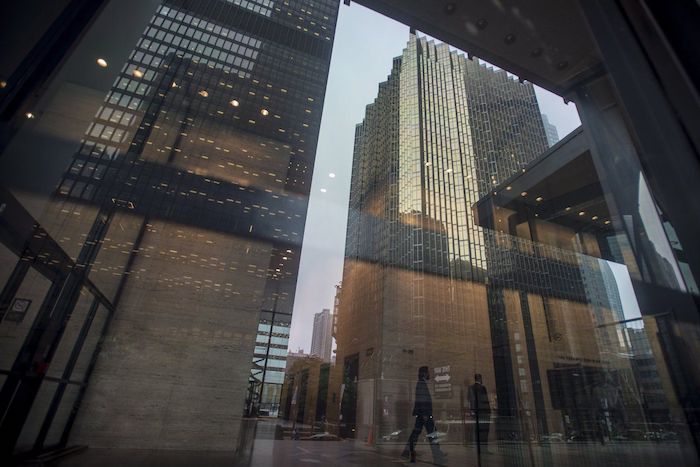 By Ross Marowits in Toronto
Allan Small said the first half of 2022 has proven to be the worst run of his 25-year investment career.
Canada's main stock index concluded its weakest quarter since before the pandemic while U.S. markets endured their worst six-months runs in decades on fears that rising interest rates will throw the economy into recession.
"As we hit the mid-point of the year, when you look back I think the first part of the year will be known for just a bloodbath in the markets," the senior investment adviser at IA Private Wealth said in an interview.
The S&P/TSX composite index closed down 217.28 points to 18,861.36 to end the quarter off nearly 14 per cent for the biggest decrease since December 2019. The TSX is closed Friday for Canada Day while U.S. markets will be closed Monday for Independence Day.
In New York, the Dow Jones industrial average was down 253.88 points at 30,775.43. The S&P 500 index was down 33.45 points at 3,785.38, while the Nasdaq composite was down 149.15 points at 11,028.74.
The TSX is down 11 per cent so far this year, while the Dow is down 15 per cent, the S&P 500 is off 20.6 per cent for the worst six months in 50 years and Nasdaq fell a record 29.5 per cent.
"I don't remember a year that started off the six months this poorly," said Small.
Soaring inflation has been stoked by Russia's invasion of Ukraine while supply chain bottlenecks have been accentuated by China's COVID-19 lockdowns.
While markets endured steep declines in the past due to COVID-19 and the financial crisis, they were always followed by people buying the dip. This time, many investors remain on the sidelines after getting hammered and unsure about when markets will bottom out.
Economic data out of the U.S. on Thursday said core inflation numbers, the Fed's preferred inflation measure, rose 4.7 per cent in May. That's 0.2 of a per cent lower than April but still around 40-year highs.
In Canada, economic growth slowed in April to 0.3 per cent, while a preliminary estimate for May suggests it likely contracted 0.2 per cent. The U.S. previously said its economy slipped 1.6 per cent in the first quarter.
A negative number in the second quarter will mean the U.S. economy is technically in recession. But Small said many people think the economy is already there and that Canada is either in recession or about to go into one.
Small said he wouldn't be surprised to see markets rise during a recession in anticipation of things getting better, with inflation moving down after peaking.
Real estate and utilities were the lone sectors in positive territory Thursday in a broad-based slump with six of nine sectors falling by more than one per cent.
Health care led the declines, losing 4.1 per cent with Canopy Growth Corp. plunging 18.5 per cent after the pot producer announced a convertible notes exchange.
Materials lost 3.6 per cent on a drop in metals prices, particularly copper.
The August gold contract was down US$10.20 at US$1,807.30 an ounce and the September copper contract was down 7.1 cents at US$3.71 a pound.
"Whenever you have fear of a recession, those types of metals which are used to build homes and build things, the fear is that you're not going to need to use as much of these building materials," Small said.
Energy lost 1.7 per cent on lower prices with crude oil dropping as Advantage Oil & Gas Ltd. shares were down six per cent.
The August crude contract was down US$4.02 at US$105.76 per barrel and the August natural gas contract was down US$1.07 at US$5.42 per mmBTU.
The Canadian dollar traded for 77.60 cents US compared with 77.65 cents US on Wednesday.
Shopify Inc. decreased 5.6 per cent to push technology lower while Laurentian Bank fell 2.5 per cent to lead a drop in the heavyweight financial sector.
Small is hoping for a better second half of the year after central banks conclude their aggressive interest rate hikes to tame soaring inflation.
"I don't know if we're going to make back enough to get us in the green for the year, but I'm hopeful that we'll see a positive second half and we'll make back some of the losses."
This report by The Canadian Press was first published June 30, 2022.
Companies in this story: (TSX:AAV, TSX:WEED, TSX:LB, TSX:SHOP, TSX:GSPTSE, TSX:CADUSD=X)
Canada extends COVID-19 border measures until Sept. 30, including ArriveCan app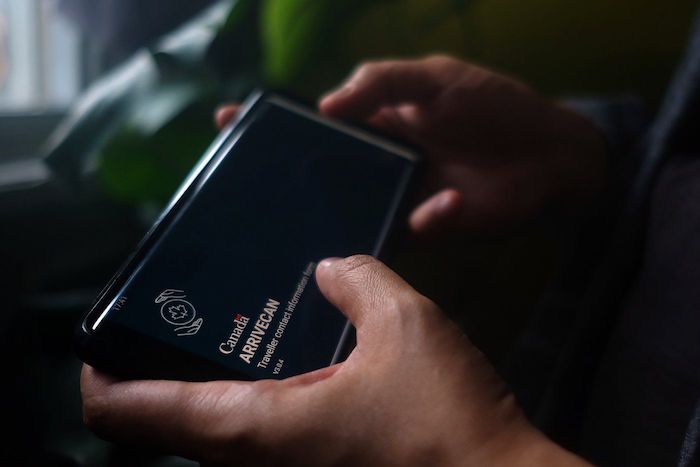 Ottawa – The federal government will extend current COVID-19 public health measures for travellers entering Canada, including the use of the ArriveCan app, until at least Sept. 30.
In a release Wednesday, the Public Health Agency of Canada also said it will continue the pause of mandatory random testing for fully vaccinated travellers at all airports until mid-July.
It first announced the pause on June 11 and said in the release that it's allowing airports to focus on streamlining their operations.
The public health agency said it's moving forward with plans to relocate COVID-19 testing for air travellers outside of airports to select test provider stores, pharmacies or by virtual appointment.
Mandatory random testing is to continue at land border points of entry with no changes.
The release added that travellers who are not fully vaccinated and don't have a valid exemption must continue to test on Day 1 and Day 8 of their 14-day quarantine.
"As we move into the next phase of our COVID-19 response, it is important to remember that the pandemic is not over. We must continue to do all that we can to keep ourselves and others safe from the virus," said Health Minister Jean-Yves Duclos in a statement.
He also urged people to remain up to date with the recommended vaccinations to ensure they are adequately protected against infection, transmission and severe complications.
"As we have said all along, Canada's border measures will remain flexible and adaptable, guided by science and prudence."
All travellers will have to continue to use the ArriveCan app or website to provide their travel information within 72 hours before their arrival in Canada or before boarding a cruise ship destined for the country. The government said 95 per cent of land and air travellers are using the app and it's taking steps to enhance compliance.
The government also said moving testing outside of airports will allow Canada to adjust to increased traveller volumes while still being able to monitor and quickly respond to new variants of concern or changes to the epidemiological situation.
It said border testing has been essential in helping Canada slow the spread of the virus, as data from the tests are used to understand the current level and trends of importation of COVID-19 into the country.
The testing program also allows for detection and identification of new COVID-19 variants of concern, it said.
Tourism groups and border-community mayors and MPs have called on the government to ease restrictions and scrap the ArriveCan app, saying the measures are limiting cross-border travel.
Transport Minister Randy Boissonnault said the government is deeply invested in growing Canada's visitor economy.
"From our reputation as a safe travel destination to our world-class attractions and wide-open spaces, Canada has it all and we are ready to welcome back domestic and international tourists, while prioritizing their safety and well-being."
This report by The Canadian Press was first published June 29, 2022.