Commonwealth falls short of condemning Russia as Trudeau prepares for G7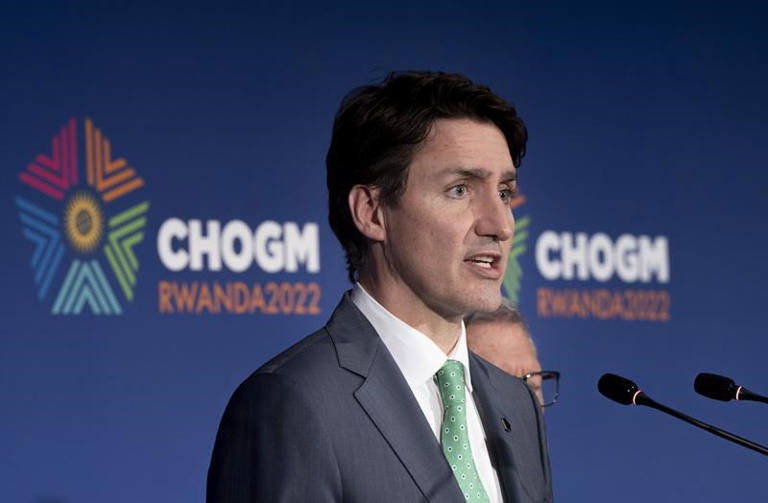 KIGALI, Rwanda — Prime Minister Justin Trudeau headed to the G7 summit in Germany on Saturday without a consensus from the Commonwealth to condemn the Russian invasion of Ukraine, but with a chorus of countries calling for help to overcome the fallout of the war.
Trudeau and Foreign Affairs Minister Mélanie Joly arrived in Kigali, the capital of Rwanda, on Wednesday for the Commonwealth Heads of Government meeting, which has been dominated by the concerns of nations that are suffering from food scarcity. Trudeau departed for the G7 talkslater in the day.
In the final communique from the Commonwealth summit, the 54 participating countries said they discussed the conflict in Ukraine, " underscored the need to respect the territorial integrity and sovereignty of all states," and " emphasized that all countries must seek peaceful resolution to all disputes in accordance with international law."
The countries stopped short of condemning Russia, as Trudeau and United Kingdom Prime Minister Boris Johnson have done throughout the summit.
"I can assure you that the topic of standing up for Ukraine was much discussed," Trudeau said at a press conference following the conclusion of the summit, referencing "strong language" in the communique.
Most Commonwealth Nations condemned Russia's actions at a United Nations vote in March, but 10 abstained. Among them was India, whose Prime Minister Narendra Modi opted not to attend the Commonwealth summit and instead spoke virtually with the leaders of Russia, China, Brazil and South Africa.
Trudeau said Russian President Vladimir Putin has run a disinformation campaign and has even been "telling outright lies," including blaming the food security crisis on Western sanctions against Russia.
He said food shortage stems from Russia's illegal actions, including blockade at key ports, as well as the deliberate targeting of Ukrainian grain storage facilities through cruise missile strikes.
"I was very clear with our friends and partners around the table, and not just clear on Russia's responsibility, but on how Canada and the West are stepping up," Trudeau said.
Canada will be raising the growing threat of famine at the G7 in Schloss Elmau Germany, Joly said.
She said Canada was in "listening mode" at the Commonwealth meetings, where leaders of smaller nations were able to speak without the dominating presence of the United States, Russia and China.
"What is clear to us is that Russia is weaponizing food and putting a toll on many countries around the world, and putting 50 million lives at risk," Joly told reporters Friday in Rwanda.
Trudeau had attempted to meet with the chair of the African Union Commission, Moussa Faki Mahamat, for several days during the Commonwealth summit but the sit-down was repeatedly postponed and eventually cancelled.
Shortly after Trudeau arrived in Rwanda, the government announced Canada would dedicate a new ambassador to the African Union, which has suffered from the food shortages inflicted on the continent as a result of the warin Ukraine.
Both Ukraine President Volodymyr Zelenskyy and Putin have met with representatives of the African Union, with Russia blaming sanctions against its government for stopping the flow of grain.
At the conclusion of the Commonwealth summit, Trudeau announced $94 million in funding for various education initiatives and $120 million to support gender equality and women's rights in Commonwealth countries.
Some of the other voices the prime minister has promised to centre at his international meetings, including the G7 summit, belong to youth leaders who spoke at a Saturday-morning event focused on issues facing young people around the world.
Some of the delegates spoke about the devastating effects of climate change, particularly around remote island nations where infrastructure cannot withstand natural disasters and rebuilding efforts take years. The onslaught takes a toll on education and health services, one delegate told the forum.
This report by The Canadian Press was first published June 25, 2022.
Laura Osman, The Canadian Press
Prairie premiers, governors urge Canada, U.S. to keep border crossings open longer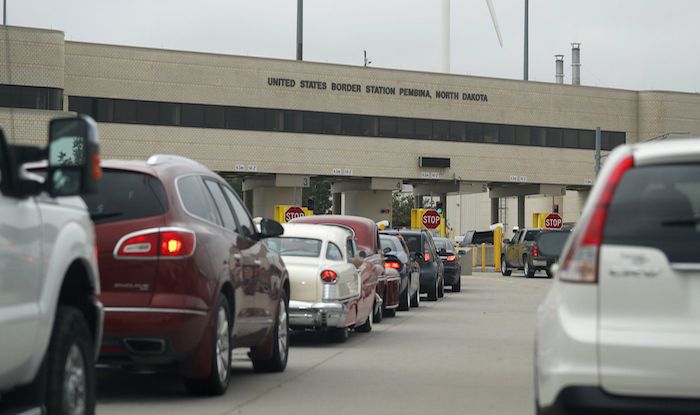 Washington – Canada's Prairie premiers and two U.S. governors want their respective countries to restore pre-pandemic operating hours at entry points along their shared land border.
The group of provincial and state leaders have written to Prime Minister Justin Trudeau and President Joe Biden to argue that curtailed hours at border crossings are hurting the economy.
The letter is signed by Alberta Premier Jason Kenney, Saskatchewan Premier Scott Moe and Manitoba Premier Heather Stefanson, as well as Montana Gov. Greg Gianforte and North Dakota Gov. Doug Burgum.
It says travellers and businesses are being forced to go out of their way to find entry points with longer hours, driving up fuel and labour costs.
The leaders say that's also hurting smaller border communities along the Canada-U.S. border that depend on international traffic for their economic livelihoods.
The letter does not mention that the U.S. still requires visiting foreign nationals to be vaccinated against COVID-19, a requirement Canada lifted over the weekend.
"Residents and businesses on both sides of the border have expressed concern that the reduced hours of operation will become permanent," the letter reads.
It also argues that the supply chain problems that have persisted since the onset of COVID-19 in 2020 will only linger so long as cross-border trade and travel remains curtailed by limited hours at border crossings.
"Resuming pre-pandemic operating hours will ensure the efficient and steady flow of people and goods, which will only improve trade activity and reduce inflationary pressure on both sides of the border."
A notice on the Canada Border Services Agency website warns of limited operating hours at nearly 40 land ports of entry, mostly in the Prairie provinces, along with Quebec, New Brunswick and B.C.
This report by The Canadian Press was first published Oct. 3, 2022.
UN: 5.7 million Pakistani flood victims to face food crisis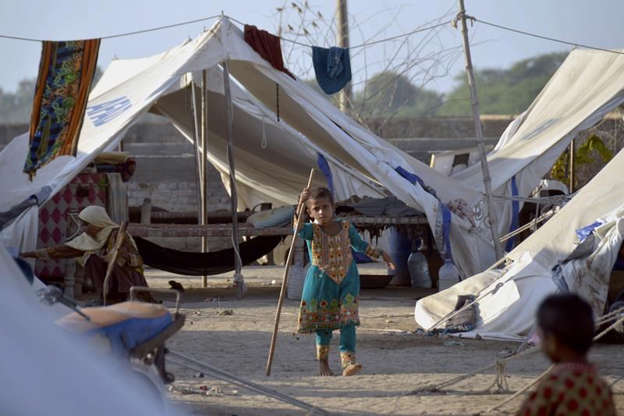 ISLAMABAD (AP) — The United Nations humanitarian agency is warning that about 5.7 million Pakistani flood survivors will face a serious food crisis in the next three months, as the death toll from the deluge rose on Monday.
Pakistan's National Disaster Management Authority reported that floods fueled by abnormally heavy monsoon rains have killed 1,695 people, affected 33 million, damaged more than 2 million homes and displaced hundreds of thousands now living in tents or makeshift homes.
The U.N. Office for the Coordination of Humanitarian Affairs in its latest report Saturday said the current floods are expected to exacerbate food insecurity in Pakistan and said 5.7 million people in flood-affected areas will be facing a food crisis between September and November.
Even before the floods, according to the World Health Organization, 16% of the population was living in moderate or severe food insecurity.
However, Pakistan's government insists that there is no immediate worry about food supplies, as wheat stocks are enough to last through the next harvest and that the government is importing more.
The U.N. agency said in a tweet on Monday that the agency and other partners have scaled up their flood response and delivered aid to 1.6 million people directly affected by the deluges.
OCHA said outbreaks of waterborne and other diseases are on the rise in Sindh and southwestern Baluchistan provinces, where floods have caused the most damage since mid-June.
Several countries and U.N. agencies have sent more than 131 flights carrying aid for survivors, but many are complaining they have either received too little help or are still waiting for it.
The U.N. humanitarian agency also said in its Saturday report that rainfall in Baluchistan and Sindh lightened substantially over the past week, as temperatures start to decrease ahead of winter.
"Normal conditions are prevailing in most districts of Baluchistan, while in Sindh, the Indus River is flowing normally," said OCHA. Overall, it added, in 18 out of 22 districts of Sindh, floodwater levels had receded at least 34%, and in some districts up to 78%.
The OCHA report also highlighted the ordeal of flood survivors, saying many continue to live in "unsanitary conditions in temporary shelters, often with limited access to basic services, compounding the risk of a major public health crisis."
It said pregnant women are being treated in temporary camps when possible, and nearly 130,000 pregnant women need urgent health services.
"Already before the floods, Pakistan had one of the highest maternal mortality rates in Asia, with the situation likely to deteriorate," it said.
The U.N. is due to issue a revised appeal seeking an additional $800 million from the international community to respond to the soaring life-saving needs of Pakistani flood survivors. The U.N. said last week that "food is being delivered to vulnerable families; however, it is still not enough to meet the nutrition needs of the people."
Pakistan says floods caused about $30 billion of damage to its economy.
Floods washed away thousands of kilometers of roads, destroyed 440 bridges, and disrupted railroad traffic.
Pakistan Railways said it has started restoring train service from Sindh to other cities after repairing some of the tracks damaged by floods.
Munir Ahmed, The Associated Press