Climate to conflict, Davos' post-COVID return has full plate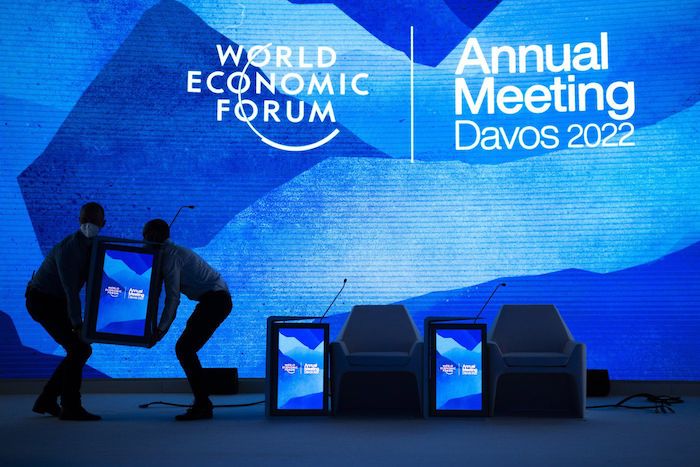 By Jamey Keaten And Masha Macpherson in Davos
DAVOS, Switzerland (AP) — Davos — the hub of an elite annual gathering in the Swiss Alps — is back, more than two years after the coronavirus pandemic kept its business gurus, political leaders and high-minded activists away. There's no shortage of urgent issues for the World Economic Forum's annual meeting to tackle.
With their lofty ambition to help improve the state of the world, forum organizers have their work cut out for them: there are soaring food and fuel prices, Russia's war in Ukraine, climate change, drought and food shortages in Africa, yawning inequality between rich and poor, and autocratic regimes gaining ground in some places — on top of signs that the pandemic is far from over.
It's hard to predict if the high-minded discussions will yield substantial announcements that make headway on the world's most pressing challenges.
The war in Ukraine will be a key theme. President Volodymyr Zelenskyy will speak on opening day Monday by video from Kyiv, while the country's foreign minister and a sizable delegation of other top Ukrainian officials will be on hand. They'll be joined this week by leaders like German Chancellor Olaf Scholz, U.S. climate envoy John Kerry, NATO Secretary-General Jens Stoltenberg and European Commission President Ursula von der Leyen.
"There's no business as usual," forum President Borge Brende told The Associated Press, saying Ukraine is not the only worry. "It is also climate change. It is also that the global growth is slowing, and we have to avoid that this very weak recovery ends with a new recession because we have very limited ammunition to fight a new recession."
"A new recession will lead to increased unemployment, increased poverty," he added. "So much is at stake."
President Vladimir Putin's war means Russian business and political leaders haven't been invited to Davos this year. There will be no traditional "Russia House" social festivities with caviar and vodka spreads for the elite attendees of its evening fun.
Instead, critics — notably including Ukrainian tycoon Victor Pinchuk and the country's Foreign Ministry — have seized on some symbolism and vowed to voice their disgust, which is shared by many around the world.
"This year, Russia is not present at Davos, but its crimes will not go unnoticed. The 'Russia War Crimes House' takes place inside the former Russia House," organizers of the rechristened venue said in a press release.
Opening Monday, the venue will feature photos of crimes and cruelties that Russian forces are accused of perpetuating. Some victims will speak out — including Anatoliy Fedoruk, the mayor of Bucha, a town near Kyiv where images of killings of civilians drew outrage worldwide.
"It's important to understand what is really happening in Ukraine," said Bjorn Geldhof, artistic director of PinchukArtCentre, which is helping organize the exhibit. "Part of this exhibition is also to bring back a human face to those people who have become victim of these Russian war crimes."
Brende, the forum president, says scores of CEOs and other business leaders will be looking into ways the private sector can support Ukraine, "in the situation where Russia is breaking international law, international humanitarian law, and not sticking to the U.N. Charter."
Not everyone believe Davos is the place where solutions can be found.
A few dozen anti-capitalist demonstrators marching behind a "Smash WEF" banner clashed Friday with police in Zurich, Switzerland's largest city, a sign of simmering antagonism against economic elites whom they accuse of putting profits over people. Police used rubber bullets and pepper spray to disperse the crowd in what was deemed an unauthorized gathering.
While Ukraine will capture attention on the meeting's first day, climate and environmental issues will be a recurring, constant theme as the forum looks to future challenges as much as the current ones.
One-third of the roughly 270 panel discussions through Thursday's finale will focus on climate change or its effects, with extreme weather, efforts to reach "net zero" emissions and finding new, cleaner sources of energy on the agenda.
Forum managers — who have faced criticism about hosting wealthy executives who sometimes fly in on emissions-spewing corporate jets — have increasingly tried to play their part and inoculate themselves against accusations of hypocrisy: Over the last five years, they say they have offset 100% of the carbon emissions from the organization's activities by supporting environmental projects.
Experts say offsets can be problematic because there's no guarantee they'll deliver on reducing emissions.
Iran government supporters confront protesters at World Cup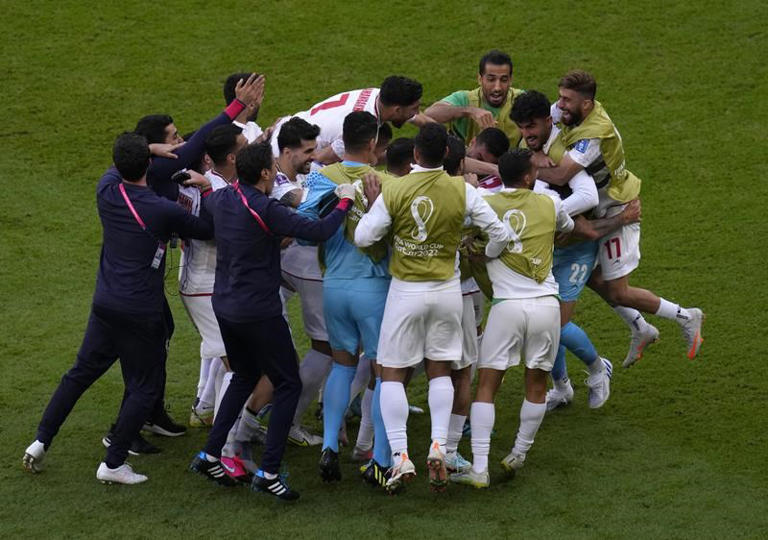 AL RAYYAN, Qatar (AP) — Tensions ran high at Iran's second match at the World Cup on Friday as fans supporting the Iranian government harassed those protesting against it and stadium security seized flags, T-shirts and other items expressing support for the protest movement that has gripped the Islamic Republic.
Some fans were stopped by stadium security from bringing in Persian pre-revolutionary flags to the match against Wales at the Ahmad Bin Ali Stadium. Others carrying such flags had them ripped from their hands by pro-government Iran fans, who also shouted insults at fans wearing T-shirts with the slogan of the protest movement gripping the country, "Woman, Life, Freedom."
Unlike in their first match against England, the Iran players sang along to their national anthem before the match as some fans in the stadium wept, whistled and booed.
The national team has come under close scrutiny for any statements or gestures about the nationwide protests that have wracked Iran for weeks.
Shouting matches erupted in lines outside the stadium between fans screaming "Women, Life, Freedom" and others shouting back "The Islamic Republic!"
Mobs of men surrounded three different women giving interviews about the protests to foreign media outside the stadium, disrupting broadcasts as they angrily chanted, "The Islamic Republic of Iran!" Many female fans appeared shaken as Iranian government supporters shouted at them in Farsi and filmed them up close on their phones.
After Iran's 2-0 triumph, crowds of Iranian fans wildly waving national flags streamed out of the stadium. They thronged a group of protesters who held up photos of Mahsa Amini, the 22-year-old whose Sept. 16 death in the custody of the morality police first unleashed the protests, yelling "Victory!" to drown out chants of Amini's name.
One 35-year-old woman named Maryam, who like other Iran fans declined to give her last name for fear of government reprisals, started to cry as shouting men blowing horns encircled her and filmed her face. She had the words "Woman Life Freedom" painted on her face.
"We want to raise awareness about his arrest and about the women's rights movement," said Maryam, who lives in London but is originally from Tehran. "I'm not here to fight with anyone, but people have been attacking me and calling me a terrorist. All I'm here to say is that football doesn't matter if people are getting killed in the streets."
Maryam and her friends had worn hats emblazoned with the name of an outspoken Iranian former soccer player Voria Ghafouri, who had criticized Iranian authorities and was arrested in Iran on Thursday on accusations of spreading propaganda against the government. She said Iranian government supporters had taken the hats from their heads.
Ghafouri, who is Kurdish, was a star member of Iran's 2018 World Cup team, but was surprisingly not named in the squad for this year in Qatar.
"It's obvious that the match had become very politicized this week. You can see people from the same country who hate each other," said Mustafa, a 40-year-old Iran fan who also declined to give his last name. "I think the arrest of Voria has also affected society in Iran a lot."
Furious protesters in Iran have been venting their anger over social and political repression and the state-mandated headscarf, or hijab, for women. The demonstrations have quickly grown into calls for the downfall of the Islamic Republic itself. At least 419 people have been killed since the protests erupted, according to monitoring group Human Rights Activists in Iran.
The turmoil has overshadowed the start of Iran's World Cup campaign. The opening match against England on Monday was the scene of protests as anti-government fans waved signs and chanted in the stands. Before that match, which Iran lost 6-2, its players remained silent as their national anthem played and didn't celebrate their two goals. On Friday, they sang along to the anthem and celebrated wildly when they scored twice against Wales.
Ayeh Shams, an Iranian from the United States, said security guards confiscated her flag because it had the word "women" written on it.
"We're just here to enjoy the games and give a platform for the Iranian people who are fighting against the Islamic regime," Shams said.
Zeinlabda Arwa, a security guard at the stadium, confirmed that authorities had been given orders to confiscate anything but the flag of the Islamic Republic of Iran.
"Whether you're talking about Iran or Qatar or any country, you are only allowed to bring in the normal flag," she said.
An angry group of Iranian government supporters shouted at Elyas Doerr, a 16-year-old Iranian boy living in Arizona who was wearing the Persian flag as a cape, until he took it off and and put it in his bag.
"They're not liking that it's a political statement," he said, adding that other Iranian fans had approached him to say they appreciated the gesture.
A 32-year-old Iranian woman living in southern Spain, who declined to give her name for fear of reprisals, scrambled after the match to retrieve her hat and flag that had been confiscated by stadium security. She said Qatari police ordered her to scrub off the names of Iranian protesters killed and arrested by security forces that she had written on her arms and chest, at the behest of Iranian government supporters. At the game, just traces of ink remained on her skin that was rubbed raw.
"Today's football experience was the most intimidating I've ever been in, before and after the match," she said. She described dozens of men who surrounded her and tried to smother her face with their Iranian flags, snatching her signs as Qatari security stood by.
"I don't care about the win, to be honest. That's not my priority."
After the game, Iranian state television broadcast patriotic songs and showed footage of people bursting out into cheers across the country.
___
AP World Cup coverage: https://apnews.com/hub/world-cup and https://twitter.com/AP_Sports
Isabel Debre And Ciarán Fahey, The Associated Press
Sajjan mum on human rights during World Cup visit to Qatar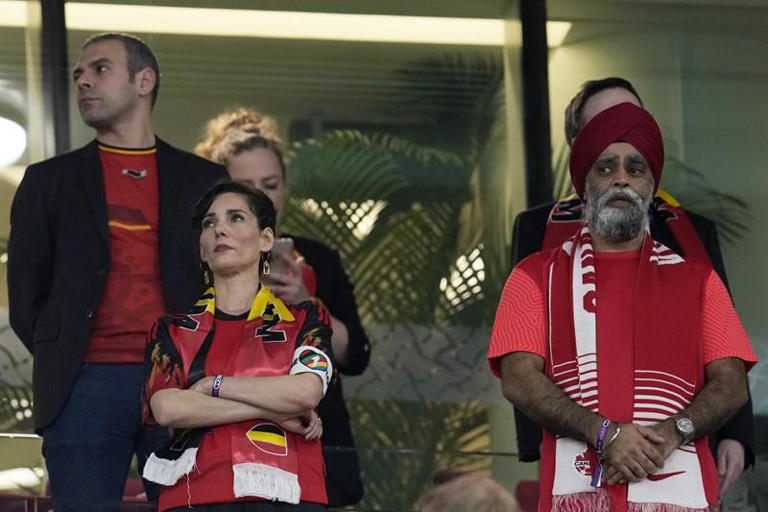 By Dylan Robertson in Ottawa
OTTAWA — International Development Minister Harjit Sajjan is facing opposition criticism because he did not make a public statement about human rights during his visit to Qatar for the World Cup.
"If we don't raise the issue of human rights when we are in countries where we know human rights abuses are taking place, we have no moral authority," said NDP foreign-affairs critic Heather McPherson.
Sajjan attended the World Cup on behalf of the Trudeau government, where the Canadian men's team is competing for the first time in years. He met with U.S. Secretary of State Antony Blinken and local officials.
Yet Sajjan's social media postings make no mention of the host country's documented mistreatment of migrant workers, nor the emirate's anti-LGBTQ policies.
Those concerns have led some broadcasters and players to sport armbands that say "One Love." The German team covered their mouths when their official photo was taken.
Sajjan's office said he was unavailable Thursday for comment as he was flying back to Canada.
Labour Minister Seamus O'Regan, who is gay, said he felt split on Qatar's hosting.
"I'll be honest, it's very conflicting. I'm cheering on my team; I'm cheering on my country and (want) nothing but the best. But I'll tell, you it's kind of difficult," he said
O'Regan said he could not speak for Sajjan, but noted the government voiced concerns about Qatar before the games got underway.
"We know exactly where we stand on it; we've voiced our displeasure clearly," he said.
The NDP had called for a diplomatic boycott of the tournament.
"This is talking out of both sides of your mouth, with this government," McPherson said.
"This government once again has shown that they don't really care about human rights."
On Monday, MPs passed a unanimous motion condemning FIFA for threatening to penalize players who wore the "One Love" armbands. The motion argued that "international sporting governing bodies have a moral obligation to support players and fans in highlighting the fight for equality against homophobia, transphobia, and all forms of discrimination in sport."
Captains of several European countries scrapped plans to wear a "One Love" armband after FIFA, soccer's governing body, warned they would face on-field sanctions.
Media reports from Qatar also said some fans wearing rainbow attire were refused entry to the stadiums.
This month, Amnesty International rebuked Soccer Canada for its "deafening silence" on the thousands of workers, predominantly from South Asia, Southeast Asia and Africa, who "have been subjected to labour abuses, abysmally low pay, and other exploitation."
Soccer Canada released a statement last month in support of ongoing reforms, but steered clear of criticizing the emirate.
Amnesty noted that peer federations from Britain, the U.S., France and the Netherlands all endorsed calls for a compensation fund for migrant workers who were mistreated while preparing Qatar for the games.
The Conservatives did not have a direct comment on Sajjan's actions. Instead, MP Michael Chong said his party prefers that the World Cup be hosted by countries with better reputations, such as a bid by Ukraine to co-host the 2030 tournament with Spain and Portugal.
"Conservatives condemn in the strongest terms all human rights abuses around the world and are prepared to work with our democratic allies to support human rights," Chong wrote in a statement.
The Bloc Québécois had also called for a diplomatic boycott, and lamented Sajjan's attendance in Qatar. "Canada has no excuse to turn a blind eye to human rights abuses," MP Martin Champoux tweeted in French on Monday.
During the 2008 Olympic Games in Beijing, the Liberals urged the Harper government to raise the issue of human rights in China.
This report by The Canadian Press was first published Nov. 24, 2022.
Dylan Robertson, The Canadian Press