China's Xi calls for effort to prevent 'color revolutions'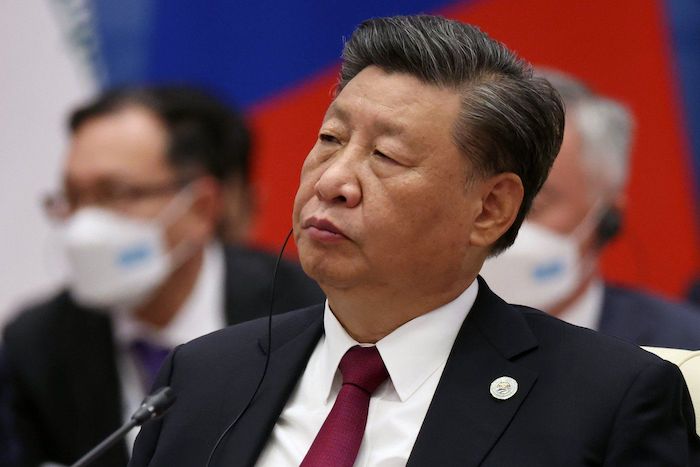 SAMARKAND, Uzbekistan (AP) — Chinese President Xi Jinping warned his Central Asian neighbors on Friday not to allow outsiders to destabilize them with "color revolutions" and offered to set up a regional counterterrorism training center.
Xi's comments at a security summit with Russian President Vladimir Putin and leaders from Central Asia, India and Iran reflect official Chinese anxiety that Western support for pro-democracy and human rights activists is a plot to undermine Xi's ruling Communist Party and other authoritarian governments.
"We should prevent external forces from instigating a color revolution," Xi said in a speech to leaders of the Shanghai Cooperation Organization, referring to protests that toppled unpopular regimes in the former Soviet Union and the Middle East.
Xi offered to train 2,000 police officers, to set up a regional counterterrorism training center and to "strengthen law enforcement capacity building." He gave no details.
The Shanghai Cooperation Organization was formed by Russia and China as a counterweight to U.S. influence. The summit is part of Xi's first trip abroad since shortly after the coronavirus pandemic began 2 1/2 years ago, highlighting the importance to Beijing of asserting itself as a regional leader.
The group also includes Kazakhstan, Kyrgyzstan, Pakistan, Tajikistan and Uzbekistan. Iran is an observer and has applied for full membership.
The one-day summit in the ancient city of Samarkand occurred against a backdrop of Russia's attack on Ukraine and fighting between Azerbaijan and Armenia.
President Recep Tayyip Erdogan of Turkey, a "dialogue partner" of the group, attended the summit and planned to hold talks with Putin on the status of a deal under which wheat exports from Ukraine through the Black Sea resumed.
Xi is promoting a "Global Security Initiative" announced in April following the formation of the Quad by the U.S., Japan, Australia and India in response to Beijing's more assertive foreign policy. Xi has given few details, but U.S. officials complain it echoes Russian arguments in support of Moscow's actions in Ukraine.
China's relations with Washington, Europe, Japan and India have been strained by disputes about technology, security, human rights and territory.
Central Asia is part of China's multibillion-dollar Belt and Road Initiative to expand trade by building ports, railways and other infrastructure across an arc of dozens of countries from the South Pacific through Asia to the Middle East, Europe and Africa.
On Thursday, Putin held a one-on-one meeting with Xi and thanked the Chinese leader for his government's "balanced position" on the Ukraine war. Putin said he was ready to discuss unspecified "concerns" by China about Ukraine.
Xi, in a statement released by his government, expressed support for Russia's "core interests" but also interest in working together to "inject stability" into world affairs.
The Xi-Putin meeting "makes clear that the partnership between China and Russia indeed has limits," said Eurasia Group analysts in a report.
Xi's government, which said it had a "no-limits" friendship with Moscow before the attack on Ukraine, has refused to criticize Russia. Beijing and India are buying more Russian oil and gas, which helps Moscow offset Western sanctions.
"China has never approved of the Russian invasion" but is committed to "deepening strategic ties with Moscow as a counterweight to Western influence," they said.
China wants a negotiated end to the Ukraine war, said Li Xin, director of the Institute of European and Asian Studies of Shanghai University of Political Science and Law.
"China will not judge whether the special military operation of Russia is just or not," Li said.
The reference to stability "is mainly related to China-U.S. relations," said Zhang Lihua, an international relations expert at Tsinghua University.
"The United States has been using all means to suppress China, which forced China to seek cooperation with Russia and the role of the SOC," Zhang said.
After the meeting, Russian Foreign Minister Sergey Lavrov said views on international affairs by Moscow and Beijing "fully coincide. We don't have any differences."
Observers say Russia will likely grow increasingly reliant on China as a market for its oil and gas as the West moves to establish a price cap on Russian energy resources and potentially cut their imports altogether.
Russia was forced to pull back its forces from large swaths of northeastern Ukraine last week amid a swift Ukrainian counteroffensive. Ukraine regaining control of several Russian-occupied cities and villages represented Moscow's largest setback since its forces had to retreat from areas near the capital early in the war.
Putin also met with Iranian President Ebrahim Raisi, whose country is on track to join the Shanghai Cooperation Organization. Raisi said Moscow and Tehran were finalizing a treaty that would bring their relations to a "strategic level."
TotalEnergies EP Canada ups stake in Fort Hills oilsands project
Calgary – TotalEnergies EP Canada Ltd. says it is increasing its ownership in the Fort Hills oilsands project by acquiring part of Teck Resources Ltd.'s stake in the mine.
Teck announced last year that it would sell its 21.3 per cent stake in Fort Hills to Suncor Energy Inc., the third partner in the project, for about $1 billion.
However, TotalEnergies EP Canada says it has exercised its pre-emption right to acquire an additional 6.65 per cent in the project from Teck for $312 million.
The deal brings the company's stake in Fort Hills to 31.23 per cent. Suncor will own the rest.
French company TotalEnergies announced in September 2022 its plan to exit the Canadian oilsands by spinning off TotalEnergies EP Canada in 2023.
It says the acquisition of an additional interest in Fort Hills helps build TotalEnergies EP Canada for the future.
This report by The Canadian Press was first published Jan. 27, 2023.
Companies in this story: (TSX:TECK.B, TSX:SU)
House GOP seeks new restrictions on use of US oil stockpile
By Matthew Daly in Washington
WASHINGTON (AP) — For the second time this month, House Republicans are seeking to restrict presidential use of the nation's emergency oil stockpile — a proposal that has already drawn a White House veto threat.
A GOP bill set for a vote Friday would require the government to offset any non-emergency withdrawals from the Strategic Petroleum Reserve with new drilling on public lands and oceans. Republicans accuse President Joe Biden of abusing the reserve for political reasons to keep gas prices low, while Biden says tapping the reserve was needed last year in response to a ban on Russian oil imports following President Vladimir Putin's invasion of Ukraine.
Biden withdrew 180 million barrels from the strategic reserve over several months, bringing the stockpile to its lowest level since the 1980s. The administration said last month it will start to replenish the reserve now that oil prices have gone down.
White House press secretary Karine Jean-Pierre attacked the latest GOP proposal, which follows a bill approved two weeks ago that would prohibit the Energy Department from selling oil from the strategic reserve to companies owned or influenced by the Chinese Communist Party.
"House Republicans will vote to raise gas prices on American families … and help Putin's war aims by interfering with our ability to release oil," Jean-Pierre said, referring to the current GOP bill. "These extreme policies would subject working families to immense financial pain and balloon our deficit, all just to benefit the wealthiest taxpayers and big corporations."
Energy Secretary Jennifer Granholm, appearing with Jean-Pierre at the White House, said the bill would make it "harder to offer Americans relief in the future" from oil disruptions that could raise prices.
Republican Rep. Cathy McMorris Rodgers, who chairs the House Energy and Commerce Committee and sponsored the GOP bill, accused Granholm and the White House of multiple misleading claims, including an erroneous assertion that the bill could affect use of the reserve during a presidentially declared emergency.
"At a time when gas prices are on the rise, Secretary Granholm and the Biden administration need to be transparent with the American people about their efforts to cover up how they've abused the Strategic Petroleum Reserve as an election-year gimmick," McMorris Rodgers said.
"Republicans want durable, long-lasting relief at the pump. The best way to do this is by unleashing American energy," which her legislation helps accomplish, added McMorris Rodgers, of Washington state.
The heated rhetoric is part of a larger fight over oil drilling and climate change. Republicans say restrictions on oil leasing imposed by the Biden administration hamper U.S. energy production and harm the economy, while Democrats tout a sweeping climate law approved last year as a crucial step to wean the nation off fossil fuels such as oil, coal and natural gas. The measure authorizes billions in spending to boost renewable energy such as wind and solar power and includes incentives for Americans to buy millions of electric cars, heat pumps, solar panels and more efficient appliances.
Biden, citing the dangers of climate change, canceled the controversial Keystone XL oil pipeline in his first days in office and suspended new oil and gas leases on federal lands. The moratorium has since been lifted, under court order, but Republicans complain that lease sales for new drilling rights are still limited.
Biden campaigned on pledges to end new drilling on public lands, and climate activists have pushed him to move faster to shut down oil leasing. Fossil fuels extracted from public lands account for about 20% of energy-related U.S. greenhouse gas emissions, making them a prime target for emissions reductions intended to slow global warming.
"Whether on land or at sea, oil drilling poses an unacceptable risk for our wildlife, wild places and waterways," said Lisa Frank of Environment America, an advocacy group. "When we drill, we spill. At a time when we should be moving away from this destructive, dangerous practice — and expanding use of renewable power — this bill doubles down on the outmoded energy of the past."
Frank urged lawmakers to reject the GOP bill and instead move to permanently ban new drilling off U.S. coasts and in Alaska's Arctic National Wildlife Refuge.
Conservative and industry groups support the bill.
"We can continue making the Strategic Petroleum Reserve the nation's sole response to future disruptions, or we can also utilize more of the vast oil supplies sitting beneath the lands and offshore areas currently kept off limits by the president," the Competitive Enterprise Institute and other conservative groups said in a letter to Congress.
The Treasury Department estimates that release of oil from the emergency stockpile lowered prices at the pump by up to 40 cents per gallon. Gasoline prices averaged about $3.50 per gallon on Thursday, down from just over $5 per gallon at their peak in June, according to the AAA auto club.
Morris Rodgers accused Biden of using the reserve to "cover up his failed policies" that she said are driving up energy prices and inflation. Average gas prices are up more than 30 cents from a month ago and are higher than when Biden took office in January 2021, she and other Republicans noted.
"Millions of Americans are paying more at the pump as a result of the Biden administration's radical 'rush-to-green' agenda that has shut down American energy," McMorris Rodgers said.
Granholm, citing thousands of unused leases by oil companies, said GOP claims of obstructionism on drilling were off-base. "There's nothing standing in the way of domestic oil and gas production," she said, a claim McMorris Rodgers disputed.
"There are plenty of barriers to unleashing domestic oil and gas production, including burdensome regulations and this administration's discouragement of financial investment in domestic oil and gas industries," she said, noting that U.S. oil production is well below its 2019 peak of 13 million barrels of oil a day.