China's online "tank" cake snafu raises Tiananmen questions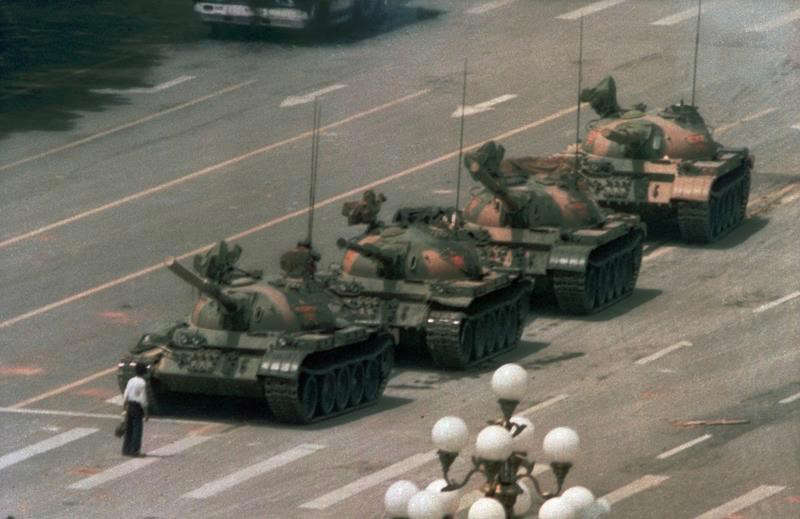 Li Jiaqi, China's most popular e-commerce livestreamer, is known for hawking everything from lipsticks to frying pans on his online show, where watchers can buy items directly at a discount.
He rose to popularity in 2018, gaining the nickname "Lipstick King" after he one tried on 380 lipsticks during a seven-hour stream, and for selling 15,000 lipsticks in just five minutes during an online shopping festival.
But last Friday, Li's online show, which draws tens of thousands of viewers, was cut short after a woman appeared on camera holding what appears to be a small white cake decorated with wafers and cookies to look like a military tank, according to screenshots posted on social media platforms.
The abrupt end left thousands of his fans confused. Li briefly became a trending search term in Chinese social media.
The show was on June 3, the eve of the anniversary of the June 4, 1989, crackdown on thousands of students gathered in the vast plaza at the heart of Beijing to demand greater democracy. Hundreds if not thousands of protesters are believed to have died.
One of the most famous photographs of the military crackdown, commonly referred to as 'Tank Man,' shows a man holding plastic bags standing in front of a line of tanks, appearing to block their approach up Beijing's main east-west thoroughfare, the Avenue of Eternal Peace, or Chang'an Avenue. All such pictures are censored in China.
Shortly after his stream was terminated Friday, Li posted on his Weibo platform, similar to Twitter, saying the stream ended early due to a "technical error." A replay of the stream was also not uploaded.
Neither Alibaba nor Li's agency, MeiOne, has responded to requests for comment.
His absence has sparked a flurry of speculation among Chinese online, many of whom were born after 1989 and because nearly all mention of the crackdown is censored inside China, don't know much about what happened then.
Keywords and phrases linked to the incident are censored. Searches for "Tiananmen June 4" or "Tiananmen 1989" turn up no results on search engines and social media platforms in China.
"Who can tell me what happened to Li Jiaqi?" said one user on Weibo. "I can't seem to find any information."
By Monday, Chinese censors had wiped all photos of the tank-shaped cake and any clip of the live-stream from the Chinese internet. Li hasn't appeared on another livestream session since.
Those aware of the Tiananmen Square massacre questioned, using cryptic allusions to June 4 to evade censors, if Li was aware of the sensitivity of showing a tank on a show like his.
"It has become Li Jiaqi's fault for not knowing about an incident that he is not allowed to know, and now he must prove that he really did not know about an incident that he is unaware of," commented a Weibo user with the handle MaxWell_2000, pointing out the Catch-22 nature of the situation.
The apparent effort to prevent people from seeing the show prompted some people to say they were learning for the first the first time about the Tiananmen crackdown.
"I didn't know before, but now I think I know," said one user on Weibo, where self-censoring posts using vague language to refer to sensitive topics are commonplace to evade censors and prevent account suspensions.
The apparent censoring of Li's show has had the contrary effect of drawing more attention to it and to what happened in Tiananmen Square in 1989, said Shaun Rein, founder and managing director of China Market Research Group in Shanghai.
"For many Chinese users, taking Li offline at this time could have the opposite effect of bringing attention to an incident that nobody in China usually talks about," said Rein.
Zen Soo, The Associated Press
Author Salman Rushdie attacked on lecture stage in New York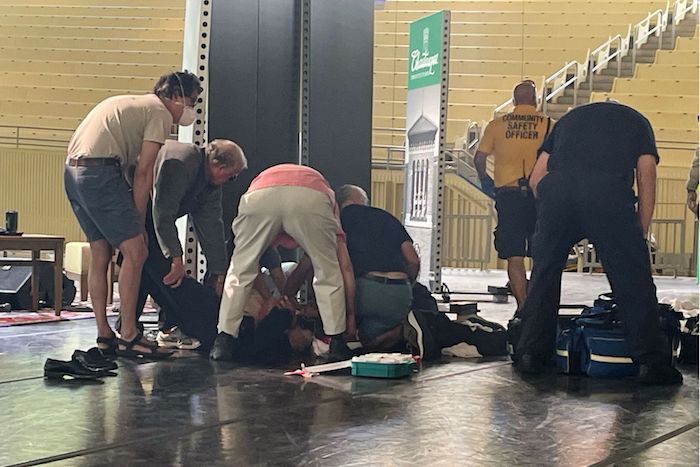 CHAUTAUQUA, N.Y. (AP) — Salman Rushdie, the author whose writing led to death threats from Iran in the 1980s, was attacked and apparently stabbed in the neck Friday by a man who rushed the stage as he was about to give a lecture in western New York.
An Associated Press reporter witnessed a man confront Rushdie on stage at the Chautauqua Institution and punch or stab him 10 to 15 times as he was being introduced. The 75-year-old author was pushed or fell to the floor, and the man was arrested.
State police said Rushdie was apparently stabbed in the neck and was flown to a hospital. His condition wasn't immediately known. The moderator at the event was also attacked and suffered a minor head injury, police said.
Rabbi Charles Savenor was among the roughly 2,500 people in the audience. Amid gasps, spectators were ushered out of the outdoor amphitheater.
The assailant ran onto the platform "and started pounding on Mr. Rushdie. At first you're like, 'What's going on?' And then it became abundantly clear in a few seconds that he was being beaten," Savenor said. He said the attack lasted about 20 seconds.
Another spectator, Kathleen Jones, said the attacker was dressed in black, with a black mask.
"We thought perhaps it was part of a stunt to show that there's still a lot of controversy around this author. But it became evident in a few seconds" that it wasn't, she said.
A bloodied Rushdie was quickly surrounded by a small group of people who held up his legs, presumably to send more blood to his chest.
Rushdie has been a prominent spokesman for free expression and liberal causes. He is a former president of PEN America, which said it was "reeling from shock and horror" at the attack.
"We can think of no comparable incident of a public violent attack on a literary writer on American soil," CEO Suzanne Nossel said in a statement.
Rushdie "has been targeted for his words for decades but has never flinched nor faltered," she added.
His 1988 book "The Satanic Verses" was viewed as blasphemous by many Muslims. Often-violent protests against Rushdie erupted around the world, including a riot that killed 12 people in Mumbai.
The novel was banned in Iran, where the late leader Grand Ayatollah Ruhollah Khomeini issued a 1989 fatwa, or edict, calling for Rushdie's death. Khomeini died that same year.
Iran's current Supreme Leader Ayatollah Ali Khamenei has never issued a fatwa of his own withdrawing the edict, though Iran in recent years hasn't focused on the writer.
Iran's mission to the United Nations did not immediately respond to a request for comment on Friday's attack.
A bounty of over $3 million has also been offered for anyone who kills Rushdie.
The death threats and bounty led Rushdie to go into hiding under a British government protection program, which included a round-the-clock armed guard. Rushdie emerged after nine years of seclusion and cautiously resumed more public appearances, maintaining his outspoken criticism of religious extremism overall.
He has said he is proud of his fight for freedom of expression, saying in a 2012 talk in New York that terrorism is really the art of fear.
"The only way you can defeat it is by deciding not to be afraid," he said.
Iran's government has long since distanced itself from Khomeini's decree, but anti-Rushdie sentiment has lingered. The Index on Censorship, an organization promoting free expression, said money was raised to boost the reward for his killing as recently as 2016, underscoring that the fatwa for his death still stands.
In 2012, Rushdie published a memoir, "Joseph Anton," about the fatwa. The title came from the pseudonym Rushdie had used while in hiding.
Rushdie rose to prominence with his Booker Prize-winning 1981 novel "Midnight's Children," but his name became known around the world after "The Satanic Verses."
The Chautauqua Institution, about 55 miles southwest of Buffalo in a rural corner of New York, has served for more than a century as a place for reflection and spiritual guidance. Visitors don't pass through metal detectors or undergo bag checks. Most people leave the doors to their century-old cottages unlocked at night.
Police said a state trooper was assigned to Rushdie's lecture.
The Chautauqua center is known for its summertime lecture series, where Rushdie has spoken before. Speakers address a different topic each week. Rushdie and moderator Henry Reese were set to discuss "the United States as asylum for writers and other artists in exile and as a home for freedom of creative expression."
___
Associated Press writers Carolyn Thompson in Buffalo, New York; Michael Hill in Albany, New York; and Jennifer Peltz in New York City contributed to this report.
Trump calls for 'immediate' release of Mar-a-Lago warrant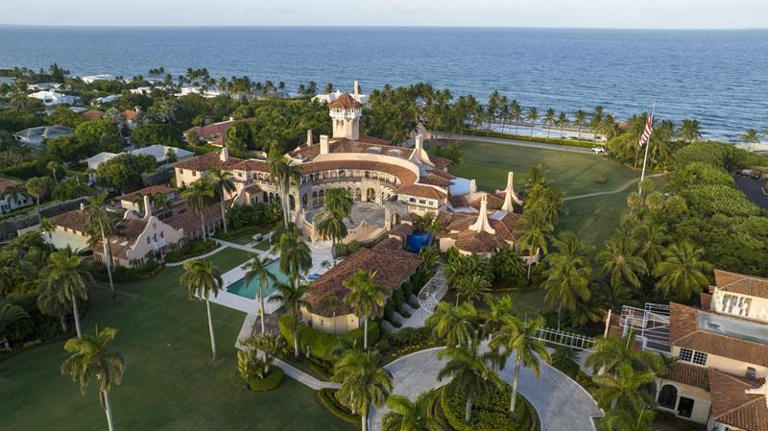 WASHINGTON (AP) — Former President Donald Trump called late Thursday for the "immediate" release of the federal warrant the FBI used to search his Florida estate, hours after the Justice Department had asked a court to unseal the warrant, with Attorney General Merrick Garland citing the "substantial public interest in this matter."
In messages posted on his Truth Social platform, Trump wrote, "Not only will I not oppose the release of documents … I am going a step further by ENCOURAGING the immediate release of those documents." He continued to assail the FBI search of Mar-a-Lago as "unAmerican, unwarranted and unnecessary."
"Release the documents now!" he wrote.
The Justice Department request earlier Thursday is striking because such documents traditionally remain sealed during a pending investigation. But the department appeared to recognize that its silence since the search had created a vacuum for bitter verbal attacks by Trump and his allies, and that the public was entitled to the FBI's side about what prompted Monday's action at the former president's home.
"The public's clear and powerful interest in understanding what occurred under these circumstances weighs heavily in favor of unsealing," said a motion filed in federal court in Florida on Thursday.
Should the warrant be released — the request is now with the judge — it could disclose unflattering information about the former president and about FBI scrutiny of his handling of sensitive government documents right as he prepares for another run for the White House. During his successful 2016 campaign, he pointed frequently to an FBI investigation into his Democratic opponent, Hillary Clinton, over whether she mishandled classified information.
It's unclear at this point how much information would be included in the documents, if made public, or if they would encompass an FBI affidavit that would presumably lay out a detailed factual basis for the search. The department specifically requested the unsealing of the warrant as well as a property receipt listing the items that were seized, along with two unspecified attachments.
To obtain a search warrant, federal authorities must prove to a judge that probable cause exists to believe that a crime was committed. Garland said he personally approved the warrant, a decision he said the department did not take lightly given that standard practice where possible is to select less intrusive tactics than a search of one's home.
In this case, according to a person familiar with the matter, there was substantial engagement with Trump and his representatives prior to the search warrant, including a subpoena for records and a visit to Mar-a-Lago a couple of months ago by FBI and Justice Department officials to assess how the documents were stored. The person was not authorized to discuss the matter by name and spoke on condition of anonymity.
Neither Trump nor the FBI has said anything about what documents the FBI might have recovered, or what precisely agents were looking for. But the former president complained anew Thursday about the search.
Trump, who for years has lambasted the FBI and sought to sow distrust among his supporters in its decisions, said the warrant was served and the search conducted despite his cooperation with the Justice Department over the search.
In a post to his Truth Social platform, Trump said that his "attorneys and representatives were cooperating fully" prior to the search, and that government officials "could have had whatever they wanted, whenever they wanted, if we had it."
The Justice Department has until Friday afternoon to alert the judge about whether Trump will object to the release.
FBI and Justice Department policy cautions against discussing ongoing investigations, both to protect the integrity of probes and to avoid unfairly maligning someone who is being scrutinized but winds up ultimately not being charged. That's especially true in the case of search warrants, where supporting court papers are routinely kept secret as the investigation proceeds.
In this case, though, Garland cited the fact that Trump himself had provided the first public confirmation of the FBI search, "as is his right." The Justice Department, in its new filing, also said that disclosing information about it now would not harm the court's functions.
Even so, Garland, in a hastily scheduled public statement delivered from the Justice Department podium, appeared to acknowledge the unusual nature of the department's request as he declined to take questions or provide any substantive details about the FBI's investigation.
"Much of our work is by necessity conducted out of the public eye. We do that to protect the constitutional rights of all Americans and to protect the integrity of our investigations," he said. "Federal law, longstanding department rules and our ethical obligations prevent me from providing further details as to the basis of the search at this time."
The Justice Department under Garland has been leery of public statements about politically charged investigations, or of confirming to what extent it might be investigating Trump as part of a broader probe into the Jan. 6 riot at the U.S. Capitol and efforts to overturn the results of the 2020 election.
The department has tried to avoid being seen as injecting itself into presidential politics, as happened in 2016 when then-FBI Director James Comey made an unusual public statement announcing that the FBI would not be recommending criminal charges against Clinton regarding her handling of email — and when he spoke up again just over a week before the election to notify Congress that the probe was being effectively reopened because of the discovery of new emails.
The Mar-a-Lago search warrant served Monday was part of an ongoing Justice Department investigation into the discovery of classified White House records recovered from Trump's home in Palm Beach, Florida, earlier this year. The National Archives had asked the department to investigate after saying 15 boxes of records it retrieved from the estate included classified records. Multiple federal laws govern the handling of classified information.
The attorney general also condemned verbal attacks on FBI and Justice Department personnel over the search. Some Republican allies of Trump have called for the FBI to be defunded. Large numbers of Trump supporters have called for the warrant to be released hoping they it will show that Trump was unfairly targeted.
"I will not stand by silently when their integrity is unfairly attacked," Garland said of federal law enforcement agents, calling them "dedicated, patriotic public servants."
Earlier Thursday, an armed man wearing body armor tried to breach a security screening area at an FBI field office in Ohio, then fled and was later killed after a standoff with law enforcement. A law enforcement official briefed on the matter identified the man as Ricky Shiffer and said he is believed to have been in Washington in the days leading up to the attack on the Capitol and may have been there on the day it took place.
_____
Associated Press writers Zeke Miller, Lindsay Whitehurst and Meg Kinnard contributed to this report.
More on Donald Trump-related investigations: https://apnews.com/hub/donald-trump
Eric Tucker And Michael Balsamo, The Associated Press