China wants 10 Pacific nations to endorse sweeping agreement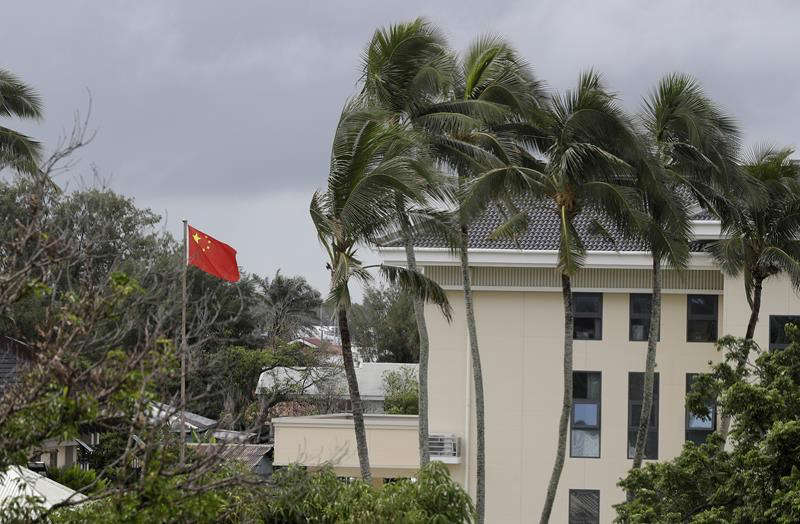 China also wants to jointly develop a marine plan for fisheries — which would include the Pacific's lucrative tuna catch — increase cooperation on running the region's internet networks, and set up cultural Confucius Institutes and classrooms. China also mentions the possibility of setting up a free trade area with the Pacific nations.
China's move comes as Foreign Minister Wang Yi and a 20-person delegation begin a visit to the region this week.
In Washington, U.S. State Department spokesman Ned Price expressed concern Wednesday about China's intentions, saying Beijing might use the proposed accords to take advantage of the islands and destabilize the region.
"We are concerned that these reported agreements may be negotiated in a rushed, nontransparent process," Price told reporters. He warned that China "has a pattern of offering shadowy, vague deals with little transparency or regional consultation in areas related to fishing, related to resource management, development, development assistance and more recently even security practices."
Price added that agreements that include sending Chinese security officials to the nations "could only seek to fuel regional international tensions and increase concerns over Beijing's expansion of its internal security apparatus to the Pacific."
Wang is visiting seven of the countries he hopes will endorse the "Common Development Vision" — the Solomon Islands, Kiribati, Samoa, Fiji, Tonga, Vanuatu and Papua New Guinea.
Wang is also holding virtual meetings with the other three potential signatories — the Cook Islands, Niue and the Federated States of Micronesia. He is hoping the countries will endorse the pre-written agreement as part of a joint communique after a May 30 meeting in Fiji he is holding with the foreign ministers from each of the 10 countries.
Micronesia's president, David Panuelo, has told leaders of the other Pacific nations his nation won't endorse the plan, warning it would needlessly heighten geopolitical tensions and threaten regional stability, according to a letter from Panuelo obtained by the AP.
Among other concerns, Panuelo said, the agreement opens the door for China to own and control the region's fisheries and communications infrastructure. He said China could intercept emails and listen in on phone calls.
Panuelo called the Common Development Vision "the single most game-changing proposed agreement in the Pacific in any of our lifetimes" and said it "threatens to bring a new Cold War era at best, and a World War at worst."
Panuelo declined to comment on the letter or the proposed agreement.
Chinese Foreign Ministry spokesperson Wang Wenbin said Wednesday he didn't know about Panuelo's letter.
"But I don't agree at all with the argument that cooperation between China and the South Pacific island countries will trigger a new Cold War," he said.
Like some other countries in the Pacific, Micronesia is finding itself increasingly caught between the competing interests of Washington and Beijing.
Micronesia has close ties to the U.S. through a Compact of Free Association. But it also has what Panuelo describes in his letter as a "Great Friendship" with China that he hopes will continue despite his opposition to the agreement.
The security aspects of the agreement will be particularly troubling to many in the region and beyond, especially after China signed a separate security pact with the Solomon Islands last month.
That pact has raised fears that China could send troops to the island nation or even establish a military base there, not far from Australia. The Solomon Islands and China say there are no plans for a base.
The May 30 meeting will be the second between Wang and the Pacific islands' foreign ministers after they held a virtual meeting last October.
Those who follow China's role in the Pacific will be scrutinizing the wording of the draft agreement.
Among its provisions: "China will hold intermediate and high-level police training for Pacific Island countries."
The agreement says the countries will strengthen "cooperation in the fields of traditional and non-traditional security" and will "expand law enforcement cooperation, jointly combat transnational crime, and establish a dialog mechanism on law enforcement capacity and police cooperation."
The agreement would also see the nations "expand exchanges between governments, legislatures and political parties."
The draft agreement also stipulates that the Pacific countries "firmly abide" by the one-China principle, under which Taiwan, a self-ruled island democracy, is considered by Beijing to be part of China. It would also uphold the "non-interference" principle that China often cites as a deterrent to other nations speaking out about its human rights record.
The agreement says that China and the Pacific countries would jointly formulate a marine spatial plan "to optimize the layout of the marine economy, and develop and utilize marine resources rationally, so as to promote a sustainable development of blue economy."
China also promises more investment in the region by mobilizing private capital and encouraging "more competitive and reputable Chinese enterprises to participate in direct investment in Pacific Island countries."
China also promised to dispatch Chinese language consultants, teachers and volunteers to the islands.
The AP has also obtained a draft of a five-year action plan that's intended to sit alongside the Common Development Vision, which outlines a number of immediate incentives that China is offering to the Pacific nations.
In the action plan, China says it will fully implement 2,500 government scholarships through 2025.
"In 2022, China will hold the first training program for young diplomats from Pacific Island countries, depending on the pandemic situation," the draft plan states, adding that China will also hold seminars on governance and planning for the Pacific nations.
In the draft action plan, China says it will build criminal investigation laboratories as needed by the Pacific nations that can be used for fingerprint testing, forensic autopsies, and electronic forensics.
China also says it will also spend an additional $2 million and send 200 medics to the islands to help fight COVID-19 and promote health, and promises to help the countries in their efforts to combat climate change.
Nick Perry, The Associated Press
North American stock markets wrap up brutal quarter and first half of 2022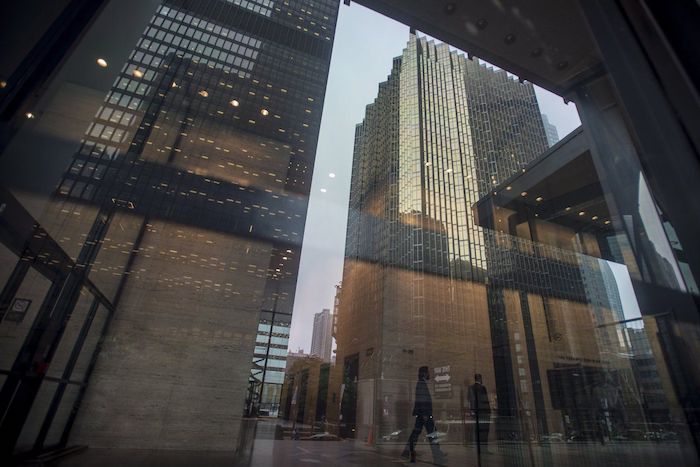 By Ross Marowits in Toronto
Allan Small said the first half of 2022 has proven to be the worst run of his 25-year investment career.
Canada's main stock index concluded its weakest quarter since before the pandemic while U.S. markets endured their worst six-months runs in decades on fears that rising interest rates will throw the economy into recession.
"As we hit the mid-point of the year, when you look back I think the first part of the year will be known for just a bloodbath in the markets," the senior investment adviser at IA Private Wealth said in an interview.
The S&P/TSX composite index closed down 217.28 points to 18,861.36 to end the quarter off nearly 14 per cent for the biggest decrease since December 2019. The TSX is closed Friday for Canada Day while U.S. markets will be closed Monday for Independence Day.
In New York, the Dow Jones industrial average was down 253.88 points at 30,775.43. The S&P 500 index was down 33.45 points at 3,785.38, while the Nasdaq composite was down 149.15 points at 11,028.74.
The TSX is down 11 per cent so far this year, while the Dow is down 15 per cent, the S&P 500 is off 20.6 per cent for the worst six months in 50 years and Nasdaq fell a record 29.5 per cent.
"I don't remember a year that started off the six months this poorly," said Small.
Soaring inflation has been stoked by Russia's invasion of Ukraine while supply chain bottlenecks have been accentuated by China's COVID-19 lockdowns.
While markets endured steep declines in the past due to COVID-19 and the financial crisis, they were always followed by people buying the dip. This time, many investors remain on the sidelines after getting hammered and unsure about when markets will bottom out.
Economic data out of the U.S. on Thursday said core inflation numbers, the Fed's preferred inflation measure, rose 4.7 per cent in May. That's 0.2 of a per cent lower than April but still around 40-year highs.
In Canada, economic growth slowed in April to 0.3 per cent, while a preliminary estimate for May suggests it likely contracted 0.2 per cent. The U.S. previously said its economy slipped 1.6 per cent in the first quarter.
A negative number in the second quarter will mean the U.S. economy is technically in recession. But Small said many people think the economy is already there and that Canada is either in recession or about to go into one.
Small said he wouldn't be surprised to see markets rise during a recession in anticipation of things getting better, with inflation moving down after peaking.
Real estate and utilities were the lone sectors in positive territory Thursday in a broad-based slump with six of nine sectors falling by more than one per cent.
Health care led the declines, losing 4.1 per cent with Canopy Growth Corp. plunging 18.5 per cent after the pot producer announced a convertible notes exchange.
Materials lost 3.6 per cent on a drop in metals prices, particularly copper.
The August gold contract was down US$10.20 at US$1,807.30 an ounce and the September copper contract was down 7.1 cents at US$3.71 a pound.
"Whenever you have fear of a recession, those types of metals which are used to build homes and build things, the fear is that you're not going to need to use as much of these building materials," Small said.
Energy lost 1.7 per cent on lower prices with crude oil dropping as Advantage Oil & Gas Ltd. shares were down six per cent.
The August crude contract was down US$4.02 at US$105.76 per barrel and the August natural gas contract was down US$1.07 at US$5.42 per mmBTU.
The Canadian dollar traded for 77.60 cents US compared with 77.65 cents US on Wednesday.
Shopify Inc. decreased 5.6 per cent to push technology lower while Laurentian Bank fell 2.5 per cent to lead a drop in the heavyweight financial sector.
Small is hoping for a better second half of the year after central banks conclude their aggressive interest rate hikes to tame soaring inflation.
"I don't know if we're going to make back enough to get us in the green for the year, but I'm hopeful that we'll see a positive second half and we'll make back some of the losses."
This report by The Canadian Press was first published June 30, 2022.
Companies in this story: (TSX:AAV, TSX:WEED, TSX:LB, TSX:SHOP, TSX:GSPTSE, TSX:CADUSD=X)
Supreme Court limits EPA in curbing power plant emissions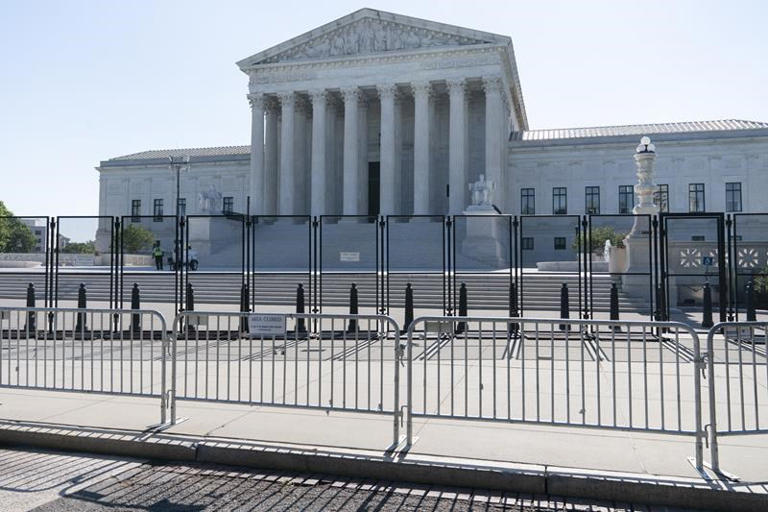 WASHINGTON (AP) — In a blow to the fight against climate change, the Supreme Court on Thursday limited how the nation's main anti-air pollution law can be used to reduce carbon dioxide emissions from power plants.
By a 6-3 vote, with conservatives in the majority, the court said that the Clean Air Act does not give the Environmental Protection Agency broad authority to regulate greenhouse gas emissions from power plants that contribute to global warming.
The court's ruling could complicate the administration's plans to combat climate change. Its proposal to regulate power plant emissions is expected by the end of the year.
President Joe Biden aims to cut the nation's greenhouse gas emissions in half by the end of the decade and to have an emissions-free power sector by 2035. Power plants account for roughly 30% of carbon dioxide output.
The Associated Press