China spends billions on Olympics with longer-term goal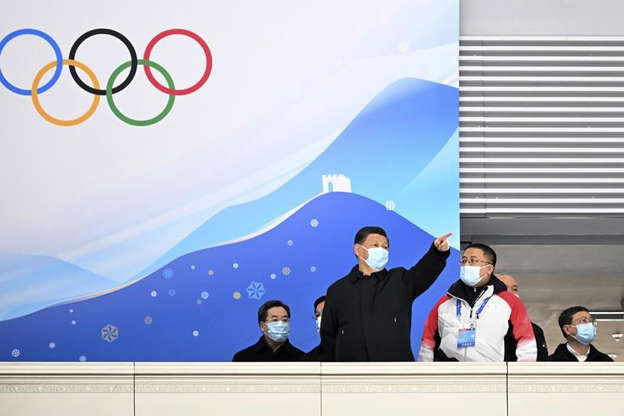 GENEVA (AP) — The finance model for the Winter Olympics calls for the host country to spend several billion dollars, the IOC to earn a couple billion, and sports bodies to share around hundreds of millions.
Fortunately for China, turning a profit from the 2022 Beijing Games was not a priority even before the coronavirus pandemic wiped out some expected sources of income.'
Chinese President Xi Jinping set a goal in 2015 to create a new tourism industry in the country.
"It will inspire over 300 million Chinese to participate in winter sports if we win, which will contribute greatly to the development of the international Olympic cause," Xi said back then, according to China's official Xinhua news agency.
The buildup to the Olympics, which open on Feb. 4 and close 16 days later, has brought high-speed train lines that will carry athletes to new ski resorts outside Beijing. For the next few decades, those same train lines will be shuttling Chinese tourists to the mountains.
CHINA SPENDING
Russia reportedly spent $51 billion on the 2014 Sochi Games, a price tag that is expected to stand as an Olympic record for many years. That huge amount made European voters nervous about hosting in the future and led the IOC to review how Games are awarded and organized.
But China's motivation, like Russia in 2014, is a state-backed plan to create domestic leisure and tourism sectors with the big-ticket item again being a city-to-mountains transport system.
China allocated more than $9 billion for a high-speed rail linking Beijing to nearby ski resorts in Zhangjiakou and Yangqing, where ski slopes have been carved out of mountains that get little natural snow.
The budget for Olympic-specific operations to host the Games is expected to be about $4 billion. Venues built in Beijing for the 2008 Summer Olympics have been repurposed. The Water Cube for swimming is now the Ice Cube for curling.
Still, the overall investment on winter sports has been significant since Beijing won its Olympic bid seven years ago.
China now has more than 650 ice rinks and 800 ski resorts, China Daily reported this month, citing the National Winter Sports Administrative Center. Those numbers mark rises of 317% and 41%, respectively, since 2015.
CHINA INCOME
China would have expected modest revenue from relatively few international visitors for the Winter Games even before the pandemic made their trips impossible.
Tickets also aren't being sold to residents of China, taking another of the host's income streams. The IOC's own figures show the highest Winter Games ticketing revenue was $250 million at the 2010 Vancouver Olympics, which sold 1.5 million tickets.
Host city organizing committees keep income from domestic sponsor deals they negotiate. Sochi set the Winter Games record with almost $1.2 billion from 46 sponsors.
The Beijing organizing committee's website currently lists 44 commercial partners, nearly all Chinese, in four tiers that include suppliers of goods and services. The 11 top-tier "partners" include Air China and Bank of China.
Sales of merchandizing such as gloves and mascots, worth $79 million to Pyeongchang in 2018, also top up local organizers' income.
Still, the most important number has at least officially already been reached. The National Bureau of Statistics said this month the target of engaging 300 million people in winter sports had been hit.
IOC INCOME
The IOC gets billions of dollars from broadcasters around the world and from sponsors who get exclusive global rights.
Beijing is the first of American broadcaster NBC's $7.75 billion, six-Olympics deal through 2032. It was said when signed eight years ago to be worth a combined $2.5 billion for the 2022 Beijing Games and the 2024 Paris Olympics.
The Summer Olympics bring in about twice as much as the Winter Games.
The IOC now has 13 top-tier sponsors, including Chinese companies Alibaba and Mengniu, which is in the soft drinks category along with Coca-Cola. It was 11 for Sochi and Rio de Janeiro when their combined value was $1 billion in cash and services in 2014 and 2016.
The so-called TOP program is set to be worth about $3 billion for 2021-24, IOC president Thomas Bach told members last March. It was unclear if that reflected Tokyo being pushed back as host into 2021.
IOC SPENDING
The IOC is giving $880 million toward Beijing organizers' costs. That's only a few million less than Pyeongchang organizers got four years ago.
The IOC also shared $215 million from its 2018 Olympic revenue among the seven governing bodies of Winter Games sports — skiing, skating, hockey, biathlon, bobsled, curling and luge.
In their 2020 accounts, the International Ski Federation listed $13 million as its Olympic payment and the International Skating Union noted more than $11 million.
Another $215 million was distributed among national Olympic committees. Of the 206 NOCs, 92 competed in Pyeongchang.
ATHLETES' SHARE
The 2,900 athletes at the Beijing Olympics do not get prize money from the IOC for competing or winning medals. Some of what the IOC pays sports bodies can trickle down to athletes, however.
The IOC will put $590 million into the Olympic Solidarity fund for the 2021-24 period. That will give grants to train athletes, coaches and administrators. Less wealthy countries are prioritized.
The IOC said 420 athletes from 78 teams were awarded scholarships to help qualify and prepare for this year's Olympics. The program had a $10 million budget for the 2018 edition.
In some countries, Olympic medalists get cash or gifts from sports bodies and governments.
The U.S. Olympic team's "Operation Gold" program has paid $37,500 for a gold medal, $22,500 for silver and $15,000 for bronze.
Russia has a tradition of wealthy supporters rewarding Olympic success. Gold medalists at the Sochi Olympics were given $120,000 and an SUV.
___
More AP Winter Olympics: https://apnews.com/hub/winter-olympics and https://twitter.com/AP_Sports
Graham Dunbar, The Associated Press
House GOP approves broad bill to 'unleash' American energy
House Majority Leader Steve Scalise, R-La., is flanked by Speaker of the House Kevin McCarthy, R-Calif., left, and Rep. Virginia Foxx, R-N.C., as he talks to reporters at the Capitol in Washington, March 24, 2023. House Republicans are set to approve a sprawling energy package that counters virtually all of President Joe Biden's agenda to address climate change. (AP Photo/J. Scott Applewhite, File)
By Matthew Daly in Washington
WASHINGTON (AP) — House Republicans on Thursday approved a sprawling energy package that seeks to undo virtually all of President Joe Biden's agenda to address climate change.
The legislation would sharply increase domestic production of oil, natural gas and coal, and ease permitting restrictions that delay pipelines, refineries and other projects. It would boost production of critical minerals such as lithium, nickel and cobalt that are used in electric vehicles, computers, cellphones and other products.
By a 225-204 vote, the House sent the measure to the Senate, where Majority Leader Chuck Schumer, D-N.Y., called it "dead on arrival." Four Democrats joined with all but one Republican to support the bill.
Biden has threatened to veto the bill, saying it would replace "pro-consumer policies" adopted in the landmark climate law approved last year "with a thinly veiled license to pollute." The bill would roll back Democratic investments in clean energy and "pad oil and gas company profits," the White House said.
Republicans call the bill the "Lower Energy Costs Act" and gave it the symbolic label H.R. 1 — the top legislative priority of the new GOP majority, which took control of the House in January.
The measure combines dozens of separate proposals and represents more than two years of work by Republicans who have chafed at Biden's environmental agenda. They say Biden's efforts have thwarted U.S. energy production and increased costs at the gas pump and grocery store.
"Families are struggling because of President Biden's war on American energy," said House Majority Leader Steve Scalise, R-La., one of the bill's main authors.
The GOP bill will "unleash" abundant U.S. natural resources "so we can produce energy in America," Scalise said. "We don't have to be addicted to foreign countries that don't like us."
Democrats called the bill a giveaway to big oil companies.
"Republicans refuse to hold polluters accountable for the damage they cause to our air, our water, our communities and our climate," said New Jersey Rep. Frank Pallone, the top Democrat on the House Energy and Commerce Committee.
"While Democrats delivered historic wins for the American people by passing historic climate legislation, Republicans are actively working to undermine that progress and do the bidding of their polluter friends,″ Pallone said.
House Speaker Kevin McCarthy, R-Calif., said the bill "restores American energy leadership by repealing unnecessary taxes and overregulation on American energy producers," and "makes it easier to build things in America" by placing a two-year time limit on environmental reviews that now take an average of seven years.
"Every time we need a pipeline, a road or a dam, it gets held up five to seven years and adds millions of dollars in costs for the project to comply with Washington's permitting process," McCarthy said in speech on the House floor. "It's too long, it's unaffordable, it's not based on science and it's holding us back."
He pointed to a project to modify and improve Lake Isabella Dam in his central California district that has lasted 18 years and still is not completed.
"Permitting reform isn't for everyone," McCarthy added. "If you like paying more at the pump, you don't want to make it faster for American workers to build more pipelines. If you're China, you'd rather America sit back and let others lead. And if you're a bureaucrat, maybe you really do enjoy reading the 600-page environmental impact studies."
Most Americans want lower prices and more U.S. energy production, McCarthy said — results he said the bill will deliver.
Democrats called that misleading and said the GOP plan was a thinly disguised effort to reward oil companies and other energy producers that have contributed millions of dollars to GOP campaigns.
Arizona Rep. Raul Grijalva, the top Democrat on the House Natural Resources Committee, derided the bill as the "Polluters Over People Act" and "a nearly 200-page love letter to polluting industries."
Instead of reining in "Big Oil" companies that have reported record profits while "hoarding thousands of unused leases" on public lands and waters, the GOP bill lowers royalty rates paid by energy producers and reinstates noncompetitive leasing of public lands, Grijalva said.
The bill also gives mining companies "a veritable free-for-all on our public lands" and "makes mockery of tribal consultation" required under federal law, he said.
Under the GOP plan, mining companies will "destroy sacred and special places" throughout the West, "ruin the landscape and leave behind a toxic mess that pollutes our water and hurts our health — all without paying a cent to the American people," Grijalva said.
Schumer called the measure "a giveaway to Big Oil pretending to be an energy package."
The House energy package "would gut important environmental safeguards on fossil fuel projects," locking America "into expensive, erratic and dirty energy sources while setting us back more than a decade on our transition to clean energy," Schumer said.
Schumer said he supports streamlining the nation's cumbersome permitting process for energy projects, especially those that will deliver "clean energy" such as wind, solar and geothermal power. "But the Republican plan falls woefully short on this front as well," he said, calling on Republicans to back reforms that would help ease the transition to renewable energy and accelerate construction of transmission lines to bolster the nation's aging power grid.
The Republican bill would repeal a new $27 billion Greenhouse Gas Reduction Fund and other parts of the climate and health care law passed by Democrats last year. The fund, also known as a "green bank," is set to provide low-cost financing for projects intended to cut planet-warming greenhouse gas emissions.
The House bill also would eliminate a new tax on methane pollution that would charge companies for methane leaks from oil and gas wells.
Four Democrats voted in favor of the bill: Reps. Henry Cuellar and Vicente Gonzales of Texas, Jared Golden of Maine and Marie Gluesenkamp Perez of Washington state. Rep. Brian Fitzpatrick, R-Pa., opposed the bill.
Vatican rejects Doctrine of Discovery, a move Indigenous people have long urged
Pope Francis bows his head behind Indigenous chiefs preparing to perform a traditional dance at a ceremony in Maskwacis, Alta., on Monday, July 25, 2022. The Vatican has rejected the Doctrine of Discovery a year after Francis met with Indigenous groups from Canada and delivered his first apology for the Catholic Church's role in residential schools. THE CANADIAN PRESS/Nathan Denette
By Kelly Geraldine Malone and Stephanie Taylor
The Vatican has formally denounced a 15th-century doctrine used to legitimize the seizure of Indigenous land, but the national chief of the Assembly of First Nations says the Roman Catholic Church should go further to repair the harm caused by the decrees.
A statement from the Vatican on Thursday said the papal bulls used as the basis for the Doctrine of Discovery "did not adequately reflect the equal dignity and rights of Indigenous peoples."
The papal bulls were connected to the idea that lands being colonized were empty, when in fact Indigenous people had long called them home.
"The world was told that we were unworthy and that our lands were empty," National Chief RoseAnne Archibald said in a phone interview Thursday.
"We need the world to know that we are worthy, that we are valuable."
Archibald said the Vatican's words are a step in the right direction, but added the Catholic Church should introduce a new statement affirming the value of Indigenous Peoples.
She also called for the church to return land and sacred items to First Nations.
Chief Bobby Cameron of the Federation of Sovereign Indigenous Nations, which represents 73 First Nations in Saskatchewan, said in a statement the legal doctrines "allowed Canada to unilaterally claim sovereignty over our peoples and our lands and further used it as an excuse to commit genocide.
"Today, the Vatican finally said what our peoples have always known."
More than 500 years ago, popes began issuing the first of a series of edicts, known as papal bulls.
The Truth and Reconciliation Commission of Canada, which investigated residential schools in Canada, said these bulls helped shape the political and legal arguments that became known as the Doctrine of Discovery.
The commission's final report included a call to action for all religious denominations "to repudiate concepts used to justify European sovereignty over Indigenous lands and peoples, such as the Doctrine of Discovery."
Last March, First Nations, Métis and Inuit groups went to Rome to meet with Pope Francis. Francis apologized for the church's role in residential schools, but delegates also told him the doctrine must be rejected.
The pontiff travelled to Canada in July for a six-day tour, during which he apologized again for residential schools and was criticized for not addressing the papal bulls. Throughout his stops in Alberta, Quebec and Nunavut, people held signs and yelled for the Pope to reject the doctrine.
Donald Bolen, the Archbishop of Regina, said Indigenous people made it clear that the Vatican needed to address the issue.
"The language in those bulls is deeply wounding and problematic, and there was a desire for the Holy See to address it, and they have."
The Canadian Conference of Catholic Bishops, of which Bolen is a member, said in a statement that it's grateful Indigenous organizations urged the move. The conference signed a statement calling for the church to reject principals associated with the doctrine in 2016.
Bolen said the Vatican's statement Thursday shows Francis was listening to Indigenous people during their meetings at the Vatican and throughout his time in Canada.
"I think there's no doubt that it's a response given at the request of Indigenous people in Canada," he said.
The statement from the Vatican, however, said the doctrine is not part of the teachings of the church and the documents were "written in a specific historical period and linked to political questions."
The Vatican said the contents of the documents were manipulated for political purposes to justify "immoral acts against Indigenous Peoples."
"It is only just to recognize these errors, acknowledge the terrible effects of the assimilation policies and the pain experienced by Indigenous peoples, and ask for pardon."
Cody Groat, who is Mohawk from Six Nations in Ontario and an Indigenous studies professor at Western University, said implying that the church never advanced the doctrine shifts the blame.
Groat, who is also seeking to be the federal NDP candidate in a rural Ontario riding, said the statement suggests the Vatican recognizes it is in "a period of global reckoning" and had to take this step "in order to stay relevant."
Archibald agreed that there's a direct connection between governments, sovereign crowns and the church.
"These papal bulls granted those rights to colonizing sovereigns," the national chief said.
Indigenous Services Minister Patty Hajdu said Thursday the federal government will be taking a closer look at the Vatican's statement to see what next steps it might take.
"For a long time I think Canadians have known and the government of Canada has known that the colonialism that Indigenous Peoples have faced for over 150 years have had devastating consequences."
This report by The Canadian Press was first published March 30, 2023.