China 2008 vs 2022: Richer, stronger, more confrontational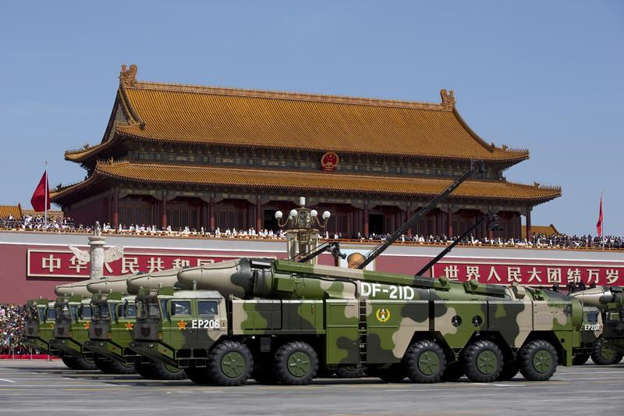 BEIJING (AP) — China has undergone history-making change since the last time it was an Olympic host in 2008: It is richer, more heavily armed and openly confrontational.
As President Xi Jinping's government prepares for February's Winter Olympics, it has greater leverage to exert influence abroad and resist complaints from the United States and other governments over trade, technology theft and its treatment of Taiwan, Hong Kong and China's Muslim minorities.
The economy is three times larger today. The ruling Communist Party is using that wealth to try to become a "technology power" and is spending more on its military than any country other than the United States.
"2008 was a turning point," said Jean-Pierre Cabestan, an expert on Chinese politics at Hong Kong Baptist University. "That was the beginning of China's assertiveness."
As fireworks exploded over Beijing in August 2008, China was about to overtake Japan as the No. 2 global economy. The ruling party celebrated with the most expensive Summer Games to date.
Foreign media dubbed it China's "coming out party," echoing the Tokyo Olympics in 1964 that symbolized Japan's recovery from World War II. After three decades of keeping its head down to focus on development, Beijing was ready to emerge on the global stage as an economic and political force.
The ruling party declared its more assertive stance in 2012, the year Xi took power, in a document that called for "more strategic rights," military status and a bigger global role.
Xi's government sees its system of one-party dictatorship under threat and accuses Washington of trying to deny China its rightful role as a global leader. The ruling party is tightening control over society and business and using internet filters and other censorship to shut out what it deems unhealthy foreign influences. It is doing more to intimidate Taiwan, the island democracy Beijing says belongs to China.
"You can see that China is forced by the United States and its allies such as Australia, Japan and Britain to do so," said Shi Yinhong, a professor of international relations at Renmin University in Beijing.
Xi is seeking to cement his control over the country. He is expected to use key political meetings late in 2022 to try to break with tradition and stay in power for a third five-year term as head of the ruling party. Earlier, he had the Chinese constitution changed to get rid of term limits on his role as president.
Once "more open to the outside world," China now is "much more paranoid," Cabestan said.
Beijing has sent warplanes in growing numbers to fly near Taiwan. It is pouring money into developing nuclear-capable missiles that can hit the United States and aircraft carriers and other weapons to extend its military reach beyond China's shores.
Chinese leaders believe, Shi said, that they need to defend themselves on several fronts: a tariff war launched by then-President Donald Trump in 2018; curbs on access to U.S. technology; and military alliances involving Japan, Australia and other governments to counter Beijing's claims to the South China Sea and other territory.
"If there is a bad relationship between China and another country, it is because the other country harms China," Shi said.
In 2008, Summer Games preparations included a $43 billion makeover of the Chinese capital. The party built the eye-catching Bird's Nest stadium and other Olympic venues, installed new subway lines and upgrading roads. Exercise equipment was installed in thousands of public parks across China.
The capital, one of the world's smoggiest cities, launched a "blue sky" campaign that shut down or replaced power plants, steel mills and other facilities and imposed traffic controls at an estimated cost of $10 billion.
Today, Xi's government is wrestling with debt, pollution and other excesses of earlier years. It's also in the midst of a marathon campaign, launched before he took power, to steer the economy to sustainable growth based on consumer spending instead of exports and investment.
Under a vaguely defined initiative — dubbed "common prosperity" after a 1950s slogan — the ruling party is trying to narrow a politically volatile wealth gap between a billionaire elite and China's working-class majority.
Successful private sector companies in e-commerce and other fields are under pressure to invest in the party's efforts to reduce reliance on the United States, Europe and Japan as technology suppliers by developing computer chips and other products. They are paying for rural job creation and other political initiatives.
Xi and other leaders promise to open markets wider to foreign and private competitors while also saying government-owned banks, oil producers, telecom carriers and other companies are the "core of the economy." Business groups complain that despite steps such as ending limits on foreign ownership in auto manufacturing, global companies are being squeezed out of promising technology and other fields.
"China will continue to expand its opening up to the outside world," Xi said in a Jan. 17 speech by video link to the World Economic Forum in Davos, Switzerland. He promised to "ensure all enterprises have equal status before the law and equal opportunities."
In a slap at Washington, Xi complained about "hegemonic bullying" and said governments need to "abandon a Cold War mentality."
As athletes and reporters arrive ahead of the Feb. 4 opening of the Winter Games, Chinese leaders face the challenge of shoring up slumping economic growth while they try to contain coronavirus outbreaks and force real estate developers, an industry that supports millions of jobs, to cut debt that Beijing worries is dangerously high.
China rebounded quickly from the 2020 pandemic and became the only major economy to grow that year. But growth fell abruptly in late 2021 as Beijing's debt crackdown bit, triggering a slump in real estate sales and construction.
The economy expanded by a robust 8.1% in 2021 but growth tumbled in the last quarter to 4% over a year earlier. Forecasters say the slump will deepen before interest rate cuts and other stimulus measures can take effect. The World Bank and private sector economists have trimmed this year's growth forecasts to as low as 5%, though that still would be among the world's strongest.
"Economic stability is the top focus in 2022," said Tommy Wu of Oxford Economics in a report.
___
AP researcher Yu Bing contributed.
Joe Mcdonald, The Associated Press
Shooter warning signs get lost in sea of social media posts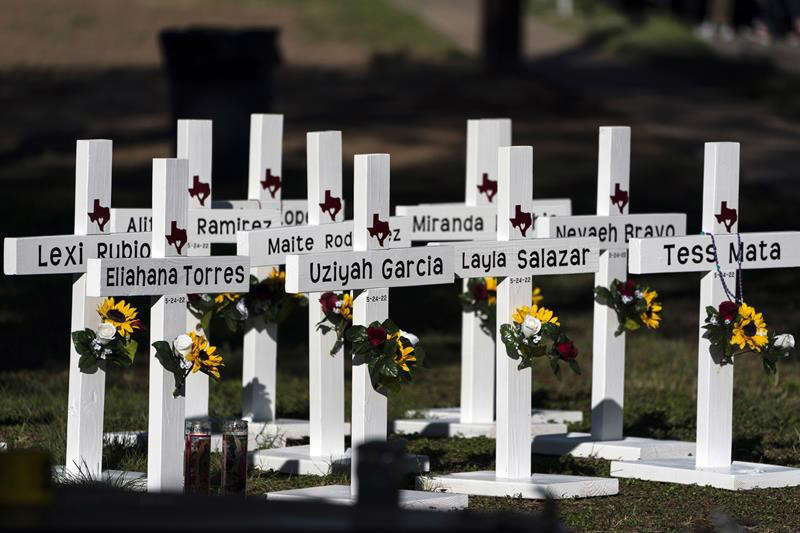 WASHINGTON (AP) — The warning signs were there for anyone to stumble upon, days before the 18-year-old gunman entered a Texas elementary school and slaughtered 19 children and two teachers.
There was the Instagram photo of a hand holding a gun magazine, a TikTok profile that warned, "Kids be scared," and the image of two AR-style semi-automatic rifles displayed on a rug, pinned to the top of the killer's Instagram profile.
Shooters are leaving digital trails that hint at what's to come long before they actually pull the trigger.
"When somebody starts posting pictures of guns they started purchasing, they're announcing to the world that they're changing who they are," said Katherine Schweit, a retired FBI agent who spearheaded the agency's active shooter program. "It absolutely is a cry for help. It's a tease: can you catch me?"
The foreboding posts, however, are often lost in an endless grid of Instagram photos that feature semi-automatic rifles, handguns and ammunition. There's even a popular hashtag devoted to encouraging Instagram users to upload daily photos of guns with more than 2 million posts attached to it.
For law enforcement and social media companies, spotting a gun post from a potential mass shooter is like sifting through quicksand, Schweit said. That's why she tells people not to ignore those type of posts, especially from children or young adults. Report it, she advises, to a school counselor, the police or even the FBI tip line.
Increasingly, young men have taken to Instagram, which boasts a thriving gun community, to drop small hints of what's to come with photos of their own weapons just days or weeks before executing a mass killing.
Before shooting 17 students and staff members dead at Marjory Stoneman Douglas High School in 2018, Nikolas Cruz posted on YouTube that he wanted to be a "professional school shooter" and shared photos of his face covered, posing with guns. The FBI took in a tip about Cruz's YouTube comment but never followed up with Cruz.
In November, 15-year-old Ethan Crumbley shared a photo of a semi-automatic handgun his dad had purchased with the caption, "Just got my new beauty today," days before he went on to kill four students and injure seven others at his high school in Oxford Township, Michigan.
And days before entering a school classroom on Tuesday and killing 19 small children and two teachers, 18-year-old Salvador Ramos left similar clues across Instagram.
On May 20, the day that law enforcement officials say Ramos purchased a second rifle, a picture of two AR-style semi-automatic rifles appeared on his Instagram. He tagged another Instagram user with more than 10,000 followers in the photo. In an exchange, later shared by that user, she asks why he tagged her in the photo.
"I barely know you and u tag me in a picture with some guns," the Instagram user wrote, adding, "It's just scary."
The school district in Uvalde had even spent money on software that, using geofencing technology, monitors for potential threats in the area.
Ramos, however, didn't make a direct threat in posts. Having recently turned 18, he was legally allowed to own the weapons in Texas.
His photos of semi-automatic rifles are one of many on platforms like Instagram, Facebook and YouTube where it's commonplace to post pictures or videos of guns and shooter training videos are prevalent. YouTube prohibits users from posting instructions on how to convert firearms to automatic. But Meta, the parent company of Instagram and Facebook, does not limit photos or hashtags around firearms.
That makes it difficult for platforms to separate people posting gun photos as part of a hobby from those with violent intent, said Sara Aniano, a social media and disinformation researcher, most recently at Monmouth University.
"In a perfect world, there would be some magical algorithm that could detect a worrisome photo of a gun on Instagram," Aniano said. "For a lot of reasons, that's a slippery slope and impossible to do when there are people like gun collectors and gunsmiths who have no plan to use their weapon with ill intent."
Meta said it was working with law enforcement officials Wednesday to investigate Ramos' accounts. The company declined to answer questions about reports it might have received on Ramos' accounts.
___
More on the school shooting in Uvalde, Texas: https://apnews.com/hub/school-shootings.
Amanda Seitz, The Associated Press
Police: Texas gunman was inside the school for over an hour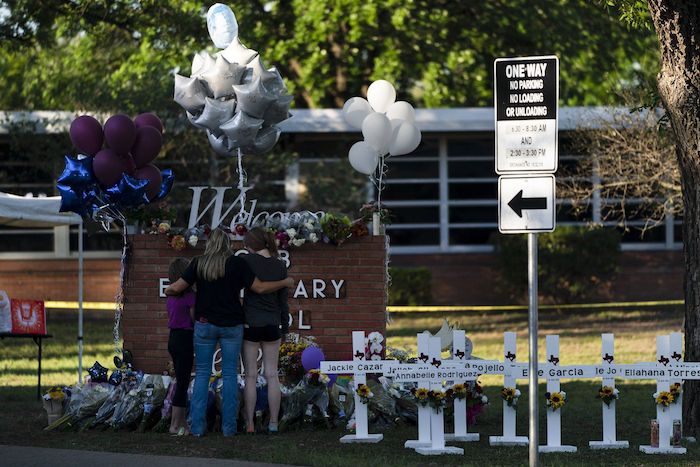 By Jake Bleiberg, Jim Vertuno And Elliot Spagat in Uvalde
Texas authorities say the gunman who massacred 21 people at an elementary school was in the building for over an hour before he was killed by law enforcement officers.
The amount of time that elapsed has stirred anger and questions among family members, who demanded to know why they did not storm the place and put a stop to the rampage more quickly.
Texas Department of Public Safety spokesperson Travis Considine said 18-year-old Salvador Ramos entered Robb Elementary School and began his rampage at 11:40 a.m. Tuesday.
A Border Patrol tactical unit began trying to get inside an hour later, and at 12:58 p.m., radio chatter noted he was dead.
THIS IS A BREAKING NEWS UPDATE. AP's earlier story follows below.
UVALDE, Texas (AP) — Law enforcement authorities faced mounting questions and criticism Thursday over how much time elapsed before they stormed a Texas elementary school classroom and put a stop to the rampage by a gunman who killed 19 children and two teachers.
Separately, after two days of unclear and contradictory accounts from police, a Texas law enforcement official said that an armed school district officer did not encounter or exchange fire with the attacker, 18-year-old Salvador Ramos, before he entered Robb Elementary in the town of Uvalde, as previously reported.
But many other details about the timing of events and the police response remained murky. The motive for the massacre — the nation's deadliest school shooting since Newtown, Connecticut, a decade ago — remained under investigation, with authorities saying Ramos had no known criminal or mental health history.
During the siege, which ended when a U.S. Border Patrol team burst in and shot the gunman to death, frustrated onlookers urged police officers to charge into the school, according to witnesses.
"Go in there! Go in there!" women shouted at the officers soon after the attack began, said Juan Carranza, 24, who watched the scene from outside a house across the street.
Carranza said the officers should have entered the school sooner: "There were more of them. There was just one of him."
Texas Department of Public Safety Director Steve McCraw said Wednesday that 40 minutes to an hour elapsed from when Ramos opened fire on the school security officer to when the tactical team shot him.
"The bottom line is law enforcement was there," McCraw said. "They did engage immediately. They did contain (Ramos) in the classroom."
But a department spokesman said Thursday that authorities were still working to clarify the timeline of the attack, uncertain whether that period of 40 minutes to an hour began when the gunman reached the school, or earlier, when he shot his grandmother at home.
"Right now we do not have an accurate or confident timeline to provide to say the gunman was in the school for this period," Lt. Christopher Olivarez told CNN.
Border Patrol Chief Raul Ortiz did not give a timeline but said repeatedly that the tactical officers from his agency who arrived at the school did not hesitate. He said they moved rapidly to enter the building, lining up in a "stack" behind an agent holding up a shield.
"What we wanted to make sure is to act quickly, act swiftly, and that's exactly what those agents did," Ortiz told Fox News.
But a law enforcement official said that once in the building, the Border Patrol agents had trouble breaching the classroom door and had to get a staff member to open the room with a key. The official spoke on condition of anonymity because he was not authorized to talk publicly about the investigation.
Olivarez said investigators were trying to establish whether the classroom was, in fact, locked or barricaded in some way.
Javier Cazares, whose fourth grade daughter, Jacklyn Cazares, was killed in the attack, said he raced to the school as the massacre unfolded. When he arrived, he saw two officers outside the school and about five others escorting students out of the building. But 15 or 20 minutes passed before the arrival of officers with shields, equipped to confront the gunman, he said.
As more parents flocked to the school, he and others pressed police to act, Cazares said. He heard about four gunshots before he and the others were ordered back to a parking lot.
"A lot of us were arguing with the police, 'You all need to go in there. You all need to do your jobs.' Their response was, 'We can't do our jobs because you guys are interfering,'" Cazares said.
Ramos crashed his truck into a ditch outside the school, grabbed his AR-15-style semi-automatic rifle and shot at two people outside a funeral home, who ran away uninjured, according to authorities and witnesses.
As for the armed school officer, he was driving nearby but was not on campus when Ramos crashed his truck, according to a law enforcement official who was not authorized to discuss the case and spoke of condition of anonymity. Investigators have concluded that school officer was not positioned between the school and Ramos, leaving him unable to confront the shooter before he entered the building, the law enforcement official said.
As Ramos entered the school, two Uvalde police officers exchanged fire with him, and were wounded, according to Olivarez. Ramos began killing his victims in a classroom.
On Wednesday night, hundreds packed the bleachers at the town's fairgrounds for a vigil. Some cried. Some closed their eyes tight, mouthing silent prayers. Parents wrapped their arms around their children as the speakers led prayers for healing.
Before attacking the school, Ramos shot and wounded his grandmother at the home they shared. Gilbert Gallegos, 82, who lives across the street and has known the family for decades, said he was puttering in his yard when he heard the shots.
Ramos ran out the front door and across the yard to a truck parked in front of the house and raced away: "He spun out, I mean fast," spraying gravel in the air, Gallegos said.
Ramos' grandmother emerged covered in blood: "She says, 'Berto, this is what he did. He shot me.'" She was hospitalized.
Gallegos said he had heard no arguments before or after the shots, and knew of no history of bullying or abuse of Ramos, whom he rarely saw.
Lorena Auguste was substitute teaching at Uvalde High School when she heard about the shooting and began frantically texting her niece, a fourth grader at Robb Elementary. Eventually she found out the girl was OK.
But that night, her niece had a question.
"Why did they do this to us?" the girl asked. "We're good kids. We didn't do anything wrong."
___
Bleiberg reported from Dallas.
___
More on the school shooting in Uvalde, Texas: https://apnews.com/hub/school-shootings