'Cautiously optimistic': Lawyer for trucker in Broncos crash waiting on Federal Court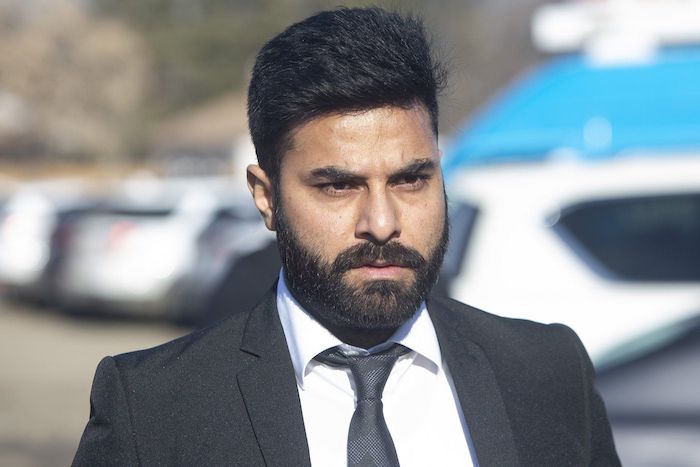 By Bill Graveland in Calgary
A lawyer for a former truck driver who caused the deadly Humboldt Broncos bus crash says he's cautiously optimistic that he will get the chance to argue against his client's possible deportation before Federal Court.
In 2019, Jaskirat Singh Sidhu was sentenced to eight years after pleading guilty to dangerous driving causing death and bodily harm in the Saskatchewan crash that killed 16 people and injured 13 others.
The Canada Border Services Agency recommended in March that Sidhu be handed over to the Immigration and Refugee Board to decide whether he should be deported to India.
Michael Greene, Sidhu's lawyer, said if the Federal Court decides not to hear the case, the deportation process would continue.
He said all written arguments with the Federal Court were filed in July, adding that no news can be good news when waiting for the court to make its decision.
"I'm cautiously optimistic, but I know enough not to get cocky about something like that," Greene said. "Usually when it takes time, it means you've got an arguable case."
It is also a high-profile case, so a judge might want to be extra careful, he said.
Court was told that the rookie Calgary trucker, a newly married permanent resident, went through a stop sign at a rural intersection and drove into the path of the Humboldt Broncos bus carrying players and staff to a junior hockey league playoff game.
The Parole Board of Canada granted Sidhu day parole in July for six months. He can get full parole after that if he follows conditions, including not contacting the families of the victims.
"Day parole means he is at home. He's with his wife and I can't tell you how happy that makes them," Greene said. "They're trying to get back to some sense of normalcy."
Greene said even if he is granted permission to appeal before the court and is successful, the matter would be sent back to Canada Border Services Agency for another review. He said the original officer put all the weight of his decision on the gravity of the harm caused.
"You can't get your hopes up too high," Greene said.
"Sometimes the judge will make comments in their decision that will give some guidance to the (CBSA) officers."
An online fundraising page set up to raise money to help keep Sidhu in Canada has reached more than $42,000.
A message from Sidhu's wife, Tanvir Mann, a Canadian citizen, said her husband made a "tragic mistake."
"When confronted by the unimaginable magnitude of the consequences of his mistake, he did everything he could to make things better," Mann writes.
"I pray that there are people out there who don't believe that Jaskirat should be deported and are willing to contribute to my fight to be able to live out our lives in Canada."
The Canada Border Services Agency has previously declined to comment on Sidhu's case, but said there are multiple steps built into the process to ensure procedural fairness.
Greene said he understands that several of the victims' families are still angry.
"It's completely understandable. It is," he said. "Everybody deals with grief and loss in their own way."
This report by The Canadian Press was first published Dec. 1, 2022.
Regulator gives Imperial weeks to plan fix for months-old oilsands tailings leak
Alberta's energy regulator has given Imperial Oil until the end of the month to figure out a way to fix ongoing seepage at a tailings pond at its Kearl oilsands mine.
The Alberta Energy Regulator says a pond on the site north of Fort McMurray, Alta., has been seeping since May, releasing thousands of cubic metres of wastewater that contains toxins such as arsenic.
The seepage has been recorded both on- and off-site in areas near the tributaries of area rivers.
The regulator says there has also been overflow of tailings water from one of the system's holding ponds.
It says there have been no wildlife or human impacts from the releases.
Imperial says it is working with the regulator to try and resolve the problem.
This report by The Canadian Press was first published Feb. 8, 2023.
This is a corrected story; An earlier version said the seepage was considered to have got into tributaries to area rivers.
Warren Foegele scores twice, Oilers beat Red Wings 5-2
By Larry Lage in Detroit
DETROIT (AP) — Connor McDavid extended his point streak to 13 games and Warren Foegele scored twice in the second period, helping the Edmonton Oilers beat the Detroit Red Wings 5-2 on Tuesday night.
Foegele, a fourth-round winger, had his first two-goal game of the season one game after he was a healthy scratch.
"It's one of the best games I've seen from him, and he should feel real good about himself," Oilers coach Jay Woodcroft said. "There's nobody more happy for him than his teammates and his coaching staff."
Fourth-line center Ryan McLeod and Foegele had goals 36 seconds apart early in the second and Foegele scored again midway through the period to give the Oilers a 3-1 lead. Third-line center Ryan Nugent-Hopkins restored their two-goal lead late in the third period.
"We got some contributions from our entire lineup, which is great," said Edmonton's Evander Kane, who had an empty net goal. "We're going to need that as we go down the stretch here and obviously in the playoffs. That type of scoring wins or loses you series."
Edmonton's Jack Campbell stopped 30 shots, including some key ones in the third to keep a one-goal lead.
"They were big saves, but I would say Jack expects to make those days and we expect those saves," Woodcroft said. "He's starting to build a little personal momentum for himself."
The Oilers maintained the momentum they had going into the All-Star break with their eighth win in nine games.
"The boys have been playing great leading up to the break and definitely wanted to continue where we left off," Campbell said. "Great way to start the road trip and get all the juices flowing again."
Ville Husso made 22 saves for the Red Wings, who had won two of their previous three games.
"There are a lot of positives to take out of this game despite the score, but we just didn't finish," Detroit coach Derek Lalonde said.
Detroit's Tyler Bertuzzi broke a scoreless tie midway through the first period and Joe Veleno scored with 9 seconds left in the second to pull the home team within a goal.
Edmonton, the NHL's highest-scoring team and best on the power play, scored with an extra skater when Nugent-Hopkins had a goal with 4:22 left in the third.
"Their power play is on pace to be the best in the history of the game," Lalonde said. "We gave them a fourth one and it killed us."
The game had plenty of after-whistle scrums, leading to a parade into the penalty box with several penalties in the third period.
"It's today's NHL. A lot of guys think they can get in there, and the referees bail them out a lot," Kane said. "It was a bit of a chippy game, and it started in the second period. We got some guys on our team that don't mind answering the bell."
Red Wings captain Dylan Larkin said he and his teammates let the emotions get the best of them when a game-tying goal was needed.
"That's something we need to learn from," Larkin said.
NOTES: McDavid has nine goals and 12 assists during his 13-game point streak, giving him an NHL-high 41 goals and 93 points. … Bertuzzi, who has been limited to 18 games by injuries, scored his second goal of the season.
UP NEXT
Oilers: Play at Philadelphia on Thursday.
Red Wings: Host the Calgary Flames on Thursday.
___
AP NHL: www.apnews.com/hub/NHL and www.twitter.com/AP_Sports