Captain Atiba Hutchinson set to mark 100th appearance for Canada against Croatia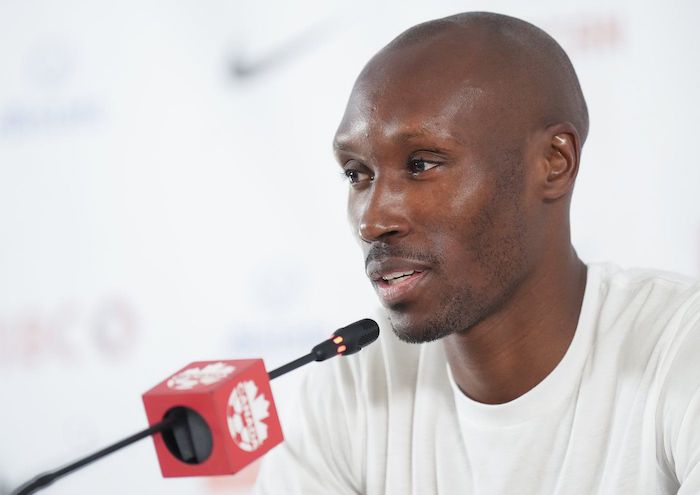 By Neil Davidson in Doha
Spare a moment for captain Atiba Hutchinson on Sunday when Canada takes on Croatia at the World Cup.
Nineteen years after pulling on the Canadian jersey for the first time at the senior level, the 39-year-old from Brampton, Ont., is in line to win his 100th cap, adding to his men's national team record.
That's 19 years of hard graft and criss-crossing the globe. Leaving the family. Turning out for his country when it ranked 122nd in the world, sandwiched between Niger and Liberia (in October 2014).
Hutchinson has done it with grace and style.
"He's been someone that's been with this program through thick and thin. He's been here through a lot of really tough times and he keeps coming back," said Canadian defender Alistair Johnston.
"He's a role model," added winger Tajon Buchanan. "He's been doing it for a very long time. He's been through it all, the highs and lows."
If anyone makes a fuss over the 100-cap milestone, it won't be Hutchinson. The veteran midfielder is a serene presence, comfortable in his own skin.
But he casts a big shadow.
"He's got such a presence to him and an aura," said Johnston. "If you're lucky enough to ever be around him, when he walks into a room, he's got a smile that lights up the room. You can just sense that the temperature changes."
At 24, Johnston is 15 years younger than his skipper.
Alphonso Davies was two when Hutchinson made his debut in January 2003 against the U.S. Midfielder Ismael Kone was six months old.
They are not alone. Hutchinson is the oldest outfield player at the World Cup and in taking the field against Belgium, at 39 years 288 days, became the second-oldest outfield player to make an appearance in the World Cup behind Cameroon's Roger Milla (42 years 39 days).
"He's just a really special man," Canada coach John Herdman said on the eve of Sunday's game. "I think all of us are in a moment where we'll be doing this as much for Atiba as we are to get our three points. He's a legend.
"I've had the privilege of being with (Canada women's captain Christine) Sinclair in key moments and now Atiba Hutchinson. And these are the moments you work hard to be part of. We'll do everything we can to give him a great day."
In recent years, Hutchinson's participation has been restricted to Canada games that matter.
Since September 2015, he has played for Canada 30 times. During that stretch he featured in 19 World Cup qualifiers, plus the World Cup opener against Belgium, five Nations League games, three Gold Cup outings and just two friendlies.
Injuries have played a part in that. But Hutchinson, who captains Besiktas in Turkey, is a valuable resource, not to be wasted.
There's more to the six foot one Hutchinson than meets the eyes on the pitch, with a pair of spindly pipe-cleaner legs deceiving at first notice.
Besiktas fans call him the Octopus for his long legs and reach. He's hard to dispossess with the ball and tough to fend off when he's looking for it.
Those in the know have always valued Hutchinson.
"Atiba is our best player," then-Canadian coach Benito Floro said in 2014. "He is the best player in Besiktas."
That same year, then-Arsenal manager Arsene Wenger singled out the Canadian after the Gunners beat Besiktas in a Champions League playoff.
"The best player on Besiktas?" Wenger said during the post-game news conference. "I was impressed by Hutchinson."
Former Canada coach Holger Osieck saw Hutchinson's potential at the CONCACAF under-20 championship back in 2002.
"I am actually convinced — and you know that I'm always pretty cautious in my predictions — that he has the tools to play first division football in Europe," said Osieck.
Hutchinson built his career carefully, starting in Scandinavia with Osters and Helsingborg in Sweden and FC Copenhagen in Denmark. Rather than moving to a big league or club where he might languish on the bench, Hutchinson moved to clubs that would use him.
"That helped me a lot, just learning the game really, playing with the first team and getting a lot of games," he told The Canadian Press in 2014. "I kind of look at it like climbing the ladder. That's exactly what I did. Every club I went to was a bit bigger and better than the previous club."
Hutchinson's next move was to the Netherlands and PSV Eindhoven in 2010, a stint that was interrupted by three surgeries to his left knee.
When his contract ran out, he hoped a move to England might follow. What nothing suitable came up, he asked his agent to look at Turkey after hearing positive reports from teammates who had played there.
"They only had good things to say," he said. "Especially about Istanbul."
Hutchinson now calls it home, with his wife and three boys.
The fans are more than passionate, backing the team wherever it plays.
"The support is amazing," Hutchinson said in the 2014 interview. "Even just being out on the streets, the way that they recognize you everywhere you go and the love that they give you. It's really amazing."
Hutchinson is beloved by his Canadian teammates, who value his experience, exploits and manner.
"An unbelievably kind guy," said Johnston. "And it's really special, especially being a young guy, coming into that group where you can be a little star-struck potentially seeing him.
"He's one of the first ones to break down those barriers. He brings over all the young guys, makes it very obvious and well-known that you can talk to him about anything, not just football. And that's one of the best parts about him. He's just a great human being. He's the ultimate representation of what it is to be Canadian and he's a perfect leader of this group.
"He's the main driving reason why this group's done something that's been so special over the past couple of years."
Hutchinson's journey to the World Cup this year was interrupted by a bone bruise sustained in the pre-season with Besiktas. He didn't see action until Nov. 9 when he started a Turkish Cup game, his first outing since June. Eight days later he started for Canada in a 2-1 win over Japan in a World Cup warmup.
Herdman, who said his captain was "brilliant" in the final tournament tuneup, has a good handle on Hutchinson.
"We've had conversations about where there was a decay physically and when that was impacting his mindset," he said before Canada's opener against Belgium. "And at that point that's where I've got to know enough's enough for him.
"He's got to be used with real precision, I think, in this World Cup. So there's a point where he can still compete. But if you know Atiba, once mentally he feels the body's giving up, there's a moment where we've got to be ready to change him."
But Herdman, who is Hutchinson's 10th Canadian manager, liked what he has seen of his captain in Doha.
"He's in a good place."
—
Follow @NeilMDavidson on Twitter
This report by The Canadian Press was first published Nov. 26, 2022.
Allow unvaccinated Canadians to cross U.S. border, Poilievre asks President Joe Biden
U.S. President Joe Biden shakes hands with Conservative Party of Canada Leader Pierre Poilievre, as Prime Minister Justin Trudeau looks on, during a welcoming ceremony on Parliament Hill in Ottawa, on Friday, March 24, 2023. Conservative Leader Pierre Poilievre says allowing Canadians who are unvaccinated against COVID-19 to cross into the United States was among issues he raised with President Joe Biden. THE CANADIAN PRESS/Justin Tang
By Stephanie Taylor in Ottawa
Conservative Leader Pierre Poilievre said Friday he asked President Joe Biden to remove the U.S. government's requirement that Canadians be vaccinated for COVID-19 before crossing the border.
He told reporters after their meeting that American citizens are no longer required to have their shots and Canada allows unvaccinated Americans to visit.
"There are millions of good, decent, honourable people who, through a personal medical decision, are discriminated against at the border," Poilievre said.
"I encouraged the president to lift those restrictions to allow them freedom of mobility."
Poilievre won the leadership of his party a little more than six months ago by mounting a vocal opposition to COVID-19 health restrictions, including mask and vaccine mandates, but he has since focused his message on cost-of-living issues.
He met with Biden on Parliament Hill Friday during the president's 27-hour visit to the Canadian capital, and later shared a photo of the two online.
Michael Ignatieff was the last Opposition leader to have face time with a U.S president. The former Liberal leader met with former President Barack Obama in 2009. It happened at the airport.
Poilievre said Friday he found Biden wants to be a "friendly" and "decent" neighbour to Canada, and on a personal level, he said he told the president they share Irish heritage.
He said they discussed the need for Canada to bolster its defence systems and "bring fairness" to workers by seeing the U.S. exempt Canada from its Buy American policies.
The Tory leader also said he expressed a need for Biden to axe tariffs on Canadian softwood lumber, arguing that the long-standing dispute saw a brief reprieve under Conservative prime minister Stephen Harper.
"I don't believe that Prime Minister (Justin) Trudeau has pushed and fought on behalf of Canadians," he said.
Before the meeting, Poilievre had shared some unscripted moments with the leader of the free world.
As he stood in a receiving line of Canadian politicians from all parties who were greeting Biden upon his arrival at Parliament Hill, Poilievre introduced himself as the "Leader of His Majesty's Loyal Opposition."
That prompted Biden to question, still shaking Poilievre's hand: "Loyal opposition?"
Poilievre assured him that yes, "we believe that opposition is an act of loyalty in our system."
Biden chuckled, patting Poilievre on the arm.
"We do, too, unfortunately," he said, chuckling.
Later, while addressing the House of Commons, Biden noted that both he and Trudeau appointed cabinets that were half women, making them the first in their respective countries to do so.
Many in the chamber broke out in applause.
Biden noticed that Poilievre and the Opposition Conservatives were not quick to rise, and quipped: "Even if you don't agree, guys, I'd stand up," which Poilievre and others then did.
Asked afterwards about that interaction, Poilievre said only: "We support gender equality for all Canadians."
Poilievre was on the guestlist for a dinner with Biden Friday evening, along with other government ministers, officials and celebrities.
The invitation process came with a dash of partisanship.
Earlier in the day, staff in Poilievre's office were left scratching their heads when they said it had not received an invite from Trudeau's office to attend, and asserted that any suggestion he had refused the invitation was false.
The Prime Minister's Office confirmed it had sent Poilievre notice of the dinner — but the invitation went to a personal email account that notifies senders it is not monitored.
This report by The Canadian Press was first published March 24, 2023.
Trudeau says he accepts MP's choice to leave Liberal caucus amid meddling allegations
Then-Provincial Liberal candidate Han Dong celebrates with supporters while taking part in a nomination event, in Toronto, Thursday, May 22, 2014. THE CANADIAN PRESS/Nathan Denette
By Stephanie Taylor in Ottawa
Prime Minister Justin Trudeau says he accepts Han Dong's decision to leave the Liberal caucus after an allegation he spoke to a Chinese diplomat about delaying the release of two Canadians.
Trudeau sidestepped a question Friday about whether he believes the allegation, saying only that Canadians should watch Dong's "strong" speech for themselves.
He said at a news conference alongside U.S. President Joe Biden, who was visiting Ottawa, that he fully accepts Dong left the Liberal caucus "to vigorously contest these allegations."
The prime minister also added that he and Biden discussed foreign interference, and said it is "unacceptable," whether from China or from other countries such as Russia and Iran.
Dong, a Toronto MP, announced he would sit as an Independent on Wednesday night, telling the House of Commons that he would defend himself against "absolutely untrue claims" regarding his alleged involvement in Chinese interference.
Global News published a report that night, citing unnamed security sources who alleged that Dong spoke about Michael Spavor and Michael Kovrig, who at that time had been detained in China for just over two years, with a Chinese diplomat in Toronto in February 2021.
The two Canadian men had been detained by China in December 2018, just over a week after the RCMP arrested Huawei executive Meng Wanzhou in Vancouver on a U.S. extradition warrant.
Global News alleged that Dong told China's consul general in Toronto that releasing the men would benefit the Conservatives, but also that showing some "progress" in the case would help the Liberals.
The Canadian Press has not independently verified the allegations.
The MP said he met with the diplomat but disputes any suggestion he urged China to delay releasing Kovrig and Spavor, telling the House of Commons he did nothing to cause them harm.
Kovrig and Spavor were treated as honoured guests when Biden addressed the House of Commons on Friday.
Members of Parliament and others who packed the gallery gave the men no fewer than four standing ovations. It was their first time in public together since returning to Canada in September 2021.
Conservative Leader Pierre Poilievre told reporters it was moving to see Kovrig and Spavor, whom he described as "two courageous men who survived unimaginable hell."
Poilievre added: "I was very heartened that everyone in the chamber gave them such a warm welcome."
The Tory leader declined to weigh in on the allegations against Dong, but repeated his position that holding a public inquiry is the only way to get to the bottom of China's alleged meddling in Canadian affairs.
He noted that all opposition parties agree on that — and pointed out that even Dong himself voted in favour of a motion that called for a public inquiry, the day after he left the Liberal caucus.
"So for his sake and for everybody's sake, and most importantly, for the sake of the truth, the prime minister has to end his cover up and call a full public inquiry," Poilievre said.
Trudeau has not ruled out the possibility of calling a public inquiry, but he has said that any recommendation to do so will have to come from former governor general David Johnston, who was recently appointed to probe the issue as a special rapporteur.
This report by The Canadian Press was first published March 24, 2023.