"Can't wait": Kenney urges end to party sniping, confident of win in leadership vote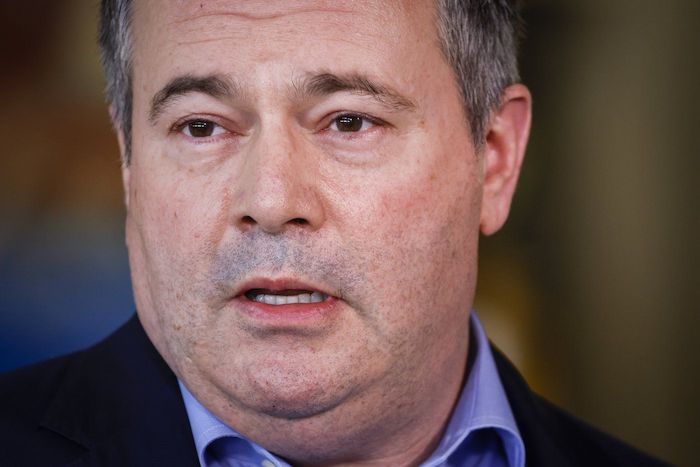 By Dean Bennett in Edmonton, Alberta, Canada
Alberta Premier Jason Kenney says he "can't wait" for the results of his leadership vote, which he is confident he'll win, and urges all sides in the intraparty feud in the meantime to stop their public sniping.
Kenney also reiterated that if he wins the May 18 review and stays on as leader, a sharp reckoning is coming to dissident caucus members who fail to fall in line and support him and his United Conservative party.
"I can't wait for us to finally get this behind us on May 18 with the leadership review vote," Kenney said Saturday on his provincewide radio call-in show.
"I would ask everybody regardless of their views about the future of the party to try to keep it inside, stay focused, and let the members decide and then we'll move on one way or another."
Kenney said he's hearing from members that they want the UCP to "get our act together."
Kenney needs at least a 50 per cent plus one majority to stay on as leader in the vote or a leadership race must be called.
Almost 60,000 party members are getting ballots that must be mailed back by May 11, with the results announced May 18.
Kenney said this week he has likely been too tolerant of public dissent from caucus members and suggested once again that if he wins there will be a reckoning.
"I'm hopeful and confident that I'll receive an endorsement," Kenney said Saturday.
"And I'll read it as an endorsement of unity, discipline (and) of moving forward to the future focused on Albertans' key priorities, not internal party politics.
"I will expect all of our caucus colleagues to respect the democratic decision of the members.
"Our caucus has demonstrated in the past that there is a limit to our willingness to accept constant attacks on the government and on the team and on confidentiality.
"You cannot operate as a government without at least a basic level of professionalism, discipline and unity."
Kenney has been facing pushback from some caucus members for a more than year.
They have criticized him for decisions on COVID-19 and for running what they term a tone-deaf, top-down administration with short shrift given to grassroots input. Kenney's position hasn't been helped by sluggish popularity and fundraising numbers.
That criticism has for the most part been somewhat muted, limited to public postings on Facebook and attacks that failed to name Kenney specifically.
Exceptions include backbencher Todd Loewen, who called for Kenney to quit a year ago and was immediately voted out of caucus. Kenney critic Drew Barnes was also kicked out at the same time.
In recent weeks, as Kenney's leadership review saw the rules changed at the last minute from an in-person to a mail-in vote, criticism has become more vocal and pointed.
Backbenchers Peter Guthrie and Jason Stephan have called for Kenney to quit. Guthrie has dismissed Kenney's pickup-driving, Everyman persona as a cruel trick played on voters.
Stephan told the house this week, without naming Kenney, that unity is not about marching behind the leader over a cliff.
Leela Aheer, fired last year from cabinet after criticizing Kenney, says the UCP name has been stained by corruption.
Deputy speaker Angela Pitt has characterized the government as a closed circle of decision makers contemptuous of dissenting voices.
Backbencher Richard Gotfried has said the government has stopped listening and is not focusing on what's best for Albertans.
Brian Jean, who recently won a byelection for the UCP on a promise to try to oust Kenney, said it speaks volumes that Kenney casts himself as the best hope for unity while his issues manager simultaneously attacks elected members of Kenney's caucus.
Jean was referring to Kenney's issues manager Bryan Rogers, who mocked Kenney's backbench critics as clowns on Twitter Friday while employing an image of the grease-painted circus performers from "The Simpsons" TV show.
Kenney himself – in a leaked audio recording — has called his critics "lunatics" and "kooky people" and compared them to insects drawn to the bright light of his party's success.
His government house leader, Jason Nixon, has painted Jean as an Opposition NDP sympathizer.
This report by The Canadian Press was first published April 23, 2022.
Expanding transit access for low-income Albertans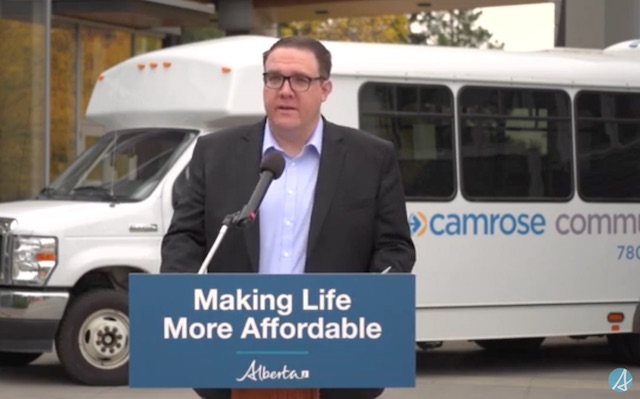 Alberta's government is providing $1.7 million to expand low-income transit programs in six new communities across the province.
Many Albertans rely on public transportation to help them get to work, appointments and attend recreational activities. To help combat high inflation, Alberta's government introduced additional funding in February to provide low-income Albertans with more affordable access to transit service.
In addition to Edmonton and Calgary, 10 Alberta communities have low-income transit passes. With this additional funding and to reduce financial barriers to transit, low-income Albertans in Camrose, Hinton, Leduc, Lethbridge, Red Deer and Spruce Grove will now be able to apply for a low-income transit pass.
"Many Albertans rely on public transit on a daily basis. These new agreements to expand low-income transit passes will help individuals and families move through their communities with ease, and without breaking the bank."
Funding will fully cover the municipality's cost of subsidizing the low-income transit program, including an additional 10 per cent for administration costs. Details on how communities can access this funding will be shared directly with eligible municipalities.
"The City of Camrose has provided transit options to the community for the past eight years. We appreciate the Government of Alberta's contribution to our program, which assists in making transit more affordable to our citizens. We look forward to working with our neighbours and the province in the future on potentially facilitating a regional transit system."
Quick facts
More than $14 million has already been allocated for low-income transit passes across the province, including $6 million each for Calgary and Edmonton to operate their programs.
Regulator rules in favour of Trans Mountain route deviation
Workers place pipe during construction of the Trans Mountain pipeline expansion on farmland, in Abbotsford, B.C., on Wednesday, May 3, 2023. THE CANADIAN PRESS/Darryl Dyck
By Amanda Stephenson in Calgary
The Canada Energy Regulator has approved Trans Mountain Corp.'s application to modify the pipeline's route, a decision that could spare the government-owned pipeline project from an additional nine-month delay.
The regulator made the ruling Tuesday, just one week after hearing oral arguments from Trans Mountain and a B.C. First Nation that opposes the route change.
It didn't release the reasons for its decision Tuesday, saying those will be publicized in the coming weeks.
By siding with Trans Mountain Corp., the regulator is allowing the pipeline company to alter the route slightly for a 1.3-kilometre stretch of pipe in the Jacko Lake area near Kamloops, B.C., as well as the construction method for that section.
Trans Mountain Corp. had said it ran into engineering difficulties in the area related to the construction of a tunnel, and warned that sticking to the original route could result in up to a nine-month delay in the pipeline's completion, as well as an additional $86 million more in project costs.
Trans Mountain has been hoping to have the pipeline completed by early 2024.
But Trans Mountain's application was opposed by the Stk'emlúpsemc te Secwépemc Nation, whose traditional territory the pipeline crosses and who had only agreed to the originally proposed route.
In their regulatory filing, the First Nation stated the area has "profound spiritual and cultural significance" to their people, and that they only consented to the pipeline's construction with the understanding that Trans Mountain would minimize surface disturbances by implementing specific trenchless construction methods.
The Stk'emlúpsemc te Secwépemc argued that Trans Mountain never said its originally proposed construction method was impossible, only that it couldn't be done in time to meet a Jan. 1 in-service date for the pipeline.
The First Nation didn't respond to a request for comment by publication time.
The Trans Mountain pipeline is Canada's only pipeline system transporting oil from Alberta to the West Coast. Its expansion, which is currently underway, will boost the pipeline's capacity to 890,000 barrels per day (bpd) from 300,000 bpd currently.
The pipeline — which was bought by the federal government for $4.5 billion in 2018 after previous owner Kinder Morgan Canada Inc. threatened to scrap the pipeline's planned expansion project in the face of environmentalist opposition and regulatory hurdles — has already been plagued by construction-related challenges and delays.
Its projected price tag has since spiralled: first to $12.6 billion, then to $21.4 billion and most recently to $30.9 billion (the most recent capital cost estimate, as of March of this year).
Keith Stewart with Greenpeace Canada said it's alarming to see the regulator over-rule the wishes of Indigenous people in order to complete a pipeline on deadline.
"Every Canadian should be outraged that our public regulator is allowing a publicly owned pipeline to break a promise to Indigenous people to protect lands of spiritual and cultural significance," Stewart said.
The federal government has already approved a total of $13 billion in loan guarantees to help Trans Mountain secure the financing to cover the cost overruns.
Trans Mountain Corp. has blamed its budget problems on a variety of factors, including inflation, COVID-19, labour and supply chain challenges, flooding in B.C. and unexpected major archeological discoveries along the route.
Given the Canadian regulatory system has a reputation for being slow and cumbersome, it was surprising to see the Canada Energy Regulator rule so quickly on Trans Mountain's route deviation request, said Richard Masson, executive fellow with the University of Calgary's School of Public Policy.
"It's a challenging decision to have to make, when you've got a $30 billion pipeline that needs to be completed," Masson said.
"If there's no feasible way to do that tunnel, then I guess you have to allow for this."
Masson added that if the regulator had denied Trans Mountain's request, it would have been bad news for taxpayers as well as the federal government, which is seeking to divest the pipeline and has already entered into negotiations with several interested Indigenous-led buyers.
It also would have been bad news for Canadian oil companies, who have been eagerly anticipating the pipeline's start date to begin shipping barrels to customers.
"If this can result in the pipeline being completed by year-end and started up in the first quarter, that's good news. The world is still looking for oil, and oil prices are up at US$90 a barrel," Masson said.
This report by The Canadian Press was first published Sept. 25, 2023.