Canadiens defenceman Jeff Petry talks injury, 'scary looking' eyes after return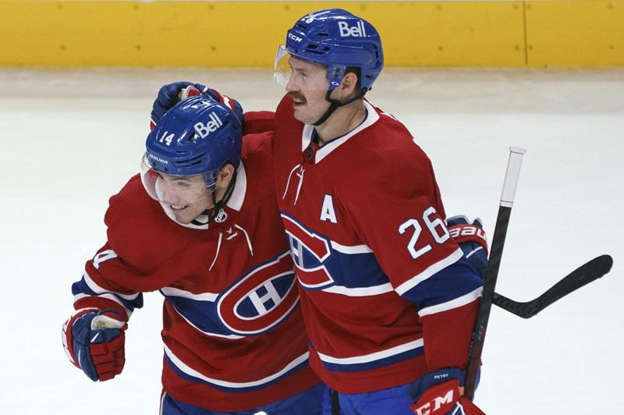 Jeff Petry's young sons were warned by their mother that dad looked a little different.
A hand injury suffered by the Canadiens defenceman in Game 3 of Montreal's series against the Winnipeg Jets had also eventually resulted in broken blood vessels in both of his eyes.
It gave the soft-spoken blue-liner a demonic look that startled his children — despite Julie Petry's best efforts to calm their fears.
"Kids were at school when I came home," Petry recalled Thursday. "(They) didn't want to look at me and decided that I would be the villain and they'd be the super heroes and we started playing.
"That got them to relax and feel a little bit more comfortable."
Petry wasn't a super hero Wednesday night, but his return to the lineup helped the Canadiens secure a 3-2 victory in Sin City to even their semifinal matchup with the heavily favoured Vegas Golden Knights 1-1.
Game 3 of the best-of-seven showdown goes Friday at the Bell Centre in Montreal.
Petry was hurt June 6 when his right hand got caught in one of the holes photographers and television camera operators use along the glass. He departed that game, wasn't available when Montreal completed a sweep of Winnipeg the following night, and sat out the opener against Vegas.
The 33-year-old was confident he'd suit up Wednesday after coming through the morning skate while sporting a specially made glove, but he didn't take line rushes in warmups and was initially scratched before being added to the game sheet just prior to puck drop.
Once in the lineup, it didn't take long for TV viewers and social media users to notice Petry's eerie, blood-tinged eyes.
"He's scary looking," Canadiens goaltender Carey Price joked following his ninth victory of the post-season. "But he's obviously a big part of our team and played a big game."
Montreal head coach Dominique Ducharme, who also got defenceman Jon Merrill back after he was injured during the Canadiens' stunning comeback win over the Toronto Maple Leafs in the first round, said his team wasn't being coy with Petry's status.
"He was confident he was gonna play, but we needed to talk to the doctors, we needed to have the green light," Ducharme said Thursday morning before Montreal flew home. "They wanted to make sure everything was fine.
"There's no game there."
Petry, who doesn't have any vision issues, finished second on the Canadiens with 42 points during the pandemic-shortened regular season, and has four assists in 11 outings in these playoffs with the Original Six franchise now just three victories from the Stanley Cup final.
"It is the most important time of the year," he said after logging nearly 21 minutes Thursday. "With any injury that you're dealing with, you're trying to cut the timeline down and get out there as quick as possible."
Normally a player with terrific puck-handling skills, Petry said he'll have to continue relying on his skating and stick work to get by in the defensive zone with his hand still ailing.
"It's come along," he said. "It was something that needed to get time — talking with the doctors, getting a timeline and coming up with what made sense, but what was realistic.
"It was just a matter of when I felt like I could play without hurting the team."
That was certainly the case in Game 2.
RED-HOT TOFFOLI
Tyler Toffoli led the Canadiens offensively throughout the regular season.
Not much has changed in the playoffs.
The winger, who had 28 goals in 52 games in 2021, has 12 points in 13 contests this spring. Toffoli is also on an eight-game point streak — one back of the franchise record shared by Guy Lafleur (1977) and Larry Robinson (1978).
FLEURY HEADING HOME
Golden Knights netminder Marc-Andre Fleury is looking forward to playing in his home province for the first time since before the pandemic because of COVID-19 border restrictions.
The Canadiens will have 3,500 fans in attendance at the Bell Centre for Games 3 and 4 — up 1,000 as coronavirus rules continue to loosen in Quebec — but the 36-year-old is only focused on what happens between the whistles.
"I haven't been back in a little while," said Fleury, a native of Sorel-Tracy, about an hour's drive northeast of Montreal. "It's always a building that's fun to play in. It's usually pretty loud.
"But the goal is the same — just go in and grab the win."
PERRY LIVING THE DREAM
Montreal forward Corey Perry fell in love with the Canadiens as a kid when his father was an Ontario Provincial Police officer not far from the Quebec border in New Liskeard, Ont.
After playing his entire career in the U.S., the 36-year-old former Hart Trophy winner and 2007 Stanley Cup champion signed with his childhood team for US$750,000 right before training camp.
And he couldn't be happier.
"To put on that jersey each and every night and play for this franchise, it's a special feeling," said Perry, who has three goals and five assists in the post-season. "It's been a dream come true.
"But there's a lot of work left to be done."
This report by The Canadian Press was first published June 17, 2021.
___
Follow @JClipperton_CP on Twitter
Joshua Clipperton, The Canadian Press
ZZ Top: Bearded bassist Dusty Hill dies in his sleep at 72
HOUSTON (AP) — ZZ Top bassist Dusty Hill, one of the Texas blues trio's bearded figures, died at his Houston home, the band announced Wednesday on Facebook. He was 72.
In their post, guitarist Billy Gibbons and drummer Frank Beard said Hill died in his sleep. They didn't give a cause of death, but a July 21 post on the band's website said Hill was "on a short detour back to Texas, to address a hip issue."
At that time, the band said its longtime guitar tech, Elwood Francis, would fill in on bass, slide guitar and harmonica.
Born Joe Michael Hill in Dallas, he, Gibbons and Beard formed ZZ Top in Houston in the late 1970s.
The Associated Press
Access requester told to wait five years for public health agency head's email, texts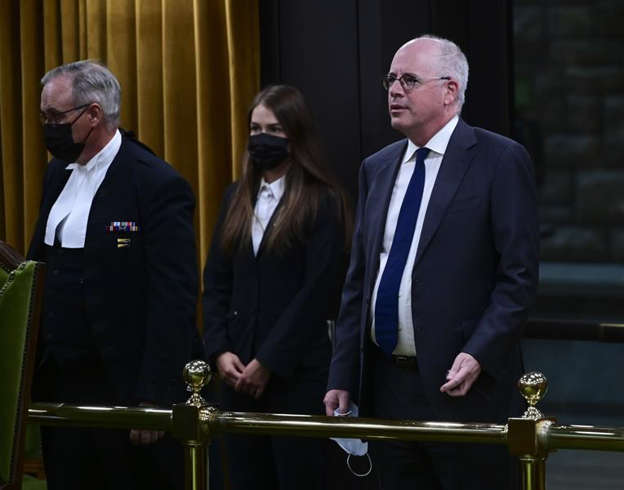 OTTAWA — A requester seeking access to a week's worth of emails and messages from the head of a federal agency embroiled in controversy has been told to wait five years or more for a response under Canada's information law.
The applicant recently asked the Public Health Agency of Canada for emails, texts and messages that president Iain Stewart had sent or received from June 14 to 21.
The Access to Information request was prompted by curiosity about Stewart's refusal to provide a House of Commons committee with unredacted documents about the firing of two scientists, which touched off a battle with Speaker Anthony Rota.
The Canadian Press granted the requester anonymity because they are concerned about the possible implications of publicity for their employment as an Ontario public servant.
Under federal access law, agencies are supposed to answer requests within 30 days or provide reasons why more time is needed.
The Public Health Agency of Canada recently informed the applicant that an extension of up to 1,950 days — over five years and four months — would be required. It said the request involves a large number of records, the original time limit would unduly interfere with agency operations and another government institution must be consulted.
The Public Health Agency had no immediate further comment.
The requester and experts in freedom of information said the lengthy extension defeats the purpose of the access law.
"Transparency is only a lame catchphrase," said the applicant, accusing the agency of obstructing access to the records.
"Justice delayed is justice denied."
The requester has complained to the federal information commissioner — an ombudsman for users of the law — in the hope she will remedy the delay.
"She has the chance to take bold action and finally hold federal bureaucrats to account — especially on such a pressing issue of public interest."
Fred Vallance-Jones, an asssociate professor of journalism at University of King's College in Halifax, said the extension amounts to "something like eight months of additional time for each single day of messages, which seems absurd on its surface."
"It's important to note that Stewart is a very senior official, and there is every expectation that his communications would be preserved and accessible," Vallance-Jones said.
"Access to information loses any meaning if information cannot be retrieved in a reasonable amount of time and I think that is doubly true for people at this level who should be able to anticipate such requests."
When Sean Holman, who studies the history of freedom of information, first saw the extension notice, he thought: "This must be a joke."
"This is nothing but delaying access to effectively deny access and another example of how the Trudeau government has broken the Liberals' election promise to be open by default," said Holman, a journalism professor at Mount Royal University in Calgary.
The latest extension comes shortly after New Democrat MP Charlie Angus learned it could take the Justice Department more than six years to process his request for documents related to a new regulator that will handle child pornography and exploitative material.
The federal government is currently reviewing the Access to Information Act and how it is administered.
In a submission to the review, the group World Press Freedom Canada said federal institutions have little incentive to abide by reasonable time-frames.
"There is no clear limit to the length of extensions they can unilaterally invoke, and blowing past deadlines has no material consequences. The playing field is tilted in their favour."
This report by The Canadian Press was first published July 28, 2021.
Jim Bronskill, The Canadian Press