Canadian traveller forced to stay in quarantine facility after negative COVID-19 test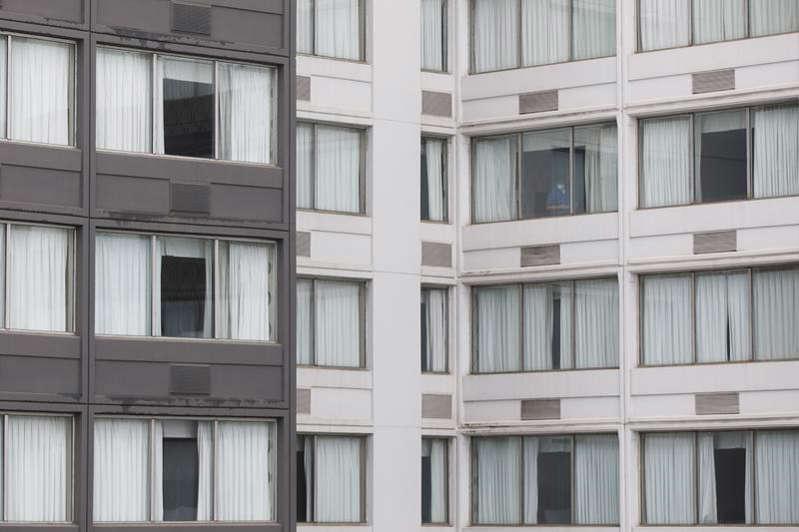 Lennard Skead says he felt like he'd been put in jail for a crime he didn't commit when he returned to Canada from South Africa on Thursday.
Skead, who lives in Brandon, Man., said he wasn't allowed to leave a Toronto quarantine hotel until the day after he received a negative result on the COVID-19 test he completed when he arrived in Canada.
"Our negative results came out on Saturday, but we are not allowed to leave until the quarantine officer calls us and tells us you can leave now. Nobody called us. Nobody called us until Sunday," said Skead, who was travelling with his wife, Charlotte.
Skead, who is fully vaccinated against COVID-19, said in an interview Monday that by the time he was told he could leave, he had already cancelled a flight back to Manitoba, keeping him in the hotel for another day. It was Skead's third negative COVID-19 test of the trip.
Canadians travelling from one of 10 African countries, including South Africa and Egypt, are required to obtain a COVID-19 test in the country they're travelling from, obtain a second test while in transit and get a third after arrival in Canada. They are required to stay at a designated facility on arrival.
Health Canada said in an email Monday that the requirement for testing in transit "is in place so that the risk of the traveller being exposed to the virus and its variants between the time of testing and boarding the plane, which can take up to 72 hours, is reduced."
Tiffany Gaura, who returned to Calgary from Cairo on Saturday, said she felt after landing in Canada that she was being punished for travelling to Africa.
"From the time you give them your passport, they call somebody immediately who then stays with you, takes you through to a separate secondary screening area where they question you extensively, read you your rights, tell you you have a right to a lawyer and you're being transported by the federal government to an isolation facility," she said in an interview Monday.
While the quarantine facility is in a hotel, she said, it doesn't have any of the usual hotel services, like a restaurant, cleaning or room service.
Gaura, who was travelling with her two children, aged five and eight, said she doesn't understand why she had to stay in a quarantine hotel instead of returning to her nearby home to isolate there.
"This is absurd for a family with a solid quarantine plan, who has no history of not following public health directives, who's fully vaccinated, who's following all the rules, who has done all the PCR tests," she said.
Asked about reports of poor conditions in federal quarantine facilities, Public Safety Minister Marco Mendicino said Monday the requirement is "a necessary and fair trade-off."
"We're not going to spare any expense or resources when it comes to protecting Canadians, including at the border. We're going to continue to provide clear travel guidance to all Canadians and others who are travelling to Canada," he told reporters in Ottawa.
Gaura said she thinks Canada's decision to place additional restrictions only on African nations at a time when the Omicron variant of the novel coronavirus is present in Europe and the United States is "opportunistic and xenophobic."
She said she was lucky she was able to clear German customs and get a PCR test while transiting in Frankfurt, because while Canada has put restrictions on Egypt, Germany has not.
Epidemiologist Dr. Prabhat Jha of St. Michael's Hospital in Toronto says Canada's travel restrictions are counterproductive.
"They're not fully informed by what we know about the science. We've known that it didn't really help slow the introduction of Delta."
Jha says testing before boarding a plane and on arrival is reasonable and should be done at a larger and more rapid scale.
He adds the only other way to prevent new variants from spreading across the world is to accelerate vaccines for everyone.
"We can't keep playing Whac-A-Mole with different variants and travel restrictions. Vaccinating the world would fully protect us. "
On Saturday, the federal government announced that travellers coming from South Africa and transiting through Frankfurt would be exempt from the in-transit testing requirement until Dec. 13.
Tasha-ann Bussell of Rossland, B.C., whose husband was in South Africa for his brother's wedding, said he was able to use that new exemption to get on a flight home, due to land in Calgary Monday.
"He's exhausted and stressed," Bussell said in an interview Monday. "We have three small children and my youngest and the middle child have birthdays in December so he'll miss that … at least he's gonna be home for Christmas."
She adds she's not angry with the government for implementing the regulations because one of her children is immunocompromised.
"I really appreciate the fact that they are trying their best," she said. "It's just hard. That's all it is."
This report by The Canadian Press was first published Dec. 6, 2021.
— With files from Fakiha Baig in Edmonton.
———
This story was produced with the financial assistance of the Facebook and Canadian Press News Fellowship.
Jacob Serebrin, The Canadian Press
Florida man charged in Canada-U. S. human-smuggling scheme freed on appearance bond
FARGO, N.D. — A Florida man charged for his role in a human-smuggling scheme that turned deadly at the Canada-U. S. border will be allowed to go home to await trial.
Steve Shand, 47, waived his right to a preliminary hearing before U.S. district court Judge Hildy Bowbeer agreed to release him from a North Dakota detention centre.
He faces human-smuggling charges after he was arrested near the border last week behind the wheel of a rented passenger van, not far from where a family of four was found frozen to death in the snow on the Canadian side.
Shand, clad in orange prison garb and a black face mask, said little throughout the virtual hearing beyond "Yes, your Honour" and "Yes, ma'am" in response to Bowbeer's questions.
Shand was released on an appearance bond, meaning that while he must abide by a number of release conditions, he will be required to make his own way back to Minnesota for any in-person court hearings.
"Sometimes we do it by Zoom and sometimes we may be doing it in person, but however it is that a court hearing happens in this case, you're going to have to show up for it," Bowbeer said.
"The fact that you're living in Florida is not going to be an excuse for not showing up in Minnesota."
He will also be required to surrender his passport and other related travel documents, submit to a mental-health assessment and remain in his home district in Florida except for court hearings.
He is also forbidden from possessing any weapons and from having any contact with any witnesses or others associated with the case, and will be expected to abide by the law, Bowbeer said.
"There's this kind of snowballing set of consequences, all of them bad, if you were to commit some new offence while you're on release," she said.
Monday's court decision was the product of an agreement between U.S. prosecutors and Shand's defence lawyers, and resulted in the accused opting to waive his right to a preliminary hearing.
Shand was arrested Jan. 19, the same day the bodies of four people, including an infant and a teenage boy, were discovered in the snow on the Canadian side of the border near Emerson, Man.
Investigators believe the four were part of a larger group of undocumented migrants from India who were trying to enter the U.S. from Canada.
The bodies were discovered Wednesday, shortly after U.S. Border Patrol agents pulled over a passenger van on the American side and found two other undocumented Indian nationals inside.
At about the same time, agents encountered another group of five migrants, one of whom told the agents they had been walking through the snow and bitter cold for more than 11 hours.
Department of Justice officials say the deaths are likely linked to a larger human smuggling operation — a phenomenon that's practically a fact of daily life in the southern U.S., but rarely seen up north.
Agents encountered the van "in a rural area on a dirt road in an area far away from any services, homes or ports of entry into Canada," according to an affidavit by John Stanley, a special agent with the Department of Homeland Security.
"He was driving through blowing snow and snow drifts. The weather was severe at the time, with high winds, blowing snow and temperatures well below (-34 C)."
Evidence detailed in the documents also suggest the group was not the first to recently make the perilous trek: twice in December and once in January, border patrol agents found boot prints in the snow near where the van was later pulled over.
On Jan. 12, agents found prints that "matched the brand of the types of boots worn by five of the seven foreign nationals arrested in the current smuggling event," the documents say.
On or about Dec. 12 and Dec. 22, "two groups of four appeared to have walked across the border into the U.S. and were picked up by someone in a vehicle."
In the first incident, RCMP officers found a backpack at a location in Manitoba "believed to be the drop-off point" that contained a price tag in Indian rupees.
A court file from Florida that dates back to 2018 shows that Shand, a naturalized citizen originally from Jamaica, filed for bankruptcy more than three years ago, reporting assets worth $193,343 and liabilities of nearly $160,000.
Describing himself as an Uber driver, Shand's assets at the time included two vehicles — a 2016 Toyota SUV and a 2014 Honda Civic — and the $161,957 single-family home in the central Florida community where he lives.
Consular officials met over the weekend in Winnipeg to assist with the investigation and to help identify the migrants and track down family members.
"A special team, led by a senior consular officer from the Consulate General of India in Toronto, is in Manitoba to assist ongoing investigations by Canadian agencies and to render any required consular services for the victims," the High Commission of India said in a statement.
"Confirmation of identities will only be possible after investigations are completed this week."
This report by The Canadian Press was first published Jan. 24, 2022.
— With files from Kelly Geraldine Malone in Winnipeg
James McCarten, The Canadian Press
NATO outlines 'deterrence' plan as tensions with Russia soar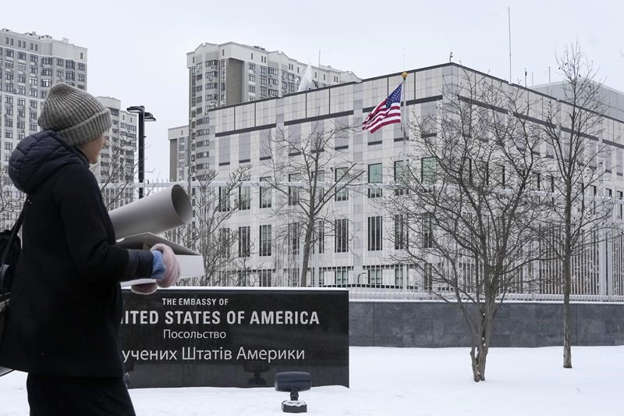 BRUSSELS (AP) — Tensions soared Monday between Russia and the West, with NATO outlining a series of potential troop and ship deployments and Ireland warning that upcoming Russian war games off its coast would not be welcome while concerns abound that Moscow is planning to invade Ukraine.
The Western alliance's statement summed up moves already announced by individual member countries — but restating them under the NATO banner appeared aimed at showing the alliance's resolve. It was just one of a series of announcements that signaled the West is ramping up its rhetoric in the information war that has accompanied the Ukraine standoff.
Russia has massed an estimated 100,000 troops near Ukraine's border and is demanding that NATO promise it will never allow Ukraine to join and that other actions, such as stationing alliance troops in former Soviet bloc countries, be curtailed. Some of these, like any pledge to permanently bar Ukraine, are non-starters for NATO — creating a seemingly intractable standoff that many fear can only end in war.
Russia denies it is planning an invasion, and has said the Western accusations are merely a cover for NATO's own planned provocations. Recent days have seen high-stakes diplomacy that failed to reach any breakthrough and maneuvering on both sides.
On Monday, NATO said that it is beefing up its "deterrence" in the Baltic Sea area. Denmark is sending a frigate and deploying F-16 war planes to Lithuania; Spain is sending four fighter jets to Bulgaria and three ships to the Black Sea to join NATO naval forces; and France stands ready to send troops to Romania. The Netherlands also plans to send two F-35 fighter aircraft to Bulgaria from April.
Secretary-General Jens Stoltenberg said the alliance will "take all necessary measures to protect and defend all allies." He said: "We will always respond to any deterioration of our security environment, including through strengthening our collective defense."
Kremlin spokesman Dmitry Peskov charged that it was NATO and the U.S. who were behind "tensions escalating" in Europe, not Russia.
"All this is happening not because of what we, Russia, are doing. This is happening because of what NATO, the U.S. are doing," Peskov said during a conference call with reporters. He also cited U.S. media reports suggesting that Russia is evacuating its diplomats from Ukraine, something officials in Moscow denied.
The NATO announcement came as European Union foreign ministers sought to put on a fresh display of unity in support of Ukraine, and paper over concerns about divisions on the best way to confront any Russian aggression.
In a statement, the ministers said the EU has stepped up sanction preparations and they warned that "any further military aggression by Russia against Ukraine will have massive consequences and severe costs."
Separately, the EU also committed to increase financial support for embattled Ukraine, vowing to push through a special package of 1.2 billion euros ($1.4 billion) in loans and grants as soon as possible.
The West is nervously watching Russian troop movements and war games in Belarus for any signs that a new invasion of Ukraine is imminent. Russia has already invaded Ukraine once, annexing the Crimean Peninsula in 2014. Moscow has also supported pro-Russian Ukrainian separatists fighting the Kyiv government in the Donbass region. Fighting in eastern Ukraine has killed around 14,000 people and still simmers.
Asked whether the EU would follow a U.S. move and order the families of European embassy personnel in Ukraine to leave, EU foreign policy chief Josep Borrell said: "We are not going to do the same thing." He said he is keen to hear from U.S. Secretary of State Antony Blinken about that decision.
Britain on Monday also announced it is withdrawing some diplomats and dependents from its embassy in Kyiv. The Foreign Office said the move was "in response to the growing threat from Russia."
Ukraine's Foreign Ministry spokesman, Oleg Nikolenko, said the U.S. decision was "a premature step" and a sign of "excessive caution." He said that Russia is sowing panic among Ukrainians and foreigners in order to destabilize Ukraine.
Germany has issued no order, but it has announced that the families of embassy staffers may leave if they wish. Foreign Minister Annalena Baerbock stressed that "we must not contribute to unsettling the situation further; we need to continue to support the Ukrainian government very clearly and above all maintain the stability of the country,"
Arriving at the EU meeting, Irish Foreign Minister Simon Coveney said he would inform his counterparts that Russia plans to holds war games 240 kilometers (150 miles) off Ireland's southwest coast — in international waters but within Ireland's exclusive economic zone.
"This isn't a time to increase military activity and tension in the context of what's happening with and in Ukraine." Coveney said. "The fact that they are choosing to do it on the western borders, if you like, of the EU, off the Irish coast, is something that in our view is simply not welcome."
Some of the member countries closest to Russia — Estonia, Latvia and Lithuania — have confirmed that they plan to send U.S.-made anti-tank and anti-aircraft missiles to Ukraine, a move endorsed by the United States.
But questions have been raised about just how unified the EU is. Diverse political, business and energy interests have long divided the 27-country bloc in its approach to Moscow. Around 40% of the EU's natural gas imports come from Russia, much of it via pipelines across Ukraine — and many are skittish about being cut off from that supply in winter, with prices already soaring.
The EU's two major powers appear most cautious. French President Emmanuel Macron has renewed previously rejected calls for an EU summit with Putin.
Late on Saturday, the head of the German navy, Vice Admiral Kay-Achim Schoenbach, resigned after coming under fire for saying that Ukraine would not regain the Crimean Peninsula, and for suggesting that Putin deserves "respect."
Still, diplomats and officials said hard-hitting sanctions are being drawn up with the EU's executive branch, the European Commission. They were reluctant to say what the measures might be or what action by Russia might trigger them, but said they would come within days of any attack.
___
This story has been updated to correct that France has said it is ready to send troops to Romania, not Bulgaria. ___
Associated Press writers Yuras Karmanau in Kyiv, Ukraine, Dasha Litvinova in Moscow, Geir Moulson in Berlin, Aritz Parra in Madrid, Mike Corder in The Hague, and Raf Casert in Brussels contributed.
Lorne Cook, The Associated Press