Canadian Tire uses customer data from loyalty rewards program to boost sales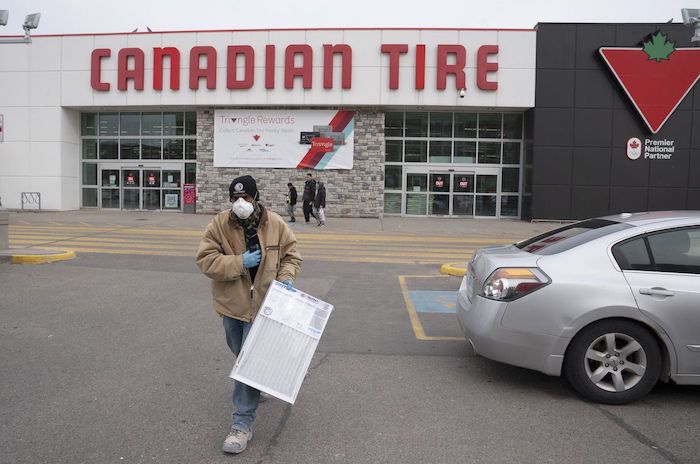 By Brett Bundale
One of Canada's biggest retailers is using customer data mined through its loyalty program and credit cards to drive sales and counter the potential demand impact of rising prices.
Canadian Tire Corp. Ltd. said Thursday it is focused on attracting and engaging rewards members as a way to gain insight into shopping habits and shape sales through promotions.
The company's emphasis on its rewards program underscores the growing value of personal shopping data in the highly competitive retail environment.
"In addition to the rich first-party data we can mine through our Triangle Rewards loyalty program, our Triangle credit card provides critical insights into our customers and their preferences and shopping behaviours," Greg Hicks, Canadian Tire president and CEO, said during a call with analysts to discuss the company's quarterly results.
"Our ability to engineer demand with our high-low programming across all banners has us being much more relevant," he said. "We feel prepared to address any concerning shifts and spend behaviour at a customer level."
Canadian Tire raised its dividend by 25 per cent as it reported its first-quarter profit and revenue rose compared with a year ago.
Overall, the company reported net income attributable to shareholders of $182.1 million or $3.03 per diluted share, up from $151.8 million or $2.47 per diluted share a year earlier.
Revenue for the quarter ended April 2 totalled $3.84 billion, up from $3.32 billion in the same quarter last year.
Comparable sales at its Canadian Tire retail business grew 4.5 per cent, with automotive, hockey and winter categories leading the way.
The company's Mark's banner saw comparable sales gain 17.1 per cent amid stronger sales of industrial footwear and jeans while SportChek stores gained 10.2 per cent on higher winter sports and apparel sales.
Meanwhile, Canadian Tire's use of loyalty member data highlights the increasing sophistication of in-store and online promotions that aim to boost customer spending.
Canadian Tire retail, for example, has created a new "offer widget" function, that encourages customers to use rewards to earn bonus electronic Canadian Tire money if they purchase a particular product.
In testing, the offer widget drove a 17 per cent increase in sales at Canadian Tire and a 34 per cent increase at Mark's, Hicks said.
"If you went back two years ago, you would have seen a lot more of a store being 20 (per cent) off as an example," said Gregory Craig, Canadian Tire chief financial officer.
"The use of targeted promotional offers is much more significant than it's been in the past."
Using customer data to target sales more effectively also benefits margins.
"With all of the data we have at our disposal, we've never been more able to really understand the value consumers crave," said TJ Flood, president of Canadian Tire retail.
"We're always trying to strike that balance between managing margins and inspiring demand and also not giving an inch on being priced competitively."
Still, the company is managing through a tight labour market and ongoing supply issues.
"When you look at labour in the marketplace right now, it is challenging," Flood said. "But our dealer network is very entrepreneurial, and very, very aggressive at the local level with attracting and retaining talent."
Although there are concerns about how shutdowns in China will ripple through the global supply chain, Hicks said the impact is minimal.
"It's important to know that the ports in Shanghai and Beijing are not shut down," he said. "The reality is the supply chains out of China are functioning better than they were a year ago."
Hicks added that the company has adjusted lead times and is continuing to use charter vessels to ensure inventory arrives on time.
While shoppers may start to rein in spending amid high inflation, he said the company is ready to roll out its "demand elasticity drivers" and rewards program to deliver choice and value to customers.
This report by The Canadian Press was first published May 12, 2022.
Companies in this story: (TSX:CTC.A)
Red Deer Brewery to hold Beer Tasting on the Ross Street Patio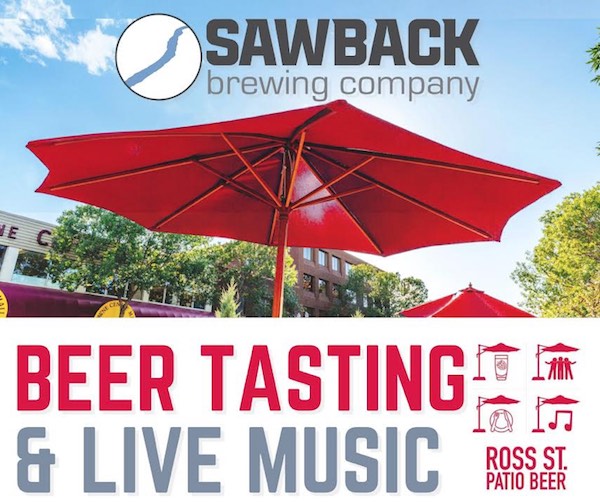 Sawback Beer Tasting on the Ross Street Patio
The Ross Street Patio is celebrating its 10th summer and Sawback Brewing Co. is releasing a new Raspberry Ale named after the Downtown's most loved feature – The Ross Street Patio!
On Friday, May 27th, the Downtown Business Association and Sawback Brewing will host a free tasting from 5-8PM, complete with live music from Paeton Cameron and James Adams and a light snack from Chubby's Jerk BBQ & Kitchen! Visitors can then grab a seat on one of the adjacent restaurant patios for a full-sized Ross Street Patio Beer and enjoy the show. This event is free and open to the public.
Amanda Gould, Executive Director of the DBA says, "This is such an exciting time for the Ross Street Patio and Downtown. We have so much planned over the summer and the next natural step is to license the entire patio through council deeming it an Entertainment District. We will find out in the beginning of June if council approve the bylaw and, straight after that, you can start enjoying full-sized beverages right on the patio while enjoying the summer entertainment!"
The Ross Street Patio is the hub of downtown entertainment, and the DBA is proud to be programming it for the summer season – summer activities include art installations, live music and family fun activities. "Follow us on Facebook to keep updated on what's going on and when. If you are a community group or an event organizer wishing to bring some activity to Ross Street Patio, please direct message or call the DBA to find out about the support, including financial support, that we can provide to help your event or activity come to life."
The Downtown Business Association has been operating in Red Deer for over 30 years, serving approximately five-hundred business owners in the Downtown area. Through partnerships and leadership in advocacy and promotion, the DBA is the catalyst for a vibrant and prosperous downtown that is the place to live, work, play and do business.
Downtown Red Deer: safe, fun and open for business!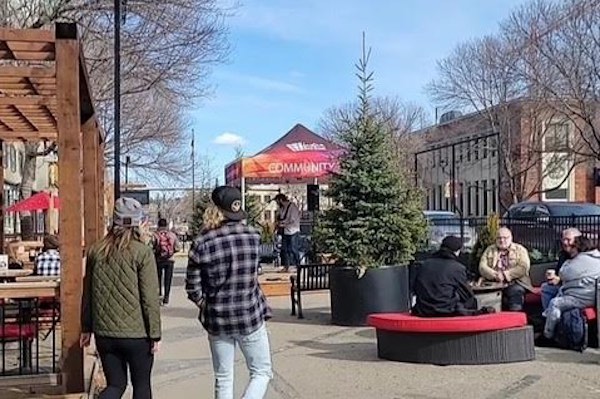 By Mark Weber
With summer just around the corner, downtown Red Deer is all the more bustling with fun events and even more local businesses to check out. But there are a few misconceptions about the area that persist, and that can even prevent some folks from visiting the city's increasingly vibrant core. "Downtown Red Deer has an always lot of good things going for it," explained Amanda Gould, executive director of the Downtown Business Association. "Sometimes, that is outweighed by the perception people have of downtown. "What we need to remember is all that has been happening downtown, what with the murals, the events, the alley upgrades – there are a lot of good things happening. And it's making it such a great destination to come and visit and to also set up your business," she added.
"We have seen, over the last year, an increase of 50 new businesses downtown. It's great news, and the downtown is a great place to go." As mentioned, however, certain misconceptions about the downtown area persist including that
there is a significant parking problem. "We absolutely do not have a parking issue," noted Gould. Visitors may not always be able to park directly in front of their destinations, particularly if they are in a facility with lots of other businesses and agencies, but there are typically plenty of places to park nearby if you are prepared for a short jaunt. "If you were to travel just a half a block down the street, or even a block down, you will find there are usually plenty of spaces. We are lucky that our downtown is walkable as well."
She also mentioned that some residents believe that downtown Red Deer is unsafe. "Again, this is a misperception – it's not the reality of it," she said. "We are so lucky as a neighbourhood downtown to have our own RCMP policing unit everyday – they chat with business owners and help them solve any safety issues they may come into contact with," she said. "There is a team of seven on that unit, and surely that makes downtown one of the safest places to be."
As to the surge in businesses, Gould noted that reasonable rents attract local entrepreneurs to launch ventures there as well – nicely adding to the growing variety of businesses in the area. It's yet another plus for Red Deer residents.
In the meantime, one of downtown's most prominent features – the Ross Street Patio – is really starting to liven up these days with the warmer weather and regularly scheduled musical performances. 'Music on the Ross Street Patio' is a free event and is open to all ages. Performances run from 4:30 –7:30 p.m. on show nights. Another annual favourite, the Downtown Market, kicks off on Wednesday, May 25. An accredited farmers' market, visitors are invited to come down and purchase all their fresh fruits and veggies between 3:30 and 6:30 p.m. each Wednesday. Live music on the Ross Street Patio is also a key feature on Wednesdays.
Gould added that Friday, May 27, is the official kick-off to summer on the Ross Street Patio. To celebrate, they have partnered with Sawback Brewing to introduce a limited-edition Ross Street Patio beer which is super exciting, she explained. "Free samples will be available at 5 p.m. that day (May 27). There will also be music and other activities. The special beer, featured at several downtown restaurants, will be available through the summer.
Looking into June, performances on the Patio will run on Wednesdays, Thursdays and Fridays. "Businesses are now opening up their patios – and we've got the music happening on the Patio, so we are really starting to see a lot more people coming down, spending some time outside and enjoying the live music that we are putting on," she said.
For more about the Downtown Business Association and all that is planned for the Ross Street Patio, find them on Facebook or visit www.downtownreddeer.com.