Canadian soldier of the First World War identified 105 years after death in France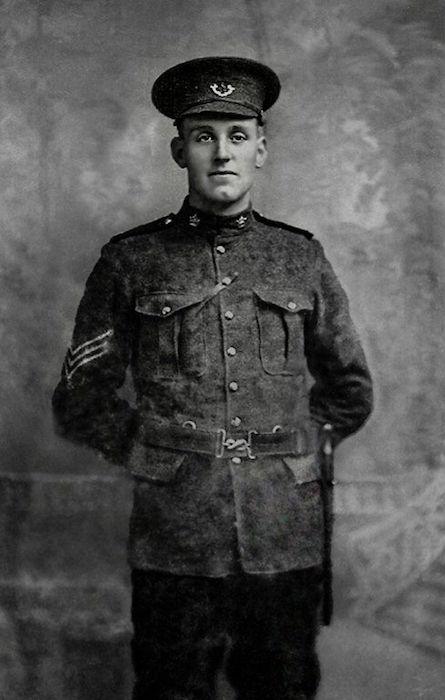 By Noushin Ziafati
A Canadian soldier killed in battle during the First World War has been identified – more than a century later.
The Department of National Defence and the Canadian Armed Forces publicly confirmed the identity of Company Sgt.-Maj. David George Parfitt on Thursday.
Parfitt was one of 156 members of the 8th Canadian Infantry Battalion killed in action on Sept. 26, 1916, during the Battle of Thiepval Ridge. He was leading a platoon in the attack that day.
Parfitt's headstone, which is in Regina Trench Cemetery in Grandcourt, France, identified him only as an unknown sergeant-major of the infantry battalion. He was 25 years old at the time of his death.
Defence Minister Anita Anand said Canada remembers the courage of those "who served our nation both at home and overseas in the First World War."
"The successful identification of Company Sergeant-Major Parfitt is a reminder for all Canadians of the ultimate sacrifice made by many in service to our nation," Anand said in a news release.
"To the family of Company Sergeant-Major Parfitt, know that Canada honours him and is grateful for his service."
Parfitt was the only Canadian company sergeant-major to have died on that date in France, a detail that the Department of National Defence said "significantly contributed" to the identification of his grave.
Parfitt was born in London, England, in 1891 and immigrated to Canada at the age of 18.
He was a mill worker in Keewatin, Ont., before enlisting in the army in Valcartier, Que. Three of his brothers also enlisted and survived the war.
The Canadian Armed Forces said Parfitt's family has been notified of his identification.
A headstone rededication ceremony is set to take place "at the earliest opportunity" at the Commonwealth War Graves Commission's Regina Trench Cemetery in France, the military noted.
Veterans Affairs Minister Lawrence MacAulay also recognized Parfitt's contributions to Canada.
"Company Sergeant-Major Parfitt was one of our own – a Canadian soldier who fought for our country with honour during the First World War. His name is engraved on the base of the Canadian National Vimy Memorial along with those of the more than 11,000 of his comrades who were posted as 'missing, presumed dead' in France," MacAulay said.
"Now that his grave has been identified, I'm pleased to know he will receive a permanent headstone to commemorate his courage, service and ultimate sacrifice."
This report by The Canadian Press was first published July 28, 2022.
CP NewsAlert: Debby Friday wins Polaris Music Prize
TORONTO — Debby Friday has won the 2023 Polaris Music Prize for the album "Good Luck."
More coming.
The Canadian Press
Daughters without moms find support in each other's grief
This image provided by Hope Edelman, shows a motherless group being led by Edelman and Claire Bidwell Smith. There are many kinds of support today for children who have lost their parents. (Hope Edelman via AP)
By Tracee M. Herbaugh
When my mother died suddenly 30 years ago, I was 13. I'd spend the next 20 years attempting to understand what it means not to have a mother.
And I did this basically alone.
Mostly, this was because my mother's parents, who raised me, were old-fashioned folks who lived through the Dust Bowl. They didn't discuss feelings, good or bad. I never once saw my grandfather shed a tear after his daughter died. Plus, our town was in the rural plains of Colorado, hours away from any city with services like a grief therapist, even if my grandparents had been open to that.
But the silence around grief also was a product of the times. I am encouraged to see that now a mom's death is generally not handled the same way it was in 1993.
There are many kinds of support today, from the organized to the grassroots. Grief can be talked about and shared more publicly, experts say, and is acknowledged to last a long time.
Motherless children can attend special summer camps, for instance, or Mother's Day retreats like those hosted by the Massachusetts-based non-profit EmpowerHer, which works with girls whose mothers have died. They also link girls with mentors so they can see an older version of themselves. The group recently started working with boys and nonbinary children, too, who have lost either parent.
"There isn't a perfect ending," said Cara Belvin, who founded EmpowerHer. "You can cry and scream but you can't give up, and we hold space for a kid who is grieving."
Podcasts on the topic of parent loss, and support groups both virtual and in-person, have proliferated.
"It really grew exponentially over COVID," said Hope Edelman, author of several grief books, including the bestseller "Motherless Daughters: The Legacy of Loss," published in 1994.
Edelman has led motherless daughters' groups, and her books have helped usher in a new way to live with loss. "The death of a mother affects a daughter profoundly, but what comes after can affect her as much or more," she said.
Edelman was 17 when her mother died in 1981, a time she has called the "dark ages" of grief, when mourning often wasn't discussed much outside the stale office of a therapist.
The prevailing wisdom today tends to be the "continuing bonds" theory, which says grief is to be carried, and relationships continue and change with a loved one, even after their death.
This more engaged approach to grief has been furthered by the internet and social media.
Ontario native Janet Gwilliam-Wright, 46, started "The Motherlove Project," a blog and corresponding Instagram account, in 2020 to honor the 25th anniversary of her mother's death. It has since become a place where women from around the world share stories about their late mothers; nearly 300 people have shared so far.
"I didn't have anywhere to grieve her — she didn't have a grave — so I decided to make a place on the internet," Gwilliam-Wright explained.
"I have enormous gratitude for every woman who reaches out to me. It helps me in my grieving and has brought me a community of people I feel so connected to."
Mother's Day can feel particularly isolating, said Julia Morin, 36, of Nashua, New Hampshire, who created her Instagram account "Girl_meets_grief" on Mother's Day 2021 to connect with others who felt the same way.
Before the internet, even though the prevailing attitude toward grief might have been less supportive, still there was often more community and family around than there is now, when many Americans lack built-in support networks.
"And so the widespread online support gives people a broader space to share in that grief and meet people with similar experiences," said Megan Kelleher, a historian who has studied grief and bereavement practices.
Writing is another way motherless daughters are connecting.
Sasha Brown-Worsham of Acton, Massachusetts, has written about losing her mom as a teenager. She penned a viral essay and followed it up with a memoir, "Namaste the Hard Way." When Brown-Worsham turned 45, the same age her mother was when she died of breast cancer, she sought out a virtual support group of mothers without moms.
"My daughter turned 16 at the same time, and that's how old I was when my mom died," she said.
The group is a collaboration between Edelman's Motherless Daughters and the Twin Cities-based non-profit She Climbs Mountains.
"There's this sense of being seen for possibly the first time in my whole life," Brown-Worsham said.
Life's milestones — such as getting married or having a baby — can trigger grief. By the time I was 30, I had tricked myself into believing I was adept at ignoring my mother's loss. That was, of course, far from true.
It was when I had my first baby that I felt grief rise to the surface. Jealousy cropped up in unexpected ways, particularly when I saw my new mom friends with their mothers.
It turns out, this is normal.
"Having kids ripped me open" emotionally, said Katie Paradis, 42, of Rockport, Massachusetts, who has two girls and no mother.
Susanna Gilbertson's mom died a year before her daughter was born.
"I looked around and didn't see any support I could access," said Gilbertson, 47, of Philadelphia.
Along with another motherless mom, she posted fliers for a book group, reading Edelman's "Motherless Daughters." After the initial meeting, the women in the group wanted to keep going. They ended up meeting for seven years.
"You get to experience, rather than be told, that you're not alone," said Gilbertson, now a full-time grief coach.