Canadian senator hears desperate plea from Afghan woman MP fearing Taliban reprisals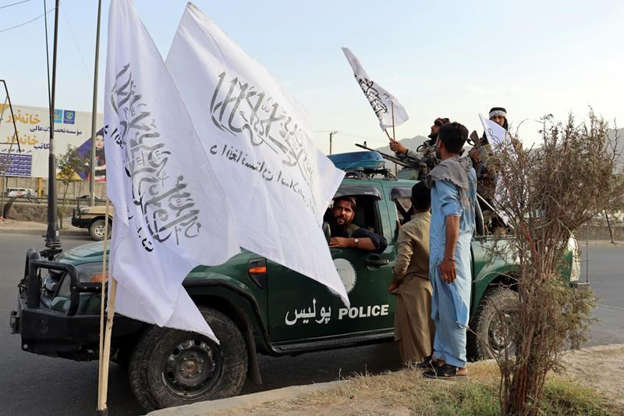 A senator who chairs a committee set up to forge ties between the Canadian and Afghan parliaments has been receiving desperate pleas for help from Afghan politicians.
Sen. Salma Ataullahjan says she has received daily appeals for help to escape the Taliban from Afghans she met on official parliamentary business.
One Afghan woman MP told the senator that her car has been confiscated and that she is in hiding while trying to find a way to leave the country.
Ataullahjan, who was brought up in Pakistan and is Pashtun — the largest ethnic group in Afghanistan — said she has been inundated with calls from Afghans, including journalists, fearing for their safety.
They include Afghan politicians she met as co-chair of the Canada-Afghanistan Parliamentary Friendship Group and as vice-president of Canada's Inter-Parliamentary Union, which fosters ties between parliaments.
The senator said she receives pleas each day from Afghans, including those who helped Canadian NGOs and are unable to get out.
She said one such woman was beaten up at the airport trying to flee with her children and is now "in hiding."
"On a daily basis I am getting cries for help," she said. "This woman MP I met said 'I fear for my safety. We have nothing, even our cars, everything has been taken away.'"
Ataullahjan sits in the Conservative caucus and is the first person of Pakistani origin to be appointed to the Senate. She speaks Pashto, which is widely spoken in Afghanistan, and is the daughter of a Pakistani senator and granddaughter of Bacha Khan, who led an independence movement from British rule. As a child, she used to holiday in Kabul and lived near the Afghan border.
She held the last official meeting of the Canada-Afghanistan Parliamentary Friendship Group via Zoom on July 29. The meeting heard reports of targeted killings of religious scholars, women, members of the LGBTQ community, artists and journalists.
In an interview with The Canadian Press, the senator said she fears for Afghan women, including those who were in positions of power.
"If you are a female you are in jeopardy. They (The Taliban) hate outspoken women," she said.
She said she is contacted every day by desperate Afghans via WhatsApp, phone, email and Zoom. But she said wifi is "sporadic" and it is becoming harder for them to stay in touch.
The senator expressed frustration with the lack of response from Canadian authorities when she has requested help for Afghans in peril to leave the country.
"When we have applied for people under threat, we haven't heard anything," she said.
The Liberal government has been repeatedly criticized for not acting quickly enough to save Afghans with ties to Canada. A special immigration program for those who helped Canada with its military mission in Afghanistan has been plagued by bureaucratic and technical problems.
Ataullahjan instigated a Parliamentary report in 2010 which recommended that plans be set out to support women in Afghanistan after Canada's combat mission ended.
The report by the Senate Committee on Human Rights did not anticipate the country being retaken by the Taliban.
This report by The Canadian Press was first published Sept. 3, 2021.
The Canadian Press
Opposition leader to meet with freedom convoy leaders in Ottawa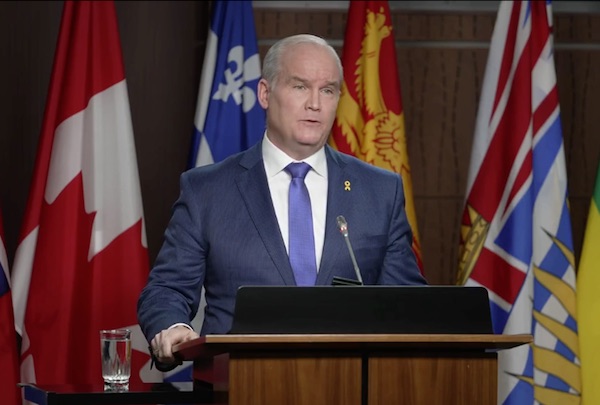 With a healthy Prime Minister Trudeau isolating due to covid protocol, Canada's Opposition leader Erin O'Toole says he's only too happy to meet with representatives of the Freedom Convoy. Thursday as O'Toole emerged from a caucus meeting about the results of the last election, he swept aside all questions from the media and made a statement about the Freedom Convoy headed to the nation's capital.
Saying he's never seen the county so divided, O'Toole blamed the Prime Minister for stoking the division by refusing to even speak to the Truckers. He went on to say the Conservatives have always opposed mandates, and that no Canadian should be losing their livelihood over their health decisions.
Crowd gathers north of Toronto to cheer on trucker convoy heading to Ottawa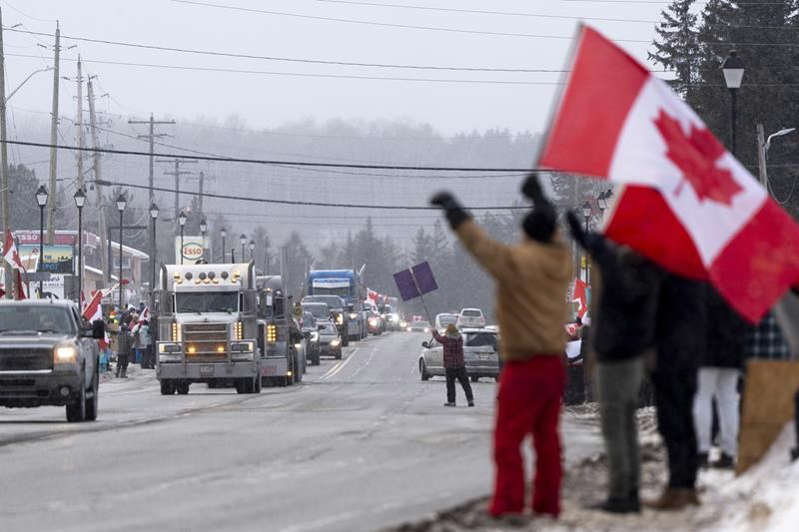 TORONTO — A large crowd gathered outside a mall north of Toronto on Thursday as a group of local truckers prepared to join a convoy to Ottawa in protest of the federal government's COVID-19 vaccine mandate for cross-border drivers.
Some in the crowd threw cash and food up to truckers in their vehicles at the Vaughan Mills mall while others hoisted Canadian flags and signs protesting the government as the truckers gradually rolled out.
Mike Fabinski, a truck driver from Barrie, Ont., said the vaccine mandate means he won't be able to work cross-border routes any more.
"You want to be vaccinated, go ahead, your choice. I don't want to be vaccinated, that's my choice," he said.
Fabinski said he's been a truck driver for 20 years but has not been able to travel to the U.S. since the federal mandate came to effect on Jan 15.
"I was going non-stop until they started last Saturday," he said. "Now I cannot go. I cannot work no more."
The federal government ended truckers' exemption to the vaccine mandate two weeks ago meaning Canadian truck drivers need to be fully vaccinated if they want to avoid a two-week quarantine when they cross into Canada from the U.S.
Some with extreme, far-right views have latched onto the protest against the mandate. One online video includes a man expressing hope the rally will turn into the Canadian equivalent of the Jan. 6, 2021, riot at the U.S. Capitol by supporters of former president Donald Trump.
On Thursday, some in the crowd that came out to support the truckers said they planned to join the convoy and make the trek to Ottawa as well.
Dean Brown said he supported peaceful protest intended by the convoy and rejected suggestions that it could lead to violence.
"The people who are in charge of this (convoy) are blocking people who are insisting or suggesting violence," the 57-year-old Toronto man said.
"It's all about peace. It's all about freedom. It's all about getting the Canadian way of life back. We are not here to turn it to violence."
Ontario Provincial Police were urging drivers to be patient as several groups of truckers planned to drive across the province to Ottawa before a so-called "freedom rally" on Parliament Hill planned for Saturday.
Police spokesman Sgt. Kerry Schmidt said drivers should prepare for delays on Toronto-area highways, including Highway 401, Highway 400 and the Queen Elizabeth Way.
Police in Ottawa have said they are planning for as many as 2,000 demonstrators, and while protest leaders have been co-operative, there are concerns that far-right extremist groups that have attached themselves to the convoy could spark violence.
The Canadian Trucking Alliance, which has denounced the convoy protest, estimates that roughly 15 per cent of truckers — up to 16,000 — are not fully vaccinated against COVID-19.
This report by The Canadian Press was first published Jan. 27, 2022.
Maan Alhmidi, The Canadian Press