Canadian Pacific Railway has big decision after KCS says CN has superior offer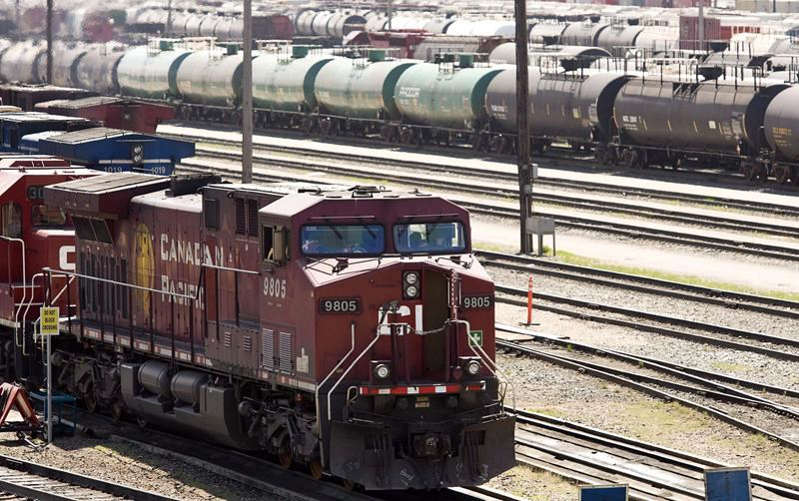 Canadian Pacific Railway Ltd. has a big decision to make after rival CN Rail amended its takeover bid to win favour from Kansas City Southern.
The Calgary-based railway has previously rejected suggestions that it needs to increase its bid to fend off its larger, Montreal-based rival. But that may be the path it needs to follow to regain the upper hand by having what's considered the superior proposal.
Alternatively, industry analysts suggest CP Rail could pocket the US$700 million break fee paid by CN Rail to KCS for terminating the CP purchase agreement.
Or it could hold tight and wait for a ruling from the U.S. railway regulator, the Surface Transportation Board, on CN's voting trust of KCS shares.
Kansas City Southern informed CP Rail Thursday evening that it was terminating their purchase agreement after CN presented a revised US$33.6-billion offer that increased the number of its shares available to KCS shareholders and agreed to cover the break fee.
CP Rail responded to the move by criticizing CN's offer and suggesting it will make a decision by May 21, the imposed deadline.
"There is nothing new here; this doesn't make it any more likely that the CN proposal can close into a voting trust," it said in a news release.
This report by The Canadian Press was first published May 14, 2021.
Companies in this story: (TSX:CNR, TSX:CP)
The Canadian Press
Canada's Caileigh Filmer and Hillary Janssens capture bronze in women's pair
TOKYO — Canada has its first rowing medal at the Tokyo Olympics.
Victoria's Caileigh Filmer and Hillary Janssens of Surrey, B.C., took bronze on Thursday in the women's pair with a time of six minutes 52.10 seconds.
The 2018 world champions finished behind the gold-medal winning duo of Grace Prendergast and Kerri Gowler of New Zealand (6:50.19) and the Russian Olympic Committee's Vasilisa Stepanova and Elena Oriabinskaia (6:51.45).
Conlin McCabe of Brockville, Ont., and Kai Langerfeld of North Vancouver, B.C., were the other Canadian rowers in a final Thursday, finishing fourth in the men's pair on the 2,000-metre course at Sea Forest Waterway.
Canada's women's eight will race for a gold Friday.
The country's rowers are looking to rebound after a disastrous showing at the 2016 Rio Games that saw the program secure just one medal.
The Canadians qualified 10 boats for Tokyo — the most since the 1996 Olympics in Atlanta — and have a gender-neutral team for the first time in their history.
This report by The Canadian Press was first published July 29, 2021.
___
Follow @JClipperton_CP on Twitter
This report by The Canadian Press was first published July 28, 2021.
The Canadian Press
ZZ Top: Bearded bassist Dusty Hill dies in his sleep at 72
HOUSTON (AP) — ZZ Top bassist Dusty Hill, one of the Texas blues rock trio's bearded figures, died at his Houston home, the band announced Wednesday. He was 72.
In their Facebook post, guitarist Billy Gibbons and drummer Frank Beard said Hill died in his sleep. They didn't give a cause of death, but a July 21 post on the band's website said Hill was "on a short detour back to Texas, to address a hip issue."
At that time, the band said its longtime guitar tech, Elwood Francis, would fill in on bass, slide guitar and harmonica.
Born Joe Michael Hill in Dallas, he, Gibbons and Beard formed ZZ Top in Houston in 1969. The band released its first album, titled "ZZ Top's First Album," in 1970. Three years later it scored its breakthrough hit, "La Grange," which is an ode to the Chicken Ranch, a notorious brothel outside of a Texas town by that name.
The band went on to chart the hits "Tush" in 1975, "Sharp Dressed Man," "Legs" and "Gimme All Your Lovin'" in 1983, and "Rough Boy" and "Sleeping Bag" in 1985.
The band's 1976 "Worldwide Texas Tour," with its iconic Texas-shaped stage festooned with cactuses, snakes and longhorn cattle, was one of the decade's most successful rock tours.
The band was inducted into the Rock and Roll Hall of Fame in 2004. Said Rolling Stones lead guitarist Keith Richards in introducing the band to the Hall: "These cats are steeped in the blues, so am I. These cats know their blues and they know how to dress it up. When I first saw them, I thought, 'I hope these guys are not on the run, because that disguise is not going to work.'"
That look — with all three members wearing dark sunglasses and the two frontmen sporting long, wispy beards — became so iconic as to be the subject of a New Yorker cartoon and a joke on "The Simpsons."
___
This story has been corrected to reflect that ZZ Top was formed in the late 1960s, not the late 1970s.
The Associated Press