Canadian men still chasing history in their final outing at the World Cup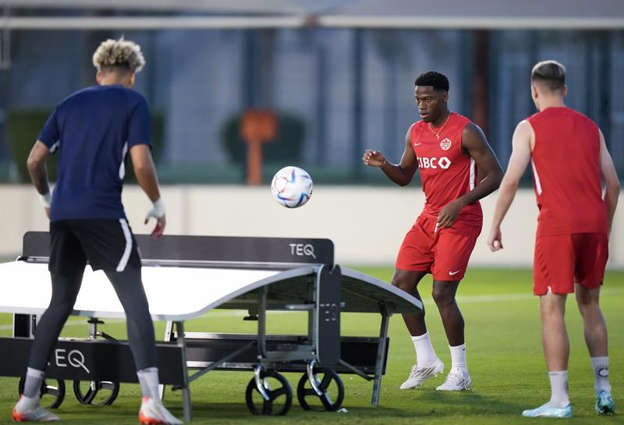 DOHA, Qatar — With one game remaining, Canada is still chasing history at the World Cup. But a motivated Morocco stands in its way of a first-ever positive result at the men's soccer showcase Thursday.
For coach John Herdman, the 41st-ranked Canadians ticked off one box in a "fearless" performance in their tournament opener, pushing No. 2 Belgium to the limit in a 1-0 loss. And Alphonso Davies' goal 68 seconds into the match against No. 12 Croatia ended Canada's scoring drought at the tournament, albeit in what turned out to be a 4-1 defeat.
Plenty of other targets remain in what will be the Canadians' last World Cup outing until 2026, when Canada co-hosts an expanded 48-team tournament.
Herdman listed them off Wednesday: first team to keep a clean sheet, first to get a result, first to get a win.
"We've missed out on the first team to advance from a World Cup group stage but we haven't been here for 36 years," Herdman told the pre-match news conference. "You play Belgium, Croatia. The first time you've played top, top teams in over a decade and it's on the world stage to get out of a group stage.
"We believe those goals are still achievable," he added.
On Tuesday, Herdman showed players and staff video of fans back home celebrating Davies' historic goal Sunday as the 22-year-old from Edmonton joined Helen Stoumbos in the Canada Soccer record book. Stoumbos scored Canada's first goal at the Women's World Cup, in the 87th minute of a 3-2 loss to England in June 1995.
For the Canada coach, the Davies goal is a moment to remember — and inspire.
"They got to see what we really came here for, which was to give Canada that moment," Herdman, referencing the celebrations back home, said of his players. "And to be proud, to be proud of moments like that. Because there's more to come."
Canada lost three straight and went home in its only other trip to the tournament, in Mexico in 1986.
"We made a big step here," said Herdman citing praise from Belgian assistant coach Thierry Henry after the opening match.
Herdman said Henry, a former star forward who went on to coach Montreal's MLS team, said the Belgians should have lost the match. The Canada coach also noted the sight of the Croatia players celebrating having beaten Canada.
"These are what we came (here) to do … to try and compete against the best in the world. And I think we put our best foot forward to compete," he said.
"We had great moments against Belgium and Croatia … football moments that our country can be proud of," he added.
Morocco, ranked 22nd in the world, can still extend its World Cup moment.
"Our players want to make history and they're going to give 110 per cent to ensure the Moroccan population is happy," Morocco coach Walid Regragui said through an interpreter.
He knows a draw at the 44,400-capacity Al Thumama Stadium will be enough to see Morocco finish runner-up in Group F, as will a Belgium loss to Croatia in the group's other final fixture, while a win could see it finish atop the pool.
"What we want is to actually be masters of our destiny without having to calculate, to rely on other squads' results," Regragui said.
The Moroccans currently sit second in the group, behind Croatia on goal difference with both teams at 1-0-1. Belgium is third on three points at 1-1-0 with Canada yet to register a point at 0-2-0.
After starting the tournament on a high, albeit in defeat, the Canadians look Thursday to reinforce the message that they belong on the world stage.
"Everybody wants to make history this last game," said Canadian midfielder Jonathan Osorio. "That's what we're focused on. We've had a good showing in the first two games. But I think in football people always remember the last game that you played the most and so we're looking forward to ending this tournament on a high."
Regragui called it a very difficult match against "a team with nothing to lose."
Regragui, who answered questions in French, Arabic and English, was treated like a rock star at the earlier Morocco news conference, signing T-shirts and posing for selfies.
But his feet clearly remain on the ground
"Everything's going well," he said. "Let's see if I'll still be a good coach (Thursday)."
The Atlas Lions look to repeat their success of 1986 when they became the first African side to reach the knockout round — losing 1-0 to eventual runner-up West Germany after topping a group that included England, Poland and Portugal.
Morocco failed to advance four years ago in Russia, losing to Iran and Portugal and tying Spain.
Morocco opened its campaign here by drawing Croatia 0-0 before upsetting Belgium 2-0 for just its third win in 18 career games (3-9-6) at the World Cup.
Thursday marks Canada's first-ever World Cup match against a non-European team.
Herdman said he had one injury concern in the midfield, without identifying the player. Stephen Eustaquio had to leave the Croatia game at halftime due to a hamstring injury he has been carrying.
—
Follow @NeilMDavidson on Twitter
This report by The Canadian Press was first published Nov. 30, 2022
Neil Davidson, The Canadian Press
Mendicino: foreign-agent registry would need equity lens, could be part of 'tool box'
By Dylan Robertson in Ottawa
Public Safety Minister Marco Mendicino says a registry to track foreign agents operating in Canada can only be implemented in lockstep with diverse communities.
"There is a historical context when it comes to some communities within this country and their relationship with [security] agencies and the law-enforcement community," Mendicino told the House committee on Canada-China relations Monday evening.
"We need agencies to be inclusive, diverse, culturally sensitive."
Two months ago, the Liberals said they will eventually consult the public on the possible creation of a foreign agent registry, to prevent outside interference in Canadian affairs.
But the government has yet to formally launch that consultation.
The United States and Australia have public registries that require people advocating for a foreign state to register their activities, under penalty of fines or jail time.
Mendicino told the committee that Ottawa has to be careful to not isolate communities who have felt under the microscope of security agencies. He also told reporters after his testimony that Ottawa is taking the idea to its own advisory panels before soliciting public input.
"I wouldn't describe it as a hesitation; I think we need to be diligent and thoughtful and inclusive, when it comes to bringing all Canadians along in the modernization of the tools and the arsenal that we create for our national security and intelligence communities," he told the committee.
Mendicino also told MPs a foreign agent registry alone would not drastically alter Canada's ability to detect and confront national-security threats, and would only be launched as part of "a tool box" of other measures.
"While there is attention to looking at each of the examples of tools we might consult on, including the foreign-agent registry, I would discourage the members of this committee from quickly concluding that any one of these in isolation will work by itself," he said.
Conservative public-safety critic Raquel Dancho accused the Liberals of stalling on launching a registry.
"Anything that is stopping it would just be an excuse at this point. I think any government that's operating through legitimate diplomatic relations in Canada should welcome an official registry," she said in an interview between witness testimony.
"That should be sort of the cost of doing business in Canada through diplomatic relations."
Mendicino appeared at the committee based on a request last October from MPs to have senior officials testify on three allegedly illegal police stations operating in the Greater Toronto Area.
Since then, advocates for Chinese democracy have alleged China is running two other police stations in Canada, including one in Vancouver.
RCMP Commissioner Brenda Lucki told MPs that Mounties are only aware of four alleged police stations and that officers have attended the scene in uniforms to gather information and be seen.
She believes that has yielded tips from the public, and noted that at least one of the apparent police stations seemed to have operated in the backroom of a commercial business.
Lucki noted that no one has been charged in connection with these so-called police stations, and suggested the public would be informed if that was the case.
Similarly, Mendicino said the public would be made aware if any diplomats had been ordered to leave Canada in relation to the issue.
Yet NDP foreign-affairs critic Heather McPherson questioned how police are handling tips from communities who allege they're being targeted by foreign countries.
The Edmonton MP said constituents who are Uyghur or originating from Hong Kong have reported being passed between the RCMP, local police and an RCMP-run hotline, and that local police seem unaware how to handle the reports.
"We're hearing a very different story form people who are living in these communities," McPherson said.
More officials will testify Monday night from the Canadian Security Intelligence Service, the RCMP and Public Safety Canada.
The evening meeting follows the appearance of a Chinese balloon that drifted over Canadian territory before it was spotted over the skies of Montana, leading opposition parties to ask why Ottawa didn't alert Canadians earlier.
Last November, the federal Liberals unveiled their Indo-Pacific strategy, which calls for stronger ties with countries other than China to counterbalance Beijing's approach to human rights and trade.
This report by The Canadian Press was first published Feb. 6, 2023.
McKinsey doesn't meet criteria for banning company from federal contracts: bureaucrat
By Nojoud Al Mallees in Ottawa
The deputy minister of Public Services and Procurement Canada says the federal government's ethics rules do not disqualify consulting firm McKinsey & Company from doing business with the federal government despite scrutiny of the firm's global track record.
Paul Thompson answered questions about the firm's government contracts at a House of Commons committee Monday.
He said a Canadian company would be barred from federal contracts if one of its affiliates has been convicted of a crime, which is not the case for McKinsey.
The company has faced scrutiny for its work around the world, including its alleged involvement in the opioid crisis in the U.S. and its work with authoritarian governments.
The House of Commons government operations committee is digging into contracts awarded to McKinsey since 2011 following media reports showing a rapid increase in the company's federal contracts under Prime Minister Justin Trudeau's Liberal government.
The government says McKinsey has received at least $116.8 million in federal contracts since 2015.
At a news conference Monday, Conservative MP Garnett Genuis said the federal government shouldn't be contracting with McKinsey. "We cannot work with a company that's behaving in the way McKinsey has."
This report by The Canadian Press was first published Feb. 6, 2023.