Canadian brothers make like Mounties on "once-in-a-lifetime' trip to World Cup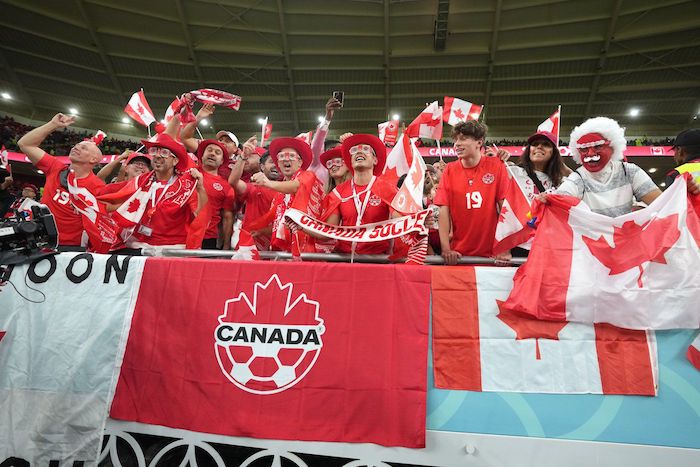 By Neil Davidson in Doha
The Mounties are at the World Cup, thanks to Canadians Geoff, Graham and Stephen Rawlinson.
The trio, making their first brothers' trip in more than 10 years, range in age from 48 to 56. Geoff and Graham are from Toronto, while Stephen calls Edmonton home.
They got their tickets some six months ago via the FIFA portal lottery, with Graham in charge of the logistics. That included assembling facsimile Mountie costumes for the "once-in-a-lifetime trip."
In real life, the brothers are a banker, lawyer and in the oil and gas business.
"We actually put the (basic) trip together in about 10 days … but it's been taking us four or five months to put everything else together," said Geoff.
Once they got match tickets, booking accommodations came next in the form of an apartment through the tournament organizers. Their Doha digs are costing close to $10,000 for two weeks, although the three came up with different cost estimates when asked.
"Is my wife going to read this?" one of the brothers asked with a laugh.
They splurged on a direct flight, paying some $3,100 each, and are taking in nine games over 13 days.
They say they have several other Canadian-themed costumes, including Toronto Maple Leaf gear.
And while the advance logistics were somewhat complicated, the brothers report things have been "seamless" since their arrival in Qatar.
And the fun quotient is high. They are already thinking of the next brothers' trip.
—
Follow @NeilMDavidson on Twitter
This report by The Canadian Press was first published Nov. 25, 2022.
CP NewsAlert: Liberals withdraw controversial amendment to guns bill
OTTAWA — The federal Liberals are withdrawing a controversial amendment to their guns bill that would have added many popular hunting rifles and shotguns to a list of prohibited firearms in Canada.
The amendment has caused an outcry in many parts of rural Canada, and the Liberals have been under pressure from many of their own MPs to change or withdraw the new definition of weapons being banned.
More coming.
The Canadian Press
Quebec says only people at risk who haven't had COVID-19 should get booster dose
Only people who are considered at risk for severe COVID-19 — and who haven't already been infected — need to get a booster dose, Quebec's public health director said Thursday.
The vast majority of Quebecers have hybrid immunity — protection through vaccination and through a SARS-CoV-2 infection — making regular boosters unnecessary, at least for this winter and spring, Dr. Luc Boileau told reporters.
"People with hybrid immunity … have a very good protection against a severe form of the illness," Boileau said. "And this immunity lasts for a long enough time that we can propose changes."
Those who have been vaccinated but haven't contracted the virus are also protected against severe COVID-19, he said, but their immunity "has a tendency to drop with time."
Quebec's vaccination committee decided to focus the province's immunization policy on preventing hospitalizations and deaths, he said. People who are 60 and older or who have chronic illnesses, health workers, pregnant women and those who live in isolated regions are among the people who should get a booster every six months — but only if they have never caught the virus, Boileau said.
Dr. Caroline Quach-Thanh, chairperson of Quebec immunization committee, said the data shows that people already vaccinated for COVID-19 who have contracted the virus "maintain their protection."
"Adding a dose doesn't add a lot protection for severe (illness)," she said.
Health officials estimate that more than three-quarters of Quebecers under 60 have had COVID-19 over the past three years, while about half of those over 60 have caught the virus.
Boileau said only people who are immunocompromised should continue getting boosters even if they've been infected, "because their immunity could be affected by their condition."
Before Thursday's announcement, boosters were recommended for all people considered at risk of severe COVID-19. Boileau said COVID-19 vaccines will remain available to anyone who wants one. "We won't refuse anyone," he said.
This report by The Canadian Press was first published Feb. 2, 2023.