Canada's PM Trudeau in Brussels for NATO meeting, then Canada-EU summit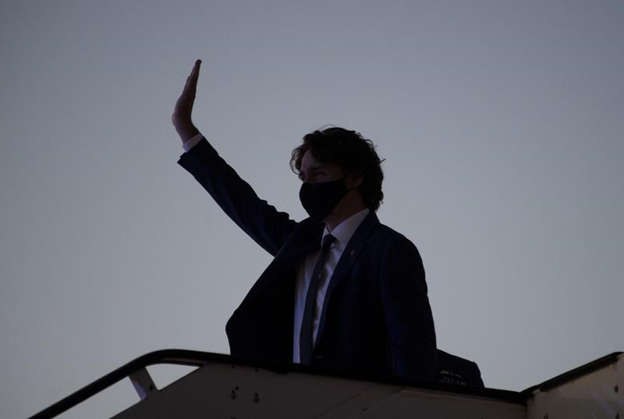 BRUSSELS — Prime Minister Justin Trudeau is in Brussels today for a meeting of the North Atlantic Treaty Organization and then a Canada-EU summit.
Trudeau began his day by meeting with the president of Latvia, where the Canadian military is leading a NATO alliance battlegroup whose mission is to deter Russian aggression in the region.
The prime minister then sat down with NATO Secretary General Jens Stoltenberg in a room in front of a photo of the NATO building and Canadian and U.N. flags.
Stoltenberg said NATO is entering a new chapter and Canada has always been a defender of the North American alliance with Europe.
He thanked Canada for its participation in NATO missions in Latvia and for deciding to have a "centre of excellence" for climate change, which he noted is an issue that affects security.
Trudeau also spoke briefly, saying it's been an "interesting" few years for NATO, and that the alliance is more united than ever, which is important at this crucial time in history.
He said nations need to stand together to fight crises from COVID to climate change, which is why Canada has stepped up to offer a "centre for excellence."
Trudeau said there's been a geopolitical shift, with the world now seeing a general rise in authoritarianism, including from China.
He said NATO allies need to demonstrate there is an alternative to what he called the "strong arm" tactics that countries like China are taking.
He also noted that Russia has been worse now in its engagement with NATO nations and more disruptive than it's been in decades.
While he said that should concern everyone, he added that NATO continues to stand strong against Russian interference.
Trudeau said the NATO summit provides an opportunity to not just reaffirm commitment to "nice and strong principles," but talk about how to deliver them.
Meanwhile, a lot of eyes will be on U.S. President Joe Biden and how he plans to renew a relationship between his country and the military alliance.
His predecessor, Donald Trump, had called NATO "obsolete."
Experts say there will be a focus on tackling cybersecurity and information warfare, as well as how to handle challenges presented by Russia and more recently China.
Trudeau will later take part in a summit with European leaders Charles Michel and Ursula von der Leyen, where they are expected to talk about the COVID-19 pandemic, climate change and the trade agreement between Canada and the European Union.
This report by The Canadian Press was first published June 14, 2021.
The Canadian Press
Canada's Jessica Klimkait wins bronze in under-57 kg judo event
TOKYO — Canada's Jessica Klimkait has won bronze in the women's under-57 kilogram category at the Tokyo Olympics.
The reigning world champion from Whitby, Ont., defeated Kaja Kajzer of Slovenia by waza-ari in a bronze-medal match.
Klimkait missed a chance to add a gold medal to her world championship title when she lost to Sarah Leonie Cysique of France in the semifinals.
Klimkait was defeated by ippon when she was assessed a shido in the golden score period for a false attack. It was Klimkait's third penalty of the bout, giving Cysique a berth on the gold-medal match.
Klimkait was in fine form before her semifinal loss. She defeated Poland's Julia Kowalczyk in their quarterfinal bout at the Nippon Budokan.
The victory, her second straight via ippon, came after she beat Bulgaria's Ivelina Ilieva in the round of 16 earlier in the day
This report by The Canadian Press was first published July 26, 2021.
The Canadian Press
Mac Neil finishes first in women's 100 butterfly to capture Canada's first gold medal
TOKYO — Swimmer Margaret Mac Neil has won Canada's first gold medal of the 2020 Tokyo Olympics.
Mac Neil was seventh at the halfway point of the women's 100-metre butterfly, but swam a strong second length to win in a time of 55.59 seconds.
Zhang Yufei of China was second and Emma McKeon of Australia finished third.
Mac Neil became Canada's first multi-medallist in Tokyo following a silver medal in the women's 4×100 freestyle relay in the first day of finals.
The 21-year-old from London, Ont., was a surprise winner of the 100-metre butterfly at the 2019 world championship in Gwangju, South Korea, where she bested reigning Olympic champion Sarah Sjoestroem of Sweden.
Mac Neil, a senior at the University of Michigan, is also a two-time NCAA champion in freestyle and butterfly. 
She'd posted the sixth-fastest semifinal time in the 100-metre butterfly an hour before swimming the second leg of the relay in Tokyo.
This report by The Canadian Press was first published July 25, 2021.
The Canadian Press