Canada's low-cost airlines expand services, announces Flair and Lynx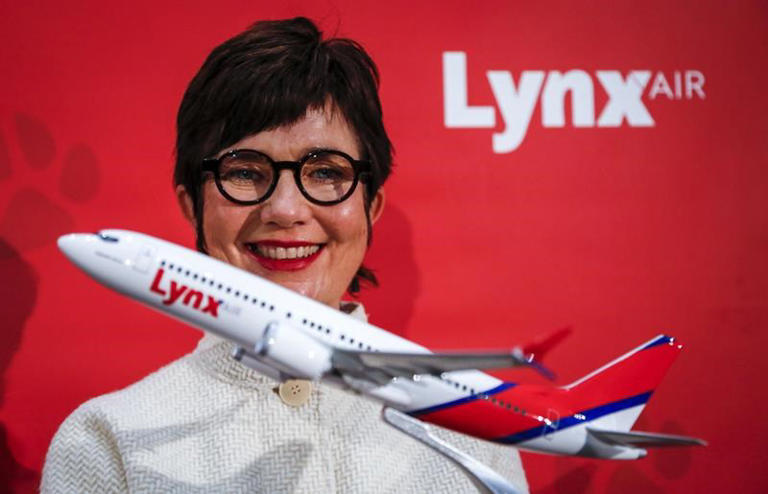 Announcements from two of Canada's largest low-cost carriers propose expansion in the budget leisure market.
Flair Airlines chief executive officer Stephen Jones announced a deepening of focus to current routes with daily frequency increases to locations including Calgary, Toronto, Montreal and Vancouver.
The Edmonton-based airline said it plans to expand its fleet to 30 aircraft, up from 20, by the end of next year, with planned service to 70 routes and is a step toward Flair's five-year plan to reach 50 aircraft.
Calgary-based Lynx Air also announced plans for expansion in 2023 as the airline will begin offering flights to the U.S. market starting early next year.
The U.S. routes will include year-round flights from Toronto to Orlando, Fla., Calgary to Phoenix, Calgary to Los Angeles, and Calgary to Las Vegas, said Lynx chief executive officer Merren McArthur.
"We know that Canadians love to chase the sun in the winter and we want to give them an ultra-affordable option with Lynx," said McArthur.
More domestic destinations are anticipated to be added to Lynx's flight offerings said McArthur as the airline hopes to one day be Canada's No. 1 low-cost carrier.
For now however, McArthur said that Lynx is "not really here to take market shares from our competitors, but really to grow the market and empower more Canadians to travel and fly."
Flair also proposed more flights to sun destinations Wednesday, as Jones announced they would be extending the number of flights to Mexican destinations, including Cancun, Cabo San Lucas and Puerto Vallarta.
Flair plans to be Canada's third largest domestic airline by next summer, said spokesman Mike Arnot.
This report by The Canadian Press was first published Sept, 28, 2022.
Caitlin Yardley, The Canadian Press
Smith says despite difficulty with Ottawa, Alberta has allies in Trudeau cabinet
Alberta Premier Danielle Smith speaks to business leaders at the Global Business Forum in Banff, Alta., Friday, Sept. 22, 2023. Smith told the conference that despite her concerns with the federal Liberal government there was some cabinet ministers she can work with. THE CANADIAN PRESS/Jeff McIntosh
By Bill Graveland in Banff
Alberta Premier Danielle Smith told a business conference on Friday that despite her concerns with the federal Liberal government, there are some cabinet ministers she can work with.
Smith has been at odds with federal Environment Minister Steven Guilbeault and Natural Resources Minister Jonathan Wilkinson amid concerns over Ottawa's climate-change policies and transition plan for a net-zero emissions economy.
Guilbeault intends to publish draft regulations this fall to cap emissions from oil and gas, then force them downward overtime. Ottawa has also set a target to have the electricity grid be net-zero by 2035, but Alberta says it's unrealistic.
Smith says Alberta won't implement the emissions cap, nor will it follow the 2035 target.
The premier told delegates at the Global Business Forum in Banff, Alta., that Wilkinson needs to answer for comments he made earlier this week at the World Petroleum Congress in Calgary.
Wilkinson's call for the industry to work aggressively to get to net-zero was basically telling them to "pack it up, because the oil and gas industry is winding down," said Smith.
"You could just feel the energy leave the room and you could just feel the investment dollars leave the room."
Smith said energy producing provinces such as Alberta, Saskatchewan and Newfoundland and Labrador, can't trust the Trudeau government to look out for their interests at international conferences.
"After hearing how the natural resources minister talks about our industry, after hearing how the federal environment minister talks about our industry, we can't afford to let them carry our message," Smith said.
"We can't afford not to be there."
Smith said she has been in discussions with Saskatchewan Premier Scott Moe and intends to talk to Newfoundland and Labrador Premier Andrew Furey about joint presentations at conferences in the future.
Despite her disappointment with Wilkinson and Guilbeault, Smith said it's not all bad.
Finance Minister Chrystia Freeland among the top allies, she said.
"Let's give her credit for shepherding through all of the constant need to give more debt financing to Trans Mountain pipeline to get that to the finish line. That has not been easy," Smith said.
She also praised Innovation Minister Francois-Philippe Champagne, Public Safety Minister Dominic LeBlanc, Labour Minister Seamus O'Regan and Employment Minister Randy Boissonnault.
"I would say it's not uniformly negative in the Liberal caucus. But for some reason they're allowing Stephen Guilbeault to be a maverick and a renegade and quite offensive to those of who are trying to be reasonable and adult about this," Smith said.
Smith said it's time for the federal government to back away from setting "aggressive targets" in dealing with the provinces.
"Aggressive targets are not helpful. They're not helpful to us. They're not helpful to investors."
This report by The Canadian Press was first published Sept. 22, 2023.
Amazon Prime Video will soon come with ads, or a $2.99 monthly charge to dodge them
Amazon's Prime Video streaming app on an iPad is seen in Baltimore on March 19, 2018. Amazon says that it will now start charging $2.99 per month in order for users in the U.S. to watch Prime Video ad free. (AP Photo/Patrick Semansky, File)
By Michelle Chapman in Seattle
Amazon Prime Video will include advertising during shows and movies starting early next year, joining other streaming services that have added different tiers of subscriptions.
Members of Amazon Prime can pay $2.99 per month in the U.S. to keep their service ad-free, the company said Friday.
Streaming services are in a heated tug-of-war over viewers and users are growing more adept at jumping in and out of those services, often depending on price. The platforms risk losing customers with price hikes, but they could lose them if they don't generate new content that wins over users.
Disney will begin charging $13.99 a month in the U.S. for ad-free Disney+ in mid-October, 75% more than the ad-supported service. Netflix already charges $15.49 per month for its ad-free plan, more than twice the monthly subscription for Netflix with ads.
Amazon said limited advertisements will be aired during shows and movies starting early next year so that it can "continue investing in compelling content and keep increasing that investment over a long period of time."
Live events on Amazon Prime, like sports, already include advertising.
Ads in Prime Video content will start in the U.S., U.K., Germany, and Canada in early 2024, followed by France, Italy, Spain, Mexico, and Australia later in the year.
Amazon said that it's not making changes to the price of Prime membership next year. It plans to announce pricing for ad-free programming for countries other than the U.S. at a later time.
For U.S. users, Amazon said it will send out an email to Prime members several weeks before ads are introduced into its programs with information on how to sign up for the ad-free option if they choose to do so.
Amazon's Prime Video is part of a much bigger slate of perks that come with Amazon Prime membership. Members also get free shipping for goods bought on Amazon.com, groceries, online music and more.
In June Amazon was accused by the Federal Trade Commission for allegedly engaging in a yearslong effort to enroll consumers without consent into Amazon Prime and making it difficult for them to cancel their subscriptions. An Amazon spokesperson said at the time that the FTC's claims were false.