Canada to unveil travel rules for fully vaccinated citizens, permanent residents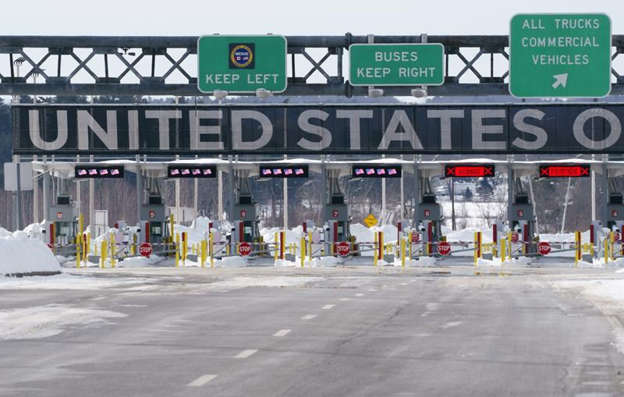 OTTAWA — Canada is set to detail what quarantine rules citizens and permanent residents who are fully vaccinated against COVID-19 will soon have to follow when entering the country.
Public Safety and Emergency Preparedness Minister Bill Blair said last week that "measures" would be announced today that will apply to immunized Canadians, as well as foreign nationals who are permitted entry.
Currently, those without citizenship or resident status can enter the country only if their travel is related to work, school or other essential business, but not for leisure.
As more Canadians get inoculated against COVID-19 and summer weather has people itching to take some long-awaited trips, pressure is building for the Liberal government to begin relaxing some of its border and quarantine rules.
Over the weekend the country hit an important target of having 75 per cent of its eligible population receive one dose and 20 per cent get two, providing the latter group with full protection against COVID-19.
These were benchmarks Prime Minister Justin Trudeau and top health officials said needed to be met to safely relax pandemic-related health measures.
Those hoping to see some loosening this month were disappointed on Friday when the Liberal government announced its restrictions on non-essential international travel would remain in place at the Canada-U.S. border until July 21.
In the lead up to Monday's announcement, the federal government spent the past week teasing at some of the travel changes it considered making for vaccinated Canadians and permanent residents.
Health Minister Patty Hajdu has said that starting in early July, the government looked to exempt fully vaccinated travellers from having to pay for a three-night stay at a government-approved hotel.
The sites are where Canadians entering the country by air, regardless of their vaccination status, must currently begin a 14-day quarantine while awaiting a negative result from a COVID-19 test required upon arrival.
Among the Canadians who recently went through the process was Trudeau himself, who's currently in quarantine after spending five days in Europe attending international meetings with G7 and NATO leaders.
The prime minister said that in terms of being able to show border security some proof of vaccination, the country would rely on Canadians uploading images of their records to its ArriveCAN app, which is where returning travellers already have to share where they will stay for their 14 days of quarantine.
Both he and Hajdu say the country's border rules would be relaxed in phases.
In particular, Hajdu has said the government intends those who are fully vaccinated to still be tested for COVID-19 before leaving for Canada and again on their return, where they would also need a plan for where to quarantine while awaiting a negative result.
An expert panel comprised mainly of doctors that studied Canada's COVID-19 border measures recently recommended the government scrap hotel quarantines altogether for fully vaccinated travellers, provided they test negative for the virus and have proof they have been inoculated.
As for those with one dose, the doctors suggested travellers quarantine at home until receiving their negative COVID-19 test after having a swab done before departure.
And for those who haven't been vaccinated at all, the panel said they should be allowed to leave quarantine if they test negative before departure, upon arrival and seven days into the full two-week self-isolation period.
This report by The Canadian Press was first published June 21, 2021
Stephanie Taylor, The Canadian Press
'Learn to live with this:' Humboldt focuses on future five years after bus crash
The Humboldt Broncos take on the Nipawin Hawks in the first round of Saskatchewan Junior Hockey League playoffs at the Elgar Petersen Arena in Humboldt, Sask., on Friday, March 17, 2023. Banners in the arena represent the people who were in the deadly Humboldt bus crash in 2018. THE CANADIAN PRESS/Liam Richards
By Kelly Geraldine Malone in Humboldt, Sask.
Kevin Garinger says it feels like the passage of time is inexplicable. The five years since a deadly bus crash changed his city, his hockey team and his life sometimes feel like a lifetime. Other times it feels like yesterday.
"I don't know if anyone ever heals from significant loss or tragedy," Garinger says after a moment of deep thought in his Humboldt, Sask., office.
"You eventually just learn to live with this."
Garinger was the president of the Humboldt Broncos when 16 people died and 13 were injured after a transport truck went through a stop sign and into the path of a bus carrying the Saskatchewan junior hockey team on April 6, 2018.
The CEO of the Horizon School Division, whose term at the helm of the hockey team has ended, was unexpectedly thrust into an international spotlight after the crash. So was his community and team.
Now, Garinger says, the intense focus has faded but the small Saskatchewan city east of Saskatoon is still figuring out how to exist within that legacy.
At first, he says, kids couldn't make sense of what happened and some were even afraid to get on buses. A few families moved away. As months turned to years, the grief seemed less immediate, Garinger says, less debilitating.
"You learn to live with a hole in your heart that never heals."
Humboldt is a hockey town.
The city has a population of just over 6,000, but the Broncos average 1,000 fans in the stands at the Elgar Petersen Arena each home game.
"Back in the day, when I was younger than I am now, you hung out at the rink," said Rob Muench, a city councillor who was mayor at the time of the crash.
"We grew up playing hockey and we grew up watching the hockey teams playing."
The Broncos were first established in 1970, and a team photo from the following year shows 20 players and four coaches wearing white and green jerseys. Each following year, most of the faces in the team photo change, as do haircuts and moustaches.
But each picture shows a group of young hockey players with big dreams.
The Humboldt Broncos' current roster of young players have no direct connection to the team from five years ago. The youngest players were in Grade 6 when it happened.
They are in the midst of an exciting playoff run after beating out the Nipawin Hawks in the first round. In the initial matchup against the Hawks — a longtime Humboldt rival and the first team they played following the crash — the Broncos quickly scored two goals and fans roared with applause. The Broncos won 5-1.
That same rink was a place of mourning five years ago as thousands of people came together and heard the team's chaplain struggle to describe "the valley of darkness" he saw at the crash site.
Now, the ice once again sees a group of young men full of dreams wearing green and gold jerseys.
"I think it's an honour for those kids to put on that Humboldt Broncos jersey," says head coach and general manager Scott Barney.
Barney joined the team as assistant coach in the year after the crash. Before coaching, he played 19 years of professional hockey, including 27 games in the National Hockey League.
"Anybody who has played junior hockey has been on buses before and I travelled millions of hours on there," Barney says.
They may not talk about the 2018 team every day, but there is evidence of it throughout the arena. There are 29 banners that represent each person on the bus and a memorial with the 2018 team photo behind glass. The numbers of all the players have also been retired.
"We play for them every day," Barney says.
The end goal for any team is to win the championship, Barney says, but it would mean even more this year. They have a good group, he says, a mix between younger and experienced players.
He adds Humboldt's support and strength over the last five years has allowed the team to return, to build and to grow.
"Without the community, we wouldn't be a team," he says.
Broncos players have changed many times in the years since the crash, so have the team's board members.
"The one connection from then until now is the fan base," Muench says.
At the recent game, the stands were a sea of Broncos shirts, hats and toques. These seats are where the memory of the tragedy is more pronounced, especially with season ticket holders who the team says have continued to come out in droves.
Carol Brons was sitting in the top row watching the team her 24-year-old daughter, Dayna Brons, loved so much. Dayna Brons was the team's athletic therapist when she was killed in the crash.
The team and the town are looking to focus on positive things that have been created after the catastrophe.
Green Shirt Day honours defenceman Logan Boulet and encourages organ donation. Northern Lights Movement for Kids was created by the family of Jacob Leicht to help bridge gaps between Indigenous and non-Indigenous kids. The Adam Herold Legacy Foundation helps Saskatchewan youth develop hockey and leadership skills. Many other funds were started to honour the players.
The crash also inspired the creation of Hockey Gives Blood, as well as numerous scholarships and bursaries.
An entire floor at the city's museum is dedicated to a rotating exhibit of the tens of thousands of items received from around the world after the crash.
More than 210 kilometres northeast of Humboldt on the side of a highway there are a cluster of crosses with the names of each person who died in the crash. The Humboldt Broncos Memorial Committee intends to create a permanent roadside memorial there.
Across from the crosses, at the intersection of Highway 35 and Highway 335, is a new gigantic stop sign.
Back in Humboldt, Garinger's office is also still filled with Broncos memorabilia, but he finds it difficult to sit down and just enjoy a hockey game these days. Individuals will be at varying places, he says, but as time marches on, the community is moving forward.
"There's no real road map for how to deal with this."
This report by The Canadian Press was first published March 31, 2023.
Freeland says drop in foreign-aid spending is not a cut, Ukraine fight is pivotal
Deputy Prime Minister and Minister of Finance, Chrystia Freeland, speaks during a news conference at Powertech Labs, in Surrey, B.C., on Thursday, March 30, 2023. Freeland insists the government's projected $1.3-billion drop in foreign aid spending does not amount to a cut. THE CANADIAN PRESS/Darryl Dyck
By Dylan Robertson in Ottawa
Finance Minister Chrystia Freeland insists the government's projected $1.3-billion drop in foreign aid spending does not amount to a cut.
The Liberal budget released this week projects that Ottawa will spend nearly $6.9 billion for international development in the coming fiscal year, which is a 16 per cent drop from last year's allocation.
That's despite Prime Minister Justin Trudeau tasking International Development Minister Harjit Sajjan to increase aid spending every year.
The Liberals had delivered a historic boost in aid in response to the COVID-19 pandemic and the war in Ukraine.
Asked about criticism from the aid sector about the cut, Freeland said she "wouldn't characterize it that way."
She stressed that Canada is allocating $2.4 billion in direct financial aid to Ukraine, and called that country's fight the world's most important struggle.
The Liberals have also allocated funding for infrastructure projects in developing countries in the Indo-Pacific region, arguing that these countries want investment more than aid.
Representatives of Canada's aid sector have said they will need to end projects abroad due to the lower-than-hoped funding projected in the Liberals' budget last week, and they're particularly concerned about whether aid dollars are being diverted from Africa to Ukraine.
Freeland told reporters Thursday at a press conference in Surrey, B.C., that Ukraine's fight is crucial to Canada's interests.
"The fight that is happening in Ukraine today is the single most important battle in the world between democracy and dictatorship," she said, while defending her government's record.
"I believe that Canada has a responsibility to be strong and active around the world," she added.
"We're making a very big difference. Canada is the eighth-largest foreign-aid donor (in the world). That is a big deal."
Last October, Freeland was criticized for her response to an African aid expert who said that the West diverting dollars to Ukraine leaves the continent relying more on Russia's support, an idea she rejected.
"A democracy can only be defended by people themselves if they're actually prepared to die for their democracy," she said.
In a later apology for those remarks, she said she was sorry if people found the comments insensitive, adding: "If a white western person has offended someone, the first answer is to say, 'I really didn't mean to offend you.'"
At the time, Freeland said the western world needs to recognize that Africa's current problems stem from colonization.
"These are challenges that have been imposed from the outside. And I think that means we have a high level of responsibility."
This report by The Canadian Press was first published March 31, 2023.