Canada outlasts Swedish goalie in 3-0 women's world hockey quarterfinal win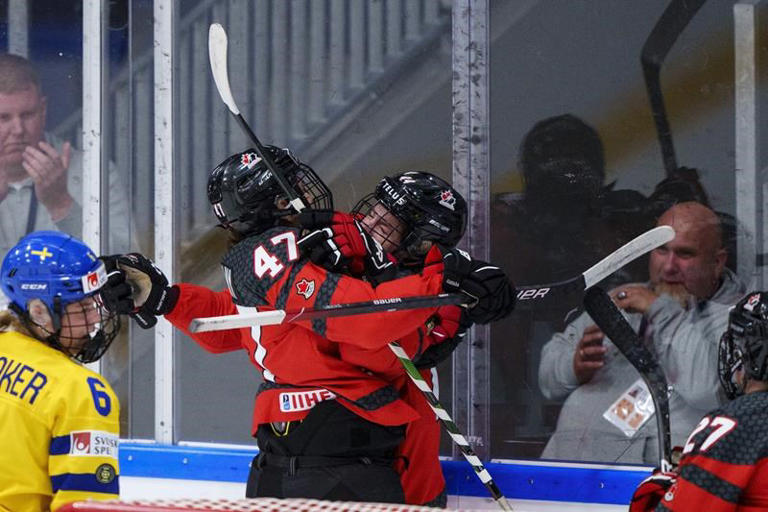 HERNING, DENMARK — Canada outlasted a tenacious goaltender to take another step toward defending its women's world hockey title.
Sarah Potomak's highlight-reel goal in the second period and her assist on Erin Ambrose's third-period goal helped seal a 3-0 quarterfinal win Thursday over Sweden.
Veteran defender Jocelyne Larocque scored her first world championship goal in her 10th appearance in the tournament, while goaltender Ann-Renée Desbiens posted a nine-save shutout.
Emma Soderberg, who tends the University of Minnesota-Duluth Bulldogs' net, was a workhorse in Sweden's net with 54 saves.
"It was a test of our patience, but also a test of our discipline," Canadian assistant captain Blayre Turnbull said. "It's really easy in games like that to become very individual and try to solve the problem by yourself and stray away from our team systems.
"I'm really proud of our group that we stuck to our game plan despite not having the offensive success that we wanted to have."
Canada meets beleaguered Switzerland in a semifinal Saturday with the victor advancing to Sunday's gold-medal game in Herning, Denmark.
Minus captain Lara Stalder and top scorer Alina Mueller because of COVID-19, as well as two other injured players, the Swiss eked a 2-1 shootout win out over Japan in their quarterfinal.
Czechia, coached by former Canadian defender Carla MacLeod, posted the upset of the tournament so far and reached the semifinals for the first time with a 2-1 overtime win over Finland.
The U.S. had an easier time in their 12-1 quarterfinal win over Hungary to face the Czechs on Saturday.
American forward Hilary Knight's goal and assist to get to 87 career world championship points surpassed Canada's Hayley Wickenheiser for the all-time record.
Canada and Sweden met in a world championship game for the first time since 2009, although the Canadians beat the Swedes 11-0 in an Olympic quarterfinal in February.
Soderberg gave up nine goals over two periods in Beijing before she was pulled, but she gobbled up the puck Thursday.
"I think we came out a lot stronger. I feel like I came out better than I did in Beijing too," Soderberg said. "We didn't let them do whatever they wanted.
"I was able to stay a lot calmer. I think I wanted to do a little bit too much in the Canada game in Beijing. That kind of punished me and us."
Sweden, the 2006 Olympic silver medallist, was relegated in the 2019 world championship.
The national team then boycotted international competition in protest over compensation and other competitive issues. The dispute with Sweden's federation was resolved later that year.
The COVID-19 pandemic eliminated second-tier world championships for Sweden to gain promotion, but the world No. 8 replaced Russia in this year's 10-country tournament.
The International Ice Hockey Federation has barred Russia from tournaments because of that country's invasion of Ukraine.
"We got here under bad circumstances of course, but we hadn't had the opportunity to qualify for the top-tier world yet," Soderberg said.
"This is where we want to be. This is where our program should be. How we're playing in this tournament is a big step forward."
Canada generated sustained pressure in Sweden's end for long stretches of the first and second periods, but Soderberg helped limit the Canadians to a 2-0 lead after 40 minutes.
"She a phenomenal goalie. She moves really well," Larocque said. "She made some huge saves. It was a test for us to stick to the game plan and do the little things right. I think it's good. We had to play some really good hockey and keep pressure on them.
"We'll be able to take a lot from, I'd say, the second half of the that game moving to the semis."
Canadian head coach Troy Ryan continued his line juggling from the previous day's practice, most notably shifting Victoria Bach into a trio alongside Marie-Philip Poulin and Brianne Jenner, and Sarah Nurse getting ice time with Sarah Fillier and Emily Clark.
"I don't think there are any natural fits," Ryan observed. "It's not like we loved any of the changes. We told them when we made those changes that we'll keep changing and trying to find something that fits, until there's no more games to be honest."
Ambrose threaded a shot from the point over Soderberg's shoulder at 13:10 of the third period.
Three power-play chances in the first 10 minutes of the second didn't yield a goal for Canada, which went 0-for-8 overall, but Potomak scored with a highlight-reel even-strength effort.
She scraped the puck off the neutral-zone boards, and then sliced by Swedish defender Maja Persson Nylen going backhand to forehand to solve Soderberg at 13:56 of the second period.
"It was a beautiful goal and that's something we've all seen from her before," Turnbull said. "It was great for her to get on the scoreboard that way and it was very timely."
Outshot 14-1 in the first period, the Swedes held Canada scoreless until 17:11 when Renata Fast, below the goal-line, fed Larocque out front for a successful wrist shot top shelf.
This report by The Canadian Press was first published Sept. 1, 2022.
Donna Spencer, The Canadian Press
Poilievre threatens to filibuster budget bill if Liberals don't meet demands
Flanked by Conservative Finance and Middle Class Prosperity critic Jasraj Singh Hallan and Conservative deputy leader Melissa Lantsman and other members of Parliament, Conservative leader Pierre Poilievre speaks with reporters in the Foyer of the House of Commons, Monday, June 5, 2023 in Ottawa. THE CANADIAN PRESS/Adrian Wyld
Ottawa
Conservative Leader Pierre Poilievre is threatening to use procedural tools to delay passage of the federal budget in the House of Commons if the Liberals don't meet his demands.
During a news conference this morning, Poilievre outlines two conditions to avoid potential filibustering by his party.
He is calling on the federal government to present a plan to balance its budget "in order to bring down inflation and interest rates."
He also demands the Liberals cancel any future increases to the carbon price.
Poilievre says if his demands are not met, his party will use all procedural tools at its disposal, including amendments and lengthy speeches, to block the bill.
Poilievre's threat comes as MPs gear up for their summer break, with the Commons set to rise June 23.
This report by The Canadian Press was first published June 5, 2023.
Conservatives call on feds to see killer Bernardo returned to maximum-security prison
Paul Bernardo sits in the back of a police cruiser as he leaves a hearing in St. Catharines, Ont., April 5, 1994. The lawyer for the families of Paul Bernardo's victims says the killer and serial rapist should be returned to his maximum-security prison and transparency be provided around what led to his transfer to a medium-security facility in the first place.THE CANADIAN PRESS/Frank Gunn
By Stephanie Taylor in Ottawa
Conservative Leader Pierre Poilievre is calling on the federal government to use whatever tools it can to reverse a decision by the Correctional Service of Canada to transfer killer Paul Bernardo to a medium-security prison.
Bernardo's move to a facility in Quebec was made public last week after the correctional service notified the lawyer representing the families of 15-year-old Kristen French and 14-year-old Leslie Mahaffy, whom Bernardo kidnapped, tortured and murdered in the early 1990s.
The killer and serial rapist had been serving a life sentence at Millhaven Institution, a maximum-security penitentiary near Kingston, Ont.
Tim Danson, a lawyer for the victims' families, says it was unacceptable that the prison service refused to answer questions about the reason for the Bernardo's move or details of his custody conditions, citing his privacy rights.
Speaking to reporters in Ottawa, Poilievre called Bernardo a "monster" and said Prime Minister Justin Trudeau's government should work to see him returned to a maximum-security prison.
In a statement last Friday, Public Safety Minister Marco Mendicino said Bernardo's transfer was "shocking and incomprehensible," adding that he planned to raise the issue with Anne Kelly, commissioner of the federal correctional service.
Danson said he was pleased to the minister's statement
"Now we need action," he told The Canadian Press on Sunday. "This is one of Canada's most notorious, sadistic, psychopathic killers."
"We need the public in masses, in millions, to be writing to the minister, to the commissioner of corrections, and to the members of Parliament, to express their outrage over this — that secrecy will not work. We want transparency."
Mendicino said in his statement he expects the correctional service to "take a victim-centred and trauma-informed approach in these cases."
The service, for its part, issued a statement offering no details about Bernardo's transfer but saying safety is its "paramount consideration" in all such decisions.
"While we cannot comment on the specifics of an offender's case under the Privacy Act, we want to assure the public that this offender continues to be incarcerated in a secure institution, with appropriate security perimeters and controls in place," the statement read.
It went on to note that Bernardo, who has been designated a dangerous offender, is serving an "indeterminate sentence" with no end date.
Danson said the French and Mahaffy families were shocked to hear of Bernardo's transfer, with the move bringing up decades of anguish and grief.
"Then for me to have to tell them as their lawyer and their friend, 'I'm afraid I have no answers for you because of Bernardo's privacy rights,'" he said.
"Of course their response is the one that you would expect: What about the rights of Kristen? What about the rights of Leslie? What about their rights?"
"These are questions I can't answer other than just to agree with them and share in their despair."
Bernardo's dangerous offender status makes the move all the more puzzling, Danson added as he questioned why Bernardo should reap any benefits of being in a medium-security facility with more lenient living conditions.
"We need an open and transparent discussion and debate. These are major, major public institutions paid for by the taxpayers of Canada."
He suggested the correctional service's handling of the matter risks leading the public to feel suspicious of the entire system.
"They want to do everything behind closed doors and secretly."
This report by The Canadian Press was first published on June 5, 2023.