Canada invites G7 ministers to meeting on tackling disinformation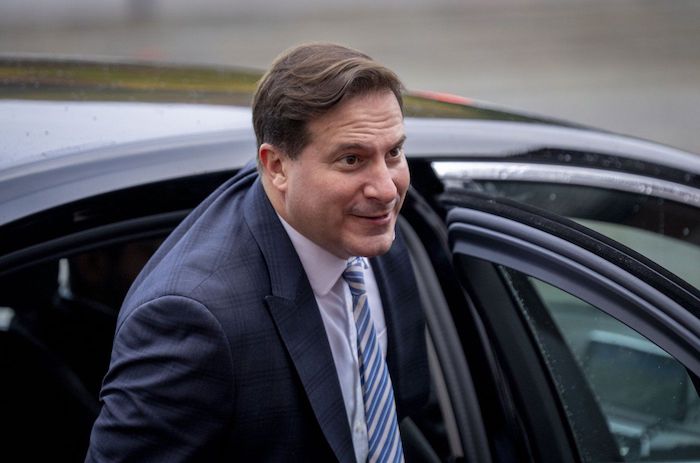 By Jim Bronskill in Ottawa
Canada plans to host a gathering of representatives from the G7 next year to develop new programs and tools to stem the spread of disinformation.
Public Safety Minister Marco Mendicino extended the invitation to his counterparts this week at a meeting in Germany of interior ministers from G7 countries.
Mendicino said participants began exploring ways they could work more closely together to fight propaganda and other forms of false information online by improving digital literacy and equipping citizens with the means to find trustworthy information.
"The G7 is the flagship for democracy, and it gives us a forum in which we can meet these challenges together and create a world that is more secure, that is more inclusive, and that is more prosperous," he said in an interview.
The G7 countries devised the Rapid Response Mechanism at the group's 2018 summit in Charlevoix, Que., as a means of strengthening co-ordination to identify and respond to a range of evolving foreign threats to democracy.
The group, which includes a Canadian unit housed at Global Affairs, has focused on countering foreign state-sponsored disinformation.
The Canadian unit detected what might have been a Chinese Communist Party information operation that aimed to discourage Canadians of Chinese heritage from voting for the Conservatives in the last federal election.
Mendicino said the Rapid Response Mechanism proved useful following Russia's invasion of Ukraine when Moscow notoriously claimed it was "denazifying" its neighbour.
"We used the Rapid Response Mechanism to call that out and to condemn that," he said. "But the question now is, how can we continue to leverage that mechanism, that protocol within the G7?"
Mendicino said democracies also need to engage with social media firms and big tech to better understand how information is presented and make sure "that they are, as much as possible, adhering to the terms and conditions of their own user agreements," calling it a long-standing challenge.
Disinformation continues to spread online in various social media platforms at a challenging pace, posing a pervasive threat to the economy, academic spheres, democratic institutions and the healthy exchange of ideas, he said.
A G7 forum on the issues in Canada would be a means of trying to "flip the script, and to get ahead of the curve of disinformation," Mendicino said.
"This is where we think that Canada and the G7 can show leadership."
This report by The Canadian Press was first published Nov. 18, 2022.
Survivors scream as desperate rescuers work in Turkey, Syria
By Mehmet Guzel And Zeynep Bilginsoy in Adana
ADANA, Turkey (AP) — Rescuers called out, "Slowly, slowly," as they lifted a man inch by inch from between slabs of collapsed concrete Monday in the Turkish province that was the epicenter of a devastating earthquake.
His neck in a brace, the barefoot man was carried on a stretcher as he emerged. Rescuers in Pazarcik in the province of Kahramanmaras held him aloft and ran off with him.
It was among numerous rescue efforts that unfolded as darkness, rain and cold enveloped the region of Turkey and Syria that was rocked by a powerful 7.8 magnitude earthquake. Hours later, a 7.5 magnitude temblor struck more than 100 kilometers (60 miles) away. At least 3,400 people were killed, and civilians joined rescuers in desperate efforts across Turkey and Syria.
"Can anyone hear me?" rescuers shouted. In some places around southeast Turkey, survivors could be heard screaming from beneath collapsed buildings.
People crouched to look below a massive sheet of concrete propped at an angle by steel bars. They crawled in and out, trying to reach survivors. Excavating equipment dug through the rubble below.
Elsewhere in Kahramanmaras province, rescuers pulled two children alive from the rubble. One lay on a stretcher on the snowy ground. Rescuers quieted the throngs of people trying to help so they could hear survivors and find them.
Some emerged safely then waited to hear any word on relatives.
"My two grandchildren, my daughter-in-law, are all inside. They haven't come out," said Hasan Birbalta while waiting near a collapsed building in Pazarcik, adding the granddaughter is 2 and the grandson is 6.
Thousands of search-and-rescue personnel, firefighters and medics were working across 10 provinces, along with some 3,500 soldiers. Residents lifted rubble and unearthed people heard screaming from beneath buildings. Aftershocks made rescue efforts more dangerous.
In Adana, about 20 people, some in emergency rescue jackets, used power saws atop the concrete mountain of a collapsed building to carve out space that would let any survivors climb out or be rescued. Later, excavators joined the efforts as bright spotlights illuminated the wreckage.
Turkish military ambulance planes were transporting the injured to Istanbul and Ankara hospitals, the defense ministry said. Rescuers from across Turkey tried to make it to the provinces amid heavy snow and rain.
At a news conference late Monday, four ministers said that because Hatay's airport had been severely damaged, they had to fly into Adana nearly three hours away.
In Syria, a man held a dead girl in his arms beside a two-story collapsed concrete building as he walked away from the debris. He and a woman set the girl on the floor under covering to protect her from the rain, wrapping her in a large blanket and looking back to the building, overwhelmed.
An official with Turkey's disaster management authority said 7,840 people had been rescued across 10 provinces. The official, Orhan Tatar, said 5,606 buildings had collapsed.
Tatar said the total area affected was large and places were hard to reach, but that as of late Monday, teams had been directed to all collapsed buildings.
___
Bilginsoy reported from Istanbul. Associated Press writer Carley Petesch in Chicago contributed.
Britcoin? UK gets closer to launching a digital currency
By Danica Kirka in London
LONDON (AP) — Britcoin is moving closer to reality.
U.K. authorities on Monday said British businesses and consumers are likely to need a digital version of the pound, formally asking for public comment on the idea of introducing a central bank digital currency.
Britain, home to the world's second-biggest financial center, is trailing former colonies such as Nigeria, the Bahamas and Jamaica in rolling out a digital currency. More than 80% of the world's central banks are considering launching digital currencies or have already done so, according to the consultant PwC.
"While cash is here to stay, a digital pound issued and backed by the Bank of England could be a new way to pay that's trusted, accessible and easy to use," Treasury chief Jeremy Hunt said in a statement. "That's why we want to investigate what is possible first, whilst always making sure we protect financial stability."
The call for public input comes almost two years after the Treasury and Bank of England said they were considering introducing a digital currency.
While Prime Minister Rishi Sunak suggested naming the initiative "Britcoin" when he was Treasury chief, the Bank of England has stressed that the potential currency shouldn't be confused with cryptocurrencies like Bitcoin.
Backed by the central bank, the new currency would be "reliable and retain its value over time," in contrast to cryptocurrencies that can fluctuate wildly and threaten the holdings of investors, the Bank of England says on its website.
That industry has been particularly unstable in recent months, escalating calls for greater regulation. Crypto crashes last yeartanked assets, while crypto exchange FTX's multibillion-dollar collapse and bankruptcy in November triggered fraud chargesagainst founder Sam Bankman-Fried.
The proposed digital currency would be denominated in pounds, with 10 pounds of digital currency always equal to a 10-pound note, the bank said. Held in a digital wallet, the currency could be used to pay for goods and services electronically.
Supporters of central bank digital currencies say they make digital transactions easier and cheaper and expand access to the financial system because they can be used by people who don't have bank accounts.
This is one of the reasons the Bahamas became the first country to introduce a digital currency in 2020. Nigeria and Jamaica have since followed suit, with China and more than 20 other countries running trial projects. The U.S. and European Union are considering introducing digital currencies.
But digital currencies also present risks, including cyberattacks, privacy concerns and the danger that they can be used by criminals.
Because money invested in central bank digital currencies is safer than a bank deposit, they also may draw savings away from commercial banks and weaken the financial system, critics argue.
A digital pound would have "risks but no obvious benefits," former Bank of England Gov. Mervyn King, now a member of the House of Lords, said recently.
While such digital currencies may be useful in countries that don't have effective banking systems, that's not the case in the Britain, he said.
"The government has said that it wants the U.K. to be at the forefront of innovation, crypto-assets and fintech, but we need to be selective and not driven by a misplaced enthusiasm for all things crypto," King said.