Canada hurting ahead of World Cup opener in Qatar against No. 2 Belgium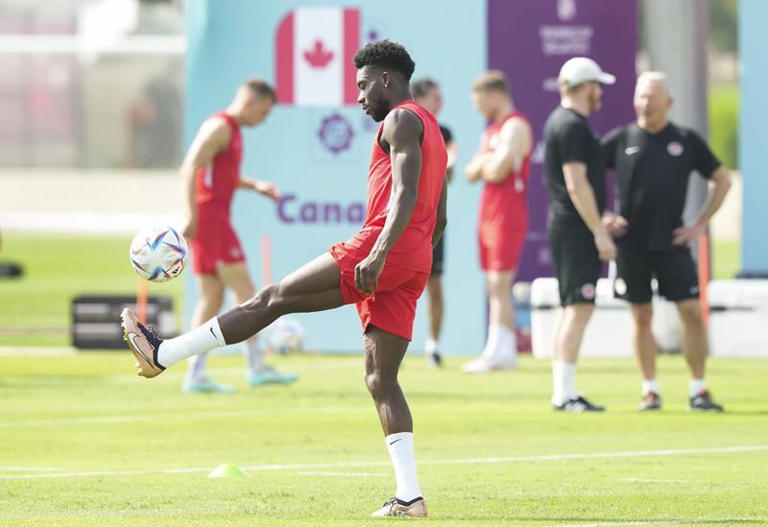 UMM ŞALĀL 'ALĪ, Qatar — Canada coach John Herdman had a bleak medical update Saturday with goalkeeper Milan Borjan and midfielder Stephen Eustaquio joining star Alphonso Davies as question marks for the World Cup opener against No. 2 Belgium.
Davies arrived in Qatar on Friday evening after receiving treatment back at Bayern Munich for a hamstring strain suffered Nov. 6 in a Bundesliga game at Hertha Berlin. While Bayern said Davies' participation in Qatar was "not at risk," he has not played since.
"My mission is to make sure he plays at this World Cup, it's a childhood dream for him," said Herdman. "And not to put him in a position where he's unsafe."
"But I have to say Belgium's another level, we haven't faced a team of that level … since we played against Brazil (a 3-2 loss in 2008). So you need players like Alphonso, whether that's starting, (coming) off the bench," he added. "So we're doing everything we can."
Herdman said Eustaquio, perhaps Canada's most influential midfielder, is "day by day" dealing with soreness from a muscle issue suffered in training earlier this week.
"It's another calculation. It's an algorithm we're trying to process now of is he hitting his markers?" said Herdman. "It really is mathematics — of what he can tolerate now through these next three training days to show that he's ready to start.
"If there's not a starting position, I'm sure he'll be coming off the bench. But there's no guarantees Stephen Eustaquio will start against Belgium at this point."
Borjan, meanwhile, felt "something in his abdomen" during Thursday's 2-1 win over No. 24 Japan in Dubai, said Herdman,
"Just precautionary," said Herdman.
"(We're) getting ready in case. Next man up," he added with what seemed a nervous laugh. "We went through the (World Cup) qualifying campaign and it was like this. We just never seemed to be able to feel like we were able to get what people on paper would say is your top Canadian team. It's just par for the course at the minute. We'll see."
Eustaquio is Canada's creative force in midfield and has been in a rich vein of form recently with FC Porto in Portugal.
Borjan is Canada's No. 1 'keeper and a team leader with 68 caps for 41st-ranked Canada. In the absence of the injured Maxime Crepeau, his backups are talented but short on international experience in Dayne St. Clair (two caps) and the uncapped James Pantemis.
Canada Soccer did not make any of the players in question available Saturday.
Herdman must weigh the risk-reward factor with the trio. Is it worth risking someone against Belgium, Canada's highest-ranked foe in Group F, on Wednesday when a further setback could rule them out of subsequent games Nov. 27 against No. 12 Croatia and No. 22 Morocco on Dec. 1?
Herdman said while Davies was able to take part in some of the contact work in training, "he's still building towards hitting his top speed."
"He hasn't hit that top speed yet and when you have hamstring injuries that's always the key moment. That's when the hamstring is pushed to its limits."
Herdman noted that his team showed it could win without Davies in the final round of CONCACAF World Cup qualifying (Canada topped the eight-country round-robin at 8-2-4). The Bayern Munich star missed seven of those games through illness with Canada going 5-2-0 in his absence, with one of the losses coming when Canada had already secured qualification.
"So it's not something I'm losing sleep over," Herdman said. "I just trust that there's a group of guys that will come together in ways they have to do what's required."
But later in the news conference, he acknowledged with a chuckle: "Yeah, I do still wake up with cold sweats now and again wondering."
All eyes were on Davies as the 22-year-old from Edmonton walked out at the Canadian training facility, located at a sports club about a 25-minute drive north of Doha. Davies coolly showed off some ball skills in the intense heat as he awaited the official start of training, which came after the media were ushered away.
His teammates playfully welcomed him back as the warm-up portion of practice wrapped up, making him run a gauntlet of friendly if firm taps/slaps. Herdman played his part, removing a ball from Davies' hand to help launch him down the human tunnel.
It was 29 degrees Celsius, feeling like 32 degrees for the midmorning session. A slight breeze was welcome.
The players came out to some several lush pitches, a gardening miracle in the desert. Some climbed onto exercise bikes under a canopy. Others sought cover in a mini-field house beside the pitch before coming back out to kick a ball around.
The music accompanying the warm-up — there was a Jamaican dancehall theme with a playlist that included "Bounty Killer" by War Lord and "Goodas Gal" by Cham — was silenced as the midday prayer time delivered a more haunting soundtrack.
The players halted ball play and moved to an adjacent field, taking a pause out of respect.
When the warm-up resumed, defender Doneil Henry ran separately with a trainer. Henry, who has won 44 caps for Canada, was injured prior to the 2-2 tie with No. 85 Bahrain on Nov. 11 and did not make the World Cup roster. He is with the team in a non-playing role.
Saturday marked the Canadians' fourth training session in Doha and the first since the win over Japan.
—
Follow @NeilMDavidson on Twitter
This report by The Canadian Press was first published Nov. 19, 2022
Neil Davidson, The Canadian Press
Statistics Canada reports merchandise trade deficit $160 million in December
Ottawa – Statistics Canada says the country posted a merchandise trade deficit of $160 million in December as both exports and imports fell compared with November.
The result followed a revised deficit of $219 million for November compared with an initial reading for the month that showed a $41 million deficit.
Statistics Canada says exports in December fell 1.2 per cent in the month to $63.0 billion. Energy exports fell 7.6 per cent to $14.3 billion, while exports of farm, fishing and intermediate food products dropped 9.9 per cent to $5.3 billion.
Meanwhile, imports dropped 1.3 per cent in December to $63.1 billion as imports of consumer goods fell 6.4 per cent to $12.1 billion and motor vehicles and parts dropped 6.0 per cent to $9.9 billion.
In volume terms, total exports in December rose 0.9 per cent, while import volumes fell 1.9 per cent.
For the whole of 2022, Statistics Canada says the country posted a merchandise trade surplus of $20.1 billion, up from a surplus of $4.6 billion in 2021.
This report by The Canadian Press was first published Feb. 7, 2023.
Mendicino: foreign-agent registry would need equity lens, could be part of 'tool box'
By Dylan Robertson in Ottawa
Public Safety Minister Marco Mendicino says a registry to track foreign agents operating in Canada can only be implemented in lockstep with diverse communities.
"There is a historical context when it comes to some communities within this country and their relationship with [security] agencies and the law-enforcement community," Mendicino told the House committee on Canada-China relations Monday evening.
"We need agencies to be inclusive, diverse, culturally sensitive."
Two months ago, the Liberals said they will eventually consult the public on the possible creation of a foreign agent registry, to prevent outside interference in Canadian affairs.
But the government has yet to formally launch that consultation.
The United States and Australia have public registries that require people advocating for a foreign state to register their activities, under penalty of fines or jail time.
Mendicino told the committee that Ottawa has to be careful to not isolate communities who have felt under the microscope of security agencies. He also told reporters after his testimony that Ottawa is taking the idea to its own advisory panels before soliciting public input.
"I wouldn't describe it as a hesitation; I think we need to be diligent and thoughtful and inclusive, when it comes to bringing all Canadians along in the modernization of the tools and the arsenal that we create for our national security and intelligence communities," he told the committee.
Mendicino also told MPs a foreign agent registry alone would not drastically alter Canada's ability to detect and confront national-security threats, and would only be launched as part of "a tool box" of other measures.
"While there is attention to looking at each of the examples of tools we might consult on, including the foreign-agent registry, I would discourage the members of this committee from quickly concluding that any one of these in isolation will work by itself," he said.
Conservative public-safety critic Raquel Dancho accused the Liberals of stalling on launching a registry.
"Anything that is stopping it would just be an excuse at this point. I think any government that's operating through legitimate diplomatic relations in Canada should welcome an official registry," she said in an interview between witness testimony.
"That should be sort of the cost of doing business in Canada through diplomatic relations."
Mendicino appeared at the committee based on a request last October from MPs to have senior officials testify on three allegedly illegal police stations operating in the Greater Toronto Area.
Since then, advocates for Chinese democracy have alleged China is running two other police stations in Canada, including one in Vancouver.
RCMP Commissioner Brenda Lucki told MPs that Mounties are only aware of four alleged police stations and that officers have attended the scene in uniforms to gather information and be seen.
She believes that has yielded tips from the public, and noted that at least one of the apparent police stations seemed to have operated in the backroom of a commercial business.
Lucki noted that no one has been charged in connection with these so-called police stations, and suggested the public would be informed if that was the case.
Similarly, Mendicino said the public would be made aware if any diplomats had been ordered to leave Canada in relation to the issue.
Yet NDP foreign-affairs critic Heather McPherson questioned how police are handling tips from communities who allege they're being targeted by foreign countries.
The Edmonton MP said constituents who are Uyghur or originating from Hong Kong have reported being passed between the RCMP, local police and an RCMP-run hotline, and that local police seem unaware how to handle the reports.
"We're hearing a very different story form people who are living in these communities," McPherson said.
More officials will testify Monday night from the Canadian Security Intelligence Service, the RCMP and Public Safety Canada.
The evening meeting follows the appearance of a Chinese balloon that drifted over Canadian territory before it was spotted over the skies of Montana, leading opposition parties to ask why Ottawa didn't alert Canadians earlier.
Last November, the federal Liberals unveiled their Indo-Pacific strategy, which calls for stronger ties with countries other than China to counterbalance Beijing's approach to human rights and trade.
This report by The Canadian Press was first published Feb. 6, 2023.