Canada goes unbeaten in preliminaries after 3-0 win over Sweden at Hlinka Gretzky Cup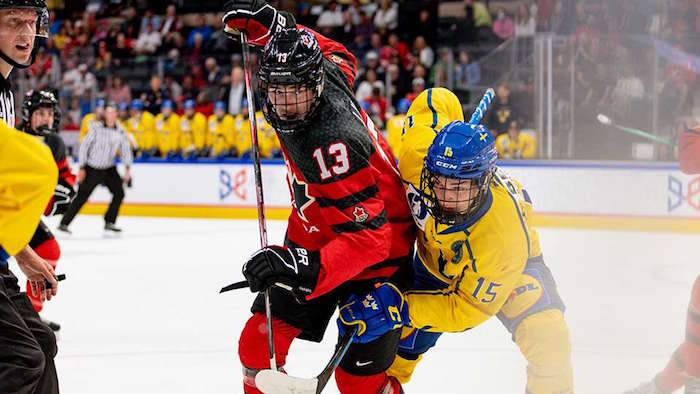 RED DEER, Alta. — Canada's men's under-18 team closed out preliminary play undefeated after a 3-0 victory over Sweden on Wednesday at the Hlinka Gretzky Cup.
Calum Ritchie and Brayden Yager each recorded one goal and one assist, while Zachary Benson added a score of his own. Scott Ratzlaff made 18 saves in the win.
The Canadians dominated offensively for much of the way, firing no less than 12 shots on goal within each period of play and totalling 43 for the night.
Canada had previously defeated Switzerland 14-0 on Sunday, and Slovakia 9-1 on Tuesday in Group A action.
Finland, which finished second in Group B awaits Canada in the semifinals on Friday. The gold and bronze medal games will take place Saturday.
This report by The Canadian Press was first published Aug. 3, 2022
The Canadian Press
New Chiefs logo for Red Deer Minor Hockey designed with guidance of indigenous leaders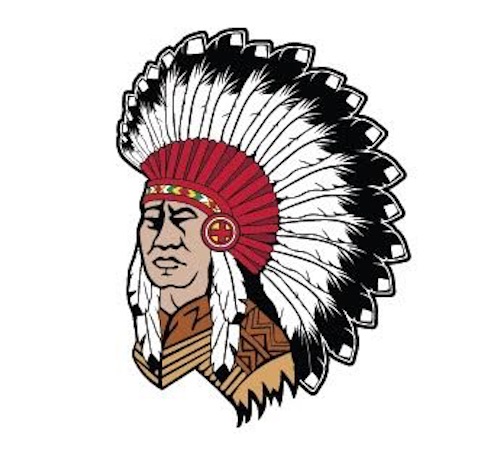 News release from Red Deer Minor Hockey Board of Directors
Red Deer Minor Hockey Commission proudly announces the unveiling of their new Primary Logo, paying homage to the indigenous heritage and peoples of the region.
The revamped logo is a result of two years of dedicated efforts to align with the values and traditions of Treaty Six and Seven peoples, who are the original founders of the land on which we live, play, and work.
In 1967 in our Centennial Year, Red Deer Minor Hockey's Earl Chadwick, with the permission of Chief John Samson, adopted the Chiefs name and logo as a tribute to the indigenous community's and their rich cultural heritage on the Treaty 6 and 7 land that we play on. Since then, the Red Deer Minor Hockey Chiefs have strived to maintain a strong connection with the indigenous peoples of the area.
Recognizing the need to further honour and respect the indigenous heritage, the Red Deer Minor Hockey Chiefs embarked on a comprehensive logo redesign project. The objective was to create a logo that not only represents the team but also reflects the values and traditions of Treaty Six and Seven peoples.
After extensive consultation with indigenous leaders from Treaty Six and Seven, the Red Deer Minor Hockey Chiefs are proud to unveil their new logos. These logos symbolize the unity, strength, and resilience of the indigenous community, while also paying tribute to the original founders of the land.
The Red Deer Minor Hockey Commission expresses their gratitude to the indigenous leaders for their guidance and support throughout this process. Their blessing and endorsement of the new logos reinforce the team's commitment to fostering inclusivity, diversity, and cultural appreciation within the hockey community.
The Red Deer Minor Hockey Board of Directors along with Chief Wilton Littlechild along with the Treaty 6 and 7 Chiefs invite our members and friends to join them in celebrating the unveiling of their new logos on Friday Oct 13 2023 for the Home Opener of our U18 Optimist Chiefs at the Servus Arena. The Red Deer Minor Hockey Commission remains dedicated to promoting a positive and respectful environment for all players, coaches, and fans, while honoring the indigenous heritage and peoples that have shaped the community and land we play on . We will provide the Celebration details as soon as we have finished the plans.
Red Deer Minor Hockey Board of Directors
Shelly Flint Appointed as New CEO of Westerner Park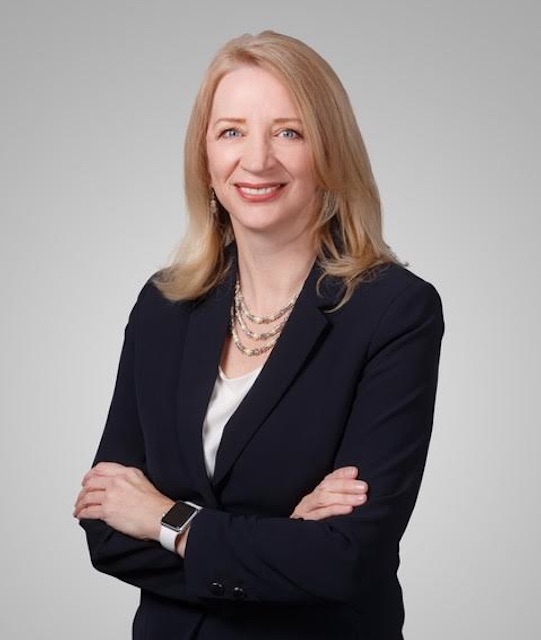 Westerner Park, a distinguished agricultural society and premier exhibition venue in the heart of Central Alberta, is pleased to announce Shelly Flint as its new Chief Executive Officer (CEO). This decision culminates a thorough and extensive search process, with the Board of Directors expressing their enthusiasm for the promising journey ahead under Shelly's leadership.
Tyler Nightingale, President of the Board of Directors, shared his excitement about the appointment, stating, "After a comprehensive search, we are thrilled to welcome Shelly. Her extensive experience, skill set, and knowledge align seamlessly with the strategic direction of Westerner Park, ensuring a positive and enduring impact on both the organization and the community at large."
Tara Lodewyk, Red Deer City Manager, added, "Shelly immediately connected with the mission of Westerner Park and the value it brings to the culture of our city and region. We are looking forward to working together and are confident in her leadership of Westerner Park."
For the past two decades, Shelly has served as a senior executive, spearheading diverse teams within Alberta's dynamic entertainment and finance sectors. Her tenure as the former CFO at the Calgary Stampede equips her with a distinctive insight into the intricacies of Westerner Park, enabling her to adeptly navigate its challenges and leverage its opportunities. Coupled with her roots in Central Alberta, Shelly is poised to steer the Park towards growth and long-term sustainability.
Shelly expressed her eagerness to join Westerner Park, saying, "I was thrilled at the opportunity to return to Central Alberta, where I grew up! Leading this purpose-driven organization will allow me to contribute to my community and affect meaningful change."
Shelly Flint's robust leadership, commitment to community, and extensive experience makes her an exceptional choice to lead Westerner Park into the future. The entire Westerner Park team eagerly anticipates the positive impact she will bring to this renowned institution.
About Westerner Park
Westerner Park is Central Alberta's largest tradeshow, agricultural, sports, entertainment, and convention facility. A not-for-profit organization and agricultural society, Westerner Park typically generates $150 million annually in economic activity, hosting over 1,500 events and 1.5 million visitors each year.