Xi accuses U.S. of trying to block China's development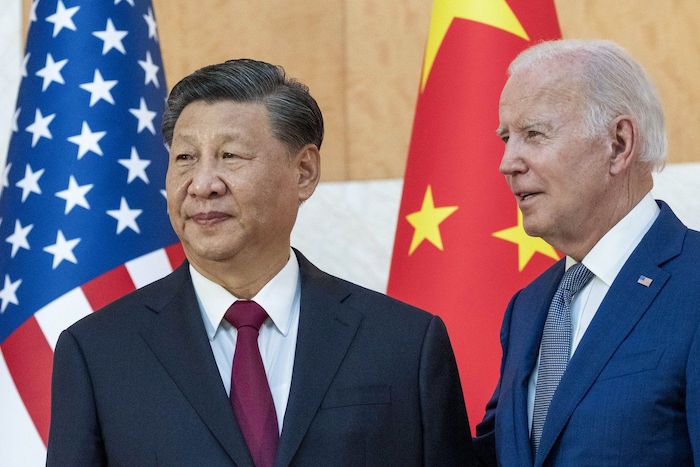 U.S. President Joe Biden, right, stands with Chinese President Xi Jinping before a meeting on the sidelines of the G20 summit meeting on Nov. 14, 2022, in Bali, Indonesia. Xi accused Washington on Monday, March 6, 2023, trying to isolate his country and hold back its development. That reflects the ruling Communist Party's growing frustration that its pursuit of prosperity and global influence is threatened by U.S. restrictions on access to technology, its support for Taiwan and other moves seen by Beijing as hostile. (AP Photo/Alex Brandon, File)
By Joe Mcdonald in Beijing
BEIJING (AP) — Is the United States out to sabotage China? Chinese leaders think so.
President Xi Jinping accused Washington this week of trying to isolate his country and hold back its development. That reflects the ruling Communist Party's growing frustration that its pursuit of prosperity and global influence is threatened by U.S. restrictions on access to technology, its support for Taiwan and other moves seen by Beijing as hostile.
Xi, China's most powerful leader in decades, tries to appear to be above problems and usually makes blandly positive public comments. That made his complaint Monday all the more striking. Xi said a U.S.-led campaign of "containment and suppression" of China has "brought unprecedented, severe challenges." He called on the public to "dare to fight."
On Tuesday, Foreign Minister Qin Gang sharpened the warning, saying Washington faces possible "conflict and confrontation" if it fails to change course.
"The foreign minister is speaking on behalf of a widely held view that the United States is coming after China and they have to defend themselves," said John Delury, an international relations specialist at Yonsei University in Seoul.
China is hardly the only government to fume at Washington's dominance of global strategic and economic affairs. But Chinese leaders see the United States as making extra effort to thwart Beijing as a challenger for regional and possibly global leadership.
The ruling party wants to restore China's historic role as a political and cultural leader, raise incomes by transforming the country into an inventor of technology, and unite what it considers the Chinese motherland by taking control of Taiwan, the self-ruled island democracy that Beijing claims as part of its territory.
Beijing sees those as positive goals, but American officials see them as threats. They say Chinese development plans are based at least in part on stealing or pressuring foreign companies to hand over technology. Some warn Chinese competition might erode U.S. industrial dominance and incomes.
Washington has set back Beijing's plans by putting Chinese companies including its first global tech brand, Huawei, on a blacklist that limits access to processor chips and other technology. That crippled Huawei's smartphone brand, once one of the world's biggest. American officials are lobbying European and other allies to avoid Huawei equipment when they upgrade phone networks.
Washington cites security fears, but Beijing says that is an excuse to hurt its fledgling competitors.
The two governments have the world's biggest trading relationship and common interests in combating climate change and other problems. But relations are strained over Taiwan, Beijing's treatment of Hong Kong and mostly Muslim ethnic minorities, and its refusal to criticize or isolate Russia for its invasion of Ukraine.
The official Chinese view has soured following an uptick when Xi met U.S. President Joe Biden in November in Indonesia, said Shi Yinhong, an international relations specialist at Renmin University in Beijing. He noted that in the five months since then, Washington approved more weapons sales to Taiwan, criticized Beijing's stance on Ukraine and put more Chinese companies on export watchlists, all of which China saw as hostile.
Xi and Qin spoke in a "dramatic way" this week, but "the essence of what they said is China's long-term stance," Shi said. The leadership believes "the United States has implemented almost all around, drastic and desperate containment of China in all respects, especially in strategic and military fields."
"The risk of military conflict between China and the United States is getting bigger," Shi said.
A State Department spokesperson, Ned Price, said Washington wants to "coexist responsibly" within the global trade and political system and denied the U.S. government wants to suppress China.
"This is not about containing China. This is not about suppressing China. This is not about holding China back," Price said in Washington. "We want to have that constructive competition that is fair" and "doesn't veer into that conflict."
The United States formed a strategic group, the Quad, with Japan, Australia and India in response to concern about China and its claim to vast tracts of sea that are busy shipping lanes. They insist the group doesn't focus on any one country, but its official statements are about territorial claims and other issues on which they have disputes with Beijing.
The latest change in tone follows acrimonious exchanges over a Chinese balloon that was shot down after passing over North America. Its electronics and other equipment are being examined by the FBI.
Qin, the foreign minister is "trying to position China as a global force for moderation and for peace" in front of foreign audiences and say "it's the Americans who are blowing things out of proportion," Delury said.
Xi's government is especially irritated by displays of support by American and other Western legislators for Taiwan, which split with China in 1949 after a civil war.
Taiwan never has been part of the People's Republic of China, but the Communist Party says the island of 22 million people must unite with the mainland, by force if necessary.
Washington is obligated by federal law to see that Taiwan has the weapons to defend itself and has sold it fighter jets and missiles. Chinese leaders complain that encourages Taiwanese politicians who might want to resist unification and possibly declare formal independence, a step Beijing says would lead to war.
Premier Li Keqiang, who is due to step down as China's No. 2 leader this month, called on Sunday for "peaceful reunification." But Xi's government also has stepped up efforts to intimidate the island by flying fighter jets and firing missiles into the sea nearby.
The latest downturn is "testament to the real degradation" of U.S.-Chinese relations, which "never had much trust," said Drew Thompson, a fellow at the Lee Kuan Yew School of Public Policy at the National University of Singapore.
Chinese leaders "consider any sort of discussion on strategic issues as sensitive and out of bounds," which leads to "heightened risk of miscalculation," Thompson said.
"They believe the U.S. is a hegemon that seeks to undermine the Communist Party and its legitimacy, and they have ample evidence of that," he said. "But should perceptions and the balance of interests change, they could just as easily believe the U.S. is a partner for achieving the party's objectives."
___
Associated Press researcher Yu Bing contributed to this report.
Moneris confirms credit and debit card processing outage, but offers few details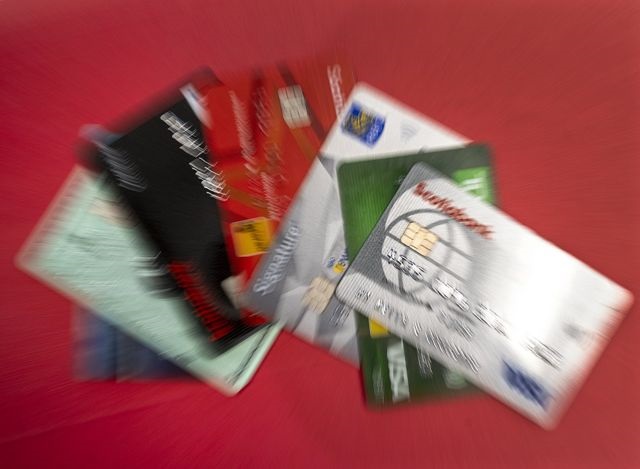 Toronto
The Canadian payment processing firm Moneris confirmed Saturday that credit and debit card transactions were interrupted by a network outage earlier in the day.
The Toronto-based technology company issued a statement saying there was nothing to suggest the outage was related to a cyber attack.
Complaints about outages started rolling in to the Downdetector.ca website before noon eastern time, but Moneris did not say when the outage started.
About three hours later, Moneris posted a message on X — the social media site formerly known as Twitter — saying it had resolved the network problem.
It remains unclear how many businesses and transactions were affected, but data provided by Downdetector.ca indicated complaints had come in from across the country.
In a statement provided to The Canadian Press, the company said the outage lasted about 90 minutes.
"We have resolved the network outage and returned transaction processing to normal," the statement said. "We continue to investigate the root cause of the issue. There are no indications this appears to be cyber-attack related and all transaction systems are functioning normally again."
The company, a joint venture between Royal Bank and BMO Bank of Montreal, said transaction processing could be slow as its systems catch up with the backlog.
Moneris says it supports more than 325,000 merchant locations across Canada.
This report by The Canadian Press was first published Sept. 23, 2024.
Smith says despite difficulty with Ottawa, Alberta has allies in Trudeau cabinet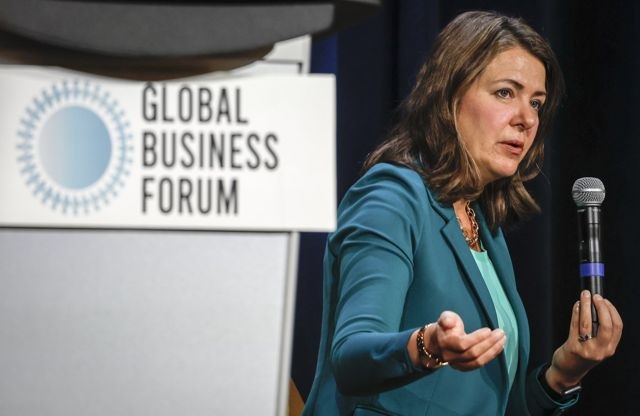 Alberta Premier Danielle Smith speaks to business leaders at the Global Business Forum in Banff, Alta., Friday, Sept. 22, 2023. Smith told the conference that despite her concerns with the federal Liberal government there was some cabinet ministers she can work with. THE CANADIAN PRESS/Jeff McIntosh
By Bill Graveland in Banff
Alberta Premier Danielle Smith told a business conference on Friday that despite her concerns with the federal Liberal government, there are some cabinet ministers she can work with.
Smith has been at odds with federal Environment Minister Steven Guilbeault and Natural Resources Minister Jonathan Wilkinson amid concerns over Ottawa's climate-change policies and transition plan for a net-zero emissions economy.
Guilbeault intends to publish draft regulations this fall to cap emissions from oil and gas, then force them downward overtime. Ottawa has also set a target to have the electricity grid be net-zero by 2035, but Alberta says it's unrealistic.
Smith says Alberta won't implement the emissions cap, nor will it follow the 2035 target.
The premier told delegates at the Global Business Forum in Banff, Alta., that Wilkinson needs to answer for comments he made earlier this week at the World Petroleum Congress in Calgary.
Wilkinson's call for the industry to work aggressively to get to net-zero was basically telling them to "pack it up, because the oil and gas industry is winding down," said Smith.
"You could just feel the energy leave the room and you could just feel the investment dollars leave the room."
Smith said energy producing provinces such as Alberta, Saskatchewan and Newfoundland and Labrador, can't trust the Trudeau government to look out for their interests at international conferences.
"After hearing how the natural resources minister talks about our industry, after hearing how the federal environment minister talks about our industry, we can't afford to let them carry our message," Smith said.
"We can't afford not to be there."
Smith said she has been in discussions with Saskatchewan Premier Scott Moe and intends to talk to Newfoundland and Labrador Premier Andrew Furey about joint presentations at conferences in the future.
Despite her disappointment with Wilkinson and Guilbeault, Smith said it's not all bad.
Finance Minister Chrystia Freeland among the top allies, she said.
"Let's give her credit for shepherding through all of the constant need to give more debt financing to Trans Mountain pipeline to get that to the finish line. That has not been easy," Smith said.
She also praised Innovation Minister Francois-Philippe Champagne, Public Safety Minister Dominic LeBlanc, Labour Minister Seamus O'Regan and Employment Minister Randy Boissonnault.
"I would say it's not uniformly negative in the Liberal caucus. But for some reason they're allowing Stephen Guilbeault to be a maverick and a renegade and quite offensive to those of who are trying to be reasonable and adult about this," Smith said.
Smith said it's time for the federal government to back away from setting "aggressive targets" in dealing with the provinces.
"Aggressive targets are not helpful. They're not helpful to us. They're not helpful to investors."
This report by The Canadian Press was first published Sept. 22, 2023.