With overdoses up, states look at harsher fentanyl penalties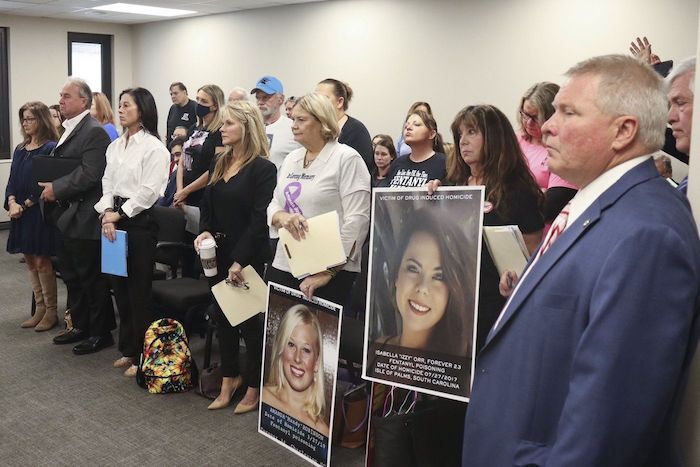 People whose family members have died from fentanyl overdose stand at a committee meeting on Jan. 19, 2023, in Columbia, S.C. With U.S. overdose fatalities at an all-time high, state legislatures are considering tougher penalties for possession of fentanyl, the powerful opioid linked to most of the deaths. (AP Photo/James Pollard)
By Gabe Stern, James Pollard And Geoff Mulvihill in Reno
RENO, Nev. (AP) — State lawmakers nationwide are responding to the deadliest overdose crisis in U.S. history by pushing harsher penalties for possessing fentanyl and other powerful lab-made opioids that are connected to about 70,000 deaths a year.
Imposing longer prison sentences for possessing smaller amounts of drugs represents a shift in states that in recent years have rolled back drug possession penalties. Proponents of tougher penalties say this crisis is different and that, in most places, the stiffer sentences are intended to punish drug dealers, not just users.
"There is no other drug — no other illicit drug — that has the same type of effects on our communities," said Mark Jackson, the district attorney for Douglas County, Nevada, and president of the Nevada District Attorneys Association, which is pushing for stricter penalties for fentanyl-related crimes.
But the strategy is alarming recovery advocates who say focusing on the criminal angle of drugs has historically backfired, including when lawmakers elevated crack cocaine penalties in the 1980s.
"Every time we treat drugs as a law enforcement problem and push stricter laws, we find that we punish people in ways that destroy their lives and make it harder for them to recover later on," said Adam Wandt, an assistant professor of public policy at John Jay College of Criminal Justice in New York. He said people behind bars often continue getting drugs — often without receiving quality addiction treatment — then emerge to find it's harder to get work.
Since 2020, drug overdoses are now linked to more than 100,000 deaths a year nationally, with about two-thirds of them fentanyl-related. That's more than 10 times as many drug deaths as in 1988, at the height of the crack epidemic.
Fentanyl mostly arrives in the U.S. from Mexico and is mixed into supplies of other drugs, including cocaine, heroin, methamphetamine and counterfeit oxycodone pills. Some users seek it out. Others don't know they're taking it.
Ingesting 2 milligrams of fentanyl can be fatal, meaning 1 gram — about the same as a paper clip — could contain 500 lethal doses.
That's what's driving some lawmakers to crack down with harsh penalties, along with adopting measures such as legalizing materials to test drug supplies for fentanyl and distributing naloxone, a drug that can reverse overdoses.
Before this year's legislative sessions began, a dozen states had already adopted fentanyl possession measures, according to tracking by the National Conference of State Legislatures.
And in this year, in one legislative chamber of liberal Oregon and one chamber of conservative West Virginia, lawmakers have agreed upon tougher penalties. In her State of the State speech this March, Alabama Gov. Kay Ivey, a Republican, called on lawmakers to adopt a drug trafficking bill that includes tougher fentanyl sentences.
In Nevada, where Democrats control the Legislature, a bill backed by Democratic Attorney General Aaron Ford would give one to 20 years in prison for selling, possessing, manufacturing or transporting 4 grams or more of fentanyl into the state, depending on the amount. It's a change for Ford, who has supported criminal justice reforms including a sweeping 2019 law that, among other provisions, raised the threshold for such penalties to 100 grams. It would also remove fentanyl from the state's "Good Samaritan" law, which exempts people from criminal drug possession charges while reporting an overdose.
"What we've learned is that lowering the thresholds for all drugs was overinclusive," Ford said.
Harm reduction advocates are pushing Ford and others to rethink their support, arguing the thresholds for longer penalties can sweep up low-level users — not just the dealers the law is aimed at — as well as some who may not even know they are taking fentanyl. They warn that the state's crime labs test only for the presence of fentanyl, not the exact amount in a mixture of drugs. Thus, people with over 4 grams of drugs containing a few milligrams of fentanyl could be subject to trafficking penalties, they say.
Rosa Johnson runs a needle exchange where she meets people who could face consequences should the stricter fentanyl bill pass. For the dozens of people that show up each day, it is rare for them to cite fentanyl as their "drug of choice." But it's also rare that fentanyl test strips come back negative, with the drug being "laced in a lot of things," Johnson said.
Other lawmakers introduced two bills to create penalties for fentanyl with lower thresholds, though much of the internal debate surrounds the Ford-backed bill. Meanwhile, Nevada's Republican Gov. Joe Lombardo, a former sheriff, has vowed to introduce tougher legislation that would make possession of any amount of fentanyl the same felony threshold as fentanyl trafficking.
Both Republican-led chambers in South Carolina have passed fentanyl trafficking measures with bipartisan support, although lawmakers haven't agreed on which version to send the governor. Senators also unanimously approved a bill allowing alleged drug dealers to be charged with homicide in overdose deaths.
House Minority Leader Todd Rutherford slammed colleagues for selling a "false bill of goods." While Republican Rep. Doug Gilliam said he understood concerns about ambiguity, he said lawmakers had to send a "strong message" to drug dealers.
A Senate subcommittee heard emotional testimony from family members of people who died of a fentanyl overdose. Among them was Holly Alsobrooks, co-founder of an advocacy group that also supports more fentanyl test strips, opioid antidotes and rehabilitation centers. While Alsobrooks said there is no "perfect" solution, she said the fentanyl trafficking measures are the "best" answers she has heard.
"We are fully behind this bill," she said. "And if people go to jail, they're going to go to jail."
Marc Burrows, who leads a Greenville-based harm reduction program that reports it has reversed 700 overdoses through the provision of opioid antidotes, said these bills could increase deaths by creating hesitancy among drug users to report overdoses.
"I just don't know if a policy like this is the way to do it," Burrows said.
___
Pollard reported from Columbia, South Carolina, and Mulvihill from Cherry Hill, New Jersey. Pollard and Stern are members for the Associated Press/Report for America Statehouse News Initiative. Report for America is a nonprofit service program that places journalists in newsrooms to report on undercovered issues.
O'Toole says CSIS told him he was focus of Chinese misinformation, suppression effort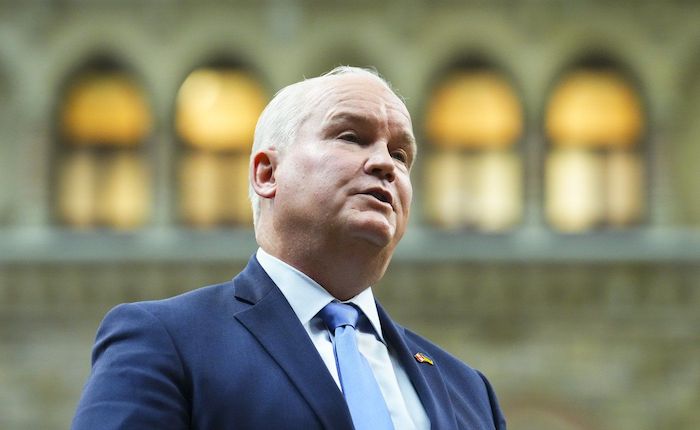 Conservative member of Parliament Erin O'Toole speaks in the House of Commons on Parliament Hill in Ottawa on Tuesday, May 30, 2023. O'Toole was speaking on an opposition motion regarding the public inquiry into allegations of foreign interference and being informed by CSIS that he is a target of China. THE CANADIAN PRESS/Sean Kilpatrick
Conservative MP Erin O'Toole says Canada's spy agency has told him he was the target of Chinese interference intended to discredit him and promote false narratives about his policies while party leader.
Rising in the House of Commons on a question of privilege Tuesday, O'Toole said the Canadian Security Intelligence Service briefing revealed a range of actions against him.
They included Chinese Communist Party funding to create misinformation, the use of groups and the WeChat social media platform to amplify the mistruths and a campaign of voter suppression against him during the 2021 general election, he said.
The former Conservative leader said the threats against him and members of his caucus were not flagged to him by the government or security agencies at the time.
They were also not communicated to the Conservatives through the federal task force intended to help safeguard the integrity of the 2021 election, he added.
O'Toole said the Liberal government's inaction amounted to a violation of his privileges as an MP and leader of the Opposition.
"The briefing from CSIS confirmed to me what I suspected for quite some time, that my parliamentary caucus and myself were the target of a sophisticated misinformation and voter suppression campaign orchestrated by the People's Republic of China before and during the 2021 general election."
On Monday, New Democrat MP Jenny Kwan said CSIS informed her last week she has been targeted by China since before the 2019 federal election over her advocacy for human rights in Hong Kong and for the Uyghur Muslim minority in China. She said she was not at liberty to discuss specifics of the targeting.
In addition, David Johnston, the federal government's special rapporteur on foreign interference, said in his recent interim report there was intelligence indicating Beijing was seeking information about Conservative MP Michael Chong and his relatives.
But Johnston's interim report found little evidence supporting O'Toole's claim specific candidates lost in the 2021 election because of foreign interference.
He said it was unclear whether information campaigns against Conservatives were tied to a state-sponsored source, and there was a legitimate possibility that Chinese-Canadians did not agree with the Conservative's hardline position on China.
In that case, it would not be foreign interference — it would be the "democratic process," the report said.
Under a federal protocol, there would be a public announcement if a panel of senior bureaucrats determined that an incident – or an accumulation of incidents – threatened Canada's ability to have a free and fair election.
There was no such announcement in 2021 or concerning the 2019 election. In both ballots, the Liberals were returned to government with minority mandates while the Conservatives formed the official Opposition.
Government House leader Mark Holland said Tuesday the federal Liberals still have faith in the man they appointed to investigate the issue of foreign interference in Canadian elections.
But Holland would not confirm whether the government could fire Johnston if an NDP motion calling for his ouster passes in the House of Commons this week.
The House debated a motion from NDP Leader Jagmeet Singh on Tuesday that calls for the government to remove Johnston as special rapporteur and to call a public inquiry.
Singh says he doesn't want to attack Johnston personally, but is concerned there is a clear apprehension of bias undermining the work he can do because of his ties to the prime minister.
Opposition party motions are not binding and the government already ignored an earlier NDP motion calling for a public inquiry that passed in March.
That motion came just a week after the Liberals appointed Johnston to look into allegations the Chinese government attempted to interfere in the last two federal elections.
Conservative Party Leader Pierre Poilievre repeated calls for a public inquiry Tuesday and discounted Johnston's role as a "fake job."
"We need to take back control of our democracy from foreign forces, we need to put Canadians back in control of their lives," he said.
Poilievre, who succeeded O'Toole as permanent party leader after the last election, said he would call a public inquiry if he becomes prime minister, reiterating his reluctance to view the classified section of Johnston's report offered to party leaders.
"The prime minister's plan is he wants to mark secret things that would otherwise be publicly debatable, but put things that would be in a grey area under the secrecy of the state, and then put them before me to prevent me from speaking publicly," he said.
Singh said he will continue to push for a public inquiry but won't end his confidence-and-supply agreement with the Liberal minority government and trigger an election.
"I don't see how it's logical if the goal is to protect our democracy to then trigger an election when we're worried about foreign interference."
This report by The Canadian Press was first published May 30, 2023.
Calgary police launch phone line for sex trade workers to report assaults, abuse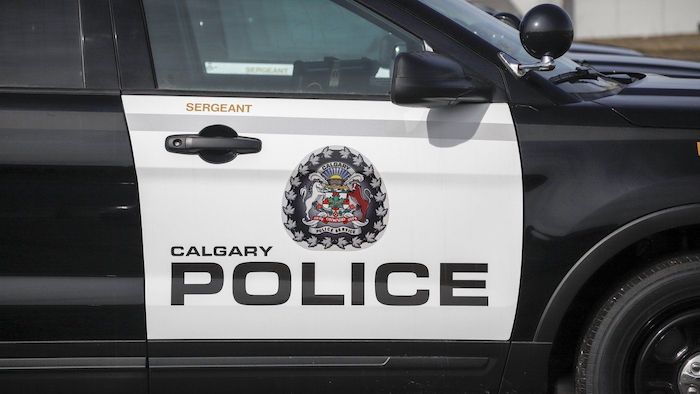 A police vehicle is shown at Calgary Police Service headquarters in Calgary, on April 9, 2020. THE CANADIAN PRESS/Jeff McIntosh
Calgary
Calgary police have a new way for sex workers to report violence and other safety concerns.
Called the Bad Date Line, it allows those in the sex trade to report harmful, violent or abusive customers.
A dedicated phone number and email address are available for people to report information to police in a less formalized way.
Police say the information will not be used to target sex workers and will instead be used to investigate perpetrators.
The move comes after police arrested and charged a man with kidnapping and sexually assaulting women in Calgary's sex trade.
Police said several women allege they were approached by a man, then drugged and taken to another location, where they were physically and sexually assaulted.
This report by The Canadian Press was first published May 30, 2023.