Expect delivery delays for the 'foreseeable future', Canada Post warns
OTTAWA — Regardless of whether it gets a last-minute deal with its striking employees, Canada Post warned Canadians Tuesday that they can expect delays of parcel and mail delivery into the new year as a result of rotating walkouts.
Businesses and individual customers can expect the worst delays in southern and southwestern Ontario because of a backlog of hundreds of transport trailers sitting idle at Canada Post's main Toronto sorting facility, the Crown corporation said.
"The postal service remains operational, but the prolonged and ongoing strike activity has not only caused significant backlogs, it continues to greatly reduce our ability to process and deliver mail and parcels across the country," a Canada Post spokesman said in an email.
"Our focus across the country is to process and deliver as much as possible on a first-in, first-out basis."
Canada Post is dealing with a fifth week of rotating strikes by its unionized workers as both sides remain apart in contract negotiations.
Distribution centres in Vancouver, Edmonton and Montreal are also experiencing severe backlogs, and packages are backing up at border points, despite a plea from Canada Post to its international partners to halt shipments, Jon Hamilton said.
"International items will require screening by the Canada Border Services Agency and we are working in partnership with them to manage the significant existing backlog."
Prime Minister Justin Trudeau repeated his call Tuesday for both sides in the dispute to resolve their differences soon, making note of important Black Friday and Cyber Monday sales events that coincide with American Thankgiving this coming weekend.
But he gave no indications that his government is prepared to force postal workers back to their jobs yet, saying only that he wants a deal, and that the government is considering what it can do to put an end to the labour dispute.
"We are, of course, very preoccupied with the fact that Christmas is coming, important shopping days are coming and we need to see a resolution to that," Trudeau said as he arrived in Ottawa for a meeting with his cabinet.
"As I've said many times, all options are on the table," he added when asked whether he was prepared to table back-to-work legislation.
The Canadian Union of Postal Workers on Monday turned down an offer for a holiday cooling-off period and a possible $1,000 bonus for its 50,000 members, saying it would only mean postal employees continuing to work under the same conditions the union is trying to have changed.
Major issues in nearly a full year of bargaining have included what CUPW calls an "injury crisis," along with gender inequality, overburdening and precarious work.
The latest round of rotating strikes hit several Ontario communities Tuesday including Woodstock, St. Thomas, Chatham and three locations in Scarborough, as well as Prince George, B.C.
Canada Post has apologized to its customers for the continued walkouts, and warned that it cannot now predict the exact length of delivery delays.
"This is likely to be the situation for the foreseeable future, meaning the next several weeks, including the peak holiday season and through January 2019," the company said.
The Canadian Press
Former prime minister Stephen Harper says Canada needs a 'Conservative renaissance'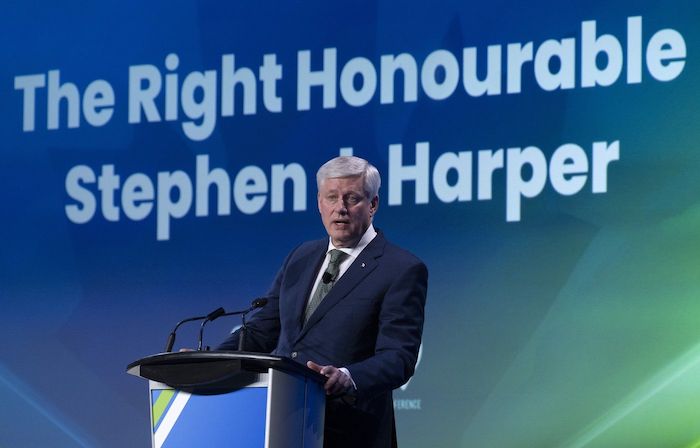 Former prime minister Stephen Harper delivers the keynote address at a conference, Wednesday, March 22, 2023 in Ottawa. THE CANADIAN PRESS/Adrian Wyld
By Stephanie Taylor in Ottawa
Canada needs a "Conservative renaissance," former prime minister Stephen Harper said Wednesday, but he cautioned that Pierre Poilievre should wait until an election before telling Canadians how he might run the country.
Harper delivered a speech that evening to a room of party faithful staged by the Canada Strong and Free Network, formerly called the Manning Centre.
His public appearance is a rare one for Harper, who exited political life after losing the 2015 election to Prime Minister Justin Trudeau's Liberals after nine years in power.
Poilievre's election as party leader last September appears to have changed that, with Harper throwing his endorsement behind Poilievre, which was the first time he had done so for a Conservative leader.
Introduced as a "statesman" of the party, Harper mounted a defence of the term "populism," which he said is often portrayed in a negative or imprecise light by what he called the "liberal media."
"Our country is badly in need of a Conservative renaissance at the national level," he told the crowd.
Harper reminded the audience that the modern Conservative party was built from the populism in Western Canada, a sense of nationalism in Quebec and Tories from Ontario.
He said its owes credit to Preston Manning, founder of the populist Reform Party, a precursor to the Canadian Alliance, which merged with the Progressive Conservatives to form the Conservative Party of Canada.
Harper and Manning then shared the stage Wednesday for what organizers billed as a "fireside chat" about the legacy of the Reform Party.
During the talk, the former Conservative prime minister quipped about foreign election interference, telling the crowd "I hear it's topical" and referred to the federal NDP as a "branch plant" for entering into a supply-and-confidence agreement with the Liberal government.
Only its leader Jagmeet Singh could enter into a deal with the Liberals and leave with nothing, Harper told the room.
As for Poilievre — whom Harper at one point referred to as first meeting as a "very tiny Reformer" — the former prime minister said if he forms the next government, Poilievre would be leading under much tougher circumstances than he ever did.
In the meantime, Harper said Poilievre's job as Opposition leader is to hold Trudeau's government to account, rather than outline how he would run the country.
"That's the job."
He said until an election happens, Poilievre and his team should be developing with their alternative vision for the country looks like to be ready.
This report by The Canadian Press was first published March 22, 2023.
Allow unvaccinated Canadians to cross U.S. border, Poilievre asks President Joe Biden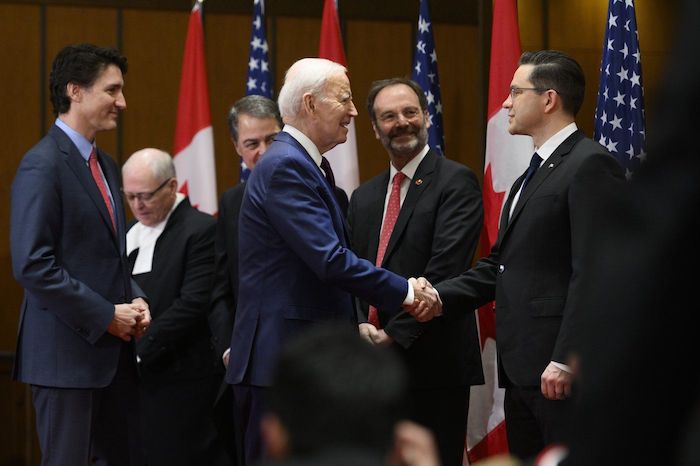 U.S. President Joe Biden shakes hands with Conservative Party of Canada Leader Pierre Poilievre, as Prime Minister Justin Trudeau looks on, during a welcoming ceremony on Parliament Hill in Ottawa, on Friday, March 24, 2023. Conservative Leader Pierre Poilievre says allowing Canadians who are unvaccinated against COVID-19 to cross into the United States was among issues he raised with President Joe Biden. THE CANADIAN PRESS/Justin Tang
By Stephanie Taylor in Ottawa
Conservative Leader Pierre Poilievre said Friday he asked President Joe Biden to remove the U.S. government's requirement that Canadians be vaccinated for COVID-19 before crossing the border.
He told reporters after their meeting that American citizens are no longer required to have their shots and Canada allows unvaccinated Americans to visit.
"There are millions of good, decent, honourable people who, through a personal medical decision, are discriminated against at the border," Poilievre said.
"I encouraged the president to lift those restrictions to allow them freedom of mobility."
Poilievre won the leadership of his party a little more than six months ago by mounting a vocal opposition to COVID-19 health restrictions, including mask and vaccine mandates, but he has since focused his message on cost-of-living issues.
He met with Biden on Parliament Hill Friday during the president's 27-hour visit to the Canadian capital, and later shared a photo of the two online.
Michael Ignatieff was the last Opposition leader to have face time with a U.S president. The former Liberal leader met with former President Barack Obama in 2009. It happened at the airport.
Poilievre said Friday he found Biden wants to be a "friendly" and "decent" neighbour to Canada, and on a personal level, he said he told the president they share Irish heritage.
He said they discussed the need for Canada to bolster its defence systems and "bring fairness" to workers by seeing the U.S. exempt Canada from its Buy American policies.
The Tory leader also said he expressed a need for Biden to axe tariffs on Canadian softwood lumber, arguing that the long-standing dispute saw a brief reprieve under Conservative prime minister Stephen Harper.
"I don't believe that Prime Minister (Justin) Trudeau has pushed and fought on behalf of Canadians," he said.
Before the meeting, Poilievre had shared some unscripted moments with the leader of the free world.
As he stood in a receiving line of Canadian politicians from all parties who were greeting Biden upon his arrival at Parliament Hill, Poilievre introduced himself as the "Leader of His Majesty's Loyal Opposition."
That prompted Biden to question, still shaking Poilievre's hand: "Loyal opposition?"
Poilievre assured him that yes, "we believe that opposition is an act of loyalty in our system."
Biden chuckled, patting Poilievre on the arm.
"We do, too, unfortunately," he said, chuckling.
Later, while addressing the House of Commons, Biden noted that both he and Trudeau appointed cabinets that were half women, making them the first in their respective countries to do so.
Many in the chamber broke out in applause.
Biden noticed that Poilievre and the Opposition Conservatives were not quick to rise, and quipped: "Even if you don't agree, guys, I'd stand up," which Poilievre and others then did.
Asked afterwards about that interaction, Poilievre said only: "We support gender equality for all Canadians."
Poilievre was on the guestlist for a dinner with Biden Friday evening, along with other government ministers, officials and celebrities.
The invitation process came with a dash of partisanship.
Earlier in the day, staff in Poilievre's office were left scratching their heads when they said it had not received an invite from Trudeau's office to attend, and asserted that any suggestion he had refused the invitation was false.
The Prime Minister's Office confirmed it had sent Poilievre notice of the dinner — but the invitation went to a personal email account that notifies senders it is not monitored.
This report by The Canadian Press was first published March 24, 2023.