With 'Jurassic World 3,' dinosaurs rule again at box office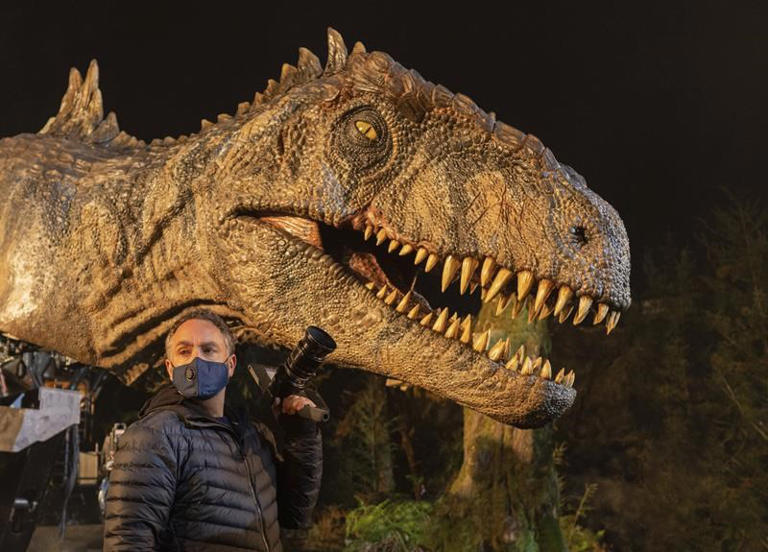 Move over Maverick, the dinosaurs have arrived to claim their throne.
"Jurassic World: Dominion" took a mighty bite out of the box office with $143.4 million in North American ticket sales, according to studio estimates Sunday. Including earnings from international showings — the film opened in various markets last weekend — "Jurassic World: Dominion," released globally by Universal Pictures, has already grossed $389 million. And it's just getting started.
The hefty haul is yet another sign that the box office is continuing to rebound this summer. With the blockbuster successes of films like "Doctor Strange in the Multiverse of Madness," "Top Gun: Maverick" and now "Jurassic World 3," audiences are coming back to movie theaters more consistently.
This weekend is only the third of the pandemic era in which the total domestic box office surpassed $200 million, according to box office tracker Comscore.
Both "Top Gun: Maverick" and "Jurassic World: Dominion" also represent an important caveat for an industry that continues to learn new lessons about pandemic-era moviegoing every week. Although both films are legacy sequels, neither are of the superhero variety, which, for a long time, had seemed like the only pandemic-proof genre.
"Top Gun: Maverick" is still coasting in rarefied skies too: It fell only 44% in its third weekend with an estimated $50 million to take second place, bringing its North American total north of $393.3 million.
"Dominion," a co-production of Universal Pictures and Amblin Entertainment, is the third film in the "Jurassic World" trilogy, which began in 2015 and introduced characters played by Chris Pratt and Bryce Dallas Howard. The newest installment brings back actors Laura Dern, Sam Neill and Jeff Goldblum from Steven Spielberg's 1993 "Jurassic Park."
Colin Trevorrow, who stewarded the "World" trilogy and directed the first film, returned to direct "Dominion," in which dinosaurs are no longer contained and locusts are threatening the world's food supply.
Critics were not kind to the dino extravaganza, but audiences seem to be enjoying themselves based on exit polls. Moviegoers gave it an A- CinemaScore and an 81% audience score on Rotten Tomatoes, suggesting that word of mouth will be strong in the coming weeks. The film opened on 4,676 screens in the U.S and Canada and cost a reported $185 million to produce, not accounting for marketing and promotion.
The filmmakers have said "Dominion" is intended to be the last of the "Jurassic World" films, which have been enormously profitable with over $3 billion in ticket sales. The first earned over $1.7 billion globally alone. Including the original "Jurassic Park" trilogy, that number skyrockets to $5 billion.
___
Follow AP Film Writer Lindsey Bahr on Twitter: www.twitter.com/ldbahr
Lindsey Bahr, The Associated Press
List of 2023 Oscar winners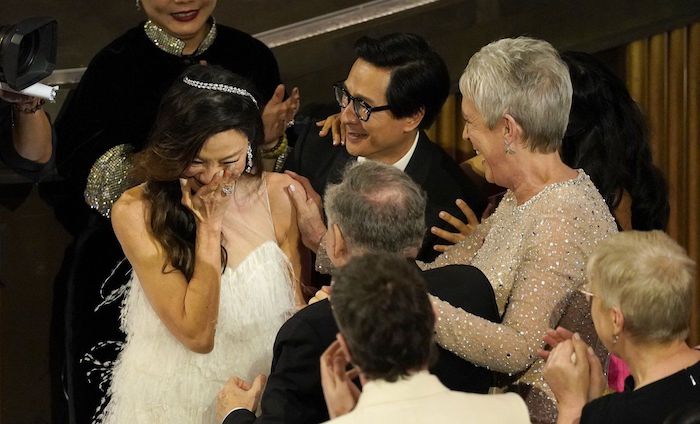 Michelle Yeoh, left, reacts in the audience with excitement as she accepts the award for best performance by an actress in a leading role for "Everything Everywhere All at Once" at the Oscars on Sunday, March 12, 2023, at the Dolby Theatre in Los Angeles. Jamie Lee Curtis, from right, and Ke Huy Quan are seen in the audience. (AP Photo/Chris Pizzello)
By Jake Coyle in Los Angeles
LOS ANGELES (AP) — Oscar winners announced Sunday:
Best picture: "Everything Everywhere All at Once"
Best actress: Michelle Yeoh, "Everything Everywhere All at Once"
Best actor: Brendan Fraser, "The Whale"
Best supporting actor: Ke Huy Quan, "Everything Everywhere All at Once"
Best supporting actress: Jamie Lee Curtis, "Everything Everywhere All at Once"
Original song: "Naatu Naatu" from "RRR"
Film editing: "Everything Everywhere All at Once"
Best director: Daniel Kwan and Daniel Scheinert, "Everything Everywhere All at Once"
Best animated feature: "Guillermo del Toro's Pinocchio"
International feature film: "All Quiet on the Western Front" (Germany)
Documentary feature: "Navalny"
Live action short: "An Irish Goodbye"
Cinematography: James Friend, "All Quiet on the Western Front"
Makeup and hairstyling: "The Whale"
Costume design: "Black Panther: Wakanda Forever"
Documentary short: "The Elephant Whisperers"
Animated short: "The Boy, the Mole, the Fox and the Horse"
Production design: "All Quiet on the Western Front"
Music (original score): Volker Bertelmann, "All Quiet on the Western Front"
Visual Effects: "Avatar: The Way of Water"
Original screenplay: "Everything Everywhere All at Once"
Adapted screenplay: "Women Talking"
Sound: "Top Gun: Maverick"
___
For more on this year's Oscars, visit: https://apnews.com/hub/academy-awards
Bruce Willis has frontotemporal dementia. What is FTD?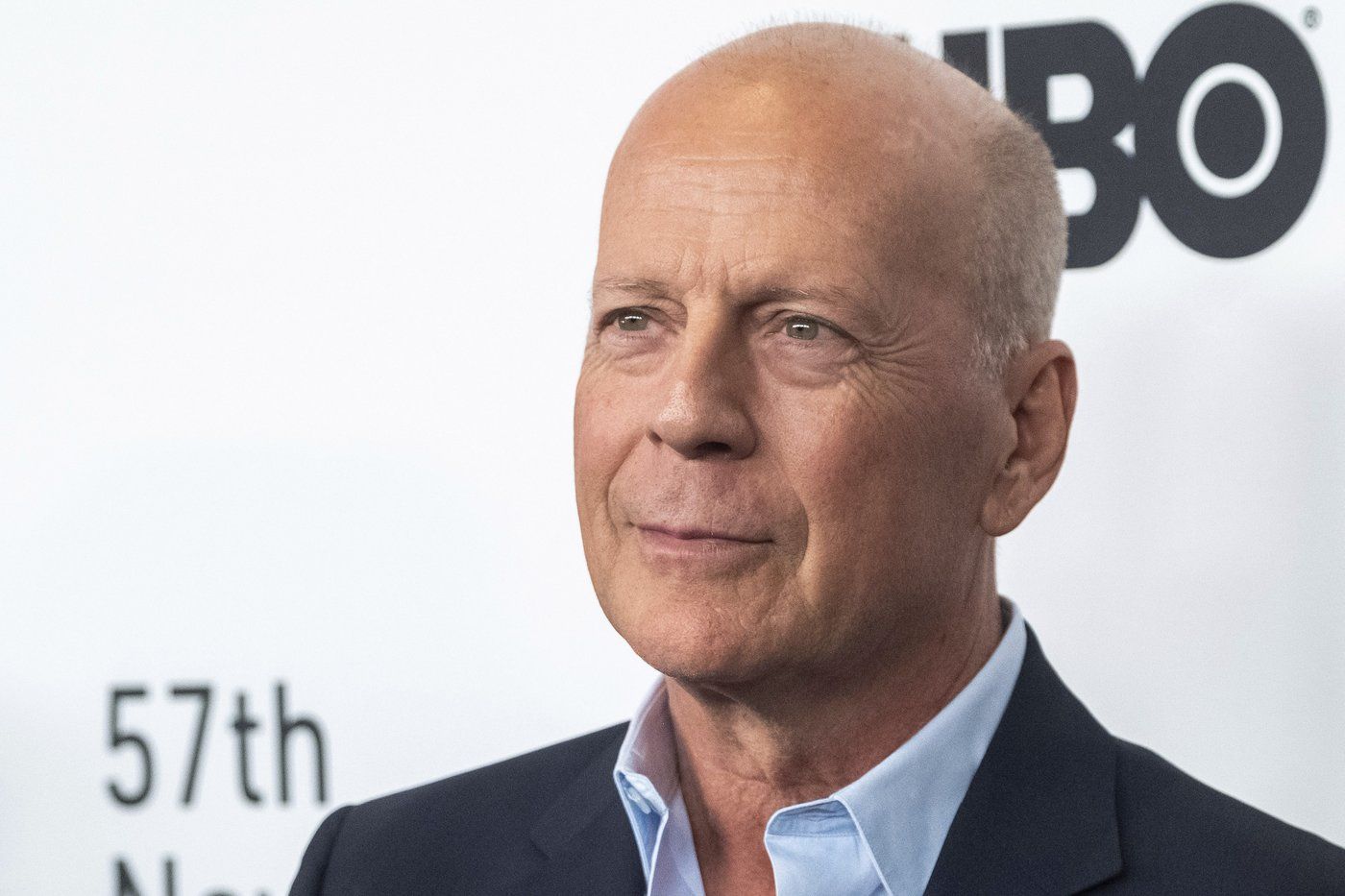 Bruce Willis' family has announced that he has been diagnosed with frontotemporal dementia.
The announcement Thursday came about a year after his family said that Willis would step away from acting after being diagnosed with aphasia, a brain disorder that leads to speaking, reading and writing problems.
Here's some details on the condition:
WHAT IS FRONTOTEMPORAL DEMENTIA?
There are different types of dementia, and the frontotemporal form affects regions in the front and sides of the brain. Because it causes problems with behavior and language, aphasia can be a symptom.
It's caused by damage to neurons, the brain's information carriers, but the underlying reasons for a particular case are often unclear. People with a family history of the condition are more likely to develop it. It's rare and tends to happen at a younger age than other forms of dementia, between ages 45 and 65.
The terms frontotemporal disorders and frontotemporal dementia are sometimes shortened to FTD.
WHAT ARE OTHER SYMPTOMS OF FTD?
Symptoms can include emotional problems and physical difficulties, such as trouble walking. Symptoms tend to worsen over time, though progression varies by person.
The statement from the actor's family said communication problems "are just one symptom of the disease Bruce faces."
CAN FTD BE TREATED?
There are no treatments to slow or stop the disease, but some interventions can help manage symptoms.
Some patients receive antidepressants or drugs for Parkinson's, which has some overlapping symptoms with frontotemporal dementia. Many also work with speech therapists to manage communication difficulties and physical therapists to try to improve movement.
People with the condition are more likely to have complications from things like falls, injuries or infections. The average life expectancy after symptoms emerge is seven to 13 years, according to researchers.
___
The Associated Press Health and Science Department receives support from the Howard Hughes Medical Institute's Science and Educational Media Group. The AP is solely responsible for all content.