Wildfires, smoke having 'huge impact' on some tourism operators across Canada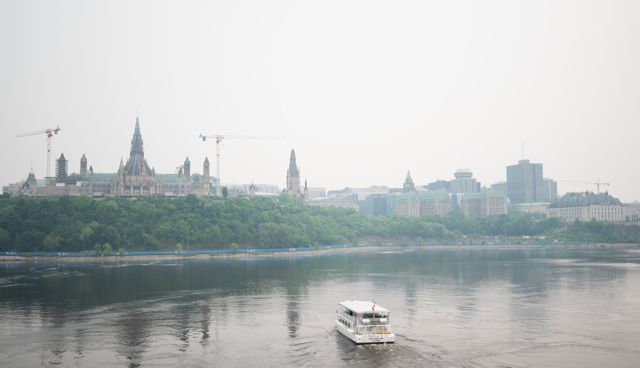 Downtown Ottawa is seen blanketed in smoke from wildfires on Monday, June 5, 2023. Raging wildfires and smoky skies across much of Canada have put a damper on travel and tourism plans this summer resulting in cancelled plans and closed businesses. THE CANADIAN PRESS/Spencer Colby
By Emily Blake
Raging wildfires and smoky skies across much of Canada have put a damper on travel this summer, resulting in cancelled plans and closed businesses.
"We have had a few conversations with our members and we're already seeing domestic and international visitors cancelling trips," said Madison Simmons with the Tourism Industry Association of Ontario.
Simmons pointed to a 2018 study by Visit California, which found that during the state's most destructive wildfire season on record, 11 per cent of potential travellers cancelled their trips to the state, representing a loss of about $20 million that July.
The Ontario tourism group released a study last month suggesting leisure travel in the province was set to grow after being hit by the COVID-19 pandemic and cost-of-living crisis.
Simmons said businesses in the northern part of the province, particularly outfitters and outdoor tours, are most affected.
The wildfires are adding to challenges posed by high gas prices and border delays, she added.
"We're still facing a cost-of-living and cost-of-travel issue. It'll put a further strain on tourism insurance."
Canada's travel and tourism industry was set to almost fully recover from the pandemic this year, the World Travel and Tourism Council said in mid-May.
But Canada's emergency preparedness minister warned on Monday that 2023 is now on track to be the worst year on record for fires.
The Canadian Interagency Forest Fire Centre said that as of Thursday, there were 428 fires actively burning across the country, 231 of which were out of control. Some 43,000 square kilometres has burned so far this year.
In Nova Scotia, the number of fires has already about doubled the yearly average. The largest fire in the province's history is currently burning near Barrington Lake, which has forced out thousands from Shelburne County and destroyed 150 structures.
Daniel Khan is vice president of the Shelburne and Area Chamber of Commerce and owns Roseway River Cottages. He said the business is one of many outside the evacuation area that has opened its doors to evacuees.
"We're trying to do our best in terms of managing both the immediate need of people who are local and also our businesses in terms of accommodations with bookings that we have," he said.
Khan said many of bookings until early July are from returning guests who have family in the area while tourists who had planned to explore the province have cancelled. He said it remains to be seen how the fire will affect tourism for the remainder of the summer.
The province recently lifted restrictions on travel and activities in the woods, including hiking and camping, in all areas except for Shelburne County. A provincewide ban on burning remains, including campfires and fireworks.
Quebec, which officials said is experiencing its worst wildfire season, has also prohibited access to forests in several regions. The fires and restrictions have caused many wilderness outfitters to shut down during one of their busiest times of year.
Dominic Dugré, president of industry association Fédération des pourvoiries du Québec, said of the more than 500 outfitters who operate in Quebec's forests, 350 have been forced to close.
Most affected by wildfires in the province are the Abitibi-Témiscamingue and Nord-du-Québec regions.
"We're surrounded by forest so it's our playground," said Nancy Arpin, general manager of Tourisme Val-d'Or.
She noted Val d'Or is near La Vérendrye wildlife reserve and Route 117, the Trans Canada Highway Northern Route, which is on pre-alert for closure due to smoke.
In northern Saskatchewan, wildfires have forced an Indigenous tourism conference to reschedule.
Candice Evans-Waite is the project coordinator for Westside Indigenous Experience Inc., a non-profit that supports tourism operators in northwest Saskatchewan.
"I feel very shocked and saddened. I don't know what's it's going to be like going back home," Evans-Waite, whose home community is Buffalo Narrows, said of the wildfires. "I think our landscape has drastically changed."
"It's been a huge impact on our industry as well as our communities."
Evans-Waite said around 75 people were expected to attend the symposium in Beauval this week, which would have included a cultural demonstration, lake tours and an artisan market. She said the group also planned to share a tourism strategy it has worked on for six months.
"It was a hard call," she said of the cancellation.
The symposium has been rescheduled for September and Evans-Waite is expecting it to be bigger and better, with a focus on authentic Indigenous experiences.
Keith Henry, chief executive officer of the Indigenous Tourism Association of Canada, said in 2019 Indigenous tourism contributed nearly $2 billion in revenue to Canada's economy and supported roughly 40,000 jobs.
"This is a very challenging time for the industry," he said, adding the organization is concerned about environmental impacts. "We were looking forward to a very strong summer this year driven with significant new domestic interest but the wildfires are really having an impact on the consciousness of consumer spending."
Many other outdoor events and businesses across Canada have been cancelled or are taking precautions due to poor air quality from wildfire smoke.
Canada's Wonderland said the park is providing KN95 masks to employees who request them as well as additional breaks and advice on steps to take if they or visitors feel unwell. The Toronto Zoo said it is has put precautions in place for animals, including access to the indoors and additional ventilation.
This report by The Canadian Press was first published June 9, 2023.
— With files from Rosa Saba and Sammy Hudes in Toronto and Jacob Serebin in Montreal.
—
Winnipeg man pleads guilty to manslaughter in the death of Saskatchewan RCMP officer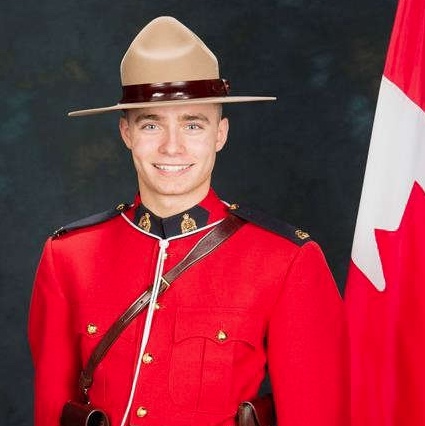 A man has pleaded guilty to manslaughter in the death of a Saskatchewan RCMP officer. RCMP Constable Shelby Patton is shown in this undated handout photo. Patton, of the Indian Head Detachment, was killed on June 12, 2021, after being hit by a pickup truck during a traffic stop. THE CANADIAN PRESS/HO, RCMP
By Jeremy Simes in Regina
The mother of a Saskatchewan RCMP officer who was killed two years ago says it was "hell" to watch a Winnipeg man plead guilty to manslaughter in her son's death.
Alphonse Stanley Traverse pleaded guilty on Wednesday to the charge in Regina Court of King's Bench for his role in Const. Shelby Patton's death. Traverse also pleaded guilty to a charge of stealing a motor vehicle.
"It's very traumatic," Melanie Patton, the mother of the 26-year-old Mountie, said in an interview.
"It's better than sitting through a trial, but at the same time there's so much trauma and we're not going to recover. It's like I'm living in hell."
Shelby Patton was killed more than two years ago when he attempted to stop a stolen truck, driven by Traverse, near the town of Wolseley, east of Regina.
According to an agreed statement of facts, Traverse had been driving from Winnipeg to Saskatchewan in June 2021 to play VLTs. He was with Marlene Pagee at the time, and they chose to go to Saskatchewan because bars were open in the province. COVID-19 measures meant bars were closed in Manitoba.
Traverse was on warrant status for various Criminal Code offences, the document said, and Pagee had been on bail with conditions. She also faces one count of accessory to murder after the fact in Patton's death.
Court heard Traverse and Pagee were driving a stolen green truck as they made their way to Saskatchewan. They were both using crystal meth.
However, the green truck wasn't working well, so Traverse and Pagee began looking for another vehicle. The document said they came across another truck near Pipestone, Man., and stole it. The truck was unlocked and had keys in the ignition.
The document said Traverse and Pagee made their way to Wolseley and stopped outside a hotel. Patton was then dispatched to investigate a suspected stolen truck in town.
When Patton arrived, court heard the couple noticed the Mountie's car, so they decided to drive away. However, Patton stopped them shortly thereafter and walked towards the driver's window, speaking with Traverse.
Court heard Patton had asked Traverse if he worked for the company that owned the truck. Traverse lied, saying he did. Patton then told him the truck had been reported stolen, asking him to step out of the vehicle until the issue could be sorted.
Traverse then turned to Pagee, saying "I can't," and started the truck.
Court heard Patton stepped up on the truck's running board and reached for the key's inside. The truck then accelerated rapidly and jerked.
The document said Patton fell off the running board. The rear driver-side tire ran over his body, killing him.
Melanie Patton said her son's death was no accident.
"He was a very good officer. He did not make a mistake," she said. "I'm sure any officer would have done the same. The job is very dangerous and getting more dangerous, unfortunately."
She said she hopes Traverse is given the maximum penalty.
Traverse is scheduled for sentencing on Jan. 17.
This report by The Canadian Press was first published Sept. 27, 2023.
Rota debacle renews calls to examine history, including war crime records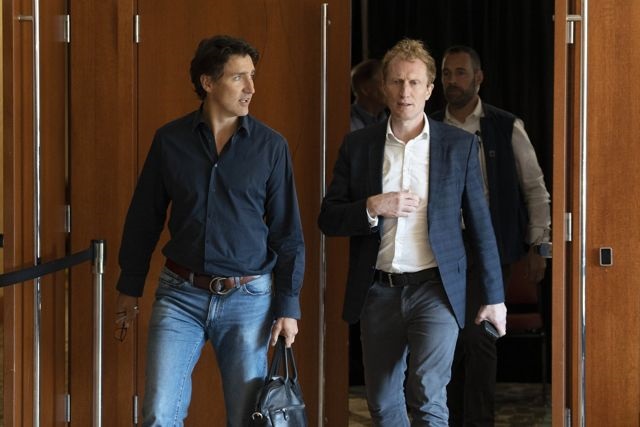 Prime Minister Justin Trudeau, left, and Minister of Immigration, Refugees and Citizenship Marc Miller leave a meeting during the Liberal Cabinet retreat in Charlottetown, Tuesday, Aug. 22, 2023. Canada could revisit calls to declassify documents about the presence of Nazi war criminals in the country, Miller said Wednesday, as the fallout continued over Parliament's recognition last week of a man who fought for the Nazis. THE CANADIAN PRESS/Darren Calabrese
By Mia Rabson in Ottawa
Canada could revisit calls to declassify documents about the presence of Nazi war criminals in the country, Immigration Minister Marc Miller said Wednesday, as the fallout continued over Parliament's recognition last week of a man who fought for the Nazis.
"Canada has a really dark history with Nazis in Canada," Miller said, heading into the weekly Liberal caucus meeting.
"There was a point in our history where it was easier to get (into Canada) as a Nazi than it was as a Jewish person. I think that's a history we have to reconcile."
Many Jewish organizations in Canada say doing that requires a public airing of information, and that means all the records Canada has about the presence of war criminals must be opened up.
"I think part of the problem here is that the records are closed," said B'nai Brith senior lawyer David Matas in an interview.
"You can't remember the past unless you know the past, and you can't know the past unless you get the records."
B'nai Brith Canada and the Friends of Simon Wiesenthal Center both reiterated their long-standing calls this week for the government to make public all records about the admittance of former Nazi soldiers.
That includes the entirety of a 1986 report from a public commission on war criminals, which is often referred to as the Deschênes Commission for the judge who led it.
The report has never been fully released, including an appendix with the names of 240 alleged Nazi war criminals who might be living in Canada that the report recommended Canada investigate.
"It's now time for Ottawa to not only release the unredacted files related to the Deschênes Commission, but to also address the stark reality that there are still former Nazis with blood on their hands living in Canada," said Friends of Simon Wiesenthal Center President Michael Levitt.
Matas noted that in June, a House of Commons committee studying Canada's access-to-information system recommended all historical documents be released in full after 25 years.
He said implementing that recommendation would fulfil the desire to see Canada's war criminal records.
Currently, records can be released 20 years after someone's death. But Matas said that rule doesn't apply in this case, because information about people who died can't be accessed unless their names are available.
He said it's not that every person named in the records is guilty, but that a justice system relies on openness, and you can't have justice without transparency, whether you're guilty or innocent.
There is also little to no information publicly available about what follow-up was done to investigate alleged war criminals named in the Deschênes report, or bring any of them to justice.
All of this comes after what some have called the most embarrassing international debacle in Canadian history.
On Friday, during an official visit by Ukraine President Volodymyr Zelenskyy, the House of Commons Speaker pointed to a guest in the gallery he identified as a war hero.
Parliamentarians and dignitaries who were present gave two standing ovations to a 98-year-old Ukrainian Canadian war veteran without knowing or understanding that the unit he fought with was formed by Nazi Germany to fight against the Soviet Union.
Speaker Anthony Rota, who said he did not know about Yaroslav Hunka's background, apologized for making an egregious mistake inviting him to Parliament. He announced Tuesday that he would resign from the role.
On Wednesday, Prime Minister Justin Trudeau issued an apology on behalf of Canada and all parliamentarians for the debacle.
University of Alberta professor John-Paul Himka pointed out that nobody seemed to immediately understand how Hunka's military history implied he would have fought with the Germans.
That's because of a great lack of understanding of history, even among elected MPs, he said.
"I mean, this man was introduced as somebody who fought the Russians during World War II. Who was fighting the Russians during World War II? It was the Germans," he said.
Matas concurred.
"I mean if Rota didn't know about this whole issue and he was the Speaker of the House of Commons, you can imagine how widespread the ignorance is," he said.
Still, said Matas, the uproar has rejuvenated the discussion about exposing that history, including all the records.
"This is on the radar, now, I think," he said. "They're paying attention to it."
Miller said he has read the Deschênes report twice since this all happened, and encouraged all Canadians to do so.
He also said he knows there are many people demanding the release of the records, and it is something the government "could possibly examine again."
But he said because he doesn't know exactly what is contained in the documents, he doesn't yet want to say if he backs their full release.
"But again, in a country like Canada that has not only a difficult history with Nazis in Canada, but also one of the most important diaspora of Jewish people, including some of the largest proportions of Holocaust survivors, impunity is absolutely not an option," he said.
Mental Health Minister Ya'ara Saks, whose York Centre riding in Toronto has about one-fifth of its population identifying as Jewish, said Canada should look at what it can do to help provide answers and closure to Jewish Canadians.
She said opening the records is something to be looked at.
This report by The Canadian Press was first published Sept. 27, 2023.