Wife of N.S. mass killer explains why she didn't report earlier violence to police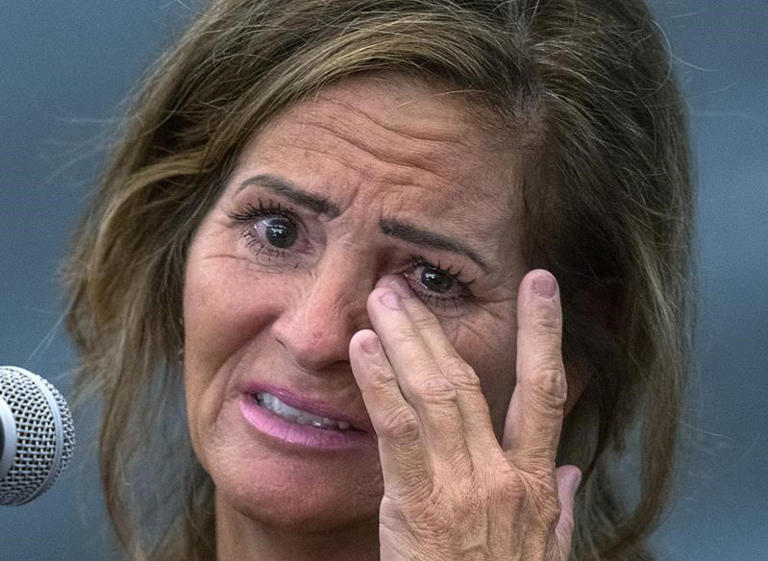 HALIFAX — The common-law wife of the man responsible for the Nova Scotia mass shooting told an inquiry Friday that she lied to police about his illegal weapons and failed to report earlier violent behaviour because she was deeply afraid of him.
Lisa Banfield struggled to maintain her composure as she described how her partner beat her in 2003 as witnesses looked on, and she offered new details about what happened when her spouse threatened to kill his parents in 2010.
It was the first time she has spoken publicly about her life with the killer, and the inquiry's decision to spare her from facing cross-examination proved contentious. Lawyers from a firm representing families of 14 of the victims, as well as about 20 of those family members, walked out of the hearing in protest before it ended.
The inquiry has heard Banfield was beaten and badly injured by Gabriel Wortman on the night of April 18, 2020, immediately before he began a shooting rampage that would claim 22 lives. She told investigators that she escaped into the woods and emerged the next morning to tell police that her partner was still at large and driving a vehicle that looked exactly like an RCMP cruiser.
Banfield said she will remain forever haunted by her decision to flee, as she wonders if her spouse might have harmed her and then left others alone.
"I often think would any of those people have died? So that is something that haunts me all the time, because I feel that they weren't targeted. He was looking for me in the beginning," she said.
Banfield's testimony was at times painful and dramatic as she described what happened in June 2010 when Wortman's uncle alerted Halifax police that his nephew had threatened to kill his parents over a property dispute.
Banfield recalled how the killer had been drinking heavily and fired a bullet into the wall of their home in Dartmouth, N.S., terrifying her. When a Halifax police officer arrived at their door, Banfield admitted she lied when asked about the death threats and whether her spouse owned any weapons.
When commission lawyer Gillian Hnatiw asked why she lied, Banfield sobbed as she explained.
"He had the handgun by the nightstand, and he said. 'If any police come, I'm shooting,'" she said. "So, when they asked me that, I didn't want them to go in, because I didn't want them (police) to get hurt."
When an RCMP officer showed up at the couple's summer home in Portapique, N.S., after the death threat was reported, Wortman insisted he didn't own any firearms, aside from an old musket and another antique weapon suspended near the fireplace and "filled with wax," Banfield testified.
She confirmed that the officer in question was Const. Greg Wiley, who had known Wortman for years and later told investigators that he had visited his Portapique home 16 times.
Hnatiw also asked Banfield about a violent assault at a gathering in Sutherland Lake, north of Portapique. In earlier interviews with the inquiry, she indicated the attack took place in 2001 or 2002, but she confirmed Friday the actual date was 2003.
She testified that when she tried to leave the bush party, Wortman became irate. As the pair drove away in his Jeep, he started punching her, she said.
"And as I was driving back on the back road, he's yelling at me," she said as the hearing room fell silent. "He started smacking me in my face. I'm thinking, 'I've never had anybody hit me before … and I'm trying to drive. He just kept whacking me in the head."
She said she jumped out of the vehicle and ran into the woods. He ran after her and caught her.
"He grabbed by the hair and was punching me, and I'm trying to protect myself," she said. "I'm screaming. He pulled me out by the road … and then I could see these two (all-terrain vehicles) and their lights were on me. He looked up and he dropped me."
Banfield said Wortman was later placed in the back of a police cruiser and taken back to their home in Portapique.
Asked why she declined to report the assault to police, Banfield replied: "That's the first time anybody hit me, and I didn't want to get anybody in trouble. I just thought, 'I'm walking away.'"
Hnatiw also asked Banfield about the early stages of the couple's relationship, which started in 2001 after they met at a bar in downtown Halifax. Banfield said that on their first date, he showed up with two dozen long-stemmed roses. "I thought that was over the top," she said.
But later that night, she was impressed by his reaction when his car was rear-ended by a vehicle driven by a young woman. "He approached the two young girls in the vehicle. He was smiling," she said. "He said, 'It's OK.' He was very calm. I thought, 'He's a good guy.'"
Earlier this week, the commission released a document based on evidence provided by Banfield during interviews with the RCMP and the inquiry detailing the killer's long history of violence toward her. It said she would not face cross-examination, mainly because she could be traumatized by having to relive the violence she endured.
Still, lawyer Michael Scott, whose firm represents families of 14 of the victims, says the decision to limit questioning will leave lingering doubts about Banfield's testimony.
Scott, several other lawyers in his firm and about 20 family members the firm represents walked out of the hearing in the afternoon. "We've decided with our clients we've heard enough and we'll be leaving for the rest of the day," he said.
"I don't know if Ms. Banfield is lying, I don't know if she's telling the truth, I don't know if Ms. Banfield is mistaken, because we don't have an opportunity to ask her any questions."
In the afternoon testimony, Hnatiw asked Banfield whether she ever suspected her spouse might harm others, given she knew he owned a mock RCMP cruiser, illegal guns and a stockpile of gas and money.
She replied she regarded it as related to his paranoia about the pandemic. "He was talking crazy, and I would pass it off because I didn't want to listen to what he was saying," she said.
During the 13 hours he was at large, the killer fatally shot 22 people, including a pregnant woman and a Mountie. He was shot dead by two Mounties on the morning of April 19, 2020.
This report by The Canadian Press was first published July 15, 2022.
Michael Tutton and Michael MacDonald, The Canadian Press
'I am sorry': Man convicted in stabbing of Calgary chef apologizes at sentencing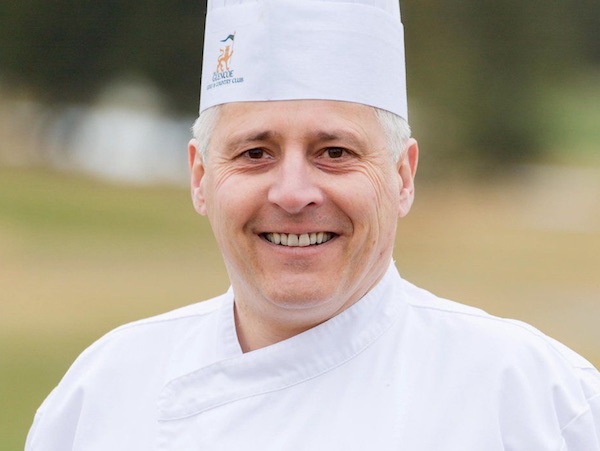 By Bill Graveland in Calgary
A man convicted of killing a chef apologized Monday and expressed dismay that no one with the victim's family was in court to to hear it.
Tommie Holloway was convicted of manslaughter while his accomplice, Anthony Dodgson, was found guilty of second-degree murder in the death of Christophe Herblin.
Herblin was stabbed to death in a parking lot outside his soon-to-be opened Calgary café following a break-in in 2020.
Holloway, 33, told his sentencing hearing that he hoped his words would get through to Herblin's wife, who wrote in a victim impact statement last December that the killing had left her broken and struggling "to make sense of this tragedy."
"It got to me. Got me emotional," said Holloway.
"I just wish they were here today so I could look at them eye-to-eye, apologize for my actions. I know no amount of words that I'm going to say is going to bring back their loved one, but I do want them to know that I am sorry."
The Crown has recommended Holloway serve 12 years in prison. Defence lawyer Kim Ross said his client had no previous criminal record, has made efforts to turn his life around and should serve three to five years.
"I'm not standing here saying that imprisonment is not appropriate here. The issue is how long," Ross told Court of King's Bench Justice Blair Nixon.
"Mr. Holloway has clearly learned his lesson … and I submit with some degree of confidence that this court will never see Mr. Holloway back here again."
Herblin was a longtime executive sous chef at the Glencoe Golf and Country Club, and his new restaurant was weeks away from opening.
Court heard Dodgson and Holloway broke into the restaurant with plans to get through a wall into an adjacent cannabis shop. They fled when a car drove by and returned later to continue their robbery attempt but became frustrated as Herblin had showed up.
Holloway smashed Herblin's car windows in order to lure him into the parking lot. Dodgson attacked him and stabbed him nine times.
Herblin staggered to a nearby gas station for help and died shortly after police officers came to his aid.
Ross said Holloway had no knowledge of what was going to happen and immediately ran off after smashing out the car's windows.
"Mr. Holloway at that point did not know what had happened. He did not know that Mr. Herblin was in the state that he was in and that he had gone to the Shell looking for help," Ross said.
"He was leaving the scene of a possible break and enter. Certainly at the time of his leaving he did not know."
Dodgson receives an automatic life sentence for the murder conviction. When the sentencing hearing began for both men in December, the Crown argued that Dodgson should not be eligible for parole for 15 to18 years. His lawyer asked for a range of 10 to 12 years.
The judge is scheduled to deliver his sentence for Holloway and Dodgson on Feb. 24.
This report by The Canadian Press was first published Feb. 6, 2023.
This is a corrected story. A previous version said lawyers were recommending the time Holloway should serve before he is eligible for parole.
'Lit a match': Prosecutor says pastor's fiery speech at Coutts blockade was criminal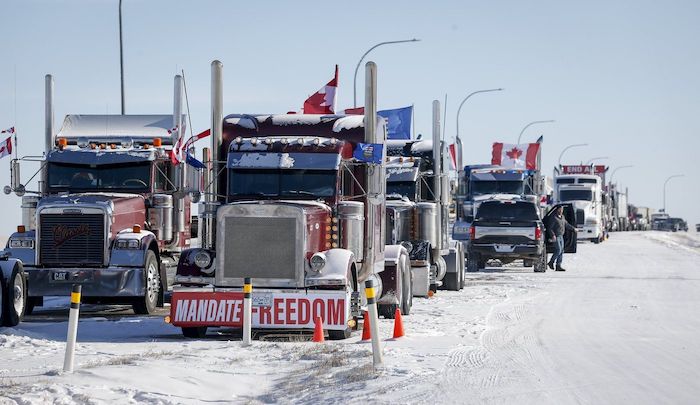 By Bill Graveland in Lethbridge
A Crown prosecutor told court that a Calgary pastor accused of encouraging truckers to keep blocking a Canada-U.S. border crossing meant to fan the flames with his visit.
Steven Johnston presented closing arguments Friday in the trial of Artur Pawlowski.
Johnston said Pawlowski knew exactly what he was doing when he spent a day with the truckers involved in the blockade at Coutts, Alta.
The blockade began in late January 2022 to protest COVID-19 health restrictions. It paralyzed Alberta's main U.S. border crossing for more than two weeks.
"He went there … to fire up that crowd, to tell them to hold the line, to tell them not to leave, to tell them stand strong, 'this is our Alamo,'" Johnston said of Pawlowski's visit.
"He went to Coutts, lit a match and left the place."
Pawlowski has pleaded not guilty to mischief and breaching a release order, as well as a charge under the Alberta Critical Infrastructure Defence Act of wilfully damaging or destroying essential infrastructure.
Several people were also charged after RCMP found a cache of guns, body armour and ammunition in three trailers during the blockade. Four men face charges of conspiracy to commit murder.
The Crown's case against Pawlowski consists of a 20-minute video of a speech the pastor gave to protesters on Feb. 3, 2022, urging them to hold their ground.
"The eyes of the world are fixed right here on you guys. You are the heroes. Don't you dare go breaking the line," Pawlowski said in the video shown in court.
Johnston said the pastor's speech was akin to yelling "fire" in a movie theatre.
The prosecutor said Pawlowski also referred to labour strikes in Poland, but the main reason for the pastor's speech was to encourage protesters "hold the line" and continue blocking the border crossing.
"When he says 'here,' he doesn't mean some labour dispute. He's actually in Coutts when that occurred," Johnston said.
"He also referred to Coutts as this 'pitiful piece of land," so we're talking about Coutts."
The defence argued during the trial that Pawlowski was expressing his opinion and didn't incite the crowd to do anything.
Outside court Friday, Pawlowski said he tried to speak with Johnston about the proper pronunciation of his last name.
"This is my last name, so the least you could do an effort, after a year of persecuting an individual, to learn how to pronounce that individual's last name," Pawlowski told reporters.
The trial was put over to Feb. 17, when a date is to be set for a decision.
Pawlowski said he is optimistic about the verdict.
"I believe it went very well. It was a very unusual trial for me because witnesses were not called and the only evidence, if you will, is my sermon in Coutts."
Pawlowski was also charged with violating COVID-19 protocols nearly two years ago, but the charges were stayed by the Crown in December.
This report by The Canadian Press was first published Feb. 3, 2023.