White House: LA port going 24/7 to ease shipping backlog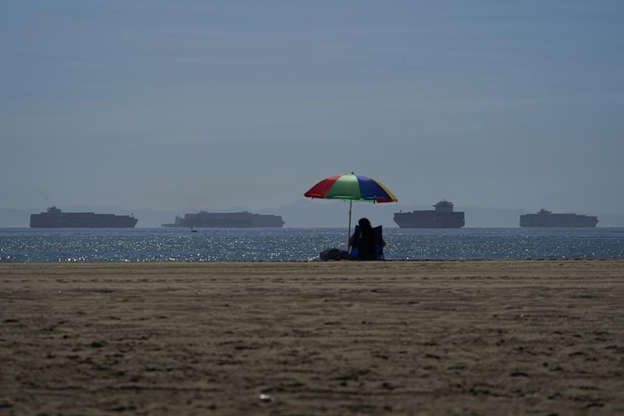 WASHINGTON (AP) — The White House said Wednesday it has helped broker an agreement for the Port of Los Angeles to become a 24-hour, seven-days-a-week operation, part of an effort to relieve supply chain bottlenecks and move stranded container ships that are driving prices higher for U.S. consumers.
President Joe Biden planned to discuss the agreement during a speech Wednesday afternoon about supply chain issues that have hampered the economic recovery from the coronavirus pandemic. The supply chain problem is tightly linked with the broader challenge of inflation confronting Biden.
Ports in Los Angeles and Long Beach, California, account for 40% of all shipping containers entering the U.S. As of Monday, there were 62 ships berthed at the two ports and 81 waiting to dock and unload, according to the Marine Exchange of Southern California.
Commitments by the Los Angeles port's operator, longshoremen and several of the country's largest retail and shipping companies are expected to help relieve the backlog. Walmart, FedEx and UPS made commitments to unload during off-peak hours, making it easier for the LA port to operate nonstop and reduce the backlog. The Long Beach port has been operating 24 hours daily for seven days for roughly the past three weeks.
Before his speech, the Democratic president was scheduled to hold a virtual roundtable with the heads of Walmart, FedEx Logistics, UPS, Target, Samsung Electronics North America, the Teamsters Union and the U.S. Chamber of Commerce, among other groups.
Republican lawmakers have frequently blasted Biden's $1.9 trillion coronavirus relief package for fueling higher prices. A recent analysis issued by the investment bank Goldman Sachs estimates that "supply-constrained goods" account for 80% of this year's inflation overshoot, yet the political criticism continues to sting as housing and oil prices add to inflationary pressures.
Senate Republican Leader Mitch McConnell has made inflation one of his central criticisms of Biden, a sign that getting prices under control could be essential for Democrats trying to hold onto congressional seats in next year's elections.
"The Democrats' inflation is so bad that even though the average American worker has gotten a multiple-percentage-point pay raise over the last year, their actual purchasing power has been cut," McConnell said in a Senate floor speech last week. "Even dollar stores are having to raise their prices. Just ask any American family about their last few trips to the supermarket, the gas station or the toy store. Heaven forbid if they've had to participate in the housing market or the auto market anytime lately."
The Biden administration has argued that higher inflation is temporary. Yet the supply chain issues have persisted months after the economy began to reopen and recover after vaccines lessened many of the risks from the pandemic.
Economists expect that Wednesday's consumer prices report will show that prices climbed 5.3% from a year ago, significantly above the Federal Reserve's 2% target. Atlanta Fed president Raphael Bostic said in a Tuesday speech that he no longer calls inflation "transitory" as he expects this current "episode" of inflation could last into 2022 or longer.
Josh Boak, The Associated Press
CFL leaves door open for Argos' quarterback Bethel-Thompson playing in East final
TORONTO — The CFL has left the door open to McLeod Bethel-Thompson playing in the East Division final Sunday.
The Toronto Argonauts starting quarterback was held out of practice and sent home Friday after attending the Toronto Raptors 97-93 home win over the Milwaukee Bucks on Thursday night.
That violated the CFL's COVID-19 protocol, which would've normally meant Bethel-Thompson having to quarantine for four days and provide two negative tests before being able to resume team activities.
But Toronto hosts the Hamilton Tiger-Cats in the conference final Sunday afternoon at BMO Field.
The CFL announced Friday afternoon Bethel-Thompson will be allowed to play Sunday if he produces negative COVID testing following a 48-hour quarantine at his residence.
Argos Dexter McCoil, Charleston Hughes, Llevi Noel and Jeff Richards also attended the basketball game and will be subject to the same requirements as Bethel-Thompson.
Toronto (9-5) finished atop the East Division standings to secure home-field advantage for the conference final.
Bethel-Thompson was 7-2 as Toronto's starter this season.
Both the Argos and Raptors are owned by Maple Leafs Sports & Entertainment.
If Bethel-Thompson can't play, Antonio Pipkin will start for Toronto on Sunday.
The six-foot-three, 225-pound Pipkin started Toronto's season-ending 13-7 home loss to Edmonton on Nov. 16, completing 10-of-22 passes for 111 yards and an interception while rushing for 78 yards and a TD on nine carries.
Video of Bethel-Thompson holding his infant daughter at the NBA game was carried on the Argos' Twitter account Thursday night but was no longer available Friday.
But it was present long enough for Hamilton receiver Brandon Banks to notice.
"Wow when I tried to go to raptors game the @cfl told me I couldn't go!" Banks tweeted. "I ain't snitching but shit fishy ! #Protocol #tier1."
Bethel-Thompson also appeared on TSN's broadcast of the Raptors-Bucks game.
TSN is the CFL's broadcast partner.
"So lemme get this straight," TSN's Kayla Grey, who interviewed Bethel-Thompson during the broadcast, tweeted Friday. " … a starting quarterback goes on a national broadcast to promote an East Final that he is now forced to miss because the league is forcing him to quarantine for going to a game to promote said East Final?
"Baby what a mess."
This report by The Canadian Press was first published Dec. 3, 2021.
The Canadian Press
Canada buying up to 1.5 million courses of oral antiviral drugs to fight COVID-19
OTTAWA — Procurement Minister Filomena Tassi says Canada has signed agreements to buy up 1.5 million courses of oral antiviral treatment for COVID-19.
The government has signed up for an initial one million courses of antiviral treatment, once Health Canada endorses their safety and efficacy.
Pfizer submitted a request for Health Canada approval earlier this week.
Canada has also purchased 500,000 courses of Merck's oral antiviral treatment for COVID-19, with the option to purchase another 500,000 once Health Canada approves the drug.
The drugs are designed to block the enzyme essential for viral replication.
Merck's clinical trial showed a 50 per cent reduced risk of hospitalization or death compared to placebo patients with mild or moderate COVID-19.
This report by The Canadian Press was first published Dec. 3, 2021.
The Canadian Press