What are panic attacks and what causes them? A look at the issue
TORONTO — Supreme Court Justice Clement Gascon, who briefly went missing in Ottawa last week, recently explained that his disappearance was caused by a panic attack. Here's a look at the science and the stigma around the issue:
WHAT IS A PANIC ATTACK?
Andrew Jacobs, a psychologist with the Royal Ottawa Mental Health Centre, said panic attacks are "a sudden surge in anxiety or an uncomfortable feeling that go from zero to 60 within a few minutes." Panic attacks are defined by a certain set of symptoms that can include increased heart rates, nausea, dizziness, shortness of breath, sweating and a fear the person is dying. Jacobs said a person must experience four out of 13 symptoms as defined by the Diagnostic and Statistical Manual of Mental Disorders.
WHAT CAUSES AN ATTACK?
The Canadian Mental Health Association says panic attacks can be brought on by stress, fatigue or even excessive exercise. Jacobs says there are two types of panic attacks: cued and uncued. "Cued attacks happen as a result of someone already being very worried or fearful of something that can escalate into panic," he said. "Uncued, which feels like the panic attacks come literally out of nowhere — it can even happen in the middle of sleep." Gascon said in his statement that on the afternoon he went missing, he was affected by both a change in medication and a "heart-rending career decision." He announced in September he plans to retire.
HOW DOES A PERSON COPE WITH A PANIC ATTACK?
There are many options for treating anxiety and panic attacks, including medication and counselling. One in particular is called cognitive behavioural therapy, or CBT. According to St. Joseph's Healthcare in Hamilton, CBT can include such methods as confronting a feared situation, as well as breathing techniques and replacing anxious thoughts with realistic ones. In Gascon's case, he said his recent episode had been "taken care of and treated with the necessary medical support."
CAN YOU RETURN TO WORK AFTER A PANIC ATTACK?
Gascon said in his statement that he is "fully capable" of performing his duties as a judge, and Chief Justice Richard Wagner said in his own statement that Gascon continues to have his "full support and confidence." Jordan Friesen, the national director of workplace mental health at the Canadian Mental Health Association, said it should be "relatively simple" for Gascon to return to work, given that panic attacks tend to be time-limited. "I think the question becomes, for him and for his employer, is to understand what to do if a situation like that happens again," said Friesen. "My hope would be that if he's experiencing symptoms of a panic attack again that he's able to go and identify this to his employer and seek appropriate support — much like you would if you were at work and started feeling ill with the flu."
HOW HAVE ATTITUDES TOWARD MENTAL HEALTH IN THE WORKPLACE CHANGED OVER THE YEARS?
Last year, the family of late Supreme Court justice Gerald Le Dain went public with the story of his departure from the court in 1988, saying then-chief justice Brian Dickson forced Le Dain out after he was hospitalized with depression. A former top aide to Dickson had previously written that the decision was made because the Supreme Court had a heavy load at the time and could not handle being short a judge, but Le Dain's family told CBC he would have returned after a short time off to recuperate. In contrast to the way Le Dain was allegedly treated, the response to Gascon's public statement has been overwhelmingly positive. Wagner said Gascon's explanation took courage, while Independent MP Jody Wilson-Raybould thanked him for sharing his struggle. Doron Gold, a former lawyer who now works as a psychotherapist with Homewood Health, said the response illustrates the way attitudes have shifted — though he added there's still much work to be done. "Things are so much better than they used to be, and they're so far away from where they should be," said Gold.
Adam Burns, The Canadian Press
Red Deer Hospital Lottery announces $25,000 winner of the Early Bird Draw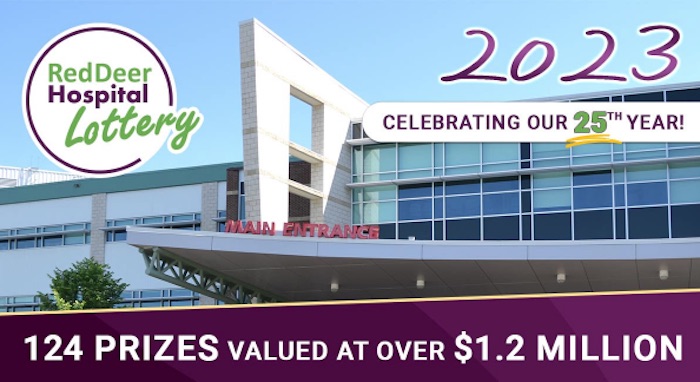 Congratulations to GAGE & VICTORIA SEAVILLEKLEIN of RED DEER,
the lucky winner of our $25,000 Early Bird Draw!
It's not too late to see your name on the Winners' List. But you'll have to hurry – tickets are only on sale until June 19th.
Our Grand Prize Sorento Custom Dream Home prize package is valued at $1,126,465 including furnishings from Urban Barn!
CHECK OUT OUR GREAT TICKET PACKAGES
1 for $25 • 5 for $75 • 10 for $125 • 25 for $250
Over $1.2 Million in prizing to be won!
Win half of an increasing jackpot of up to $1,000,000
$10 EACH | 10 FOR $25
25 FOR $50 | 50 FOR $75
Win half of the current jackpot of:
If you've ordered your tickets prior to receiving this email, thank you and good luck! If you know someone who would like to show their support for our hospital,
click below to forward this email to a friend.
Thank you so much for your support, and best of luck in the draws.
CALL RED DEER & AREA OR TOLL FREE
403.340.1878 1.877.808.9005
After yearslong delay, DEA revokes license of wholesale drug distributor over opioid crisis failures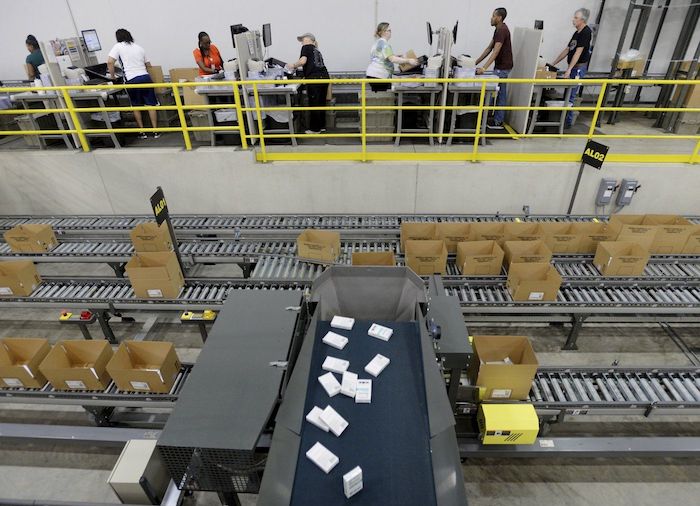 By Joshua Goodman And Jim Mustian
The U.S. Drug Enforcement Administration stripped one of the nation's largest drug distributors of its license to sell highly addictive painkillers Friday after determining it failed to flag thousands of suspicious orders at the height of the opioid crisis.
The action against Morris & Dickson Co. that threatens to put it out of business came two days after an Associated Press investigation found the DEA allowed the company to keep shipping drugs for nearly four years after a judge recommended the harshest penalty for its "cavalier disregard" of rules aimed at preventing opioid abuse.
The DEA acknowledged that the time it took to issue its final decision was "longer than typical for the agency" but blamed Morris & Dickson in part for holding up the process by seeking delays due to the COVID-19 pandemic and its lengthy pursuit of a settlement that the agency said it had considered. The order becomes effective in 90 days, allowing more time to negotiate a settlement.
DEA Administrator Anne Milgram said in the 68-page order that Morris & Dickson failed to accept full responsibility for its past actions, which included shipping 12,000 unusually large orders of opioids to pharmacies and hospitals between 2014 and 2018. During this time, the company filed just three suspicious order reports with the DEA.
Milgram specifically cited testimony of then-president Paul Dickson Sr. in 2019 that the company's compliance program was "dang good" and he didn't think a "single person has gotten hurt by (their) drugs."
"Those statements from the president of a family-owned and operated company so strongly miss the point of the requirements of a DEA registrant," she wrote. "Its acceptance of responsibility did not prove that it or its principals understand the full extent of their wrongdoing … and the potential harm it caused."
Shreveport, Louisiana-based Morris & Dickson traces its roots to 1840, when its namesake founder arrived from Wales and placed an ad in a local newspaper selling medicines. It has since become the nation's fourth-largest wholesale drug distributor, with $4 billion a year in revenue and nearly 600 employees serving pharmacies and hospitals in 29 states.
In a statement, the company said it has invested millions of dollars over the past few years to revamp its compliance systems and appeared to hold out hope for a settlement.
"Morris & Dickson is grateful to the DEA administrator for delaying the effective date of the order to allow time to settle these old issues," it said. "We remain confident we can achieve an outcome that safeguards the supply chain for all of our healthcare partners and the communities they serve."
Morris & Dickson's much larger competitors, a trio of pharmaceutical distributors known as the Big Three, have already agreed to pay the federal government more than $1 billion in fines and penalties to settle similar violations. Cardinal Health, AmerisourceBergen and McKesson also agreed to pay $21 billion over 18 years to resolve claims as part of a nationwide settlement.
While Morris & Dickson wasn't the only drug distributor who the DEA accused of fueling the opioid crisis, it was unique in its willingness to challenge those accusations in the DEA's administrative court.
In a scathing recommendation in 2019, Administrative Law Judge Charles W. Dorman said Morris & Dickson's argument that it has changed its ways was too little, too late.
Anything less than the most severe punishment, the judge said, "would communicate to DEA registrants that despite their transgressions, no matter how egregious, they will get a mere slap on the wrist and a second chance so long as they acknowledge their sins and vow to sin no more."
But as the ensuing years passed, neither the Biden-nominated Milgram nor her two predecessors took any enforcement action. Past DEA officials told the AP such decisions usually take no more than two years.
As the pills kept flowing, Morris & Dickson attempted to stave off punishment, appealing directly to Milgram to order a reopening of the proceedings, arguing it would introduce new evidence showing it had implemented an "ideal" compliance program with the help of a consultant who is now second-in-command at the DEA, Louis Milione. The DEA said that Milione has recused himself from all agency business related to Morris & Dickson.
Milione retired from the DEA in 2017 after a 21-year career that included two years leading the division that controls the sale of highly addictive narcotics. Like dozens of colleagues in the DEA's powerful-but-little-known Office of Diversion Control, he went to work as a consultant for some of the same companies he had been tasked with regulating.
Milione was hired by Morris & Dickson in 2018 as part of a $3 million contract and later testified that the company "spared no expense" to overhaul its compliance systems, cancel suspicious orders and send daily emails to the DEA spelling out its actions.
A footnote of the DEA's order Friday said that since Milione returned to the DEA as principal deputy administrator in 2021, he has not had any contact with Milgram or other agency staff about the Morris & Dickson case due to his prior involvement with the company.
___
Goodman reported from Miami, Mustian from New York. Contact AP's global investigative team at [email protected].