We're 'unwrapping' Historic City Hall
Witness to our history
One of our most familiar landmarks for more than a century, Historic City Hall has stood alongside Calgarians throughout our greatest victories and our hardest challenges including the Spanish flu of 1918 and two World Wars.
As Calgary navigates COVID-19 together, we are working towards the completion of Historic City Hall's heritage rehabilitation and we are pleased to announce we've reached a significant milestone.
We're 'unwrapping' Historic City Hall
Historic City Hall has been completely under wraps since May 2017, when it was surrounded by a heavy-duty protective enclosure.
Our exterior work is nearing completion and we no longer require the enclosure. We're beginning the process of 'unwrapping' Historic City Hall and Calgarians will soon be able to view the building for the first time in three years!
While Historic City Hall was undergoing heritage restoration, the wrap covered the construction crew, equipment and materials, and protected the sandstone and exposed building components from weather. It allowed us to work through every season regardless of extreme temperatures which was an important factor in meeting our project timelines.
What are we going to see?
One of the most defining features of the building is its sandstone exterior.
When construction began on Historic City Hall in 1907, more than a dozen sandstone quarries lay within our current city limits. Hundreds of public, residential and commercial buildings from the time boasted local sandstone, and Historic City Hall is a beautiful example of Calgary's late Sandstone City era.
Of Historic City Hall's 15,522 pieces of sandstone, 15,142 have received painstaking heritage treatment.
At the project outset, every stone on the building was individually mapped and prescribed a renewal regimen. The sandstone pieces were then rehabilitated one by one, with treatments including cleaning and structural fortification. Old sandstone that had deteriorated too greatly to be repaired was replaced with new sandstone. Approximately 2,400 new sandstone blocks were used.
"What Calgarians will see when Historic City Hall is unwrapped is a refreshed, rejuvenated version of the familiar landmark that has graced Calgary for more than a century," says Darrel Bell, acting director of Facility Management. "The work we've done on the sandstone over the last three years has been a labour of love and has restored our sandstone to a condition set to last for another hundred years."
Weathering…how sandstone tells a story
Calgary, Paris and Glasgow all have something in common: our heritage buildings all bear the mark of our unique pasts.
For instance, Glasgow's centuries-old sandstone buildings have a patina that comes from the coal burning that took place every day over hundreds of years. Many of Paris's limestone buildings wear damage from wars, or more ordinary things like damage from lack of maintenance or incompatible repair materials. Here in Calgary, Historic City Hall's sandstone has been weathered by our harsh Prairie winters and sunlit summers.
How will the building's new sandstone look alongside the stone that has acclimated for more than a century?
For the most part, we won't notice a big difference.
Replacement sandstone was very carefully selected to be visually and materially compatible with the original sandstone's physical and chemical properties, composition, grain size, and colour.
Because sandstone is a natural commodity that is formed in the earth, it is full of character and can be found in a wide variety of colours including green, tan, red, pink and black. The project team worked diligently to place new stone in areas where its colour and appearance blended as seamlessly as possible with hundred-year-old stone.
Slight colour variations in the sandstone will exist on the building, just as it does in nature. While some new sandstone will initially look lighter in colour than existing stone, it will weather over time.
"When we're looking at a beach from the distance, the expanse of sand looks like one colour," explains Bell. "However, when we scoop up a handful of that sand and look at it very closely, we can see that the grains are actually a wide range of colours and textures. We can think of Historic City Hall the same way: from a distance, the building will look the same uniform tan. However, when you view the building up close, you'll notice that each sandstone block has its own subtle range of rich colour variations that are inherent to sandstone."
What's next?
The removal of the protective enclosure and scaffolding beneath it will be complete by the end of June.
We are working towards welcoming back Historic City Hall's tenants at a time appropriate to the current pandemic. We're excited to reintroduce this treasured heritage building in its revitalized condition, ready to stand for another century.
For more stories, visit Todayville Calgary.
Telus Corp. marks opening of Telus Sky in downtown Calgary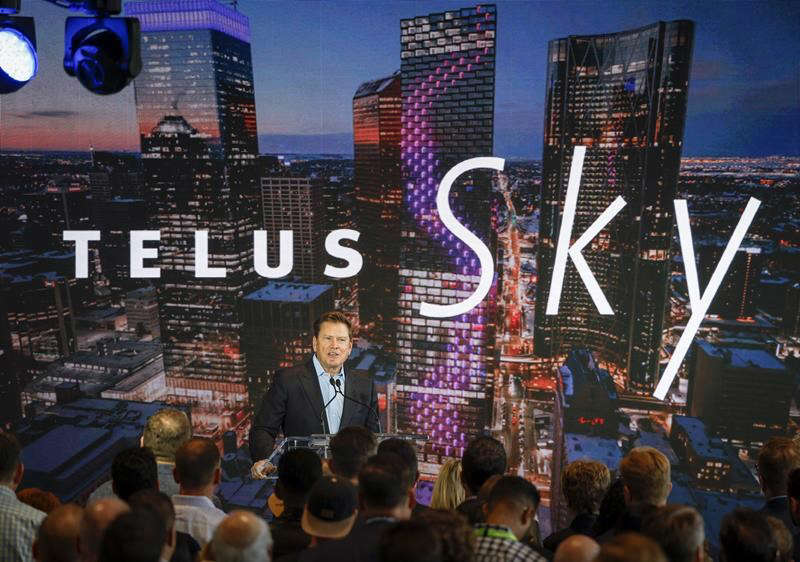 CALGARY — Telus Corp. marked the opening of its new 60-storey Calgary headquarters on Wednesday.
The new $400-million skyscraper, Telus Sky, has been in development for nine years and is now the third-tallest building in downtown Calgary. It features 750,000 square feet of office and retail space as well as 326 rental homes.
The building's eye-catching design, by architects Bjarke Ingels Group (BIG) and Dialog, along with developer partner Westbank and Allied, starts with a rectangular floorplate and then gradually twists as it rises.
Integrated into the facade of Telus Sky is Canada's largest public art display. "Northern Lights" by Canadian author and artist, Douglas Coupland, creates a light show across the building's exterior.
Telus Sky will be home to more than 1,600 Telus employees. It joins TELUS Garden in Vancouver, TELUS Harbour Toronto, TELUS House Ottawa, and Place TELUS Québec as one of the company's LEED (Leadership in Energy and Environmental Design) Platinum-certified buildings.
Among the building's environmental features is a storm water management system that recycles rainwater for use in washroom toilets, reducing the building's municipal water demand by 70 per cent.
This report by The Canadian Press was first published July 6, 2022.
Companies in this story: (TSX:T)
Amanda Stephenson, The Canadian Press
First set of tickets for Pope's mass in Edmonton booked within minutes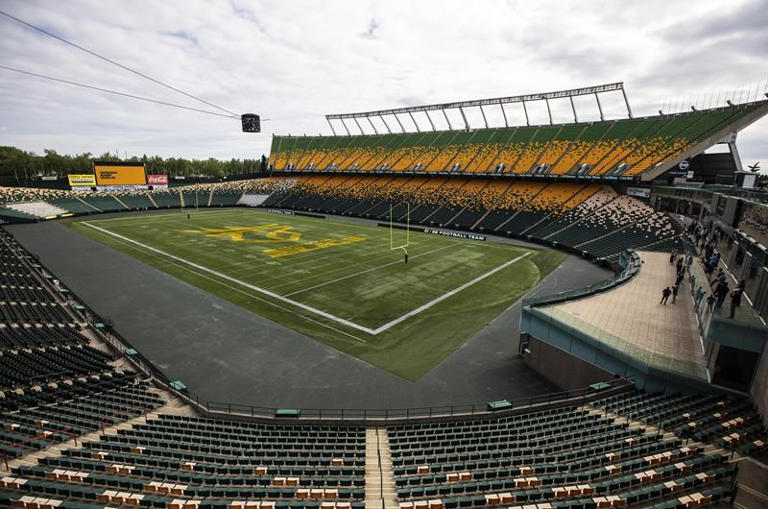 EDMONTON — Thousands of tickets for the Pope's open-air mass at Edmonton's Commonwealth Stadium were all booked about 15 minutes after they were made available to the public for free.
The July 26 mass with Pope Francis is part of his six-day Canadian tour, which also includes stops in Quebec City and Iqaluit.
Neil McCarthy, a spokesperson for the papal visit, says organizers were hopeful the first block of 16,000 tickets would be booked immediately because the impact of the event cannot be underestimated.
A total of 65,000 people can attend the mass at the football stadium.
McCarthy says if people haven't been able to book a seat, they can do so on two other days later this month, when the remaining blocks of free tickets will be made available.
Organizers divided the booking process for the mass over three days, because they say it is easier to manage and want to prioritize some Indigenous people who want to attend.
"We've got seating allocations for Indigenous participation, whether it's residential school survivors, elders, knowledge keepers or those who are supporting them," McCarthy said Wednesday.
"Today was a very, very positive start to the day. People really want to be with him."
The Pope is to arrive in Edmonton on July 24. The next day, he is to meet survivors and visit the site of the former Ermineskin Residential School in Maskwacis, about 80 km south of Edmonton.
He is scheduled to arrive in Quebec City on July 27 and stop in Iqaluit on July 29.
The Pope's visit comes after he apologized in April to Indigenous delegates at the Vatican for the Roman Catholic Church's role in Canada's residential schools and the intergenerational trauma it caused.
This report by The Canadian Press was first published July 6, 2022.
The Canadian Press