We're 'unwrapping' Historic City Hall
Witness to our history
One of our most familiar landmarks for more than a century, Historic City Hall has stood alongside Calgarians throughout our greatest victories and our hardest challenges including the Spanish flu of 1918 and two World Wars.
As Calgary navigates COVID-19 together, we are working towards the completion of Historic City Hall's heritage rehabilitation and we are pleased to announce we've reached a significant milestone.
We're 'unwrapping' Historic City Hall
Historic City Hall has been completely under wraps since May 2017, when it was surrounded by a heavy-duty protective enclosure.
Our exterior work is nearing completion and we no longer require the enclosure. We're beginning the process of 'unwrapping' Historic City Hall and Calgarians will soon be able to view the building for the first time in three years!
While Historic City Hall was undergoing heritage restoration, the wrap covered the construction crew, equipment and materials, and protected the sandstone and exposed building components from weather. It allowed us to work through every season regardless of extreme temperatures which was an important factor in meeting our project timelines.
What are we going to see?
One of the most defining features of the building is its sandstone exterior.
When construction began on Historic City Hall in 1907, more than a dozen sandstone quarries lay within our current city limits. Hundreds of public, residential and commercial buildings from the time boasted local sandstone, and Historic City Hall is a beautiful example of Calgary's late Sandstone City era.
Of Historic City Hall's 15,522 pieces of sandstone, 15,142 have received painstaking heritage treatment.
At the project outset, every stone on the building was individually mapped and prescribed a renewal regimen. The sandstone pieces were then rehabilitated one by one, with treatments including cleaning and structural fortification. Old sandstone that had deteriorated too greatly to be repaired was replaced with new sandstone. Approximately 2,400 new sandstone blocks were used.
"What Calgarians will see when Historic City Hall is unwrapped is a refreshed, rejuvenated version of the familiar landmark that has graced Calgary for more than a century," says Darrel Bell, acting director of Facility Management. "The work we've done on the sandstone over the last three years has been a labour of love and has restored our sandstone to a condition set to last for another hundred years."
Weathering…how sandstone tells a story
Calgary, Paris and Glasgow all have something in common: our heritage buildings all bear the mark of our unique pasts.
For instance, Glasgow's centuries-old sandstone buildings have a patina that comes from the coal burning that took place every day over hundreds of years. Many of Paris's limestone buildings wear damage from wars, or more ordinary things like damage from lack of maintenance or incompatible repair materials. Here in Calgary, Historic City Hall's sandstone has been weathered by our harsh Prairie winters and sunlit summers.
How will the building's new sandstone look alongside the stone that has acclimated for more than a century?
For the most part, we won't notice a big difference.
Replacement sandstone was very carefully selected to be visually and materially compatible with the original sandstone's physical and chemical properties, composition, grain size, and colour.
Because sandstone is a natural commodity that is formed in the earth, it is full of character and can be found in a wide variety of colours including green, tan, red, pink and black. The project team worked diligently to place new stone in areas where its colour and appearance blended as seamlessly as possible with hundred-year-old stone.
Slight colour variations in the sandstone will exist on the building, just as it does in nature. While some new sandstone will initially look lighter in colour than existing stone, it will weather over time.
"When we're looking at a beach from the distance, the expanse of sand looks like one colour," explains Bell. "However, when we scoop up a handful of that sand and look at it very closely, we can see that the grains are actually a wide range of colours and textures. We can think of Historic City Hall the same way: from a distance, the building will look the same uniform tan. However, when you view the building up close, you'll notice that each sandstone block has its own subtle range of rich colour variations that are inherent to sandstone."
What's next?
The removal of the protective enclosure and scaffolding beneath it will be complete by the end of June.
We are working towards welcoming back Historic City Hall's tenants at a time appropriate to the current pandemic. We're excited to reintroduce this treasured heritage building in its revitalized condition, ready to stand for another century.
For more stories, visit Todayville Calgary.
Alberta to bring in another five million bottles of children's pain medication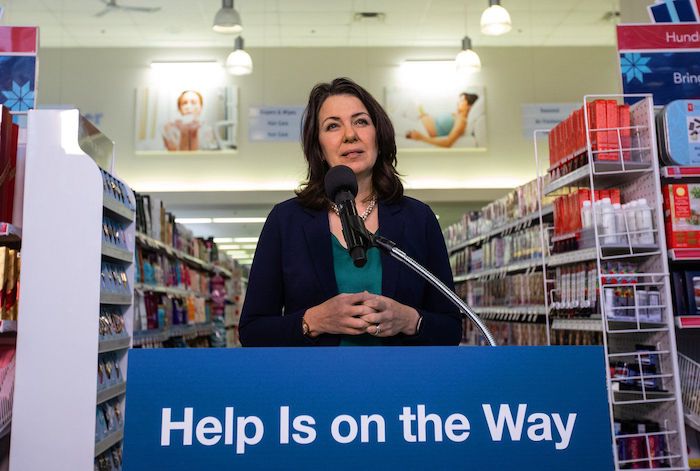 The Alberta government says it has secured another five million bottles of children's medication to manage fever and pain.
Premier Danielle Smith says the government is working with Alberta Health Services and Health Canada to bring in the pediatric acetaminophen and ibuprofen.
Parents across Canada have been scrambling to manage their children's fever and pain as rates of respiratory syncytial virus, or RSV, and influenza skyrocket amid a dire shortage of the medications.
Smith says overwhelmed parents can feel confident the government is moving as quickly as it can to bring in the medication and get it to pharmacies across the province.
The federal government also imported one million units of children's acetaminophen — commonly known as Tylenol — across the country late last month.
Health Canada has distributed the children's Tylenol to retailers and has also sent children's ibuprofen — commonly known as Advil — to hospitals.
This report by The Canadian Press was first published Dec. 6, 2022.
CannTrust CEO was warned over illicit pot growing: former compliance worker
TORONTO — A former director of quality and compliance at CannTrust Holdings Inc. says he warned the company's chief executive that Health Canada could levy penalties if the firm grew pot in unlicensed rooms at its Niagara, Ont. facility.
In the months leading up to Health Canada finding pot growing in unlicensed rooms, Graham Lee said Tuesday that he told Peter Aceto he couldn't say what the exact consequences could be, but knew the government regulator had previously issued warning letters and handed out penalties.
For example, Lee said Health Canada reviewed CannTrust's inventory more extensively after it discovered the company using a storage facility at its Vaughan, Ont. location contrary to licensing.
"In general, Health Canada was there every day checking up on the inventory," Lee recalled.
His comments were made at the Old City Hall courthouse in Toronto in response to questioning from Dihim Emami, a lawyer representing the Ontario Securities Commission (OSC) in a case aiming to prove Aceto and other former CannTrust executives are guilty of several offences related to unlicensed growing at the Niagara facility.
Aceto, former CannTrust chairman Eric Paul and former vice-chairman Mark Litwin have pleaded not guilty to fraud and authorizing, permitting or acquiescing in the commission of an offence.
Litwin and Paul are also facing insider trading charges, and Litwin and Aceto are charged with making a false prospectus and false preliminary prospectus.
The OSC and Royal Canadian Mounted Police allege Litwin, Aceto and Paul did not disclose to investors that about 50 per cent of the growing space at CannTrust's Pelham, Ont. facility in the Niagara area was not licensed by Health Canada. They say the men used corporate disclosures to assert that they were compliant with regulatory approvals.
They also allege that Litwin and Aceto signed off on prospectuses used to raise money in the U.S., which stated that CannTrust was fully licensed and compliant with regulatory requirements, and that Litwin and Paul traded shares of CannTrust while in possession of material, undisclosed information regarding the unlicensed growing.
The men no longer work for CannTrust and their lawyers are arguing their clients are all innocent.
Frank Addario, Aceto's lawyer, previously told The Canadian Press his client was hired because of his financial acumen and track record. Before his time at CannTrust, Aceto was the president and chief executive of ING Direct Canada.
Addario also pointed out that CannTrust was subject to inspections and financial audits that uncovered no material issues.
"The evidence will show Peter Aceto behaved legally and with integrity during his time at CannTrust," Addario said in an email.
However, Lee testified Monday that the growth of cannabis in unlicensed rooms was "very openly discussed" at the pot company.
"There was no hiding this. There was no denial of this," he said.
On Tuesday, he reinforced those allegations, describing how he brought up his concerns about unlicensed activity during at least one meeting in winter 2019 that he recalled Aceto attended.
"I noticed that no one in the room was referring to or cognizant of the fact that these were unlicensed areas, so I reminded them," Lee said.
This report by The Canadian Press was first published Dec. 6, 2022.
Tara Deschamps, The Canadian Press