'We just gave'r': Inside the Totten Mine rescue from a kilometre below the earth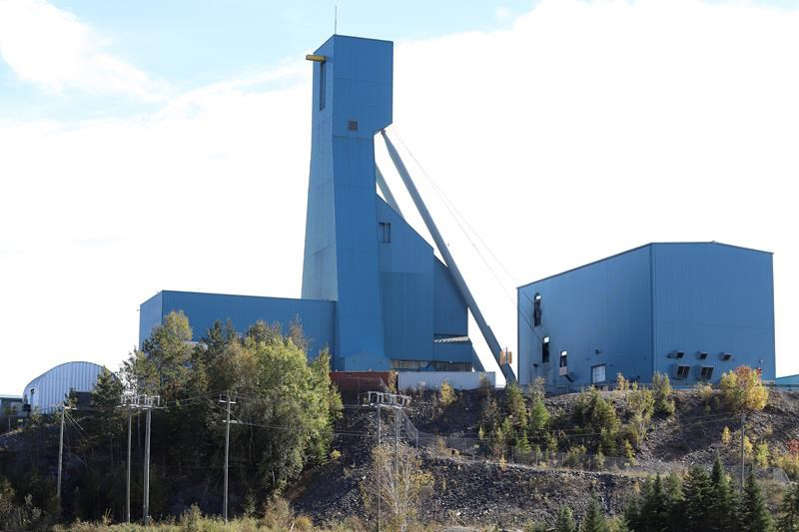 Danny Taillefer and Jason Leger were in the middle of a first aid refresher course when the phone rang.
Shawn Rideout, the chief rescue officer with Ontario Mine Rescue, was on the other end. There were 39 miners stuck underground at Totten Mine near Sudbury, Ont., after the mine shaft was compromised, he said.
There was another way out: climbing a complex warren of ladders at the Vale-owned mine from about a kilometre underground.
Taillefer and Leger – mine rescue officers with the non-profit who were based in Timmins, Ont.– were told they were needed for a complicated mission, and instructed to bring several hundred kilograms of rope and other gear. Not long after the call on Monday last week, they got in a truck and motored to the mine in Worthington, Ont.
The operation that ensued turned into what Taillefer and Leger called the most stressful event of their lives.
"You just couldn't control the tears coming out," Taillefer told The Canadian Press when recalling some of the most intense moments of the mission. "You just walk away, wipe your eyes, get it together and then get back at it."
Ontario Mine Rescue had been in touch with Vale's emergency response team since Sunday, Sept. 26, when the workers became stuck underground.
A scoop bucket had dislodged and tumbled down part of the mine shaft, causing major damage, Vale said. The repairs could take weeks, said Ted Hanley, vice-president with Ontario Mine Rescue.
A secondary escape route, required by law in Ontario, would be the miners' way out.
Taillefer and Leger arrived at the mine around 4:30 p.m. Monday. By that point, part of the 60-person rescue team was already about 564 metres underground, where four miners were in a refuge room.
The team was setting up a series of ropes to go deeper – 960 metres down – where 35 other miners waited, passing the time watching videos on their phones using the mine's Wi-Fi system.
The rescuers believed able-bodiedminers could climb out without much trouble, harnessed to ropes like mountain climbers. But it was clear four miners in the group farthest below the surface would need significant help, Hanley said.
It took about a day to set up the ropes that would help the miners climb out, the rescuers said. Not long after midnight on Tuesday, the workers gradually began their journey up.
"We just gave'r," Taillefer, 39, said.
The miners closest to the surface climbed out first, in about three hours. Below them, groups of three miners set out with one rescuer above them and one below.
Meanwhile, Taillefer and other rescuers devised a plan for the final four.
"They had been down there for well over 40 hours at that point, they were all exhausted, and some of these guys just physically couldn't climb a ladder due to old injuries or ailments," said Taillefer.
With no electricity and only light from their headlamps, the rescuers used the rope system – and a lot of muscle – to pull three of the final four up about 61 metres.
It became clear they needed a better way, Taillefer said.
The crew then employed an AZTEK pulley system, which helped offset the weight of the miners, he said. A single system wasn't long enough so the rescuers used two, giving them a mechanical advantage that made 10 kilograms feel like one, Taillefer explained.
"It was slow, but it was working extremely well," he said.
Leger said the double pulley system made a significant difference. "It was a big change and made things go a lot faster," said the 49-year-old.
The operation was nonetheless exhausting. It would take three minutes to raise a miner up a six-metre ladder, Taillefer said.
"Then we'd rest for 15 minutes," he said, adding that he'd lie down and try to sleep.
The rescue crew would then reset the pulley system, and start all over again with the next ladder.
"Our very last guy took us probably about eight or nine hours to get them up 30 of the 67 landings," he said.
The miners weren't hurt when the mine shaft was compromised and it was up to the rescue crew to ensure they stayed uninjured – that responsibility eventually took a toll, the rescuers said.
"There were times where the stress would just boil over and you would just start to cry for really no good reason at all," Taillefer said.
For Leger, it was the first time he "felt physical stress turn into mental stress."
But both said they took inspiration from the miners.
"A lot of these people had kids around the same age as ours and it was really important for us to get them home," Taillefer said.
The last phase of the operation proved the most daunting.
At about 564 metres underground, the final four miners and the rescuers faced a 122-metre stretch of ladder, at an angle of 78 degrees, with "small landings that you could just sort of scooch over to rest your bum on," Taillefer said.
The crew set up a two-rope system that three miners clipped into and climbed up, but the last miner was unable to scale that stretch.
The rescuers then set up a winch, placed the final miner in a basket and hauled him up as Taillefer climbed the ladder beside him.
Two hours later, near the top of that section, cold groundwater pouring through fissures in the rock hit the group.
"It was like somebody had a fire hose wide open on you," Taillefer said.
Wet, cold and exhausted, the group returned to the AZTEK pulley system for a final 61 metres to get to an elevator that took them to the surface, Taillefer said.
It was shortly after 4 a.m. on Wednesday when the final miner and seven rescuers got to that point.
"You would have thought there was 100 people down there screaming, laughing and crying," Taillefer said of the celebration that broke out.
"And there wasn't as much as a Band-Aid on anybody," Leger said.
This report by The Canadian Press was first published Oct. 5, 2021.
Liam Casey, The Canadian Press
Regulator rules in favour of Trans Mountain route deviation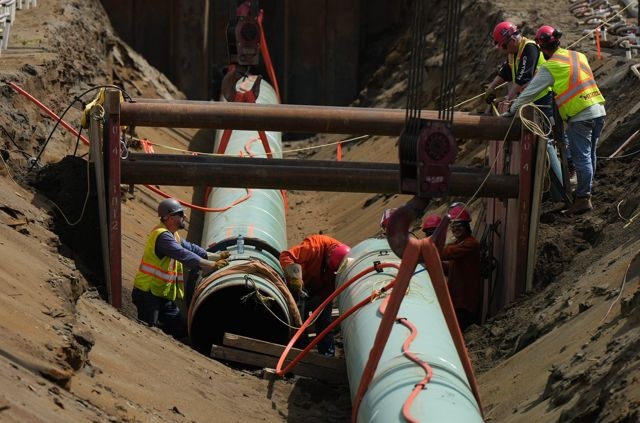 Workers place pipe during construction of the Trans Mountain pipeline expansion on farmland, in Abbotsford, B.C., on Wednesday, May 3, 2023. THE CANADIAN PRESS/Darryl Dyck
By Amanda Stephenson in Calgary
The Canada Energy Regulator has approved Trans Mountain Corp.'s application to modify the pipeline's route, a decision that could spare the government-owned pipeline project from an additional nine-month delay.
The regulator made the ruling Tuesday, just one week after hearing oral arguments from Trans Mountain and a B.C. First Nation that opposes the route change.
It didn't release the reasons for its decision Tuesday, saying those will be publicized in the coming weeks.
By siding with Trans Mountain Corp., the regulator is allowing the pipeline company to alter the route slightly for a 1.3-kilometre stretch of pipe in the Jacko Lake area near Kamloops, B.C., as well as the construction method for that section.
Trans Mountain Corp. had said it ran into engineering difficulties in the area related to the construction of a tunnel, and warned that sticking to the original route could result in up to a nine-month delay in the pipeline's completion, as well as an additional $86 million more in project costs.
Trans Mountain has been hoping to have the pipeline completed by early 2024.
But Trans Mountain's application was opposed by the Stk'emlúpsemc te Secwépemc Nation, whose traditional territory the pipeline crosses and who had only agreed to the originally proposed route.
In their regulatory filing, the First Nation stated the area has "profound spiritual and cultural significance" to their people, and that they only consented to the pipeline's construction with the understanding that Trans Mountain would minimize surface disturbances by implementing specific trenchless construction methods.
The Stk'emlúpsemc te Secwépemc argued that Trans Mountain never said its originally proposed construction method was impossible, only that it couldn't be done in time to meet a Jan. 1 in-service date for the pipeline.
The First Nation didn't respond to a request for comment by publication time.
The Trans Mountain pipeline is Canada's only pipeline system transporting oil from Alberta to the West Coast. Its expansion, which is currently underway, will boost the pipeline's capacity to 890,000 barrels per day (bpd) from 300,000 bpd currently.
The pipeline — which was bought by the federal government for $4.5 billion in 2018 after previous owner Kinder Morgan Canada Inc. threatened to scrap the pipeline's planned expansion project in the face of environmentalist opposition and regulatory hurdles — has already been plagued by construction-related challenges and delays.
Its projected price tag has since spiralled: first to $12.6 billion, then to $21.4 billion and most recently to $30.9 billion (the most recent capital cost estimate, as of March of this year).
Keith Stewart with Greenpeace Canada said it's alarming to see the regulator over-rule the wishes of Indigenous people in order to complete a pipeline on deadline.
"Every Canadian should be outraged that our public regulator is allowing a publicly owned pipeline to break a promise to Indigenous people to protect lands of spiritual and cultural significance," Stewart said.
The federal government has already approved a total of $13 billion in loan guarantees to help Trans Mountain secure the financing to cover the cost overruns.
Trans Mountain Corp. has blamed its budget problems on a variety of factors, including inflation, COVID-19, labour and supply chain challenges, flooding in B.C. and unexpected major archeological discoveries along the route.
Given the Canadian regulatory system has a reputation for being slow and cumbersome, it was surprising to see the Canada Energy Regulator rule so quickly on Trans Mountain's route deviation request, said Richard Masson, executive fellow with the University of Calgary's School of Public Policy.
"It's a challenging decision to have to make, when you've got a $30 billion pipeline that needs to be completed," Masson said.
"If there's no feasible way to do that tunnel, then I guess you have to allow for this."
Masson added that if the regulator had denied Trans Mountain's request, it would have been bad news for taxpayers as well as the federal government, which is seeking to divest the pipeline and has already entered into negotiations with several interested Indigenous-led buyers.
It also would have been bad news for Canadian oil companies, who have been eagerly anticipating the pipeline's start date to begin shipping barrels to customers.
"If this can result in the pipeline being completed by year-end and started up in the first quarter, that's good news. The world is still looking for oil, and oil prices are up at US$90 a barrel," Masson said.
This report by The Canadian Press was first published Sept. 25, 2023.
David McCallum, star of hit TV series 'The Man From U.N.C.L.E.' and 'NCIS,' dies at 90
LOS ANGELES (AP) — Actor David McCallum, who became a teen heartthrob in the hit series "The Man From U.N.C.L.E." in the 1960s and was the eccentric medical examiner in the popular "NCIS" 40 years later, has died. He was 90.
McCallum died Monday of natural causes surrounded by family at New York Presbyterian Hospital, CBS said in a statement.
"David was a gifted actor and author, and beloved by many around the world. He led an incredible life, and his legacy will forever live on through his family and the countless hours on film and television that will never go away," said a statement from CBS.
Scottish-born McCallum had been doing well appearing in such films "A Night to Remember" (about the Titanic), "The Great Escape" and "The Greatest Story Ever Told" (as Judas). But it was "The Man From U.N.C.L.E." that made the blond actor with the Beatlesque haircut a household name in the mid-'60s.
The success of the James Bond books and films had set off a chain reaction, with secret agents proliferating on both large and small screens. Indeed, Bond creator Ian Fleming contributed some ideas as "The Man From U.N.C.L.E." was being developed, according to Jon Heitland's "The Man From U.N.C.L.E. Book."
Bob Thomas, The Associated Press